Traveling and living in an RV on social security is a great way to spend time during your sunset years.
But how feasible is it? Do you have to retire stacked on a heavy mound of savings?
Or, with a bit of planning, is a life on the road an excellent option for those over 65?
Let's explore!
Can You RV on Social Security?
The short answer is – absolutely!
But the question behind the question is, do you want to live or vacation in your camper? The answer will weigh more on budgeting than anything else.
For those who've never lived in an RV, you may want to take time to research and ensure it's a good fit for you. Joining a Facebook group, such as Escapees or other community RV forums is a great way to connect and learn from others.
No matter what, the first thing to do is start saving. If you're pondering the idea, then opening up a savings account for your RV dreams is a great way to start.
The next question is, do you want to RV full-time or part-time? You may own a home where you can comfortably park your rig instead of paying for storage. If so, you could look into renting your camper while it's not in use. Or renting part of your home out while you're away. There are options.
If you want to live in your rig full time while on social security, having a firm grasp on your budget is a must. The average monthly social security payout is around $1500.00 per month. If you claim social security early, at age 62, your benefits will decrease. If you wait until you're 70, though, your benefits will significantly increase.
You can find your personalized estimated retirement benefits by creating an account at ssa.gov.
How Do People Afford Full-Time RV Living?
Most people afford full-time RV living through careful planning. Ideally, you want to create a runway, months or even years before you head out, both financially and idealistically.
We all see loads of people on social media living the high life on the road. But in reality, we have no way of knowing how they entered into the lifestyle. Thus, comparing ourselves to people who 'just hit the road' is not a great idea.
We also need to be realistic about our fitness levels and daily needs regarding food, medicine, and rest. Thinking honestly about these is crucial to how people afford full-time RV living.
On the practical side, people manage full-time RV life by keeping up on regular maintenance on their rigs. Checking the tire pressure before every move, keeping the weight balanced, and driving at a steady pace helps decrease costs.
One fun crossover lifestyle adjustment is to travel light. Learn to live with less. This helps your camper drive with less weight and keeps material costs down.
Remote work is a significant way people support their full-time RV life. Finding a remote job can seem daunting at first. But the fact is that it's easier than ever.
But wait, aren't we supposed to be fully retired by this time? For the lucky ones, yes. Let's face it, though. We're all living longer, which is excellent. But it also means many of us will have to earn a little more income even after retirement.
If you claim social security at or after your full retirement age, you can work any amount of hours and still get your social security. You can find your full retirement benefits age on the Social Security Administration website.
Pro Tip: Want to know if Cheap RV Living is Fact or Fiction? We took a closer look to help you and your budget out!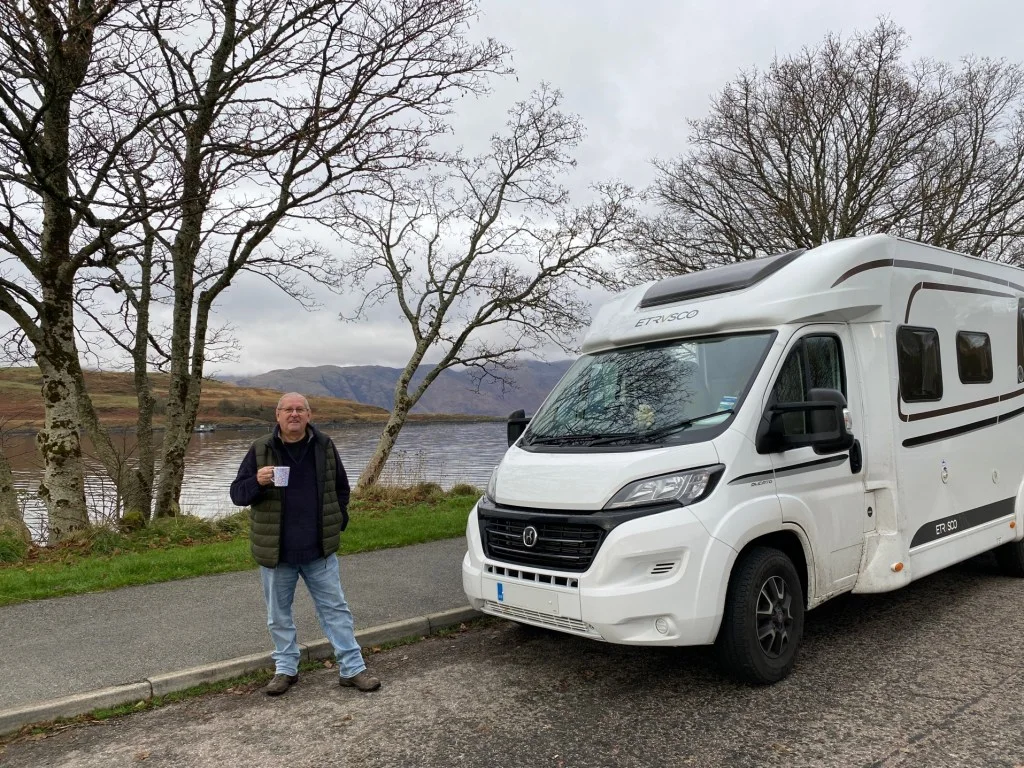 Tips for RVing on Social Security
Budget for Living on Social Security
If we had to whittle down our RV on social security tips to only one thing, it would be this: make a budget. Make a budget, and make a habit of returning to it often. You can always adapt it as you go. Great budget apps include Mint, YNAB, Personal Capital, Quicken, and Power Wallet.
You can also create a budget by hand in a nicely bound notebook. Excel and Google spreadsheets are also easy options with free templates.
As far as what to budget for, you can start with the daily necessities you'll need anywhere. This will most likely be food, health care, medication, and any debts or monthly payouts you know you must maintain.
In addition, you'll want to line-item fuel, RV insurance, utilities if you plan to park monthly or seasonally, campsite rental, and vehicle maintenance.
AARP and Escapees members can get insurance at a discount. If you're not already a member of one of these organizations, we highly recommend joining.
From there, you can create line items for the things where you can cut costs. This includes TV and streaming services, internet, clothing, dining out, and investing.
And remember, we make budgets knowing that change is constant. Yes, you want to stick to a budget. But the practice of keeping one, and adjusting it as you go, is vital.
The Right RV
Once you have your foundation, aka your budget, you can start thinking about finding the ideal rig for your needs. At first, it may seem like the budget can't come before you know how much you'll be spending on your rig. It's much better to have a budget in place to show you the most comfortable amount you can spend.
If you're new to the RV world, you'll want to familiarize yourself with the different kinds of recreational vehicles. Class A motorhomes are the largest and usually the most luxurious. However, 5th wheel towables are giving them a run for their money.
Class B's are essentially a van, and Class C's are somewhere between. Towables range in size from smaller teardrop trailers to massive fifth wheels.
Buying a used rig is a great option. In fact, some argue that used RVs can be a much better investment than a new one. They sure don't make them like they used to. Or maybe they do.
As when buying a car, there are advantages and disadvantages to both new and used campers. A great way to learn more is to return to your favorite RV forums, YouTubers, and Facebook groups.
There are plenty of places you can buy your camper, including dealerships, online RV hubs, and sources as simple as Craigslist. You may even want to consider looking out of state.
If you find your dream camper but can't afford to pay for it in one lump sum, financing is often an option. Banks offer loans for both new and used rigs. However, make sure you're staying within your budget.
Pro Tip: Unsure what rig is right for you? We broke down The Pros and Cons of RV Class Types.
Extend Your Social Security through Food
One of the best ways to save is to cook more meals at home. RV kitchens and cooking areas come in all shapes and sizes. Most come with a sink, burners, and a refrigerator. You'll likely have a microwave, though ovens are typically found only in higher-end rigs.
Once you've decided what kind of kitchen you'll need, you can think about which kitchen accessories will help without taking up too much space.
A multicooker can be one of your best kitchen friends. These cookers are combined pressure/slow cookers that automate boiling, simmering, baking, roasting, and so on. You can save both time and money with one of these. They're easy to clean and take up very little space. The most well-known brands are InstantPot, Ninja Foodi, and Breville.
Depending on how much or little you like to cook, you may also want to look into an immersion blender or NutriBullet-style blender. Stackable cookware is also a great idea.
The next step can be the most fun or most challenging at first. Plan your meals! If you're hiking, pack a lunch. If you want to set it and forget it, cook a big pot of beans and rice or shredded meat, and you'll have leftovers for days.
You can get creative by having a few different spices on hand. Having pre-packaged snacks and bars can be part of the plan, along with a cooler for drinks if your refrigerator is tiny.
Lastly, treat yourself to a meal out now and then. You can still fit date night into your budget, as long as you plan for it. Where do the locals go? Is there a food truck near a fun venue? As long as you know where your money's going, you can plan accordingly.
Location, Location, Location
Understanding location costs is a key component to living in an RV, whether you're on social security or not. Many newbies start fast and hit the road without realizing that campgrounds can be costly. Many variables determine how much it costs to park your camper somewhere.
The most common place to park your rig is at a campground. Nightly costs vary from free to $200 or more per night. The location, season, popularity, and amenities all factor into the price.
Many excellent websites such as Campendium and Trip Advisor can help you research the nightly costs. Some private campgrounds have great deals on long-term stays, so don't hesitate to contact them directly.
RVing Clubs
One great way to cut costs and learn more about camping options is to join an RV club. Memberships in organizations such as Passport America, FMCA, and Escapees often offer discounted memberships to seniors and veterans.
A Thousand Trails camping pass costs quite a bit upfront, but the payoff is free camping all year at over 100 campgrounds. Memberships with KOA and a National Parks Senior Pass can also be helpful.
Public Land
Camping in national parks or forests is a great way to save money while RVing on social security. The nightly costs are very inexpensive, if not free. And your National Parks Senior Pass can cut expenses on entrance fees to the park.
The only caveat is that national parks limit your stay, usually 14 days or less. You can also find campgrounds via the Bureau of Land Management (BLM) website, the USFS website, or by calling the ranger stations at any national park.
Most US and Canadian national parks and forests have dispersed camping (or boondocking.) This means camping or parking within a designated stretch of land without any hookups or amenities.
Boondocking Apps
Boondocking is also available on private property. Camping clubs such as Boondockers Welcome and Harvest Hosts can help you find some very interesting places to park your rig. Parking overnight for free at a winery or farm is an incredible way to travel. Your stays may be brief, but they're usually worth it.
There are so many apps that can help you find free and cheap places to park your camper. AllStaysPro and Overnight RV Parking are two to add to the list. And if you're up to trading work hours for some time at a campsite, try workcamper.com or campforce.com.
Entertainment
Our theme of research and planning extends into saving on entertainment costs. This may be a no-brainer to some, but the best entertainment for the RVer is the great outdoors. Taking a hike, bird watching, and learning about the plants and animals are your campsite are a few examples.
You can also discover free outdoor activities at the campground office or go to the local coffee shop and ask around. You never know. There could be a great low-cost concert or unusual activity happening nearby.
Reciprocal memberships at museums across the country are also great options. Hundreds of zoos, science centers, and art galleries participate in these programs.
Some memberships to look into include the Association of Zoos & Aquariums (AZA), Association of Science and Technology Centers (ASTC), North American Reciprocal Museum (NARM), and Time Travelers.
Budget and Enjoy!
You've got this! When you get down to it, living in an RV while on social security is not much different than living in a camper during any other part of your life. You might need to do a little more planning. Being honest with yourself about your budget and the creature comforts you need will help.
That said, we think there is a good chance you might be happily surprised with how adaptable you really are. Living with less but exploring more can be invigorating!
Do you RV on a social security income? What are your tips and tricks? Tell us in the comments!
Discover the Best Free Camping Across the USA
To be honest with you, we hate paying for camping. There are so many free campsites in America (with complete privacy).
You should give it a try!
As a matter of fact, these free campsites are yours. Every time you pay federal taxes, you're contributing to these lands.
Become a FREE CAMPING INSIDER and join the 100,000 campers who love to score the best site!
We'll send you the 50 Best Free Campsites in the USA (one per state). Access the list by submitting your email below: