Owning an automobile or recreational vehicle requires plenty of maintenance and upkeep. One item that often gets overlooked but is essential to keep a vehicle running is the engine oil.
Regular oil changes are critical to protecting the engine, getting good gas mileage, and keeping all the moving parts working correctly.
But there are options to consider when you pull into the mechanic's bay.
It's almost like reading a restaurant menu: would you like conventional oil, synthetic oil, or blended oil?
Let's see if we can decipher the differences between your engine's lifeblood here. Let's dig in!
Synthetic Vs. Mineral Oil: What's the Difference?
Mineral oil, also referred to as conventional oil, has been used on engines since the beginning of the Machine Age. With the advent of synthetic, vehicle owners can have a hard time understanding which type of engine lubrication is most advantageous for their cars, trucks, and RVs.
Conventional oil comes from crude oil. It is thicker and flows more slowly than synthetic. Because of its viscosity, it provides better protection for engine parts, especially in older vehicles.
Synthetic oil has artificial additives that flow faster while lubricating the engine. They do not leave residue or sludge, so there is no carbon build-up in the vehicle. It also performs well in extreme temperatures.
There are beneficial uses of both oil types in different engines.
Pro Tip: Do you use your vehicle to tow your RV? It's important to know Should You Change Oil Sooner If You've Been Towing? We uncovered the truth for you!
What Is Synthetic Oil Made Of?
Unlike conventional oil, synthetic oil is not a naturally occurring compound. Instead, it is composed of additives like polyalphaolefin, castor waxes, and paraffinic oils mixed with crude oil.
These chemicals help protect the vehicle engine from corrosion, rust, and overall wear and tear. They are optimal for engines that add many miles year in and year out.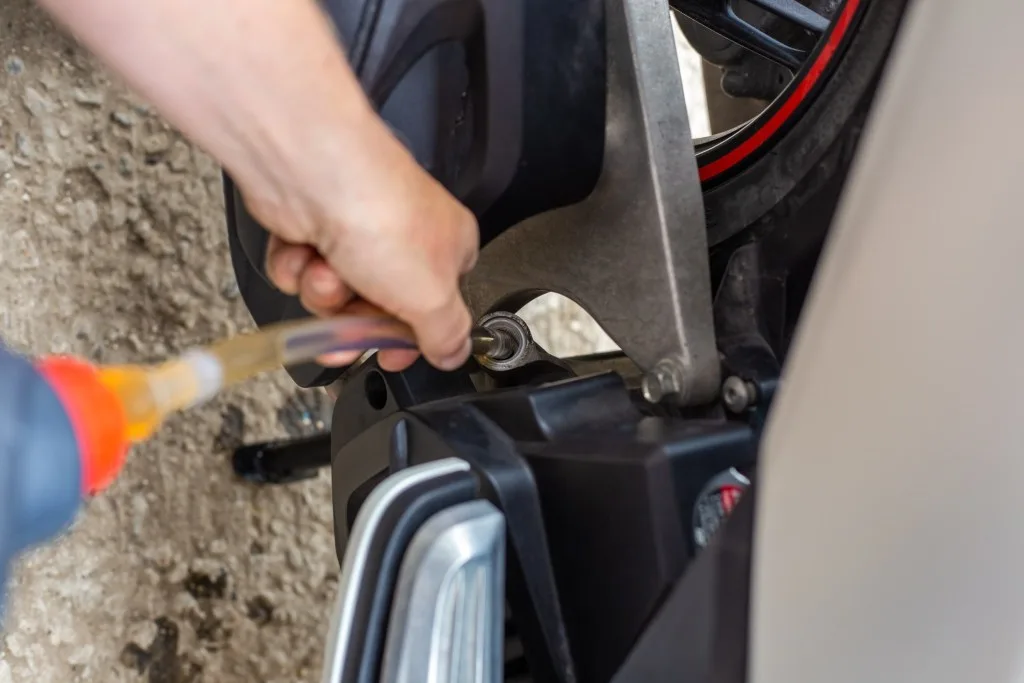 The Benefits Of Using Synthetic Oil In Your Vehicle
Using synthetic oil provides excellent protection to engine parts, as its chemical makeup makes it more stable in extreme temperatures. Drivers no longer have to wait while their engines warm up, letting conventional oil reach all working parts.
Now the vehicle is ready to drive as soon as it is started.
Because the molecular structure of the synthetic compounds is uniform, an engine running with this type will not accumulate sludge or carbon build-up.
For high-performance vehicles, synthetic can extend the engine's life, protecting it from rust and corrosion. This oil does not break down with overuse or in extreme temperatures. Because of that, the oil change interval is longer than that of a vehicle using conventional oil.
Disadvantages Of Using Synthetic Oil
Synthetic oils and blends are more costly than conventional oils, so that oil changes will be more expensive. But because these oils don't break down, oil changes are likely less frequent so that cost differences may become irrelevant.
With less viscous synthetic oils, there is less 'padded' protection to older engines than the thick-flowing conventional types. For those who spend most of their time in stop-and-go city traffic, there is very little need for the added cost of synthetic.
Pro Tip: Unsure what to do with your old oil? We took a close like at if you can Dispose Used Motor Oil at Walmart.
Is Synthetic Oil Good for Any Vehicle?
The primary benefit of synthetic oil is that it protects engine parts on newer vehicles that consistently drive longer distances. Older engines that have high miles may not find much benefit from changing to synthetic. If you question which oil is right, always refer to the vehicle manual.
Look at the age of the engine and the mileage on it first. In most cases, synthetic oil is superior.
Can You Mix Synthetic And Regular Oil In Your Vehicle?
Believe it or not, some companies have already created a mixture of conventional oil with synthetic, or synthetic blend and semi-synthetic oil.
Some manufacturers have different percentages, so finding the perfect mix may take time. If you have a vehicle with high mileage and drive in the city frequently, this might be a good option.
Is Synthetic Oil Better for Your Vehicle Than Regular Oil?
For most car, truck, and RV owners today, synthetic oil can provide more excellent protection and longer life to their vehicles' engines.
Weathering temperature extremes and producing no sludge build-up makes synthetic oil the perfect choice for most of today's motors. Many drivers will appreciate less frequent trips to the mechanic for an oil change!
Which type of oil do you use? Tell us why in the comments!
Discover the Best Free Camping Across the USA
To be honest with you, we hate paying for camping. There are so many free campsites in America (with complete privacy).
You should give it a try!
As a matter of fact, these free campsites are yours. Every time you pay federal taxes, you're contributing to these lands.
Become a FREE CAMPING INSIDER and join the 100,000 campers that love to score the best site!
We'll send you the 50 Best Free Campsites in the USA (one per state). Access the list by submitting your email below: