Did you know that RV parks can have hidden charges?
That's right! And it's not limited to just RV parks, but some state, county, city, and national parks can also have hidden fees.
Keep reading to learn about these fees and how they can impact your next RV camping trip.
Let's go!
You are all excited, planning the perfect camping road trip. You have even selected all your activities and outings for the journey. Now you just need to find the ideal RV parks along your route.
You find the parks, call them up and start making reservations. Suddenly, your budget-friendly trip costs more than the lux cruise you decided not to take because of the price.
So what happened?
You got hit with the RV park hidden charges.
While most RV parks list their rates clearly on their websites, some don't. You have to dig through their policies for extra fees or figure out what 10% of the Monday fee is divided by the…
Yeah, sometimes they make it nearly impossible to figure out.
We recommend calling RV parks directly and asking about their fees before booking your campsite.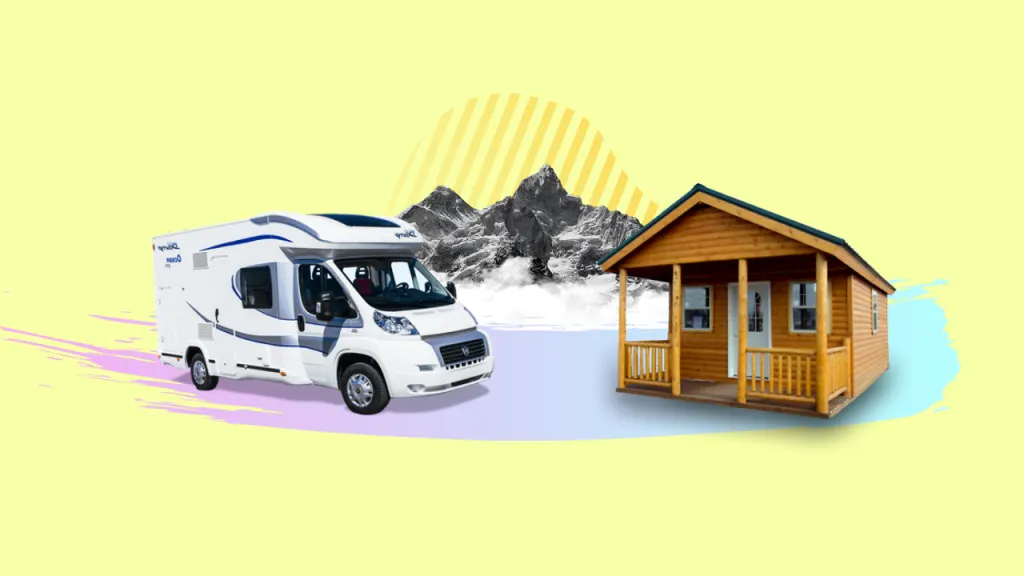 #1 Special Dates
Before you pack up your camper, make sure that you know how much you'll pay for your campsite. The most expensive time to camp is during a holiday weekend or a special event.
We once tried to book a spot in Daytona Beach, not realizing it was the same week as the Daytona 500, which meant shockingly high rates. Suddenly we didn't feel the need to be in the area.
Your best bet for saving money is to camp on weekdays or stay at least a week. Daily rates at RV parks are much higher than weekly and monthly rates. However, not all parks offer discounted rates for extended stays, so always call and ask.
So why do RV parks do this? Is it greed? Maybe, but it's more likely they charge these higher rates to make up for all the days the park is nearly empty.
PRO TIP: We recommend visiting tourist destinations during the should season to save money.
#2 Visitor Fees
Did you know some parks charge for friends and family that visit you at the RV park? We didn't either until we finally stayed at one with a $5 per visitor fee. It seemed a little crazy for us because we didn't understand the costs. Why charge for folks that are just going to sit around the campfire?
Most visitors do more than just sit around the campfire, as you may imagine. They may use the pool, make multiple trips to the restroom, and participate in events happening at the RV park. Allowing visitors means more wear and tear on the roads, septic systems, amenities, and landscaping.
Campgrounds also carry liability insurance, which covers everyone in the park. Visitors are more likely to get injured at the campground. They tend not to dress appropriately, don't know the park's rules, and aren't always outdoorsy.
So the visitor fees are there to make sure the parks can recoup the extra cost from having visitors. Parks that don't have visitor fees make up for the financial loss in other ways, usually in higher camping fees.
The last thing most RVers aren't thinking about on their camping trip is utilities. Especially full-time RVers: "Yay, I sold it all, and now I can travel and not worry about a mortgage or utility bills!"
Then you start looking at RV parks and notice some parks charge monthly RVers for electricity. Many parks have a meter at your campsite, meaning you don't know how much you'll pay. So you check out, and you owe $150 in electrical charges. You might pay even more during extreme heat or with more than one AC unit.
Oh, and you may have to do laundry. If you don't have an onboard washer and dryer, you'll either use the park's laundry facility or find a laundromat. While some campgrounds have free machines or inexpensive rates, some are as high as $4 per load! Those laundry fees can add up for longer trips and full-timers.
#4 Cancellations
Most of us are used to cancellation fees. Some hotels and airlines have them. RV parks and campgrounds typically have cancellation fees too. The only difference is that campsite cancellation fees are complicated.
Some places have cancellation fees, late cancellation fees, and no-show fees. There may even be cut-off windows that affect when you can cancel and the costs. They vary from campground to campground.
The best way to find out about a particular park's cancellation policies and fees is to search its website. Download the information and then call the park. Make sure that they can verify the information.
If anything doesn't match what you found on the website, note it and ask the park to send you the details in writing. Don't book a place if you don't understand their policies or don't want to pay their cancellation fees.
#5 Resort Tax
Some RV parks and campgrounds charge a resort tax. Did you know that?
Resort taxes are often an additional fee for RV park amenities such as laundry rooms, pools, gyms, and WiFi.
While many RV parks decide whether or not to charge a resort tax and what that fee covers, some parks don't have a choice.
In some states and counties, parks must charge the fee. It might be called a tourism tax, transient occupancy tax, hotel tax, or another name.
So, how do you know whether you will have to pay a resort tax? The only way is to call the park you are interested in and ask them. Once again, we recommend that you get everything in writing, so there are no surprises.
Keep In Mind: Here's the difference between campgrounds, RV parks & RV resorts.
RV parks' hidden charges can make or break a camping trip, so make sure you do your research.
Have you run into these hidden fees? Did you end up canceling your trip or just eating the costs? Let us know in the comments.
Discover the Best Free Camping Across the USA
To be honest with you, we hate paying for camping. There are so many free campsites in America (with complete privacy).
You should give it a try!
As a matter of fact, these free campsites are yours. Every time you pay federal taxes, you're contributing to these lands.
Become a FREE CAMPING INSIDER and join the 100,000 campers who love to score the best site!
We'll send you the 50 Best Free Campsites in the USA (one per state). Access the list by submitting your email below: