RVs are hot ticket items, and many first-time buyers are jumping on the RVing bandwagon. No matter what type of RV you're buying, it can be a combination of excitement and fear. Before you head down to your local dealer, there are a handful of things we think you should know about RV dealerships.
Today, we're sharing five things you need to know about RV dealerships. Knowing will help you be a better shopper and have a smoother shopping experience.
Let's get started!
What Is an RV Dealership?
An RV dealership is a business that sells, well, RVs. These establishments can range from mom-and-pop locations to massive multi-site corporate locations. Whether you're looking for a driveable or towable RV, there's no shortage of RV dealerships.
Many of these locations sell not only RVs but also supplies and gear to make your adventures as smooth as possible. Many RV dealers have service departments that can handle large and small repairs and maintenance projects on your rig.
How Do RV Dealers Make Their Money?
Like most companies, RV dealers have several ways to make their money. One of the most obvious ways they make money is by selling RVs. Dealers purchase them from manufacturers and act as a middle-man between the manufacturer and consumer. Dealers tack a little bit on to the price to cover their expenses.
RV dealers also make money off selling used RVs too. If a customer comes in looking to purchase a new RV and wants to trade in their old one, the dealer will sometimes offer to buy it. Typically, dealers will give a fraction of what the RV is worth and then turn around and sell it for several thousand dollars more than what they paid for it.
RV dealers also make a tremendous amount through the financing of RVs they sell. They often work with banks and get a direct kickback from them for using them for financing.
Some banks allow what is called a "finance reserve," which is where dealers can tack on to the interest rate of the loan and take the difference. Some dealers will add on 2% or more to the APR, which can cost you thousands of dollars over the life of your loan.
5 Things to Know About RV Dealerships
Don't be an easy target when you walk into an RV dealership. With this information, you'll be an informed buyer and know the ins and outs of the whole process.
1. What Questions Should You Ask When Buying an RV?
Don't be afraid to ask questions when you're buying an RV. The popular saying, "There's no such thing as a dumb question," applies when purchasing one. One of the most important questions is if the RV was a "show RV." If you live in an area where there are many RV shows, the dealership might have taken it to a show and had hundreds of people walk through it.
You likely don't want to purchase one of these models unless it comes with a very steep discount.
You also want to know what comes with the RV and whether the dealership is throwing in any extras. Feel free to roll your eyes if the dealership tells you they're throwing in the power cord, as it should come with your RV. Many dealers will pretend to do you a favor by including these in your purchase.
Another essential question is about the maintenance and warranties because some RVs come with warranties with stipulations. We have heard about dealers requiring customers to have maintenance done at their shop to avoid voiding the warranty.
This may not be a big deal if you plan to camp locally, but you may need repairs done elsewhere if you're planning a road trip or cross-country adventure. If you're going to need to pay for these out of your pocket, it's good to know in advance.
Pro Tip: We got the inside scoop from an RV dealership employee who helped to Shed Truth on Industry Practices.
2. How Do You Find a Reputable RV Dealership?
One of the best ways to find a reputable RV dealership is to ask your friends and family who own RVs. Talk with them about the process and what their experience was like. However, it's important to know that just because someone else had a great experience doesn't mean that you will have the same luck.
If you jump online and read some reviews, you'll quickly see that most RVers either love or hate the RV dealership they bought their RVs. Whether a salesman misspoke or the customer didn't get the deal they were hoping for, reviews for RV dealerships can be pretty dramatic.
Most people aren't running to leave a review unless they're extremely unhappy or very satisfied.
If you ask around the RV community, you'll likely get many negative responses regarding dealerships. Very few RV owners are sending those dealerships a Christmas card. You'll likely need to visit a few RV dealerships while shopping and select the one that makes you feel the most comfortable.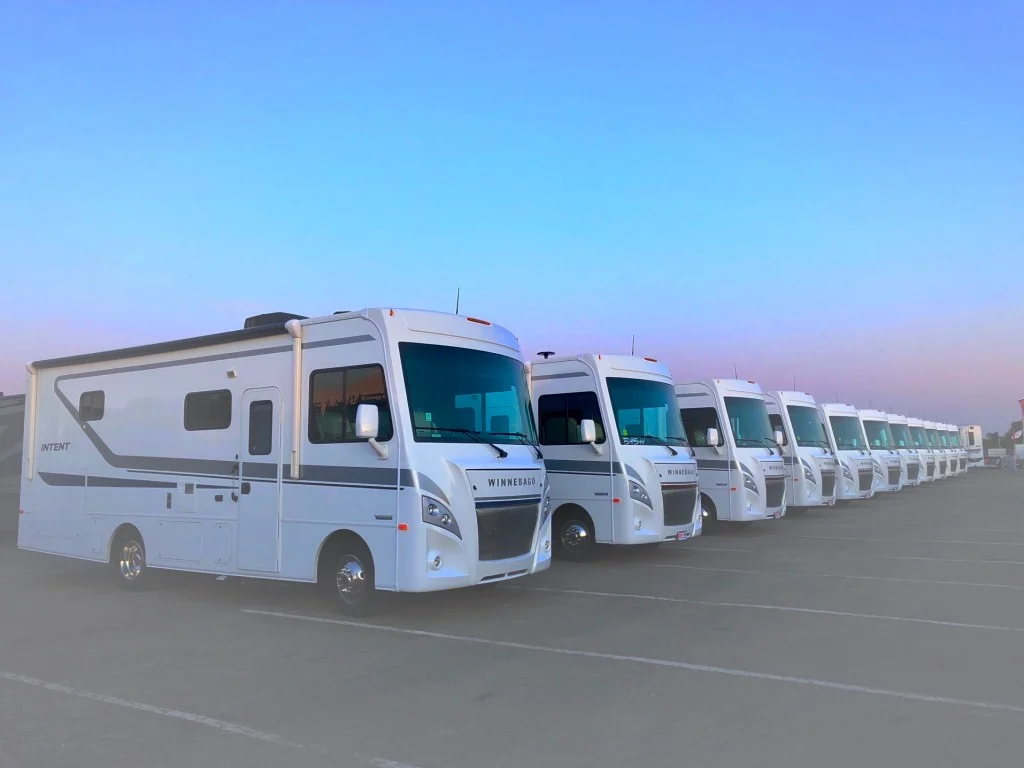 3. What Shouldn't You Say at an RV Dealership?
We're not saying you should be deceitful, but you do yourself a disservice by revealing too much information. For example, a dealer should be able to provide you with the out-the-door price on an RV without knowing any of your information. Your income, the value of your trade-in, or how you're paying for the RV should have no impact on the rig's price. Don't give financial information until it's necessary.
It's best to think of the entire transaction as a poker game. You don't want to reveal how good of a hand you have or what cards you'll be playing all at once. If you let the dealer know that a certain RV is the "perfect" one you want, they will be less likely to budge on the price.
However, if you are more relaxed or possibly considering a similar model at a rival dealership, they may be a little more generous with trying to win you on a sale.
Again, like poker, you want to appear confident. Going in and saying, "We're new to this! We have no idea what we need" is a great way to get ripped off by a dishonest salesperson. They'll take you to the bank and milk you for every dollar you have. Even if you're new to RVing, take the time to educate yourself so you can approach a dealership with confidence.
4. How Much Can You Negotiate on a New RV?
The amount you can negotiate on a new RV will vary greatly. Some shoppers in the past have been able to negotiate 20% to 30% off the manufacturer's suggested retail price (MSRP). However, due to the supply issues and massive demand for RVs, dealers are less likely to negotiate much regarding the price. If you're not willing to pay what they're asking, there's another shopper walking through the door that will.
Doing your homework and shopping around can give you more ability to negotiate. If you know the dealership down the road has the same model for a lower price, then you can see if they'll come down.
However, if they're stuck at a certain price, you may see if they'll include any extras for the gear you will need to use your RV.
5. Do RV Dealers Prefer Cash or Financing?
While you may buy into the philosophy that "cash is king," RV dealers think differently. They almost always get some sort of kickback from the banks or credit unions they partner with for financing.
Walking in with cash isn't going to get you a deal. It may cause you to get a worse deal as a dealer won't be likely to negotiate much. We suggest not disclosing how you're planning to pay for the transaction until you're happy with your price.
Pro Tip: Need help financing your RV? We uncovered What's a Good RV Loan Rate?
Is Purchasing an RV From a Dealership a Good Idea?
If you're looking to purchase a new RV, you don't have many options other than to buy from a dealer. Very few manufacturers do direct-to-consumer sales.
They typically rely on a network of RV dealerships to handle the sales side of things. However, not all RV dealers are shady, and many shoppers have a pleasant experience purchasing their rigs. Trust your gut, and make sure you take your time when buying an RV or making any other major purchase.
Have you had a good or bad experience with RV dealerships? Let us know in the comments!
Discover the Best Free Camping Across the USA
To be honest with you, we hate paying for camping. There are so many free campsites in America (with complete privacy).
You should give it a try!
As a matter of fact, these free campsites are yours. Every time you pay federal taxes, you're contributing to these lands.
Become a FREE CAMPING INSIDER and join the 100,000 campers that love to score the best site!
We'll send you the 50 Best Free Campsites in the USA (one per state). Access the list by submitting your email below: