Walmart has been helping people save money and live conveniently since 1962. They've also become a hotspot for RVers and other nomads looking for a place to park at the end of a long travel day. Walmart camping can be an excellent option, whether you're planning to stock up on supplies or catch some Zs.
However, before you park your rig in their lot, there are some things you need to know.
Today, we're sharing seven things you should know about Walmart camping to ensure a smooth experience. Let's dive in!
What Is Walmart Camping?
Walmart and many other similar big-box retailers have massive parking lots that often sit empty for most nights. RVers and other large vehicles may take advantage of these parking lots and use them to stay overnight. You're not going to find electrical, water, or sewer hookups, but you'll usually have plenty of space to maneuver your big rig.
Sometimes travel days don't go as planned, and pulling into a Walmart parking lot for the night can allow you to rest up to finish the drive the next day. Due to the many items that Walmart sells, individuals staying the night should have no trouble finding something to purchase to thank the store for their hospitality.
Can You Sleep in a Walmart Parking Lot?
Gone are the days when almost every Walmart opened their parking lots to RVs and other nomads. While some Walmart locations still allow overnight stays, there's a trend of overnight parking becoming illegal. This is primarily a result of a few bad apples trashing locations and misbehaving during their visits.
Many communities are creating local ordinances that prohibit overnight parking. Law enforcement can be strict about these policies to maintain a certain quality of life. In many instances, locations with these ordinances have to battle with individuals establishing permanent camps and destroying an area.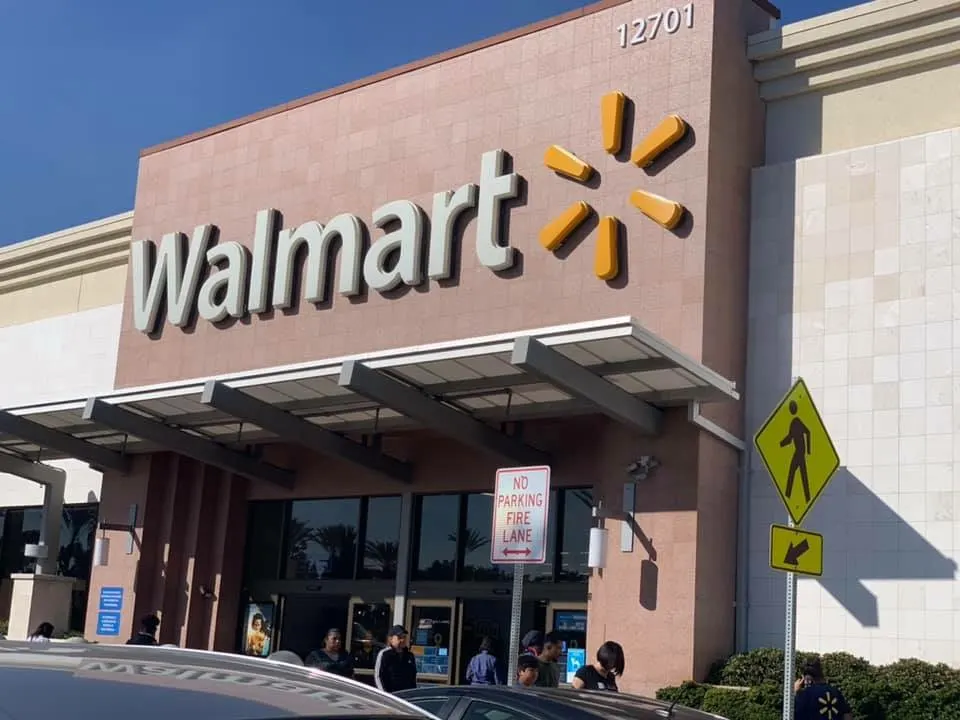 7 Things You Should Know About Walmart Camping
We think you need to know seven essential things before you head to your local Walmart parking lot in your RV. If you apply the tips and information we're sharing, you'll have a smooth experience during your stay. Let's get started!
1. Read Reviews
Every Walmart location is unique. You'll want to know what to expect when you arrive. This is where Apps like Allstays come in handy. Users can leave detailed reviews about each location, and you use their advice to choose where to stay. If a previous guest had a bad experience or witnessed seedy behavior, it might not be a place you want to stop.
Reading reviews can be a great way to avoid making mistakes when entering or leaving a parking lot. If a user comes in a particular direction or has a difficult time, they often leave helpful information for others so they don't make the same mistake.
2. Ask for Permission
No matter what you read in a review or hear by word of mouth, you should always ask permission to park for the night. It's a good idea to call ahead to confirm that overnight parking is available to avoid wasting time or fuel.
Once you arrive at the location, you should find a spot to park your rig. Head inside to speak to a manager and get permission to park for the night. Make sure you note their name if you run into issues that night. Having the name of the manager who permitted you can be helpful.
While inside, we also recommend that everyone support the establishment. Walmart may be a multi-billion dollar company, but they're being generous by allowing you to stay, and the least you can do is support them by making a purchase.
Pro Tip: Make sure no to do any of these Don'ts of Walmart Camping on your next RVing adventure.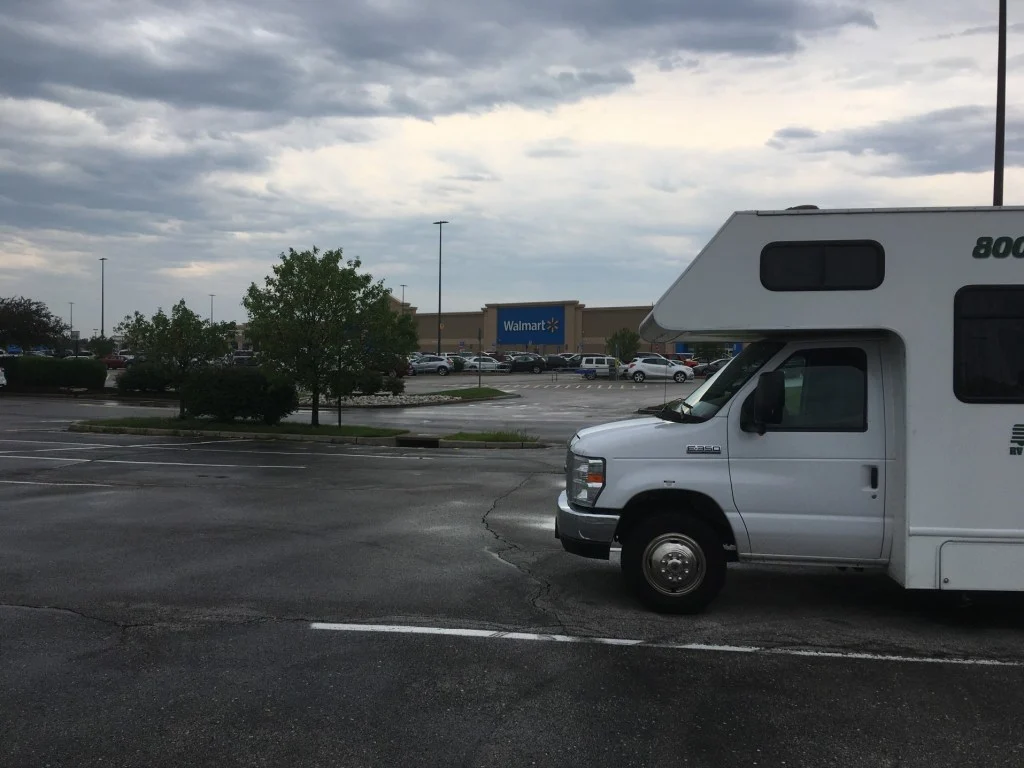 3. Only Stay One Night
You don't want to overstay your welcome. You should limit all stays to a maximum of one night before you move on your way. Staying any longer could draw negative attention from the store's management and even law enforcement.
Not only should you only stay one night, but you should typically arrive later in the evening and leave first thing in the morning. You don't want to take up valuable parking spots for customers looking to make purchases.
4. Even If There Are "No Parking" Signs, Some People Still Safely Park Overnight (Risky, Though)
We have heard some RVers who "ignore" the no parking signs. They hope that they'll go unnoticed or that law enforcement will overlook that they're not supposed to be there. However, this can be a precarious situation as law enforcement might not be as patient as you would hope. They may skip issuing you a warning and give you a ticket.
If you receive a ticket, your free overnight campsite can become very expensive. You also don't want to waste law enforcement's time as you knew from the beginning that you weren't supposed to park there. However, only you can decide whether you're willing to risk it.
5. Don't Put Down Your Jacks
You should avoid putting your jacks down to leave as quickly as possible. You may have felt safe when you parked your rig, but things can unexpectedly change in the middle of the night. If you no longer feel safe, bringing up your jacks will add to the time it takes to get out of the parking lot.
Putting your jacks down can cause damage to the parking lot, especially during the summer. The intense heat from the sun can cause the asphalt parking lot to heat up and become somewhat pliable, especially under heavy loads. Your jacks may dent or leave marks behind when you leave.
6. Don't Set Up Camp
When you're parking overnight at a Walmart parking lot, you're not camping. Avoid getting any camping gear or chairs out during your stay. We recommend that guests stay inside their rig as much as possible to avoid drawing attention to themselves. While the store might not mind if you stay, residents in the area might not be as accepting.
Many people see RVs parked in the local Walmart parking lot as a nuisance that devalues their area. You don't want to engage in a heated discussion with an angry resident. The least amount of attention you can draw to yourself, the better.
7. Leave No Trace
Any time you're parking overnight, including at Walmart parking lots, you should leave no trace when you leave. The spot where you're camping should be cleaner than when you arrived. Many locations that no longer offer overnight parking began prohibiting overnight stays due to guests trashing the place.
Make sure you take all of your trash with you and pick up any trash you find on the ground. If guests always left no trace, many closed locations would still be available. We don't want to see any more sites closing and making it difficult to find a spot to park for the night.
Pro Tip: We uncovered Why RVers Must Leave No Trace? Make sure you know the principles of it before your next camping trip!
Is Camping At Walmart Safe?
Camping at Walmart can be just as safe as camping anywhere else. Some locations have overnight security that surveys their parking lots or has regular patrols from local law enforcement. Many of these parking lots also have bright lights and security cameras, which deter seedy activity.
However, it would be best never to let your guard down when it comes to your safety. You should always lock your vehicle and storage compartments and keep valuables out of sight. You don't want to make yourself an easy target for criminals.
Have you stayed overnight at a Walmart parking lot? Tell us about your experience in the comments.
Discover the Best Free Camping Across the USA
To be honest with you, we hate paying for camping. There are so many free campsites in America (with complete privacy).
You should give it a try!
As a matter of fact, these free campsites are yours. Every time you pay federal taxes, you're contributing to these lands.
Become a FREE CAMPING INSIDER and join the 100,000 campers that love to score the best site!
We'll send you the 50 Best Free Campsites in the USA (one per state). Access the list by submitting your email below: