When you invest in an RV, you want to make sure you're getting your money's worth. Safety shouldn't be a concern, but it's actually something you need to pay close attention to.
Of course, you want the right floor plan for your family. You want to stay within your budget and the right type of RV.
But understanding some of the dangers of different types of RVs is also equally important. Let's look at five safety concerns exclusive to travel trailers, so that if you choose to go this route, you know ahead of time what to expect. Let's dive in!
What Is a Travel Trailer?
A travel trailer is also known as a bumper pull. This is because the travel trailer hitch attaches to the tow vehicle's hitch ball on the bumper. It's very different from a fifth wheel that attaches to a hitch in the bed of a truck. Payload capacity isn't very important when towing a travel trailer like it is when towing a fifth wheel. All the weight is on the bumper, so towing capacity is much more critical.
Keep In Mind: There are pros and cons to every type of RV. If you're wondering Why Choose a Travel Trailer RV, take a look at both their upsides and downsides.
How Safe Are Travel Trailers?
Travel trailers are susceptible to high winds and swaying more than any other type of RV. High-profile vehicles like RVs shouldn't travel in windy conditions. Still, travel trailers are especially dangerous because the stability isn't as strong since it's connected to a tow vehicle with a ball and hitch.
On the other hand, fifth wheels travel more smoothly and safely because more weight is in the truck's bed. Motorhomes also spread out the weight more evenly.
However, this doesn't mean travel trailers aren't safe. It just means you should be cautious when towing one. You'll deal with a few things exclusive to travel trailers that other RVers won't have to deal with. This also means you'll want to ensure you have the right equipment and understand how to use it properly before heading out on your first camping weekend.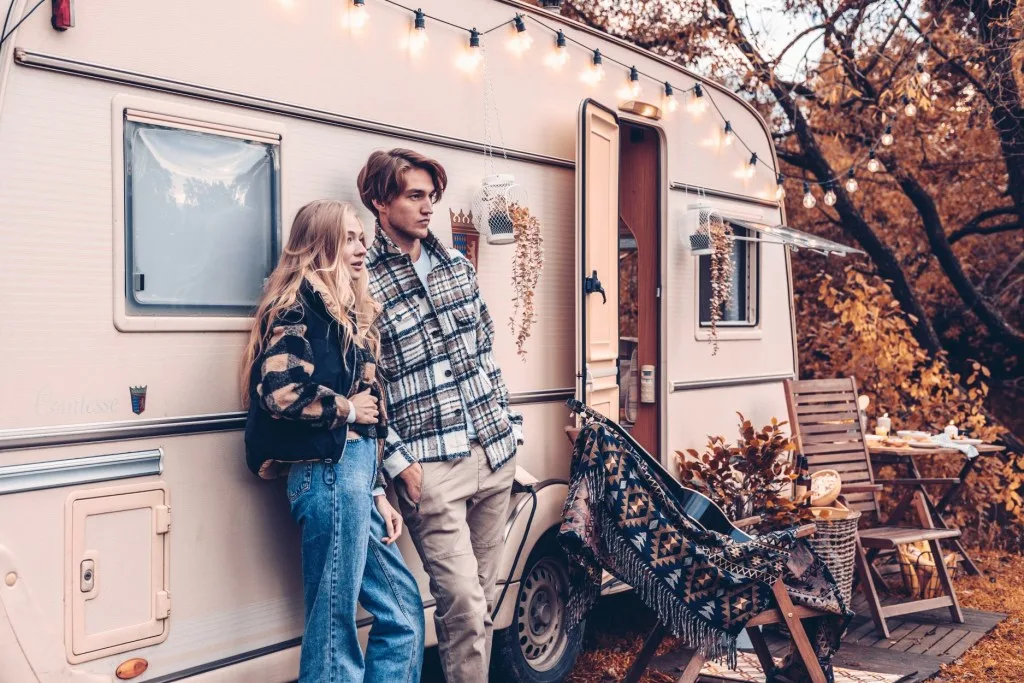 5 Safety Concerns Exclusive to Travel Trailers
RVs are known for not holding up very well. Unfortunately, most RVers will have serious repairs over the course of their travels. However, travel trailers have five specific concerns. Let's take a closer look.
1. Quality
Travel trailers are the highest-selling type of RV. They're also the cheapest. Because travel trailers are mass-produced and aren't typically made with top-quality materials, there is a risk of getting poor-quality craftsmanship. Manufacturers may not hold the quality control reins tightly like a custom motorhome company. They're seeking to get out as many campers as possible at an affordable price for travelers.
Quality is a safety concern because trim pieces can come unglued, water lines can leak, and welding on the frame can be sub-par. If some issues aren't dealt with immediately, they could lead to serious damage. Plus, it's just annoying to constantly be fixing something on the RV. You want to spend your time camping and not repairing.
2. Less Stability With Bumper Towing
Bumper towing is much less stable than fifth-wheel towing. Even with sway bars, towing a travel trailer may bring repeated white-knuckle driving. They're more susceptible in windy conditions, and you have less control over them since they're attached to the tow vehicle's rear.
As mentioned earlier, fifth-wheel towing is much smoother and generally safer because quite a bit of weight is on the truck's bed rather than all of the weight after the rear bumper.
3. The Wrong Tow Vehicle
Towable RVs – travel trailers and fifth wheels – must be pulled by a vehicle that can handle the GVWR. RVers get into dangerous situations when they try to save money by towing a 10,000 lb travel trailer with a Toyota Tacoma. If the GVWR of the travel trailer is close to the towing capacity of the tow vehicle, you need to consider upgrading the tow vehicle or downsizing the RV.
Following the 80/20 rule of towing, where you only tow 80% of the towing capacity, is a smart decision. It protects your vehicle from wear and tear and saves you from repairs down the road. Plus, a tow vehicle that can't control a travel trailer is dangerous for everyone.
4. Tires Speed Rating May Be Surprisingly Low
Standard tires from the manufacturer usually need to be immediately replaced. Manufacturers don't spend top-dollar on good, quality tires. Some tires only have ratings of up to 55 mph. If you plan to travel interstate across the country, you certainly want to upgrade to tires rated for at least 65 mph.
The weight rating may also be low. The manufacturer may put on tires rated to hold a certain amount of weight. If you're over that weight and still under the GVWR of the travel trailer, you're still at risk for a tire blow-out because the tires aren't up to par. Certain brands are also better than others, which can affect your risk of an accident on the road.
5. Fewer Safety Features Than Other RVs
Because travel trailers are the most affordable RVs on the market, they don't come with bells and whistles. This means they also lack the safety features that other RVs have.
They may not have a backup camera, a "smart" monitoring system, or an Electronic Stability Control system that some motorhomes and fifth wheels have. Fewer features mean less stuff to break, but it also means less protection.
Do Travel Trailers Have a Lot of Problems?
Travel trailers have problems just like other RVs. Every type of RV has its own issues. Drivable RVs will have challenges with engines and transmissions that towable RVs don't deal with.
But then towable RVs are usually of lesser quality, which means more repairs. If you're on a budget and want to camp, a travel trailer is a great option. Just know some of the limitations and set your expectations accordingly.
Pro Tip: If you think a travel trailer is right for you, buy a high quality one from one of these Best Travel Trailer Manufacturers in 2022.
How Do You Stay Safe in a Travel Trailer?
Staying safe in a travel trailer is really about preparation and maintenance. Do your homework by watching YouTube videos, reading blogs, and talking with other RVers. Sometimes there are common problems people will mention, which will give you a heads up to stay on top of and prepared for. You'll also get a good idea about what kind of equipment you'll need to stay safe while towing.
But most of all, take your time when driving. Don't ever be in a hurry. Rushed traveling can lead to dangerous situations no matter what type of RV you're towing or driving. Enjoy the journey and go make memories!
Do you have these same concerns with your travel trailer? Tell us your thoughts in the comments!
Discover the Best Free Camping Across the USA
To be honest with you, we hate paying for camping. There are so many free campsites in America (with complete privacy).
You should give it a try!
As a matter of fact, these free campsites are yours. Every time you pay federal taxes, you're contributing to these lands.
Become a FREE CAMPING INSIDER and join the 100,000 campers that love to score the best site!
We'll send you the 50 Best Free Campsites in the USA (one per state). Access the list by submitting your email below: