Sometimes you just need to get some shut-eye. It's been a long day of traveling, and you need to stop for the night. If you're driving or towing an RV, it's much safer for everyone if you stop somewhere to rest. If you don't have a campground reservation, you're not stuck.
There are other options for a quick overnight stay. Truck stops are one option that RVs take advantage of on those long drive days.
Let's look at seven things non-truckers should know about truck stops to make your stop safe and enjoyable.
What Are Truck Stops?
Truck stops are fuel stations that are larger than standard stations. They're safe locations for truckers to get in and out with 18-wheelers. Truck stops have separate fuel pumps in the back with longer lanes designated for large trucks.
This is also where many RVers who drive diesel motorhomes or tow large fifth wheels with a diesel truck will stop for fuel.
But truck stops aren't just bigger fuel stations. They have amenities for weary travelers like showers, restaurants, and larger convenience stores. Truck stops are available to truckers as a one-stop-shop to get everything they need before hitting the road again. It's very difficult for a trucker to stop at a gym to take a free shower or pull into a restaurant parking lot to grab a bite to eat.
The large parking lots and additional amenities make truck stops ideal for drivers of large vehicles to stop and rest.
Can Non-Truckers Sleep at Truck Stops?
As mentioned above, RVers who own motorhomes or large fifth wheels also tend to stop at truck stops rather than standard fuel stations because of the ease of getting in and out. They can pull around the back to use the diesel pumps, add DEF fluid, weigh at the CAT Scales, and pull into a long parking spot for lunch.
However, non-truckers also want to give truckers first choice. Truck stops are for them. There are very few other locations where truckers can stop and rest. So if you're looking to grab a shower or get some sleep, be considerate of where you park and how full the lot is because weary truckers won't have another option.
7 Things Non-Truckers Should Know About Truck Stops
If you're new to RVing and have a diesel pusher or large fifth wheel, you'll want to know your way around truck stops. They're usually right off the interstate, so you can travel confidently, knowing you can easily get in and out of these locations.
Let's look at seven things you may not know about truck tops but are essential to making your travels easier and more enjoyable.
1. Diesel RVs Can Use the Trucker Lanes
If you have a diesel truck and motorhome, you're allowed to get fuel in the rear of the truck stop in the trucker lanes.
In fact, you really should do this so that you don't get stuck, block in other drivers, or accidentally hit something in the car lanes. Just pull in behind the truckers if all lanes are full and wait your turn to fill up.
2. Loyalty Card Programs Can Save You Money
Truckers travel with a TSD card, which gives them cents off at the pump. RVers, or any other driver of a diesel vehicle, can also get this TSD card. It's a really good idea to save money.
Some locations will save you 40 to 50 cents per gallon. That can add up! However, you can't count on every truck stop to participate in this loyalty program. So get the app and do some research before you hit the road to know where you should stop for fuel along your route.
3. You Can Take a Shower There
Truck stops have more than just restrooms for travelers. They also have showers. Weary truckers need this amenity when traveling days at a time across the country.
However, non-truckers can also take showers at truck stops. If you've been dry camping for several days, this is a great location to clean up, fuel up, dump your tanks, and grab a bite to eat.
Pro Tip: Check out our guide on how to take a Truck Stop Shower for Non-Truckers.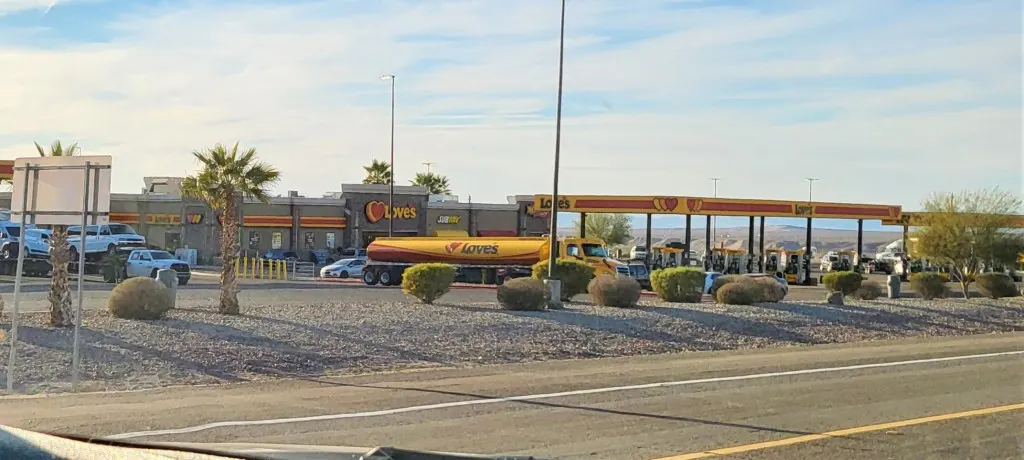 4. You Can Often Sleep Overnight at Them
A truck stop is a good location when you need a quick, convenient stopover for a night. You probably knew that truckers slept there, but non-truckers can, too. Again, just be considerate. RVers do have other options, even if they're most costly, farther away, or inconvenient.
Truckers don't.
But if you need a place to pull over for the night, look up truck stops along your route. You'll probably have to deal with some traffic noise and the starting of engines throughout the night, but it's a safe, convenient spot to rest for one night.
5. Some Have RV Dump Stations
You can use apps like SaniDump or AllStays to locate dump stations. But some truck stops also have their own apps that let you know if a dump station is on the premises. For example, Loves Connects and Pilot Flying J have apps that provide you with amenities at each location.
Even if you don't need to stop for fuel or food, you can easily get off the interstate and empty your tanks if you've been without sewer hook-ups for a while.
Pro Tip: We uncovered an exciting news story! Find out which National Truck Stop is Adding Full Hook-Up RV Parking.
6. Trucker Lanes Have Water Hoses (But It's Not Potable)
If you need to rinse off your rig, trucker lanes also have water hoses at truck stops. This is not to give your RV an entire wash. Other truckers are in line waiting to get fuel.
But you can quickly use a water hose to clean off your windshield or fender wells. It's also not water to fill up your fresh tank. You don't want to drink from these hoses. However, they're provided for other uses.
7. Trucker Lanes Can Have DEF Fluid for Your Diesel Truck
You won't need DEF fluid every time you get fuel, but when you do, it's conveniently at the diesel pumps in trucker lanes. Regular fuel stations where you get gas for your car don't have DEF fluid at the diesel pumps.
You'll have to buy it inside the convenience store. It's quite convenient for drivers of diesel trucks to fill up with fuel and DEF fluid at the same time in a trucker lane
How Can I Be Safe at a Truck Stop?
First, do a bit of research before you roll in. Check out reviews and location info to ensure it's a safe location. Second, if pull-thru spaces are available, park there so you can easily leave if needed. Sometimes you can get blocked in if a truck stop is busy when you park in a back-in space.
You also want to park near other trucks. You don't have to be right next to them, but you'll feel safer congregating together. If you choose a parking space in the back near an empty field, you're putting yourself at more risk.
Finally, be alert. Check your surroundings. Notice any suspicious activity. If you ever feel in danger, you can leave quickly. However, truck stops are generally safe locations for a quick overnight stay.
Are Using Truck Stops Worth It?
If you want to save money on an overnight stay, truck stops are an option. Some rest areas also provide overnight parking for RVs and stores like Cabelas, Bass Pro Shops, and Walmart. Truck stops offer the protection of other truckers, so you're not staying the night alone. Even though you may not see the drivers, the line of trucks parked in the parking lot is usually a deterrent for criminal activity.
If you'd like a quieter and more private place to stay, you can check out Harvest Hosts or Boondockers Welcome. These subscription services connect RVers with free overnight parking at breweries, wineries, farms, golf courses, and private properties.
So what about you? Would you stop at a truck stop for a quick overnight stay? Tell us your thoughts in the comments!
Discover the Best Free Camping Across the USA
To be honest with you, we hate paying for camping. There are so many free campsites in America (with complete privacy).
You should give it a try!
As a matter of fact, these free campsites are yours. Every time you pay federal taxes, you're contributing to these lands.
Become a FREE CAMPING INSIDER and join the 100,000 campers that love to score the best site!
We'll send you the 50 Best Free Campsites in the USA (one per state). Access the list by submitting your email below: