With over 300 miles of coastline, there are some sweet camping spots on the beaches of Texas. Whether you're visiting Texas for Austin's music scene or some history in San Antonio, add a beach stop to your list, too.
You won't want to miss out on some of the best beach camping in the nation. Let's look at what beach camping in Texas has to offer!
Can You Camp on Any Beach in Texas?
Texas is an excellent state for beach camping. It has options to suit every camper, from full hookups at RV parks to rustic camping on the sand. There are plentiful campgrounds and parks dotted along the coast so that you can choose your adventure. The Lone Star State has no shortage of excellent spots to pitch a tent or park an RV on the beach in Texas.
However, while many beaches allow camping, not every beach will be thrilled when you set up camp. Not all of them are free, either.
Some beaches may be private or without public access, so do your due diligence and know that you camp on the beach before making assumptions. To make life a bit easier for you, we have some free beach camping sites for you right here.
Can You Park an RV on the Beach in Texas?
Speaking of camping on Texas beaches, what about RV camping? Can you park an RV on the beach? The answer is a resounding yes! Texas offers some of the best beach camping in the country, and there are many options for those who want to camp with an RV.
Texas has several parks that offer beach camping specifically for RVers. Some parks will have hookups and other amenities that make camping with an RV more convenient. Some of the most popular RV beach camping spots in Texas include Padre Island National Seashore, Mustang Island State Park, and Galveston Island State Park.
You don't need to camp at an official park to enjoy beach camping with your RV in Texas. There are several other spots along the coast where you can set up camp for a few nights right on the sand. Careful, though!
When parking an RV directly on the sand on the beach, be aware of changing tides and shifting sand. If you park too close, low tide can quickly become a high tide, and hard-packed sand could become soft sinking sand, making your beach camping more of a nightmare than a vacation.
Pro Tip: Want to go fishing while beach camping in Texas? This is How to Get a Texas Fishing License.
When Is the Best Time to Camp in Texas?
Are you looking for a free camping spot on the beach in Texas? You're in luck. There are many options available, especially if you're willing to rough it a bit and do some boondocking without all the amenities of an RV park.
So when is the best time to camp in Texas, roughing it or not? While camping in the summer is often your best bet, remember that summers can be sweltering in Texas. This makes the best time to camp on the beach in Texas during the shoulder seasons of spring and fall.
However, if you prepare for the heat, there are still many free beach camping spots available during the summer months. Plus, when beach camping, you have a vast pool to cool off at no charge!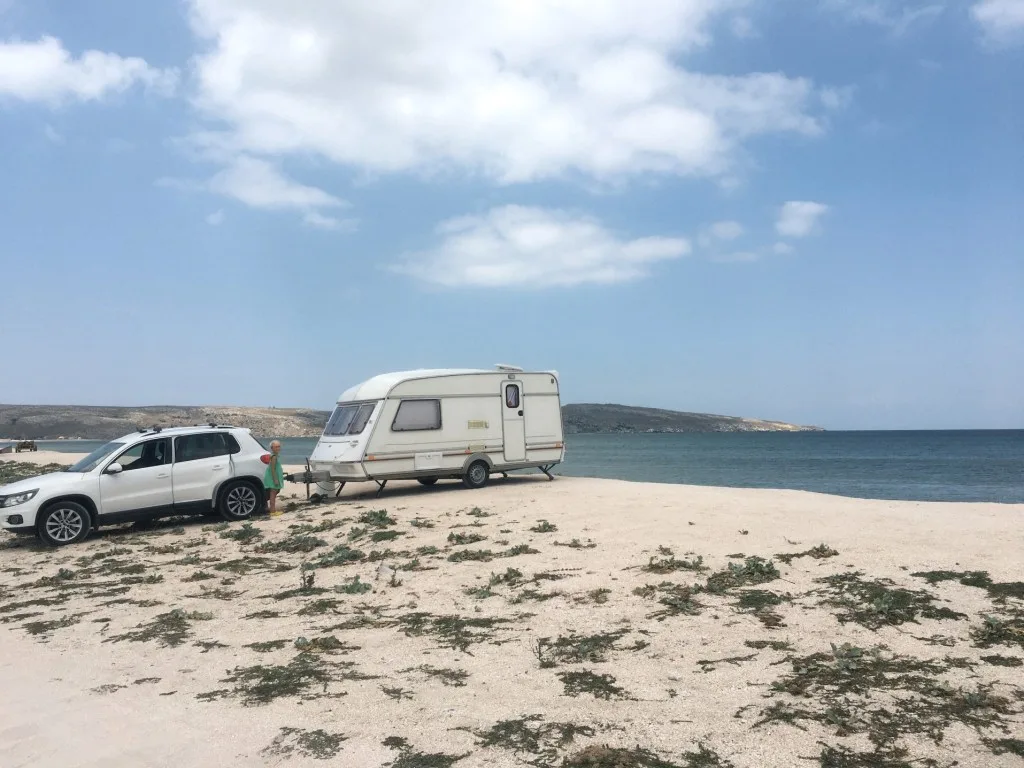 The Best Free Camping Near Texas Beaches
Texas is home to some of the best beaches in the country, and there are excellent camping options. Whether you're looking for a place to relax on the beach or an adventure-packed getaway, we have some of the best camping spots near Texas beaches. The best part? They're all free!
Boca Chica Beach (Brownsville)
Address: Boca Chica Blvd. Brownsville, TX 78521
About Boca Chica Beach: Boca Chica Beach is one of the free camping beaches in Texas that offers visitors a remote coastline. The beach is on the border of the Rio Grande delta and the Laguna Madre salt flats, making it a unique destination for beachcombers.
The eight miles of undeveloped coastline allow visitors to find their private spot on the beach. There are no amenities at Boca Chica Beach, but for some, that's precisely what they're looking for.
The sand, sea, and remoteness of this Texas beach make it one of the best beaches for those looking to get away from it all. When it's time to escape, Boca Chica Beach is the perfect location.
Texas Free Camping Vibes: A secluded and remote beach in Texas? That's a Texas vibe for those that need a break from the crowds.
South Beach (Corpus Christi)
Address: Park Road 22 Corpus Christi, TX 78418
About South Beach: While camping is free at South Beach, you will need to pay an admission fee to the National Seashore or have an annual national parks pass. Once you have that, this free Texas beach camping is one of the best. Everyone knows it, so be prepared for others enjoying the beach, too.
With 60 miles of beach access to drive your vehicle along the coast (4WD recommended) and beach camping for all size rigs and tents before the 4WD access, this is a gorgeous spot to camp. Sleep, wake up, and walk along the waves.
While there are no amenities on the beach for camping, there are flush toilets and cold water rinse showers at the visitors center, along with a vault toilet at the entrance to South Beach. Everything you need is right where you need it.
Texas Free Camping Vibes: With 60 miles of beach to hike, bike, run, and drive, this is Texas camping vibes at its best.
Chamber Park (Bay City)
Address: Canal Drive Bay City, TX 77414
About Chamber Park: While Chamber Park in Bay City is nothing more than a big parking lot, it's right on the beach, making it convenient. One side is the beach, and the other is a shipping canal across the road.
It has porta-potties and running water at the two picnic shelters, along with trash cans. There's ample space to spread out, but the downside is that it can be noisy from the ships passing through the canal. However, it is free camping with the waves as your neighbor.
Texas Free Camping Vibes: This is Texas camping at its most convenient. No frills, just a place to park with a view.
Bolivar Flats Free Beach (Bolivar Peninsula)
Address: Rettilon Rd. Bolivar Peninsula, TX 77650
About Bolivar Flats: Bolivar Flats is across from Galveston, so you can either take a ferry from there or drive in from the other side near the small Texas town of Winnie if you're coming from Houston. When camping here, you'll have incredible views of incoming tankers and cruise ships.
The beach is quiet and peaceful, with miles of sand to walk, run, or drive along. The only amenities are trash barrels along the coast, but that's all you need. The hardpack sand makes it easy to park, and there's plenty of space for camping to the left of the entrance.
If you want to camp on the right side, you'll need a permit. Either way, Bolivar Flats is a fantastic spot for a beach vacation.
Texas Free Camping Vibes: Just a few neighbors to keep you company, the sound of the surf, and the views of the ships combine to create a relaxed Texas beach camping vibe in the Gulf.
Magnolia Beach (Port Lavaca)
Address: North Ocean Dr. Port Lavaca, TX 77979
About Magnolia Beach: This popular spot is in Lavaca Bay, near Matagorda Island. The water is usually calmer and more serene than the Gulf, making it a great place to relax and enjoy the sunshine. Spring breakers, along with snowbirds and casual campers, all know this.
If you're not in the mood for crowds, plan wisely. Avoid spring break time and holidays. But if you love people-watching on the beach, this is the place to be in Texas.
There are many amenities, too, including garbage cans, outdoor showers, restrooms, and picnic tables. Parking is a breeze, thanks to the hard-packed sand and crushed shells. Seashells, sun, sand, and surf are all for free.
Texas Free Camping Vibes: If you're looking for the Texas camping vibes of the Gulf and fellow beach lowers to enjoy it with you, then Magnolia Beach is where you should be.
Pro Tip: Make sure you know these 10 Weird Texas Laws to Know Before Your Road Trip.
Getaway to the Best Free Camping on the Beaches in Texas
After exploring the vast expanse of Texas, what beach will you end up on to round out your Texas getaway? If you're looking for a remote beach camping spot, Boca Chica may be your best bet. If you'd rather be near civilization and don't mind sharing their beach with spring breakers, Magnolia Beach is the place to go.
South Beach on the National Seashore offers beautiful views and plenty of room to spread out, while Chamber Park provides quick and easy convenience.
Or hop on a ferry from Galveston to head over to Bolivar Flats. No matter which beach you choose, we hope you enjoy your time under the Texas sun! Don't forget to pack the sunscreen!
What is your favorite beach town to visit in Texas? Let us know in the comments!
Discover the Best Free Camping Across the USA
To be honest with you, we hate paying for camping. There are so many free campsites in America (with complete privacy).
You should give it a try!
As a matter of fact, these free campsites are yours. Every time you pay federal taxes, you're contributing to these lands.
Become a FREE CAMPING INSIDER and join the 100,000 campers that love to score the best site!
We'll send you the 50 Best Free Campsites in the USA (one per state). Access the list by submitting your email below: