The Smoky Mountains are a remarkable destination in the southeastern United States. Their ancient rounded "knobs" and winding mountain roads remind us that these bumps are the oldest mountain range on the continent.
They possess beauty, wildlife, and history, making them the perfect location for a camping vacation. In fact, this region is full of free campsites for those that go the extra mile.
Discover boondocking areas in some of the most scenic spots in and around the Smoky Mountains.
Can You Camp for Free in the Smoky Mountains?
The Smoky Mountains have been a haven for travelers for thousands of years. And today, it's no different, with several free campsites available for those just passing through.
Boondocking, sometimes referred to as dispersed camping, is popular in many areas of the region, as the Smoky Mountains contain miles and miles of public land.
Can You Car Camp in the Smoky Mountains?
As long as you can locate a dispersed camping area, you can camp in your car. As you will see from the list below, there are plenty of campsites that are free to use because they are in national forests within the Smoky Mountains.
These are public lands, and camping is allowed, usually in designated campsites or at least within designated regions, as in Paint Creek 'Corridor.' Some campsites will be too small for RVs, but car campers are usually allowed unless the area is marked for non-motorized vehicles only.
If there is room to set up a tent with your car, you've won the lottery and can camp in the Smokies for free!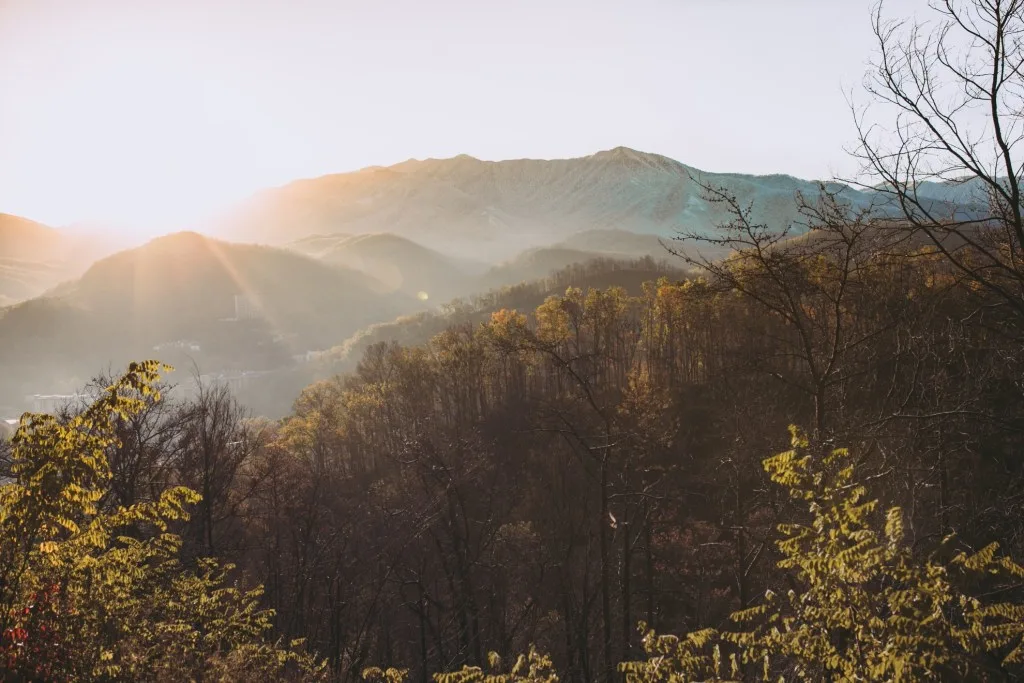 When is the Best Time to Camp in the Smoky Mountains?
Some campgrounds are closed during the winter months, but there are many spots where dispersed camping is available year-round. Summer is the region's high season, so you may be fighting for a free campsite with many other travelers, but the weather will be warmer (and a bit muggy).
Spring and Fall would be our picks for the best time of year, as there are fewer people to contend with. Additionally, the green colors of new growth in Spring or the golden hues of a hardwood forest in Fall will enhance your camping experience immensely!
Pro Tip: Want to visit The Single Most Exclusive Place in the Smoky Mountains? Find out how!
The Best Free Camping Near the Smoky Mountains
To give you a taste of free camping areas available in the Smoky Mountains, we've accumulated a list of five. They are scattered throughout this mountainous region, crossing the border between North Carolina and Tennessee.
See if you can find one boondocking site near your desired location. Check out the outdoor activities you will be able to enjoy while camping free of charge.
Magazine Branch Lake Access
Address: River Road, Tapoco, NC
About Magazine Branch Lake Access: Sitting just off the Tennessee line, Magazine Branch Lake Access is pretty easy to find. In fact, if you're a motorcyclist, you will almost run into this boondocking spot at the end of your ride down the infamous Dragon's Tail.
The camping area has 11 sites, and they added porta-potties and fire rings in the last few years. There is even a floating dock, as the campsites lie along the Little Tennessee River. The only negative that we can see is there is no cell service.
Smoky Mountains Free Camping Vibes: The sites are free with a few added negligible amenities because of the location's popularity.
We'd say it was worth four-and-a-half stars out of five, mainly because Magazine Branch is in a great location. In fact, several movies have been filmed in the area, so location managers must agree with us!
Weavers Bend Road Dispersed Camping
Address: Weavers Bend Road, Del Rio, TN
About Weavers Bend Road Dispersed Camping: With a non-descript number of boondocking sites along the French Broad River, Weavers Bend offers beautiful scenery and campsites that spread out and are private. There are no amenities here, except for fire rings, but there is great fishing and hiking throughout the area.
Smoky Mountains Free Camping Vibes: A little more difficult to find without directions, but these campsites are worth traveling 5 miles off the beaten path.
They are set along the river but have no cell phone signal, so we'd give them four out of five stars, mostly for the sites' tranquility and beauty.
Paint Creek Corridor
Address: Rollins Chapel Road, Greeneville, TN
About Paint Creek Corridor: Operated by the National Forest Service, Paint Creek Corridor has several dispersed campsites available at no fee. Campers must set up in designated campsites, and vault toilets are the only amenity.
This 5-mile-long corridor mirrors Paint Creek and the French Broad River, where fishing and bicycling have become the most popular activities. There is no cell service here.
Smoky Mountains Free Camping Vibes: A little off the beaten path, but Paint Creek Corridor hits the "cool" button by offering 5 miles of creekside camping for free. Vault toilets are available, but no cell phone signals. But playing in the Smokies is definitely good. Five stars out of five from us!
Pro Tip: Keep an eye out for these Most Dangerous Creatures in the Smoky Mountains on your next adventure!
Black Balsam Knob
Address: Art Loeb Trail, Canton, NC 28716
About Black Balsam Knob: Located just off the Blue Ridge Parkway near Mt. Pisgah, Black Balsam Knob is a large region of the Smokies where hikers venture from one "knob" to the next. Campers can set up tents anywhere within the national forest but must be at least 500 ft from roads, and they can't venture into private areas or those marked off.
There are no amenities, and cell phone service can be very intermittent.
Smoky Mountains Free Camping Vibes: This area is most appealing to backpackers and hikers rather than car campers or RVs. But it's a challenging trip back to nature and a stunning way to experience the Smoky Mountains.
We give it four out of five stars, just because the access to vehicles is less than desirable.
Santeetlah Lake
Address: Pine Ridge Road, Robbinsville, NC
About Santeetlah Lake: Lake camping with a free price tag is absolutely the best. And at Santeetlah Lake, campers have their choice of dispersed campsites scattered all along the shoreline.
A rig of almost any size can find a site that fits because they're along the road. Vault toilets are available, as are some fire pits, and cell service for the three biggest providers is pretty steady.
Smoky Mountains Free Camping Vibes: This large lake is surrounded by forest and mountains, with a mixture of public land and private homes. The campsites are quite popular, and some owners don't maintain them as well as we'd like.
But they're right on the shoreline, and the price is right. We'd give Santeetlah Lake dispersed campsites four out of five stars.
Make the Smoky Mountains Your Next Campsite
As you can see, free campsites are available throughout the Smoky Mountains. You may have to look a little harder for them, but once found, you will discover hidden treasures that you can return to again and again.
So skip the packed RV parks and venture into the less populated regions of the Smokies for boondocking adventures. You will save a little money and spend a little more time surrounded by nature.
When will you visit the Smoky Mountains? Tell us in the comments!
Discover the Best Free Camping Across the USA
To be honest with you, we hate paying for camping. There are so many free campsites in America (with complete privacy).
You should give it a try!
As a matter of fact, these free campsites are yours. Every time you pay federal taxes, you're contributing to these lands.
Become a FREE CAMPING INSIDER and join the 100,000 campers that love to score the best site!
We'll send you the 50 Best Free Campsites in the USA (one per state). Access the list by submitting your email below: