Sometimes getting from Point A to Point B requires a long drive day. You don't want to pay for one night at a local campground that may be several miles out of the way. But you know it's not safe for you to drive the entire route in one day. You'll be tired, irritable, and hungry.
So what are your options?
One of the easiest and most convenient locations for a free overnight stay is at a Sam's Club. It saves you money from paying campground fees, and it's easy to get in and out from the Interstate.
Let's look more at the rules and etiquette for overnight RV parking at Sam's Club.
What Is Sam's Club?
Sam's Club is a wholesale store where customers must first be members to shop at its locations. The club price is $45 per year, and the Plus membership is $100 per year. It has its own brand, Member's Mark, for various products, including pet supplies, home decor, clothing, and groceries.
There are also additional savings in the pharmacy, optical center, and fuel station at each location. Each month, Sam's has "Instant Savings" on various products just like other stores when customers own their discount cards.
Can You Park Overnight at Sam's Club?
Because it's a big wholesale store, most Sam's Club parking lots are very large. The lanes are wide for larger trucks to get through, and there's plenty of room for the huge shopping carts to maneuver around. Because of this, RVers like to use Sam's Club parking lots to stay overnight when they need a quick stopover. Locations are usually off the Interstate and easy to get into and out of.
Each location operates under its own rules, however. So don't assume that every Sam's Club will allow RV overnight parking. Sometimes the city or county has certain regulations that prohibit overnight parking. It's best to always call ahead to ask if overnight parking is allowed.
Do You Have to Be a Sam's Club Member to Park Overnight?
You don't have to be a member to park overnight. But, when you go into a Sam's Club location, there's someone at the door checking membership cards, so you won't be allowed to shop without one.
But you can go to the customer service desk and speak with a manager.
Boondocking Etiquette at Sam's Club
Each location may have a specific set of rules. This is one reason why it's important to go inside and talk with the manager upon arrival. There may be designated parking spots for RVs, or you need to leave the following day at a certain time.
There are also unwritten rules of etiquette when staying overnight at a Sam's Club.
Ask for Permission
The Sam's Club website says, "You should verify with the Club Manager if it is permissible to use the parking lot for any overnight vehicle stays. Failure to notify club management in advance could result in unauthorized vehicles being towed at the expense of the vehicle owner."
Even if this wasn't a rule, it's always the right move. It's common courtesy to ask for permission and not just assume you can. Talking with the manager also gives you a chance to ask questions or see if there are any specific rules for that location.
Don't Set Up Camp or Put Jacks Down
Whether you're setting up in a Walmart, Sam's, or Bass Pro Shops parking lot, you never want to act like it's a campsite. Don't extend the awning, cook your dinner outside, or play loud music. Treat it like a parking lot and not a campground. You'll take up additional space when you set up camp, which can affect the amount of space for shopping customers.
You also don't want to put the jacks down. This can damage the pavement, and you always want to leave a parking lot in the same condition as when you arrived. Plus, if you need to leave quickly, you don't have to take time to raise the jacks.
For the most part, you want to park in the back of the lot out of the way as much as possible. Then head inside to talk with the manager. Perhaps you'll do some shopping and support the store. Maybe there's a restaurant within walking distance where you can grab dinner. And then you're back to your RV to head to bed.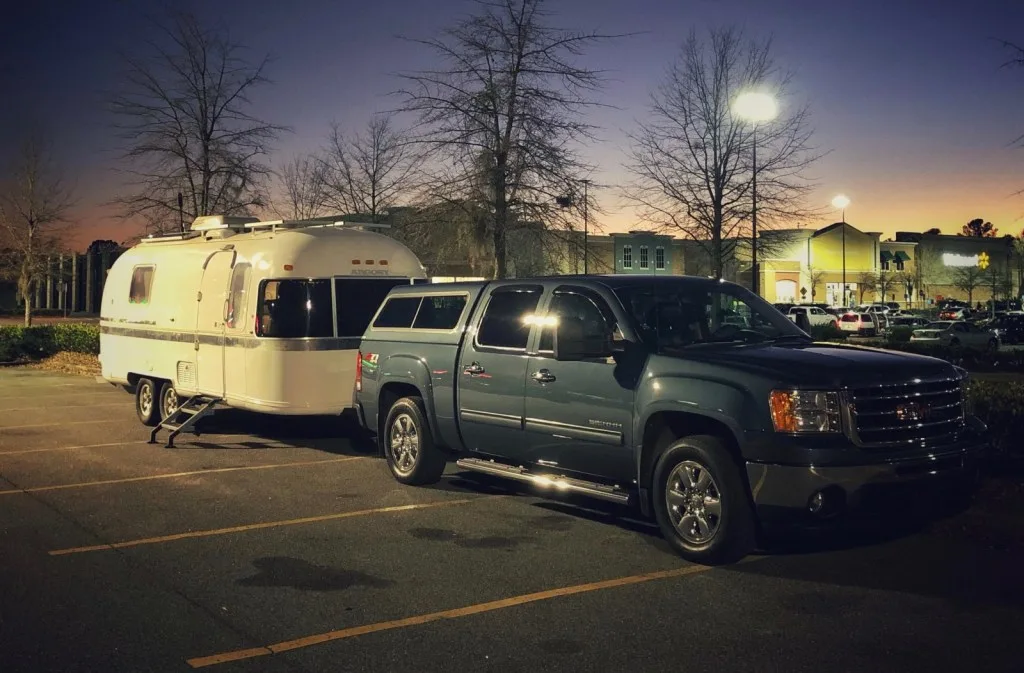 Only Stay One Night
It's very important that RVers don't abuse this free parking privilege. When they start to set up camp, grill hotdogs in the parking lot, and stay in the same location for several days, the rest of the RVing community will lose the opportunity for free overnight parking. Stores will stop allowing RVs to park there.
Managers will decide the clean up isn't worth it. So we all must follow the appropriate guidelines and etiquette for overnight parking.
Staying in a Sam's Club parking lot is a privilege for one night. Get in and get out. Don't leave your RV and go sightseeing for a few days. It's simply an opportunity to get a good night's sleep before heading back out on the road the next day.
What Other Businesses May Allow Overnight Parking?
As mentioned earlier, not every chain has an across-the-board rule about overnight parking. Even though most Cracker Barrels allow it, that doesn't mean every location does. There are local ordinances that could prevent overnight parking. It may also be a location where RVers took advantage of the opportunity and ruined the privilege for others.
The manager has now decided RVers can't park overnight because of the abuse. But in general, these businesses may allow overnight RV parking: Walmart, Cracker Barrel, Sam's Club, Costco, Bass Pro Shops, and Cabela's. Other free parking locations include rest stops, welcome centers, truck stops, and casinos.
Is Parking Overnight at Sam's Club Worth It?
If you're tired from a long day of driving and need a place to stop for the night, Sam's Club is one location where you're likely to find safe overnight parking. It's usually well lit and big enough that even a Class A or large fifth wheel can find a place to park without trouble.
If you need a place to stay for two or more nights, don't stop at a Sam's Club location. Search the area for local campgrounds or check out Boondockers Welcome for locations near you. Don't abuse this privilege. We want free overnight parking available to RVers for a long time.
Have you ever stayed overnight at a Sam's Club location?
Discover the Best Free Camping Across the USA
To be honest with you, we hate paying for camping. There are so many free campsites in America (with complete privacy).
You should give it a try!
As a matter of fact, these free campsites are yours. Every time you pay federal taxes, you're contributing to these lands.
Become a FREE CAMPING INSIDER and join the 100,000 campers who love to score the best site!
We'll send you the 50 Best Free Campsites in the USA (one per state). Access the list by submitting your email below: