For travelers looking for adventurous destinations, Lake Coeur d'Alene in northern Idaho can provide a sense of 'danger.' Visitors can challenge themselves on a parasailing excursion or tee off at a movable golf green floating in the lake.
Although there are no sharks in the waters, you can find excitement tangling with a freshly-caught trout. The only scary creatures in Lake Coeur d'Alene may be the humans who aren't enjoying themselves at this beautiful venue.
Let's dive in!
Where Is Lake Coeur d'Alene?
Located in the far northern reaches of Idaho, Lake Coeur d'Alene is a 25-mile long body of water. Several small lakes became one large lake when builders completed the Post Falls Dam to control flooding in the area. Now Lake Coeur d'Alene is one continuous reservoir with a 109-mile long shoreline. St. Joe and Coeur d'Alene Rivers feed it, becoming a major outdoor recreation destination in the Pacific Northwest.
Before the dam's creation, workers used the small lakes to float lumber down the valley. Steamships assisted in this task while hauling ore and transporting passengers around the lake. When the ships lost their usefulness, many were set afire and sunk during the Fourth of July celebrations.
Several Model T Fords also rest on the lake's bottom, having discovered the hard way that the waters of Lake Coeur d'Alene weren't wholly frozen when the car owners tried to drive across the ice one winter. Today, those 'buried treasures' have become dive team destinations and a part of the lure of Lake Coeur d'Alene.
Pro Tip: If you're visiting Lake Coeur d'Alene in Idaho, spend the night at one of these 7 Best Free Camping Spots In Idaho.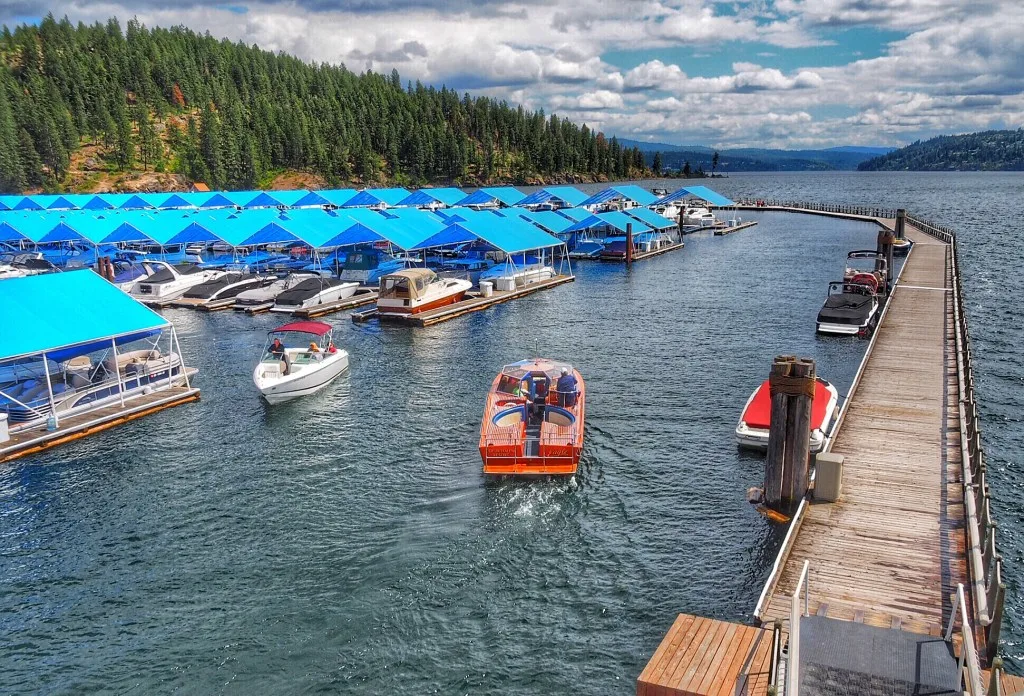 What Is Lake Coeur d'Alene Known for?
Visitors know the lake for its many outdoor sports offerings. Boating, paddleboarding, and kayaking are some of the most popular water sports, along with fishing. Anglers can reel in everything from kokanee salmon to pike, bluegill, and trout.
The salmon are also excellent attractors for migrating bald eagles and osprey, and viewing them has become a winter activity.
A unique opportunity for golfers is in Lake Coeur d'Alene at the Coeur d'Alene Resort Golf Course. The Floating Green is a 2,200-ton green, complete with sand traps, that lies in the lake and moves daily on an intricate underwater cable system. Shots from the tee onto this 'water hazard' can vary from 90 yards to 220 yards, depending on its placement in the lake. In the fall, when the lake's water level drops, the movable green travels even farther offshore.
You might think this is a difficult hole, but every year three or four people score hole-in-ones on this par three 14th hole.
Is It Safe to Swim in Coeur d'Alene Lake?
Because the Coeur d'Alene River was the location of many mining camps, the lake it feeds is not a safe place to swim. The tailings from these locations have high lead levels, cadmium, arsenic, and zinc and have washed into the lake.
The river has been a superfund site since 1983, and officials suggest that lake visitors wash any items that have contacted the dust from the lake bed as a precaution.
Are There Water Snakes in Idaho?
There are a few snakes in or near the water in Northern Idaho. Thankfully, there are no venomous ones, but the most common reptile near Lake Coeur d'Alene is the harmless garter snake. They might catch a few mice for you, but they certainly don't meet the criteria of a 'dangerous animal' in the wilds of Idaho.
What Is the Most Dangerous Animal in Idaho?
Because of its proximity to Yellowstone National Park, where tourists regularly buck the rules of common sense and approach bison for selfies, these massive mammals have become the most dangerous animal in Idaho.
There are more human encounters with North America's largest mammal than with the second most dangerous animal in the Gem State, the black bear. Recently, visitors have spotted grizzly bears in Central Idaho. No one had seen them in the state for decades. However, some brown bears are in Yellowstone, where wildlife usually lives peacefully.
Pro Tip: After relaxing at Lake Coeur d'Alene head to Yellowstone. Use our guide on How to Spend a Day in Yellowstone National Park for the perfect adventure.
What Animals Have a Bounty in Idaho?
A vast number of livestock attacks seem to increase yearly. In 2021, the governor of Idaho signed the gray wolf extermination law, allowing hunters to kill up to 90% of the existing wolves on private land and within federal lands, as well.
The total number of wolves that hunters can exterminate is 1,375. There's a bounty of $2,500 per wolf for wolves hunters killed in areas Fish and Wildlife officials state they have consistently preyed on livestock. A $2,000 reward is for wolves that have been chronically taking down elk. In other areas of the state, a $1,000 bounty exists for exterminated wolves.
Is Lake Coeur d'Alene Worth Visiting?
If taking a risk is your idea of the perfect outdoor adventure, Lake Coeur d'Alene has something to offer. From dive trips exploring sunken steamships and Model Ts to hitting the water hazard on the Floating Green, this large reservoir offers something to give you an adrenaline boost.
Pull in the deadliest catch or spend a day floating across the lake's tranquil waters. You may discover the satisfaction of time well-spent on this dangerously beautiful body of water.
What lake activity will you participate in first? Tell us in the comments!
Discover the Best Free Camping Across the USA
To be honest with you, we hate paying for camping. There are so many free campsites in America (with complete privacy).
You should give it a try!
As a matter of fact, these free campsites are yours. Every time you pay federal taxes, you're contributing to these lands.
Become a FREE CAMPING INSIDER and join the 100,000 campers that love to score the best site!
We'll send you the 50 Best Free Campsites in the USA (one per state). Access the list by submitting your email below: