Some hilarious RV memes are circulating throughout the RV community. They're amusing unless you're the subject of the meme. If that's the case, then they're likely not nearly as humorous to you.
Memes typically are funny because they're relatable. Since we all do ridiculous things from time to time while RVing, there's always a chance we could be the butt of the joke for the next meme.
Today, we'll look at some of the silly things RVers do to become an RV meme. Let's get started!
There's No Such Thing as a Perfect RVer
It's simple to see various social media accounts and think you're the only RVer who makes mistakes. However, it's vital to remember that social media accounts are typically a highlight reel of adventures, not day-to-day realities. Many accounts only post the good and beautiful aspects of the RV lifestyle.
You may scroll through your feed and see an image of an RVer enjoying an epic boondocking spot with mountains in the background. You don't know the fight between the driver and passengers when they miss a turn because they weren't paying attention.
We can't understate it enough; there's no such thing as a perfect RVer. Every RVer makes mistakes, whether they make them public or not. Don't think everything is hunky-dory because you only see the positive side of their adventures.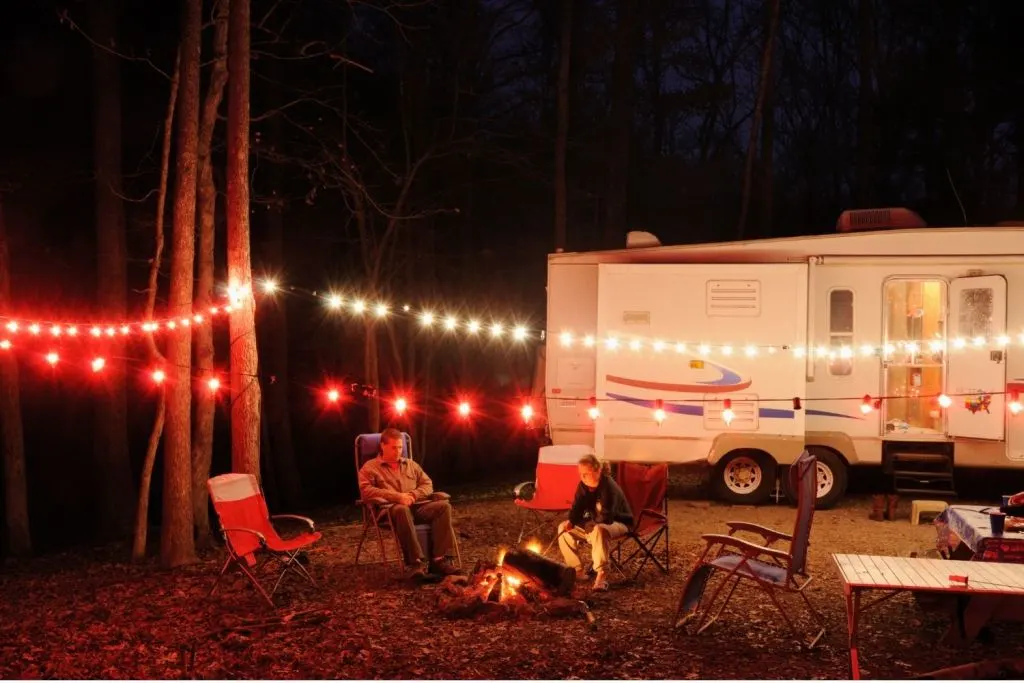 How RVers Became a Meme
Everyone makes mistakes. It's how you respond to making those mistakes that genuinely matters. Learning from your mistakes and the errors of others can help you enjoy smooth adventures. Let's look at some ridiculous things RVers do to become a meme.
Mistakes While Dumping
A "poopsie" is when an RVer makes a mistake while dumping their black tanks. If you've ever seen Robin Williams' movie RV, you know that these mistakes, for lack of a better term, stink. Not only does it stink for you, but also anyone camping within smelling distance of the dump station.
Making a mistake while dumping is almost a badge of honor for RVers and a part of the initiation process for many. Most RVers have made this mistake at least once and quickly learn to take their time when dumping tanks.
Parking Too Close to Tide While Beach Camping
Some beautiful, sandy beaches allow RVers to camp for up to 14 days, sometimes even for free. In pursuit of sleeping by crashing waves and seeing epic sunsets through their RV windows, some RVers forget to consider the changing tides.
RVers who make this mistake can find their RV submerged in water or up to their axles in sand. No matter how big of a truck you have, you can't tow your way out of this one. This can be a costly mistake. Always ensure you are aware of the tide when beach camping.
Driving Too Fast with Portable Waste Tote
Many RVers use portable waste totes at campsites without full hookups. These waste totes can allow them to empty their tanks and haul their waste to the dump station. They can avoid packing their campsite and towing their RV to the dump station. However, they often come with a speed warning from the manufacturer.
You shouldn't exceed five to ten miles per hour when towing a portable waste tote. You must be careful going over speed bumps or potholes as the wheels can fall off. Many totes are nothing more than plastic containers, which can easily break on impact. If the tote is full of sewage, you're likely to spread raw sewage all over the ground on your way to the dump station. It can be quite a mess!
Not Avoiding Low Clearances
You typically don't have to worry about low clearances when driving in a standard passenger vehicle. However, some RVs are 13+ feet tall, and some areas, like The Canopener Bridge, are much less high. You can find yourself in a predicament approaching a low clearance.
Using an RV GPS can help you avoid low clearances and save you from picking up the pieces of your air condition units and roof from the side of the road. Hitting a low clearance at high speed can be a dangerous and costly mistake.
FYI: This is why we use RV Trip Wizard.
Being Over Weight
We're not talking about the driver's body mass index or the passengers, but the RV. It can be easy to overload an RV and your tow vehicle with camping gear. However, this can put tremendous stress on the suspension of your RV and the tow vehicle. If you don't distribute the weight correctly, you can reduce steering on the tow vehicle or increase the chances of a costly tire blowout.
A way to avoid this mistake is to drive your fully-loaded RV and tow vehicle across a CAT scale. You'll need to know the RV's gross vehicle weight rating (GVWR) and the towing capacity of your tow vehicle. If you are over your weight ratings, you'll need to consider what heavy items to leave behind.
Not Doing a Walk-Around
Before leaving a campsite, you should always do a thorough walk-around of your camp. Look for any items you may have missed when packing your gear. It would be best to inspect your RV to ensure you have closed all the slides, locked the compartments, disconnected from the electrical, water, and sewer connections, and retracted all awnings and landing gear.
We've seen RVers pulling out of their campsites with awnings extended and storage compartments wide open. Ripping off the awning or spilling your gear onto the highway isn't likely how you want to end your camping trip. Always take your time and walk around your RV before hitting the road.
Buying the Wrong RV
This is one mistake that many RVers make, especially those who are jumping into full-time RV life. It's hard to know what you'll need in an RV if you've not spent much time in one. We've seen countless RVers upgrade their RVs within a year or two. When considering the massive depreciation that RVs experience, you often lose thousands of dollars.
Take your time when selecting an RV. It can be exciting to jump into RV life, but the adventure will be smoother if you have the right RV. Ensure you have plenty of room for everyone to sleep comfortably. Remember that the weather won't always cooperate when you're RVing, and you may have to wait inside with everybody.
Don't Become a Meme
You're not going to be the perfect RVer. You'll make a mistake or two along the way, but if you can avoid the ones we've shared today, you'll be in good shape. Take your time and offer yourself grace when you make a mistake. The only bad mistakes are those you don't learn from and repeat down the road. Take a deep breath and avoid letting one mistake cause you to make another. It can be a dangerous snowball effect that can ruin your RVing adventures.
What are some of your favorite RV memes?
Discover the Best Free Camping Across the USA
To be honest with you, we hate paying for camping. There are so many free campsites in America (with complete privacy).
You should give it a try!
As a matter of fact, these free campsites are yours. Every time you pay federal taxes, you're contributing to these lands.
Become a FREE CAMPING INSIDER and join the 100,000 campers who love to score the best site!
We'll send you the 50 Best Free Campsites in the USA (one per state). Access the list by submitting your email below: