If you're looking to invest in an RV, it's good to know you're making a purchase that will benefit you in the long run. The vehicle that's right for you is also the vehicle that makes the most financial sense.
You can make your next RV a true investment by purchasing a vehicle known to hold its value well. Sprinter vans are at the head of the game when it comes to retaining financial value. If you want to know why, take the time to find out.
What Is a Sprinter Van?
You've probably heard of a sprinter van, but what is it? What's all the hype about? Well, first, know that a sprinter van is an expensive and fancy vehicle. It's technically just a "cargo" van, but today's sprinter vans bring just as much power as it brings comfort to the table.
There are a few different types of sprinter vans offered by Mercedes-Benz. There's a cargo design, a passenger design, a crew design, and a cab chassis. Though sprinter vans have been reliable on the road for many years, the recent influx in interest was spawned alongside the COVID camping frenzy.
Pro Tip: Learn more about What Is a Sprinter Van before you jump into #VanLife.
Why Do People Buy Sprinter Vans?
People buy sprinter vans because they are known for their quality and durability. The longstanding promise of excellence tied to the Mercedes-Benz name extends to these vans. The design and build will carry you through rugged terrain and marathon road trips.
Sprinter vans are a sign of affluence in the camping community. They're expensive, but it's because they come along with a whole lot of utility, dependability, and versatility. You won't have to worry about your sprinter van not being able to make the drive anytime soon.
Do Sprinter Vans Hold Their Value?
Sprinter vans do hold their value well, and it's likely because they cost so much in the first place. If you pay more to get a higher-quality vehicle, it makes sense that you'll get more back when it's time to sell it.
The sheer reputation of the Mercedes name is another factor to consider. People pay more for a dependable name, and Mercedes has certainly built that reputation for itself. If you take good care of your van, you're likely to get a pretty good return when it's time to move on to the next thing.
Is a Sprinter Van Considered an RV?
When you have a sprinter van with a Mercedes-Benz sprinter van chassis, you have a Class B motorhome. It's an RV by definition. If you have a sprinter van conversion, many consider it an RV. The kitchen, sleeping area, and bathroom are a big part of the vehicle.
Why Do Sprinter Vans Hold Value Better Than Other RVs?
Sprinter vans hold their value better than other RVs because of their prestige among roadies and endless functionality. The utility of this "cargo" van is endless. The strength and roadworthiness of the sprinter chassis are everything you want in an RV.
Sprinter vans come with a four-cylinder 2.1 liter and six-cylinder 3.0 turbo diesel engines. They do have some regular gasoline engines available now as well. However, the diesel engines get better gas mileage.
The walkthrough cabin and sheer size of the available space inside a sprinter van are other reasons van life enthusiasts can't turn their heads from the Mercedes-Benz sprinter van.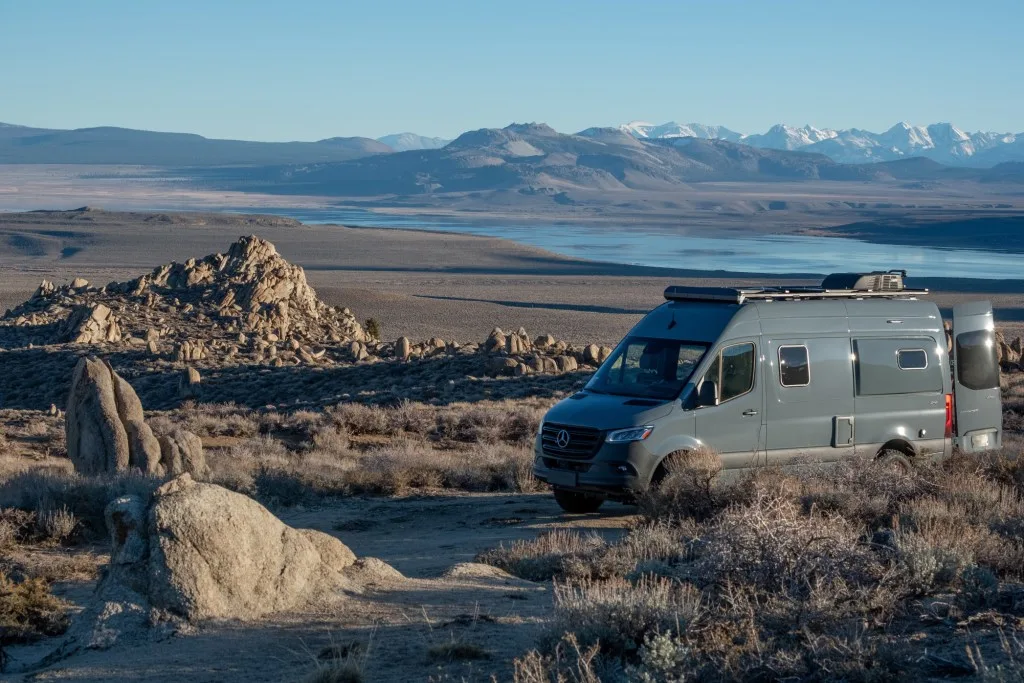 How Much Is a Sprinter Van Worth?
The worth of any particular sprinter van has a lot to do with the build and condition. Purchasing a sprinter van that's a basic cargo van shell would be much cheaper than buying a sprinter van made for living on the road.
In general, a basic cargo sprinter van will cost you a starting price of around $33,790. A sprinter crew van starts at $41,290, and a sprinter passenger van starts at $42,990. If you're looking to buy a fully equipped sprinter camper van setup, you could pay $100,000 or more.
Pro Tip: After investing in your sprinter van, get inspired from these 10 Best DIY Camper Van Builds.
Why Are Sprinters So Expensive?
One of the main contributors to the price of sprinter vans is their popularity and the name that backs them. Everyone knows that in the world of business, high demand can fetch a high price. The large carrying capacity is another reason these vans fetch such a high price. The materials and labor in building this quality van are also major factors in the overall cost of a sprinter van.
Is Buying a Sprinter Van Worth It?
Buying a sprinter van is worth it if you put it to good use. If you don't live a lifestyle that gives you a reason to utilize your investment regularly, you shouldn't spend so much purchasing a sprinter van.
On the other hand, someone who has a good money flow and loves living on the road could benefit greatly from purchasing a quality Mercedes-Benz sprinter van.
Would you consider buying a sprinter van? Tell us in the comments!
Discover the Best Free Camping Across the USA
To be honest with you, we hate paying for camping. There are so many free campsites in America (with complete privacy).
You should give it a try!
As a matter of fact, these free campsites are yours. Every time you pay federal taxes, you're contributing to these lands.
Become a FREE CAMPING INSIDER and join the 100,000 campers that love to score the best site!
We'll send you the 50 Best Free Campsites in the USA (one per state). Access the list by submitting your email below: