Travel trailers in 2022 are almost unrecognizable when compared to their predecessors.
Today's trailers offer numerous options that make hanging out away from home the most comfortable experience. For example, many towables now provide office space for the increasing number of remote workers.
But how do you narrow your choice out of the hundreds of travel trailers?
Read on because we're bringing you some of the best travel trailers on the market in 2022.
Let's dive in!
What is a Travel Trailer?
Travel trailers are a class of recreational vehicles (RVs) that are towable instead of drivable. The tow-behind camper, or bumper pull camper, is the most popular RV type due to its lower price point, range in size, and varying floorplans. You can disconnect a travel trailer from the vehicle pulling it.
This camper class can include fifth wheels, teardrop campers, and pop-up or folding campers, but today, we're talking about the conventional pull-behind camper trailer.
How Much Do Travel Trailers Cost in 2022?
As mentioned, travel trailers range in size, color, material, and type. With the array of options and customizations available, this investment can start as low as $25,000 and top out at well over $500,000.
Pro Tip: Unsure if a travel trailer is right for you? We took at a closer look at Why You Should Choose a Travel Trailer RV?
What Kind of Vehicles Can Tow 2022 Travel Trailers?
Just about any SUV would be capable of towing a small, lightweight travel trailer. The longer and heavier a camper is, the larger the tow vehicle would need to be. Large SUVs can often pull a mid-size trailer safely, while some require full-size pickup trucks, sometimes even heavy-duty trucks.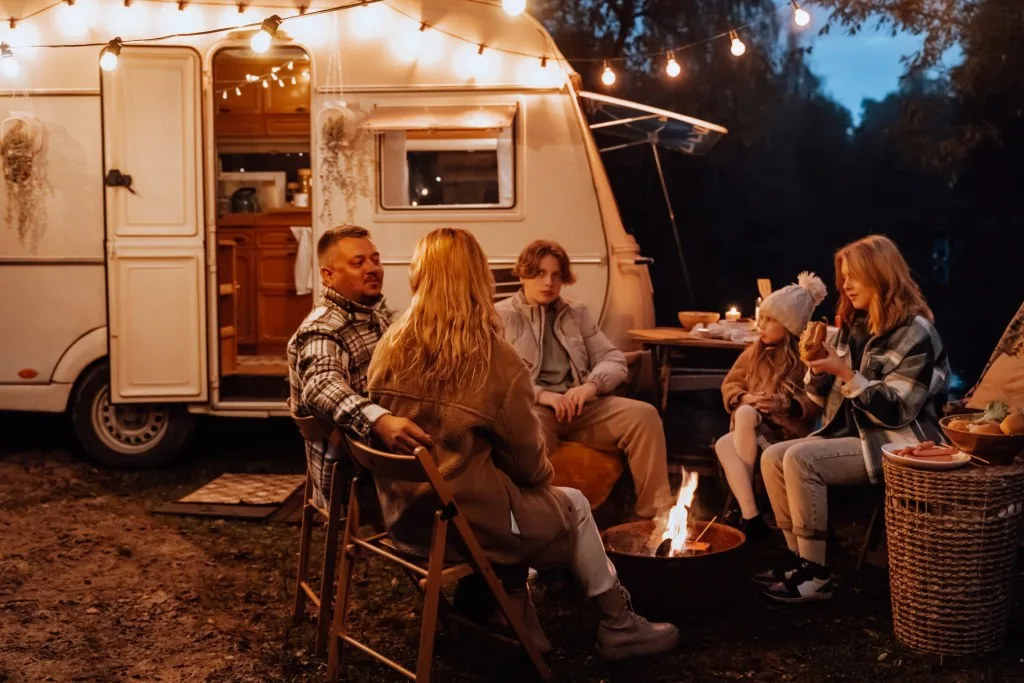 Best Travel Trailers for 2022
Each person or family has different needs and wants when shopping for their perfect travel trailer. We've checked out 15 brands with various floorplans, color schemes, and options to give you a starting point for finding what might work best for you.
#1 Airstream Flying Cloud
Dry Weight: 5,000 to 6,800 lbs
Length: 23' to 31'
Price: Starts at $94,400
It's the third smallest Airstream available. Yet depending on length and layout, it can sleep four to eight people. A rearview camera system is standard on all Flying Cloud trailers, not an option like most brands.
Flying Cloud towables come standard with 30-Amp electric and a single A/C with heat pumps. 50-Amp electric is available on units longer than 25', as is a second A/C with a heat pump. If a trailer is over 30', the second A/C-heat pump combo is standard, as is the 50-Amp service.
#2 Bowlus Endless Highways Performance Edition
Dry Weight: 3,200 lbs
Length: 27'1"
Price: Starts at $260,000
Bowlus offers an aerodynamic design with an aluminum exterior plus a thermal barrier between the interior and exterior structures. The company prides itself on being capable of zero-emission road trips due to its ability to give an emergency trickle-charge to your electric SUV.
Capable of off-grid living for up to two weeks. It has heated floors, the entry door is over the tongue, and it can sleep up to four people. Over 56 million possible combinations allow for personalized interior customization.
#3 Bruder EXP-6
Dry Weight: 5,000 lbs to 5,300 lbs
Length: 22'
Price: Starts at $119,900 AUD ($83,045)
Manufactured in Australia, the 2022 EXP-6 trailer can travel nearly anywhere with its independent suspension. A patented roof-lift system that allows you to store it in more locations. The GT model has a fixed roofline taller than the PT, can withstand extreme weather camping, and has more storage.
The kitchen is accessible from indoors and out. Electric awnings can be attached to both sides of the camper to extend outdoor living space, and the rear hatch provides instant shelter at the entryway.
#4 Colorado Teardrops Boulder
Dry Weight: Starts at 1,950 lbs
Length: 16'3"
Price: Starts at $55,000
Built for owners of electric vehicles, "The Boulder" is a viable option. They're designed for four and have a 10" clearance. Compared to other similar-sized towables, they're on the heavier side.
The seating arrangement easily converts to a queen sleeper with two bunks for additional family members or gear. It boasts gull-wing doors on both sides and a large front window for star-gazing. They're built to last generations and come with a one-year warranty.
#5 Escapod Topo2
Dry Weight: Under 1,500 lbs
Length: 14'4"
Price: Starts at $39,500
The Topo2 is a teardrop trailer with a PET-insulated interior made from recycled bottles. It's rugged for off-road adventures with a whopping 23" clearance. You can customize the exterior with multiple color choices for the body and doors.
The interior boasts 42 ½" of headroom with "mudrooms" at each door for wet coats or muddy boots. There is a six-inch memory foam queen mattress and a large stargazer window with screen options available for the window and doorways. Awnings on each side can extend your living space while keeping your rig cool.
#6 Grand Design Reflection
Dry Weight: 8,238 lbs to 9,443 lbs
Length: 34'8" to 41'
Price: Starts at 84,339 for the 303RLS on the website. However, we've seen some 2022 models as low as $55,000 at dealerships.
The Reflection has eight models, including 5th wheels, with various floorplans, and an Arctic four-seasons protection package is standard on all trailers. It also has ductless flooring, excellent for spills or kibble dropped by an over-excited Fido. The roof, flooring, and front cap are double-insulated, making this a suitable trailer for four-season camping.
A solar package is also part of the deal, with a 165-watt solar panel mounted on the roof. Each floorplan comes with on-demand water heaters, a fireplace as a heat source, and all-in-one docking stations similar to fifth wheels.
#7 Happier Camper HC1
Dry Weight: 1,100 lbs
Length: 13'
Price: Starts at $35,450
The Happier Camper is entirely customizable, from the exterior color to the layout of the interior. It's ultra-lightweight, and you can use it as a travel trailer or a utility trailer by removing the interior Adaptiv™ cubes. Packages are available that give each owner a jumping-off point for customizing the layout.
The rear hatch door opens the trailer up, allowing quick and easy outdoor access. Capable of sleeping up to five people, this little camper packs a punch, plus virtually any vehicle can tow it.
#8 Jayco Jay Flight
Dry Weight: 5,335 to 9,165 lbs
Length: 28'10" to 40'6"
Price: Starts at $41,264
With new interior design choices, Jayco hopes to keep the Jay Flight at the top of the list for must-have 2022 travel trailers. It has been one of the most successful brands since its inception in 2001. Offering ten floorplans with various interior options, finding a Jay Flight to meet your family's needs shouldn't be too difficult.
Standard options include 30-pound propane bottles, keyed-alike baggage and entry doors, plus a second fresh water tank for your longer off-grid adventures. The solar package is optional but certainly doable on this long-lasting favorite.
#9 Little Guy Max
Dry Weight: 3,010 lbs
Length: 21'
Price: Starts at around $40,000
The Little Guy Max is towable by an SUV and offers customizable color and trim options. It boasts a 6' 7" interior height, a queen-size bed, and 100% hardwood cabinetry with a full-height kitchen pantry.
It allows for an outdoor entertainment system with Bluetooth capabilities. Campers of this size don't typically offer a full wet bath, but the Little Guy does. With a multitude of accessories, personalizing your Little Guy Max is easy.

If you want to go even smaller, the Little Guy Mini Max has a dry weight of 2,320 lbs, is towable with a small SUV, and sleeps up to three.
#10 Living Vehicle
Dry Weight: 12,000 lbs
Length: 29'
Price: Starts at $339,995 for the CORE
The Living Vehicle may not seem special from the outside, but don't judge a book by its cover. Once you step inside, you'll find this is the ultimate home away from home. Completely off-grid ready, it's capable of charging your EV and creates its own perpetual power source. It thrives in all four seasons.
It allows for 100 gallons of fresh water and 80 pounds of propane, plus 1.4-3.4 kilowatts of solar. They have spa-like bathrooms, a fold-down patio, and residential-style kitchens. It may be one of the most expensive on the market, but it'll certainly provide a comfortable place to rest at the end of an adventurous day.
#11 Oliver Legacy Elite or Elite II
Dry Weight: 3,700 lbs and 4,900 lbs
Length: 18'5" for the Elite and 23'6" for the Elite II
Price: Starts at $57,000 for the Elite and $65,000 for the Elite II
You can personalize the Elite with an array of add-ons and options. In contrast, Oliver builds the 2022 Elite II travel trailer to order. Like the Living Trailer, these campers are factory-direct, with no dealers involved in the purchase. The Elite contains molded fiberglass exteriors, plus enclosed and heated plumbing, tanks, and drainage pipes to prevent issues in colder weather.
They're designed for effortless towing and are four-season camping ready. Each trailer sleeps up to three people and provides a full bath and a standard MaxxFan with a remote.
#12 Polydrops P17A
Dry Weight: 1,100 lbs to 1,600 lbs
Length: 13'7"
Price: Starts at $28,900
Designed for off-grid camping, this all-electric camper makes enjoying the outdoors a breeze. The P17A1 has a 12-kilowatt LiFePO4 battery pack with solar, allowing campers to live and work anywhere without an electric hookup.
It has an aerodynamic space capsule design that allows your EV to tow it easily. The underbody has a flat design with fins to allow for less drag while in motion. Ordering yours on their website is quick and easy to get you to the BLM land nearest you for that off-grid experience.
#13 Retreat Cabin and OzXcorp's ERV
Dry Weight: Not in specs
Length: Not in specs
Price: Starts at $75,000
This ERV is the first of its kind, an all-electric RV designed to be an energy-efficient home away from home. With four floorplans available, finding the right camper for your family shouldn't be difficult. An off-road independent suspension can take your adventures just about anywhere.
Depending on the floor plan, each allows for at least 2,000 watts of solar with a 5,000-watt inverter. This RV's shell is a composite material that cannot absorb water. It has a timber-free structure that'll ensure it's free from rot, which could shorten the life expectancy of this trailer. With a modern black and white interior, the space feels large.
#14 Taxa Mantis
Dry Weight: 2,972 lbs
Length: 19'
Price: Starts at $46,057
Tons of adventure in a small package, the Mantis provides a pop-up roof, plus six insulated windows with screens and shades to let the sunshine and fresh air into the cabin. The rear hatch opens, delivering additional living space, access, and ventilation.
There is an option for a folding couch/bunk bed system that doubles the sleeping capacity. In addition, a three-person rooftop tent ensures friends and family have space to enjoy the outdoors.
Utilizing the under-bed and rooftop storage ensures none of your favorite items are left behind. And while there's space for battery storage, they're not part of the standard package.
#15 Winnebago Voyage
Dry Weight: 6,762 lbs to 9,626 lbs
Length: 27'11" to 38'11"
Price: Starts at $63,518
Mention the name Winnebago, and the chances are that the campers next to you know the name. Synonymous with camping, Winnebago has been around a long time. But did you know they don't just make motorhomes? The Winnebago Voyage is a bumper pull camper that recently was awarded 2022 Travel Trailer of the Year by RV News.
While the starting price is a little higher than some, the quality of a Winnebago is unparalleled. It has only one exterior color. However, six floorplans are available, including plans with washer/dryer prep, larger water heaters, and a 15 cubic-foot refrigerator. Extending your adventure shouldn't be difficult with this towable.
Pro Tip: Learn more about The Best Travel Trailer Manufacturers in 2022 before you buy!
Where Will You Explore with Your 2022 Travel Trailer?
No matter your budget or your group's size, there's surely a travel trailer for you. Hundreds of models and options make creating your home away from home a customized journey.
The only question that remains is, "Where will you go?"
Discover the Best Free Camping Across the USA
To be honest with you, we hate paying for camping. There are so many free campsites in America (with complete privacy).
You should give it a try!
As a matter of fact, these free campsites are yours. Every time you pay federal taxes, you're contributing to these lands.
Become a FREE CAMPING INSIDER and join the 100,000 campers who love to score the best site!
We'll send you the 50 Best Free Campsites in the USA (one per state). Access the list by submitting your email below: