Every now and then, you can find a good deal on an item you've always wanted by shopping on Facebook Marketplace. One YouTuber couldn't have been more excited to spend $350 on a pop-up camper.
Morgan, from Morgan Chapman Media, plans to renovate her new pop-up and take it on some fun adventures this summer. So was spending $350 on a camper a bad idea?
Let's see!
What Is Facebook Marketplace?
Facebook Marketplace is a modern-day classified section. The social media platform hosts a section on their platform specifically for buying and selling items.
Individuals can post items they're looking to sell, and those looking for those items can find them and interact directly with the seller. You can find just about everything for sale on Facebook Marketplace.
What Camper Did a Woman Buy for $350 from Facebook Marketplace?
Morgan purchased a 1994 Jayco Eagle Series Pop-Up Camper for $340. The camper has seen better days, but with a bit of TLC, she will likely have it up and running in no time.
She's optimistic about her ability to make the needed repairs in time for the summer while she travels, shoots, and does shows.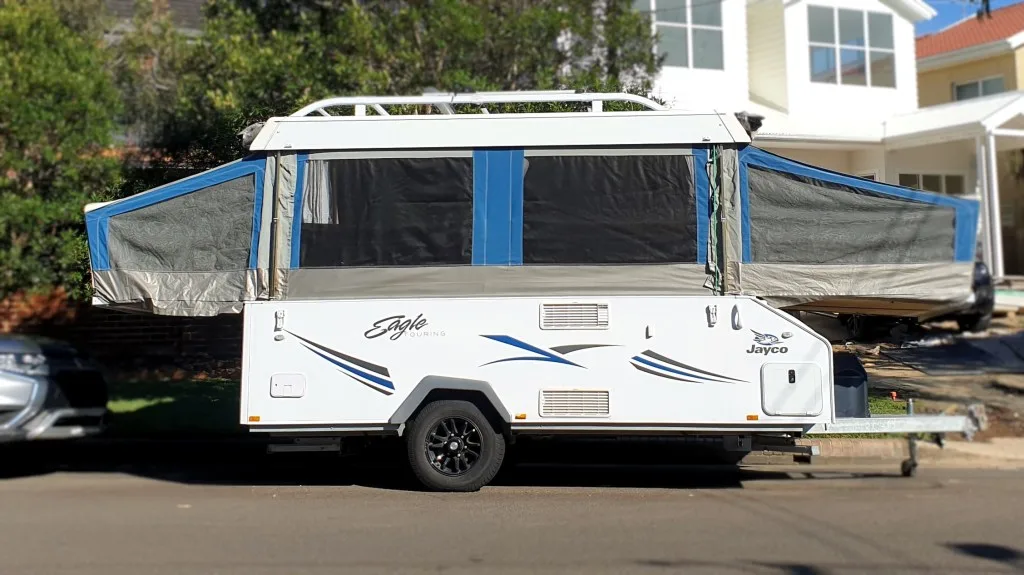 What Type of Work Does the Camper Need?
The camper appears to be in good condition for being nearly 20 years old and only costing $350. There appears to be no noticeable water damage or mold, which can be difficult to fix. The canvas appears in decent condition but will need sewing in some spots and the elastic replaced.
The biggest project for Morgan will be figuring out how to replace three sides of the top of the roof where the framing has fallen. She mentions worrying about possible rips or tears in the canvas from the trim being loose. However, once she gets that buttoned up and fixes any areas that need touching up with sealant, the rig will be ready to go.
However, like most RVers doing a renovation, Morgan will likely put her personalized touches on her pop-up camper. Putting a new layer of fabric on the cushions and possibly painting surfaces to brighten the interior could help her transform it into a modern-looking home on wheels.
Was Buying a $350 Camper from Facebook Marketplace a Bad Idea?
Morgan got a heck of a deal for this camper! While we would generally overlook a listing for a $350 camper on Facebook Marketplace, she found a true gem. Many rigs priced at this level are in far worse condition and would likely be best if they were towed directly to the junkyard.
Morgan's purchase was a great idea as long as everything goes smoothly. Not every Facebook Marketplace find will be quite as good of an idea. You could find yourself buying a money pit that does nothing but bleed you of your hard-earned money. Make sure you do your research and know what you're getting into when buying an inexpensive camper project.
Pro Tip: Is buying a used RV a good idea? We uncovered Should You Avoid a Used RV or if it is a good purchase idea.
What Can You Do to Improve an Old Camper?
If you're looking to improve an old camper, there are a few things you can do. Some of these projects are very easy to do, and others might take a bit of know-how and expertise.
Update Electric and Plumbing
You should always heavily inspect the electric and plumbing in an old camper. Check all the wiring and connections to ensure they're rock solid so you have no issues. An electrical fire can be very serious and will quickly destroy your old camper.
Look for any signs of cracks or leaks in the plumbing. If the previous owners didn't keep an eye on this, water might have leaked in places, and mold could be growing. If you're not familiar with or have expertise in either of these, hire a professional who knows what they're doing.
Replace Cushions
Old campers likely have old cushions. If the foam inside of the cushions is in good condition, you might be able to wash the covers and apply a new fabric over the old one. This can help you create a new, fresh look inside of your old camper. It might surprise you how much of an impact this can have on it to make it feel homey.
Upgrade Appliances
Depending on your camper's age, there have been some incredible advances in technology regarding appliances. New models run more efficiently and use less power, which can be extremely helpful in getting the most out of your camper.
Depending on how you plan to use your camper, you may be able to remove some appliances entirely. This could free up space or give you the option to install other appliances. RVers have installed more efficient refrigerators, microwaves, and even air fryers in their campers.
Pro Tip: Facebook isn't just for buying RVs! Use these Best Facebook Groups for RV Owners to make RV life easier!
Is It Worth Buying Used Campers?
You can find some great deals and avoid the massive depreciation loss by choosing to buy a used camper. However, you must inspect it thoroughly so you know you're not biting off more than you can chew. Some used campers aren't worth buying as you'll end up sinking enough money into them that you could have bought a new one. When in doubt, hire an inspector to test out all of the systems. They'll be able to help you find things you might have missed.
Would you be brave enough to buy a Facebook Marketplace camper? Tell us your thoughts in the comments!
Discover the Best Free Camping Across the USA
To be honest with you, we hate paying for camping. There are so many free campsites in America (with complete privacy).
You should give it a try!
As a matter of fact, these free campsites are yours. Every time you pay federal taxes, you're contributing to these lands.
Become a FREE CAMPING INSIDER and join the 100,000 campers that love to score the best site!
We'll send you the 50 Best Free Campsites in the USA (one per state). Access the list by submitting your email below: