Tourist maps may not officially list it, but a cruise through Hartselle, AL, is a scenic drive you'll remember. This is a place that Lynyrd Skynyrd may have had in mind with their immortal song, "Sweet Home Alabama."
Find out what's so sweet about the roads in and around this small city in north-central Alabama. Let's get started!
Is Alabama Pretty to Drive Through?
The Southern rock band Lynyrd Skynyrd was from Florida, but they felt at home when their touring took them through Alabama. They loved the state's gorgeous natural beauty and the friendly people they encountered there.
So what does a drive through Alabama look like? It depends on what section you're rolling through. There are mountains and foothills in the north and coastal plains in the south. In the middle, you'll find green hills broken up by occasional lakes and rivers. Birmingham, Huntsville, Montgomery, and Mobile offer cityscapes of varying sizes. Alabama also has vast acres of farmland. There are many scenic areas without outside development, as well.
The interstate highways may not feature the most inspiring views that Alabama has to offer. The more scenic drives, like the one in Hartselle, AL, are often off the main roads.
Pro Tip: While road tripping through Alabama, make sure to check out these 10 Unusual Things To Do in Alabama.
What Is Hartselle Alabama Known for?
Like many communities in Alabama, Hartselle got its start as a railroad town. Its namesake is a railroad mogul, George Hartselle, who was one of its founders.
For a long time, its claim to fame was an infamous bank robbery in 1926. A team of robbers used nitroglycerin to blast their way into the bank's safe and made off with around $15,000. No one ever caught them, and it was quite a haul. That is almost a quarter of a million dollars by today's standards!
These days, Hartselle is likely best known as a bedroom community for two growing cities to its north. Decatur is 10 miles north, and the booming Huntsville is another 20 miles away. These communities along the busy Interstate 65 corridor are some of the fastest-growing in the nation. For a scenic drive, you can pass directly through Hartselle, AL, on either State Highway 31 or State Highway 36.
What Else Is There to Do in Hartselle, AL?
Sometimes the best thing about traveling is coming to a stop. That's how you can experience what a community has to offer. We recommend these unique places along your scenic drive through Hartselle.
Shop at Reeves Peach Farm
Summer means ripe peaches in Alabama, and this family farm outside town is a terrific place to get them. A short, scenic drive along Highway 36 brings you to Reeves Peach Farm. Several generations of the Reeves family have grown various fruits, vegetables, and other crops since 1835. Their peaches have been a specialty for almost 65 years. They also serve hot lunches, specialty food products, and homemade ice cream.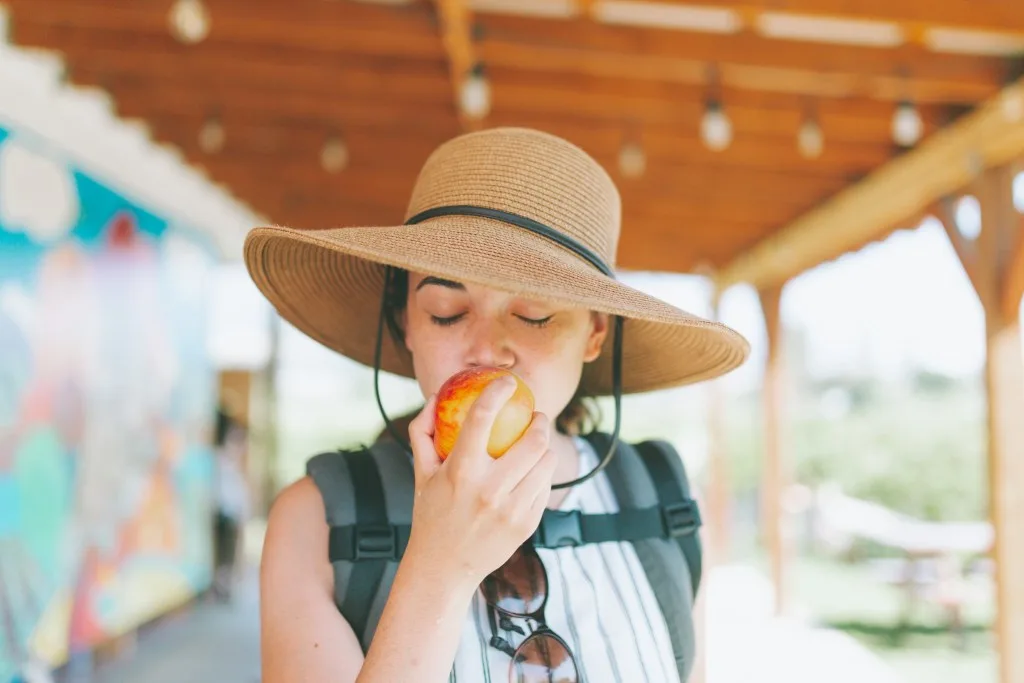 Have a Picnic at Sparkman Park
This community park is one of Hartselle's many jewels. Pack a lunch and stretch out at a picnic table or one of the many shaded pavilions. You can work off the calories with a few laps around the paved walking trail. The disc golf course is another main attraction at the park. There are ball fields, playgrounds, and a small lake where you can do some fishing.
Visit Wheeler National Wildlife Refuge
The Tennessee River flows through this part of Alabama, and you should experience it when taking your scenic drive through Hartselle, AL. Because of a series of dams, segments of the river form separate lakes. This 35,000-acre preserve spans both sides of the beautiful Wheeler Lake. You can view dozens of wildlife species here, including many migratory birds. A quick visit should also include a stroll over the Flint Creek Trail boardwalk.
Pro Tip: We found The Most Underrated Beach in Alabama for you to sit back and relax on!
Is the Hartselle, AL Scenic Drive Worth It?
To enjoy the beauty of Alabama, it helps to get off the beaten path. One way to do that is to take a scenic drive to Hartselle. It's about 70 miles north of Birmingham, where the gently rolling landscape gives way to more dramatic changes in elevation.
You can enhance your trip through Alabama by slowing down to enjoy the charms of smaller communities like Hartselle. We know a classic song to cue up for the ride, too. It's not an official scenic drive, but it is a place with awe-inspiring views.
Will you add Hartselle, Alabama, to your next adventure? Tell us in the comments!
Discover the Best Free Camping Across the USA
To be honest with you, we hate paying for camping. There are so many free campsites in America (with complete privacy).
You should give it a try!
As a matter of fact, these free campsites are yours. Every time you pay federal taxes, you're contributing to these lands.
Become a FREE CAMPING INSIDER and join the 100,000 campers that love to score the best site!
We'll send you the 50 Best Free Campsites in the USA (one per state). Access the list by submitting your email below: