Modern camping has been enjoyed for hundreds of years. But most campsites follow a standard design rule: provide a reasonably flat place for a tent or RV in a pleasant location. Sometimes utilities are provided, but more often than not, it's just a spot with a picnic table. Boring! Maybe it's time to find more unusual places to camp in more memorable surroundings.
That's why we've searched high and low to find five unusual places to camp. We're hoping to inspire you to spice up your RV adventure a bit.
Let's explore!
What Makes a Place Unusual for Camping?
Typical campsites are often in forests, beside lakes, or near popular attractions, and they have room for a tent or RV. Some come with hookups to electricity and water, while others may only have a semi-level spot to roost.
Sure, camping spots can be unique because of their location. But the type of lodging provided, or even the activities that you can participate in, can also make them interesting. At one spot, you may be awakened by a resident rooster at sunrise, while another place may have you sleeping in a tree tent. Another surprise may be on historic land.
All unusual campsites have one thing in common – they shake up your definition of camping!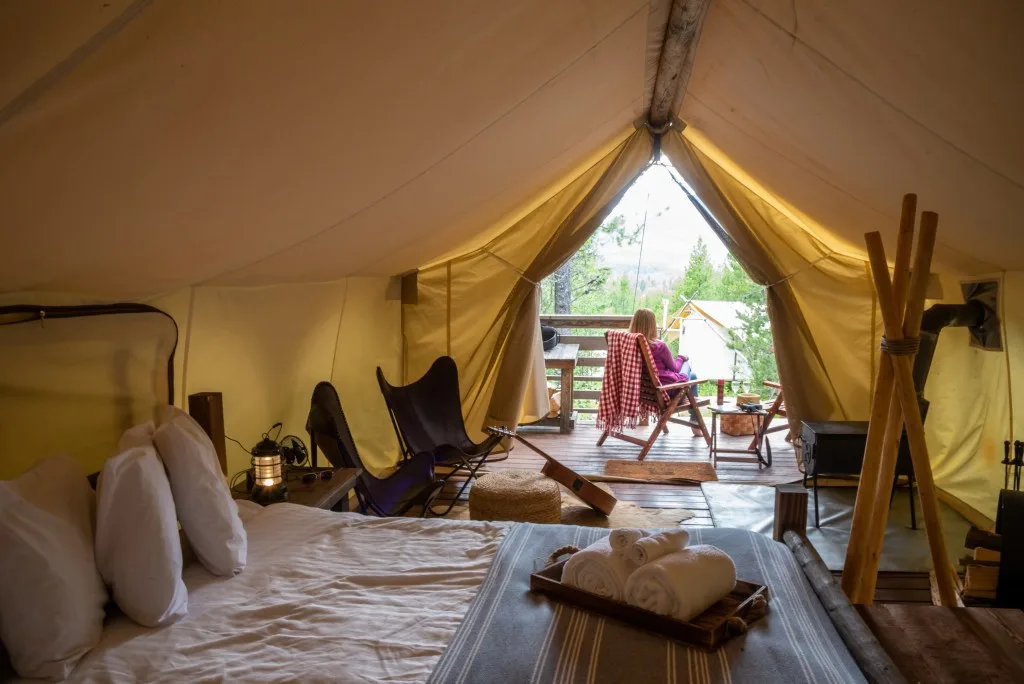 Which State Has the Best Camping?
Using an algorithm that weighed access, campsite cost, quality, supplies, and safety as categories in all 50 states, the website 247wallst.com concluded that California has the best camping in the country. The criteria included the number of campgrounds each state had, the amount of acreage dedicated to state and national parks. It also looked at the number of hiking trails, activities, and attractions nearby.
The quality was based on the number of campsites with water and toilets nearby, plus consumer reviews. Safety was judged by access to cell service, the number of deaths that had occurred in each campground, and the number of natural hazards in the area. Campsite costs were figured by actual fees for RV sites, camping gear stores, and RV rentals offered in the region.
Obviously, everyone has their own opinion as to which state provides the best camping. Still, this survey was primarily based on objective information, with the exception being the use of consumer reviews as a metric, so it may be an excellent place to start. The real question is, "Which state holds your favorite places to camp?"
Pro Tip: Make sure to pack everything on our Essential Camping Gear Guide on your next camping adventure.
5 Unusual Places to Camp in the USA
Whether you like staying in retro recreational vehicles, feeding alpacas, or sleeping in a covered wagon, you won't be disappointed with our selection of unique campsites. Staying at any one of these sometimes quirky campgrounds will have you talking about your vacation for years to come.
Heritage Farm Alpacas (Indiana)
Pitch in on the farm chores at Heritage Farm in Flora, Indiana. Collect your own breakfast eggs, feed the alpaca, or choose to sit on the front porch and watch farm life roll by. You can bring your own RV or tent or sleep in a guest house or 1850s cabin on site.
Or, if you're feeling really adventurous, stay in a tree tent. The entire family can venture around this 120-acre property, enjoying the farm animals, wading through the creek, or swinging through the trees on a 400-foot-long zip line!
Stone Creek Farm (Minnesota)
Enjoy a true camping experience at Stone Creek Farm, where you'll stay in canvas yurt-style tents on 36 acres of prairie and farmland near Taylors Falls, Minnesota. Four campsites are available, complete with their own tents, picnic tables, and access to basic necessities.
Guests can access the farm's apple, peach, and plum orchards. The place is fantastic for family camping and is pet-friendly, as well.
El Cosmico (Texas)
Become a participant in the off-beat culture of Marfa, Texas, when you stay at El Cosmico. Lodging consists of vintage travel trailers, teepees, safari tents, yurts, and an art-laden 3,800-square-foot apartment.
It's all laid out in a plot of land shaped like an eye with lashes in the West Texas desert. Food trucks stop by, and the venue hosts movie nights once a week, yoga classes, seminars, and a wide variety of events.
Pro Tip: After exploring Marfa, Texas, explore these 10 Unusual Things To Do in Texas.
Out'n'About Treehouse Resort (Oregon)
Live out your childhood fantasy and stay in an actual treehouse at the Treehouse Resort in Cave Junction, Oregon. From small forts to giant castles, these treehouses have taken over many of the trees on this property.
You'll climb 20 to 47 feet in the air and cross suspension bridges to reside in magical wooden houses with names like Serendipitree and Elementree. Make like Tarzan and zip through the forest on a zip line, or take a horseback ride on property.
Ingalls Homestead (South Dakota)
You won't find Laura Ingalls Wilder running through the prairie here, but you can certainly imagine it, as you camp on her father's farm in De Smet, South Dakota. Experience her childhood, staying in a sheepherder's cabin or the bunkhouse, or you can bring your own RV or tent.
Once you're settled in, participate in farm activities from the late 1800s, like making corn cob dolls and doing the laundry on a washboard. Children can drive a pony cart, and the whole family will enjoy covered wagon rides.
You Can Camp in Some Unique Places
Mixing it up on your next camping trip with a stay in a yurt or camping at a working farm could be a great way to bring the fun back into your travels. Unique locations and campground options are opening daily, offering unusual lodging options, activities, and experiences.
You can now set up camp in an igloo, on the edge of a volcano, or hanging from a tree. Then explore virgin forests from a zip line or awake to find elephants and giraffes drinking from a nearby watering hole. The destinations and the camping vessels are endless, so you'd better start planning now!
Which one of these unique places to camp in do you want to go to? Tell us in the comments!
Discover the Best Free Camping Across the USA
To be honest with you, we hate paying for camping. There are so many free campsites in America (with complete privacy).
You should give it a try!
As a matter of fact, these free campsites are yours. Every time you pay federal taxes, you're contributing to these lands.
Become a FREE CAMPING INSIDER and join the 100,000 campers that love to score the best site!
We'll send you the 50 Best Free Campsites in the USA (one per state). Access the list by submitting your email below: