Have you ever wondered whether there are laws against parking in front of a mailbox? Many cities and residential areas have strict rules about street parking, but they may not be laws.
However, there are several risks to consider before parking in these areas, illegal or not. And you'll want to think twice before blocking someone's mailbox.
So what are the rules and regulations regarding mailboxes?
Let's dig in!
Is There a Law Against Parking in Front of a Mailbox?
No law at the federal level expressly forbids vehicles from parking in front of a mailbox. However, rules are in place to ensure mail carriers can deliver mail without issue.
According to United States Code, a person who "obstructs mail generally" can be fined or, in extreme situations, imprisoned for up to six months.
The United States Postal Service also has its own guidelines requiring a minimum mailbox clearance of 15 feet on either side for USPS vehicles. If this space isn't available, a mail carrier can actually decline to deliver someone's mail.
Some states do have laws specific to this issue. For instance, FairPunishment.org points out that California code states, "parking within ten feet or in front of a mailbox is against the law." This rule is in effect during business hours Monday through Saturday.
Even in states without these laws, parking in front of a mailbox can be risky. Some towns and cities restrict street parking in general. Before parking a vehicle in front of a mailbox, it's best to familiarize yourself with city codes and local ordinances.
What Are Other Ways of Blocking a Mailbox?
Vehicles aren't the only problem for mail carriers. Any object that obstructs access to a mailbox can cause issues and result in fines or missed deliveries. These may include trash bags or cans, lawn clippings, landscaping features, and kids' toys. In winter months, even snowdrifts can become problematic for USPS vehicles.
Having a routinely blocked mailbox may result in your mail carrier permanently refusing to deliver your mail. FairPunishment.org suggests keeping your mailbox area free from snow and ice. Keep hedges and large plants trimmed so a USPS truck can drive up without issue. And always check to see whether trash cans or toys are blocking your carrier's route.
Pro Tip: Make sure to never commit any of these 7 Deadly Sins of Overnight RV Parking.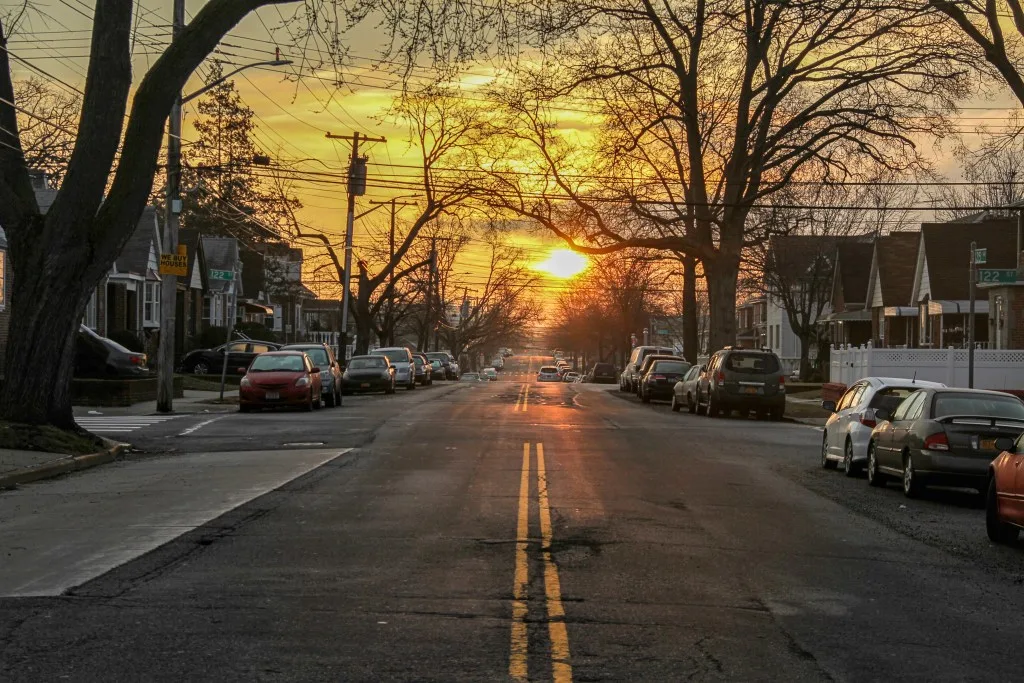 What If My Neighbor Blocks My Mailbox?
Most of us have some experience with pesky neighbors encroaching on property lines. A neighbor may even block your mailbox with their vehicle. So what's the best way to deal with this annoying scenario?
You may be surprised to learn that it's your responsibility to maintain open access to your mailbox, even if someone else is blocking it. This may be frustrating, but there are options to ensure your mail service continues uninterrupted.
If your state has specific rules around mailbox etiquette, you can request help from your city government. A parking enforcement officer may be able to cite or even tow the offending vehicle.
If you're in a state without these rules, try displaying a "no parking" sign near your mailbox. This may deter drivers from parking there in the future. And if all else fails, contact your local post office to tell them the situation. They may be able to work with you and make sure you keep receiving your mail.
Can I Park in Front of a Mailbox Overnight?
If you're looking for a place to park your RV overnight, it may be tempting to park in front of a mailbox. But should you?
Parking in front of a mailbox for a short period of time is usually okay. After all, the main issue with blocking a mailbox is that someone may not receive their mail. And most mail carriers don't deliver during nighttime hours.
However, USPS regulations aren't the only rules to keep in mind. Many cities have laws and ordinances restricting RV parking in general. Depending on where you are, it may be illegal to park your camper on a city street, period.
Before parking in a residential area, familiarize yourself with local laws and regulations regarding RV parking. And always use extra caution when considering parking near a mailbox.
Pro Tip: You can't park in front of a mailbox, but Can You Sleep in a Post Office Parking Lot? Find out!
How Can I Find Other Places to Camp Overnight?
If you need a place to park your RV overnight, it's best to avoid residential areas when possible. Fortunately, there are several other options to explore before resorting to street camping.
Many big box stores such as Walmart and Cabela's allow short-term RV camping in their parking lots. Look for one of these stores and ask management if parking your vehicle overnight is okay.
Many online resources are also available to RV campers. Websites like Campendium, Allstays, and iOverlander can help you find overnight parking in a pinch. These sites are also available as mobile apps. All three apps contain information on pet policies, WiFi access, amenities, and more for each listing.
Campendium catalogs approved RV parking sites and offers detailed information on each location, along with user reviews and feedback. Allstays offers similar information and a database of hotels and truck stops. iOverlander is another great database of approved campsites that even allows you to search for international listings.
Each app contains pricing information for each campsite listing, making it easy to search for free or inexpensive options. With so much information at your fingertips, you may want to say goodbye to street parking altogether.
Is Parking in Front of a Mailbox Worth It?
It may be tempting to park your vehicle in front of a mailbox, but there are many reasons to avoid these areas. Citations and USPS issues will always be risks when camping in these spots.
Other options, such as approved parking lots and short-term campsites, are safer bets. And you'll rest easy knowing you aren't breaking the rules or keeping someone's mail from being delivered!
Discover the Best Free Camping Across the USA
To be honest with you, we hate paying for camping. There are so many free campsites in America (with complete privacy).
You should give it a try!
As a matter of fact, these free campsites are yours. Every time you pay federal taxes, you're contributing to these lands.
Become a FREE CAMPING INSIDER and join the 100,000 campers that love to score the best site!
We'll send you the 50 Best Free Campsites in the USA (one per state). Access the list by submitting your email below: