If you've never had a Scotch egg, you're in for a real treat. This savory snack is the perfect combination of salty and crispy, leaving you wanting more.
So what exactly is a Scotch egg, and where can you get your hands on this deliciousness? We've got all the details on everything you ever wanted to know about it and how to get your hands on it. Let's get started!
What Is a Traditional Scotch Egg?
A Scotch egg is wrapped in sausage meat, coated in breadcrumbs, and fried. It was invented by Fortnum & Mason in 1738, although the exact history of the dish is unclear.
They're popular picnic foods and pub snacks. You can eat it hot or cold. They can also come with other types of meat, such as bacon or pork.
Why Do They Call It a Scotch Egg?
There are many theories about how the Scotch egg got its name. One theory suggests that the dish was invented by a London pub owner who wanted to offer his customers a hearty meal that would fortify them for their journey north to Scotland.
Another theory suggests that the name is a corruption of the French term "escotet," which means "to stuff with sausage."
The term "scotching" once meant a process of cutting or mincing meat. So some people believe that's how this delectable pub grub got its name.
Ultimately, there's no definitive answer.
Pro Tip: Should you avoid eating a Scotch egg on a travel day? Find out what foods you should avoid when you're about to hit the road.
Are Scotch Eggs Hard or Soft Boiled?
There's one thing that's always up for debate when it comes to Scotch eggs; are they supposed to be hard-boiled or soft-boiled? Well, there's no right or wrong answer – it all comes down to personal preference.
Some people prefer a firm yolk that holds its shape, while others prefer a runnier yolk for a bit of extra creaminess. Ultimately, it's up to you to decide how you like your Scotch eggs prepared.
Where Can You Get a Scotch Egg?
Scotch eggs are still a very common pub food in England. They're so popular that you can also find them in most supermarkets and restaurants.
They are a little tougher to find in the U.S., though many British-style pubs and restaurants will have them. They've also become common at Renaissance Festivals and sometimes at county or state fairs.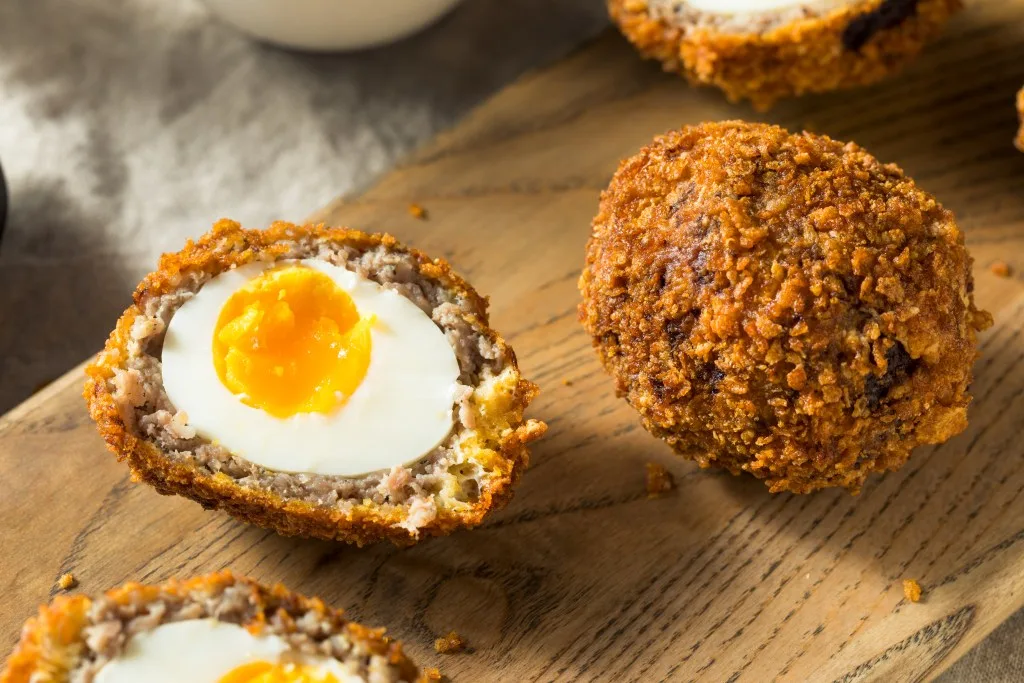 What Are Scotch Eggs Served With?
In pubs, Scott eggs are frequently considered a hearty snack. But they're also sometimes served as part of a meal, either as an appetizer or occasionally as a main course.
When they're part of a meal, they usually come with other savory dishes such as roasted meats or vegetables. For a casual meal, many serve them with a simple salad and some bread.
Served as a snack, these delightful eggs often come with dipping sauces such as mustards, chutneys, ranch dressing, or a hollandaise sauce.
How Long Will Scotch Eggs Keep?
Already cooked Scotch eggs will keep in a refrigerator for about four to seven days. Be sure to let the eggs fully cool before putting them into a sealed container and placing them in the refrigerator.
If you are storing prepared Scotch eggs you're looking to cook, place them in an airtight container. These will keep in the refrigerator for about three days before cooking.
Freezing them is an option, though not ideal. Whether cooked or simply prepared for cooking later, they will keep for about a month when frozen. However, the freezing and heating process typically ruins the texture of eggs, particularly the yolk. And the texture is one of the key elements of a good Scotch egg.
Pro Tip: Are you a foodie? Check out these 7 Most Unique Restaurants in the USA.
Is a Scotch Egg Worth It?
Like many of the best treats in life, Scotch eggs are usually a love them or hate them type of treat. But in our view, they're totally worth the time invested in finding them or learning how to make them yourself.
They're the perfect combination of salty, crispy, and creamy goodness that will tantalize your tongue. And if you aren't in England when you have one, they are the perfect way to make you feel as if you've been whisked away to jolly old England!
Would you try a scotch egg? Tell us your tasty thoughts in the comments!
Discover the Best Free Camping Across the USA
To be honest with you, we hate paying for camping. There are so many free campsites in America (with complete privacy).
You should give it a try!
As a matter of fact, these free campsites are yours. Every time you pay federal taxes, you're contributing to these lands.
Become a FREE CAMPING INSIDER and join the 100,000 campers that love to score the best site!
We'll send you the 50 Best Free Campsites in the USA (one per state). Access the list by submitting your email below: