Are there many covered bridges in Alabama? You bet there are. These gracefully aging structures are a bit off the beaten path, so they're fun to seek out. You must know where to find these picturesque architectural relics, and we're glad to help!
Are you ready to follow us for a tour of the most beautiful covered bridges in Alabama? Let's go!
What Is Alabama Known for?
Anyone on a road trip through the South probably knows about Alabama's beautiful countryside. Much of the state has no development, so there are large swathes of land in their natural state. Going north to south, you'll see mountainous areas giving way to gently rolling hills and white-sand beaches.
People also know Alabama for its Civil Rights legacies, which led to lasting changes in American society. For example, this is where Rosa Parks famously refused to move to the back of the segregated bus. Her courageous defiance led directly to the Voting Rights Act.
The passion for college football is powerful here, too, and it takes over many conversations each fall and winter. Whether they're rooting for Alabama or Auburn, they take it very seriously!
Pro Tip: While in Alabama take some time to visit these 5 Cool Places in Alabama.
How Many Covered Bridges Are in Alabama?
Some people believe that builders covered bridges with roofs and walls so horses wouldn't be afraid to cross over water. However, that's only a myth.
The real reason people covered bridges was so they'd last longer without exposure to the elements. Bridges that weren't covered would deteriorate after a couple of decades, and people would have to rebuild them.
There were once thousands of covered bridges around the country, and now there are only a few hundred. Thanks to preservation efforts, there are 11 covered bridges remaining in Alabama.
Six are in their original locations, while five others are in new areas. In some cases, relocation is a good thing. Some of them are in places where more people can see them up close and appreciate them more.
What Is the Oldest Covered Bridge in Alabama?
The Coldwater Covered Bridge, in east-central Alabama near Talladega, is the oldest surviving covered bridge. Also, the Hughes Mill Covered Bridge dates at least 1850, and builders may have completed it earlier.
The wooden bridge stood at its original location until 1974 when the city replaced it with a steel and concrete structure. That's when they moved it to a park in the small town of Oxford.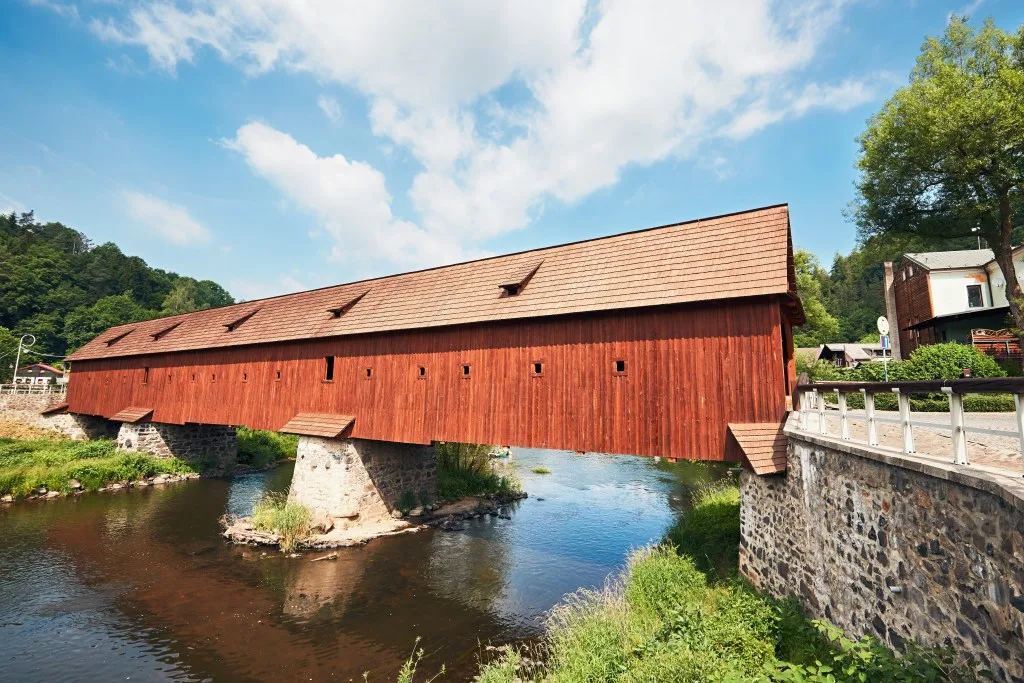 7 Beautiful Covered Bridges in Alabama
All the bridges have a remarkable history, and we love that people have preserved them. Here's a sketch of seven of Alabama's most coveted covered bridges.
1. Horace King Memorial Bridge
Location: Over Moore's Creek in the town of Valley in Chambers County.
About: The bridge's namesake, Horace King, was born into slavery and became a highly respected bridge designer and builder. He designed and built bridges in Alabama and around the South. This wooden bridge is a much smaller replica of a 540-foot bridge that once spanned the Chattahoochee River.
2. Easley Covered Bridge
Location: Near U.S. Highway 231 northwest of Oneonta in Blount County.
About: This single-lane bridge with a tin cover has been in place since 1927. It's 95 feet long and may be the oldest of the three remaining covered bridges in Blount County. The restored bridge is open to traffic, but be careful! It's less than 11 feet wide and only 9 feet tall!
3. Tannehill Valley Covered Bridge
Location: In Tannehill Ironworks Historical State Park near McCalla (outside Bessemer), in Jefferson County.
About: This 42-foot bridge is one of many exciting features at this park, honoring Alabama's crucial iron-making heritage. It's a historically accurate representation of covered bridges in Alabama from the mid-1800s when the blast furnaces were at peak production. Visitors can also see an authentic grist mill, a cotton gin, and an iron and steel museum.
4. Old Union Crossing Covered Bridge
Location: On private property (the Cloudmont Ski & Golf Resort) near Mentone, in DeKalb County.
About: This old bridge is one of many attractions at the world-famous Lookout Mountain in northern Alabama. This 110-foot bridge crosses the West Fork of the Little River and has since 1972. It stood for more than a century in the town of Lincoln, nearly 90 miles away. The new owners had it extensively rebuilt and placed on the site of another old bridge.
5. Clarkson-Legg Covered Bridge
Location: Off U.S. Highway 278 in Bethel, in Cullman County.
About: At its founding in 1904, people relied on this bridge to get across Crooked Creek. Seventy years later, a renovated version became the centerpiece of a busy county park. It's no longer open to traffic, but you can walk through it. It's quite a distance, though. At 270 feet, it's the second-longest covered bridge in Alabama
6. Salem-Shotwell Covered Bridge
Location: In a city park in Opelika (near Auburn), in Lee County.
About: Many of these covered bridges in Alabama have more than one name, and this one's also the Pea Ridge Covered Bridge. This bridge is partially preserved. It's a 43-foot-long segment of what was a 76-foot bridge from 1900. A falling tree destroyed the rest of it.
It's a popular feature at Opelika Municipal Park but originally stood ten miles away over Wacoochee Creek.
7. Swann Covered Bridge
Location: On State Highway 79 near Cleveland, in Blount County.
About: We saved the longest bridge for last. At 324 feet long, this restored bridge from 1933 spans a section of the Black Warrior River, Locust Fork. It remains open to traffic despite several run-ins from vehicles. In a recent incident, a tall delivery truck damaged both ends.
However, the vertical clearance is 13 feet, so many cars will have no trouble passing through it.
What State Has the Most Covered Bridges?
While Alabama has a wealth of covered bridges remaining, the number pales compared to other states. Many Midwestern and northeastern states have many more.
We're not sure if the bridges are more rugged up north or if there were more initially. In any case, Pennsylvania has the most, with 213, according to the National Society for the Preservation of Covered Bridges. Ohio is second with 148.
Pro Tip: You'll enjoy doing these 10 Unusual Things To Do in Alabama during your trip.
Are the Covered Bridges in Alabama Worth Visiting?
While they were once common across the country, covered bridges may one day vanish into obscurity. Thanks to the efforts of preservation-minded people, many people have restored and even rebuilt these bridges so more generations can enjoy them.
Even if you're not a nostalgia buff, a tour of the covered bridges in Alabama is an eye-opening experience. For one thing, you'll get a close look at engineering and construction that has stood the test of time. Also, you have to turn off the main roads to get to them. That makes a tour of these bridges an excellent excuse to see some of Alabama's incredibly scenic backroads.
Which of Alabama's covered bridges are you excited to see the most? Tell us in the comments!
Discover the Best Free Camping Across the USA
To be honest with you, we hate paying for camping. There are so many free campsites in America (with complete privacy).
You should give it a try!
As a matter of fact, these free campsites are yours. Every time you pay federal taxes, you're contributing to these lands.
Become a FREE CAMPING INSIDER and join the 100,000 campers that love to score the best site!
We'll send you the 50 Best Free Campsites in the USA (one per state). Access the list by submitting your email below: