If you like desert camping during the winter, you'll want to know about the Pilot Knob LTVA near Yuma, Arizona. On the surface, the area seems remote, yet it has plenty to do within a short bike ride or drive away.
Finding inexpensive RV camping options in a popular winter destination isn't always easy. But we found one that fits nearly every budget, no matter how small.
Great food, shopping, unique attractions, and even affordable dental work are all within a few miles of this desert oasis.
Let's explore!
What Is an LTVA?
Managed by the Bureau of Land Management (BLM), Long-Term Visitor Areas (LTVA) are seven designated camping areas in California and Arizona. You'll find six LTVAs located in the far southeastern portion of California. The seventh location is in Quartzsite, Arizona, an RVers mecca of sorts.
You won't find specific developed sites at these locations as in state parks or national forest campgrounds. Instead, the areas are open spaces with designated boundaries where campers choose their own place.
The BLM chose these locations based on their high use, especially during winter. The creation of the LTVAs allowed people to continue using the areas while protecting the desert environments from over-use during peak seasons.
You'll need a self-contained camping unit with a 10-gallon minimum wastewater holding tank to use most of the LTVAs. However, a few do allow tents. Some locations offer dump stations, potable water, and trash service.
None of them offer electric hookups. So you'll want solar panels or a generator to power your rig.
While all seven LTVAs are open year-round, campers need a permit to use them between September 15 and April 15. You'll pay $180 for the entire seven-month season or $40 for two weeks. Permit holders are free to use any or all LTVAs and their services.
Know Before You Go: Visit the BLM website for information on how to purchase an LTVA permit.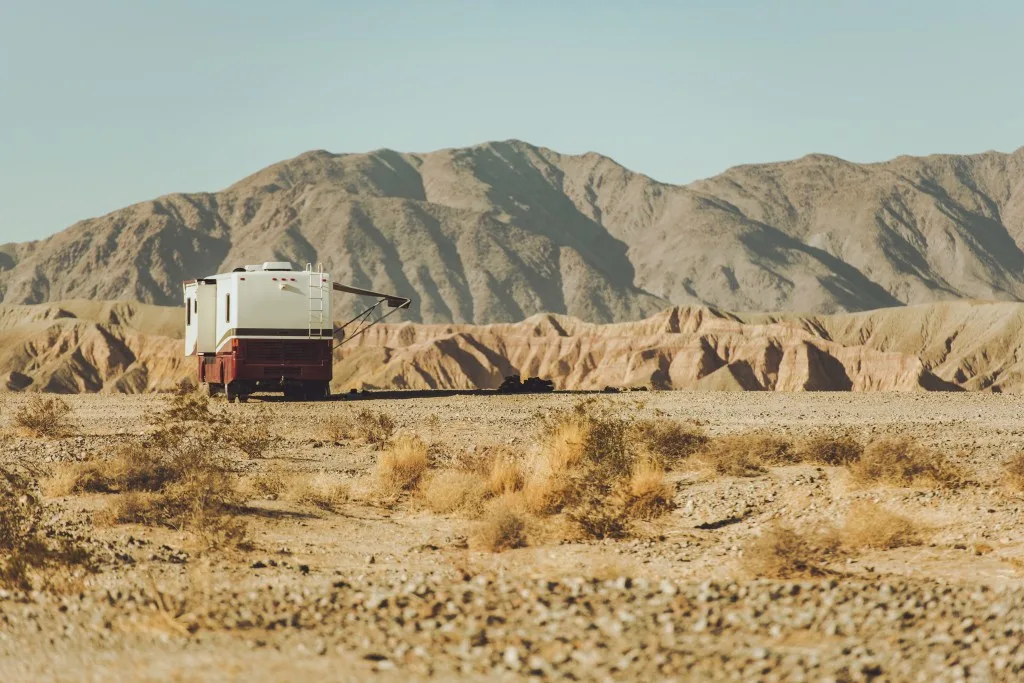 About Pilot Knob LTVA
Located in Winterhaven, California, the Pilot Knob LTVA is an excellent place for desert-dwelling RVers to spend the winter. It's about eight miles from the Arizona border. Once you cross the state line, you'll be in Yuma which has significant grocery stores, laundromats, and other necessities.
While Pilot Knob is in view of the interstate, most campers report barely hearing the traffic, especially at night. And for stargazers, the dark skies with little light interference offer excellent nighttime viewing.
As we mentioned, all LTVAs, including Pilot Knob, are open year-round. However, the best weather here tends to be between October and March. Daytime temperatures range between 70 to 80 degrees, and nighttime temps barely drop below the mid-40s.
Pilot Knob LTVA offers trash service but no dump station or fresh water. But just down the street is a Chevron. They have a dump station for $15 and a fee-based water station. Additionally, they sell propane for both portable and onboard tanks.
If you don't feel like paying to dump your tanks, permit-holders can use LTVA services at any of the seven locations. However, the next closest LTVA is Imperial Dam, about a half-hour away. But a free place to dump and fill up with fresh water at no cost can make the drive worth it.
Are There Seasonal Jobs Near Pilot Knob LTVA?
With the proximity to Yuma, seasonal job-seekers will have plenty of options. From retail to restaurants to distribution and shipping centers, there's no lack of employment opportunities in the area.
However, as Bob Wells from Cheap RV Living explains in a recent video, school bus drivers in Yuma are in hot demand. This may be perfect for you if you have a Commercial Drivers License (CDL) and want seasonal work near Pilot Knob LTVA.
Of course, you'll need a vehicle to drive between Pilot Knob and Yuma for work. Remote jobs might be a better option if you don't have a tow car. You can work from anywhere as long as there's an internet connection.
Pro Tip: Looking for some seasonal work? We uncovered The Best (And Worst) Seasonal National Park Jobs.
Places To Visit Near Pilot Knob LTVA
Upon first glance, Pilot Knob LTVA may appear to be in the middle of nowhere. But there's more to this area than initially meets the eye. You'll find plenty of exciting places to check out during your stay.
Yuma, Arizona
As we mentioned, Yuma has just about anything you need while staying at Pilot Knob LTVA. The city of nearly 100,000 offers a lot of shopping and dining options, as well as parks and museums. You'll also find other essentials like laundromats, banks, and post offices.
A portion of the Colorado River runs through town, with walking and biking trails available. It's nice to have a body of water to enjoy in the middle of the desert.
Pro Tip: Head to these 7 Must-See Places in Historic Downtown Yuma.
Los Algodones, Mexico
Grab your passport and head across the border to Mexico. It's a short drive from Pilot Knob, with parking available on the US side for $6 per day.
Known as Molar City, Los Algodones has hundreds of dentists who offer dental care at a fraction of the cost in the US. We have friends who regularly go there for all their dental needs. If you need to pick up prescriptions, the pharmacies in town can fill them for you.
Additionally, you'll find street vendors selling everything from t-shirts and handbags to blankets and artwork. Los Algodones also has some great restaurants. So stick around after your dentist appointment to check out some of the local flair. Or maybe head there early, depending on what dental work you're having done.
Official Center of the World
Little do most people know that the center of the world is in a little town called Felicity, California. Located across Interstate 8 from Pilot Knob LTVA, it's an easy bike ride or walk from your campsite.
There's a 21-foot tall pyramid with a plaque in the middle designating it as the official Center of the World. For a $5 fee, you get a tour and details about the origins of Felicity. It's quite fascinating!
One of the most prominent features you'll find here is the Museum of History in Granite. An on-going project, there are currently about 500 panels describing historical events from around the world. On your visit, you'll likely see new portions being added to the display.
Quechan Casino
On your way to Los Algodones, you'll pass by this casino. Even if you're not a gambler, you may appreciate the multiple dining options available. Feeling like treating yourself to a nice dinner? Ironwood Steakhouse may be just the place for that.
Is There Free Camping Near Pilot Knob LTVA?
Yes, there are other options in the area for free dispersed camping. Just one and a half miles down the road from the LTVA is Pine Knob BLM area, with a 14-day stay limit.
A bit further away is American Girl Mine. This is a BLM-managed area popular with RVers looking for free camping. It's only about a half hour away from Yuma, so still close enough if you need to grab supplies.
Is Camping at Pilot Knob LTVA Worth It?
We think $180 for seven months is more than worth it for camping in close proximity to just about anything needed. While it may not have a dump station and water available, you can find both nearby. Plus, there are enough attractions in the area to keep you entertained through the winter.
Discover the Best Free Camping Across the USA
To be honest with you, we hate paying for camping. There are so many free campsites in America (with complete privacy).
You should give it a try!
As a matter of fact, these free campsites are yours. Every time you pay federal taxes, you're contributing to these lands.
Become a FREE CAMPING INSIDER and join the 100,000 campers who love to score the best site!
We'll send you the 50 Best Free Campsites in the USA (one per state). Access the list by submitting your email below: