After three weeks of socializing in Quartzsite, we were looking for a little peace & quite. American Girl Mine was the perfect place to chill out for a while. While it's technically located in California, it's right on the AZ/CA border (only 10 miles from Yuma).
Watch the video:
[youtube https://www.youtube.com/watch?v=5kI5V3rn0vo&w=560&h=315%5D
Here's the breakdown:
Location: American Girl Mine Rd, Winterhaven, CA
GPS: 32.8368, -114.812
Date/Temp: We pulled into AGM during the last week of January. It was beautifully sunny, with daytime highs in the upper 70s and lows in the 50s.
Amenities: The campsite offers no amenities. It's true dry-camping, so make sure you bring water, food, and power! There is fresh water and dumpster access at an interstate rest stop 3 miles west on I-8.
Wifi/Cell: Cellular Internet connection is amazing at AGM. T-Mobile, Verizon, and AT&T all worked at blazing fast speeds. We didn't need to turn on our booster at all!
Noise: This is spaced-out desert boondocking at its best. It was almost completely quiet, with the exception of an occasional train in the far-off distance.
Grocery/Errands: Yuma is about 15 miles away and has all the shopping you'll need. There are many grocery stores (we prefer Food City for the low prices). But, driving back to the campsite, you have to cross California's agriculture check point.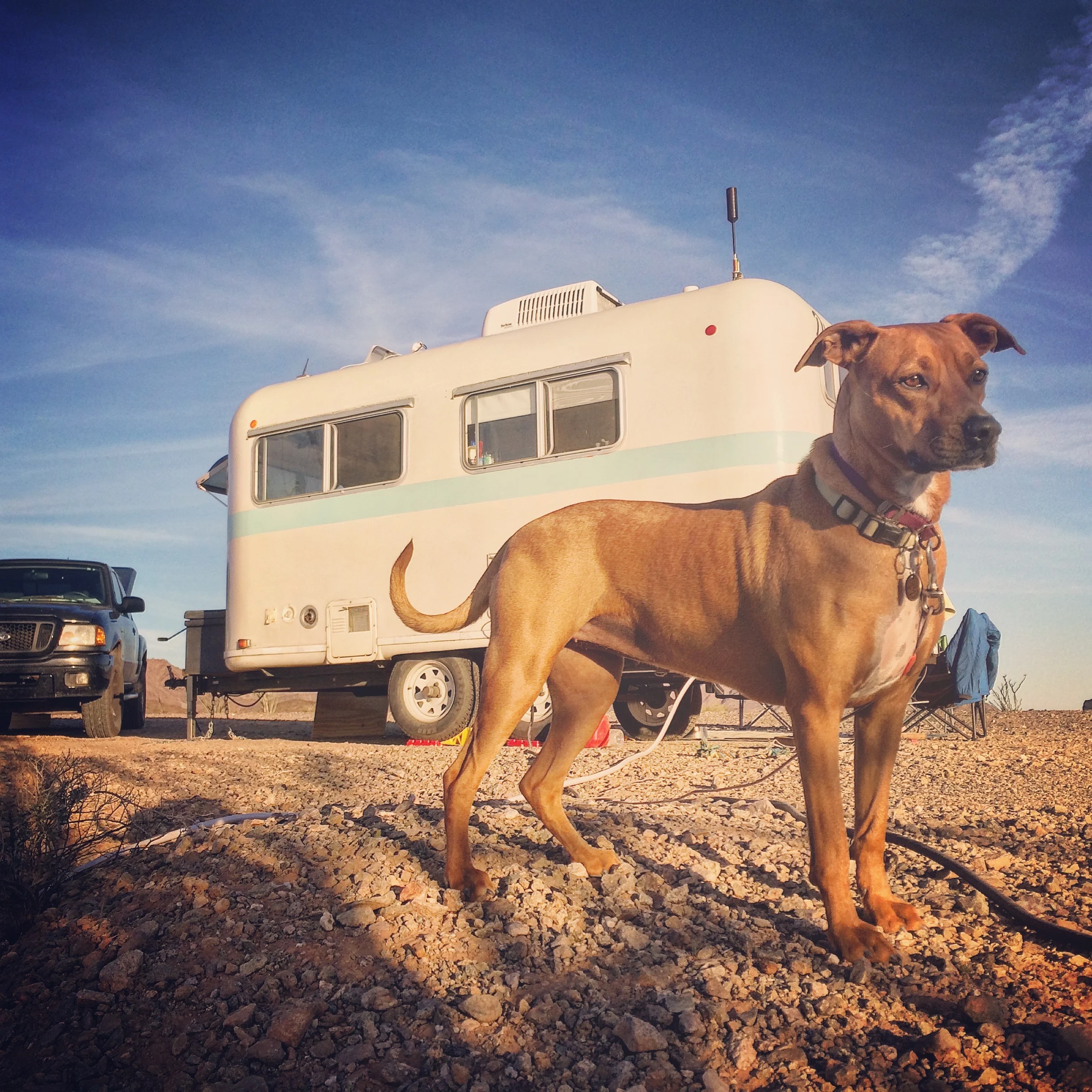 Dog Friendly: The campground is dog friendly and the ground is pretty tame (not many cacti or sharp rocks). As with all BLM land, dogs must be kept on a leash.
Entertainment: Just a few miles from camp is a historic ghost town (more ghost than town) and in Yuma there's a ton of history to explore. Yuma also has more traditional entertainment like movies, shopping, bowling, etc. We prefer the free stuff!
UPDATE: We've begun work on a new music project! In April we'll enter the recording studio to capture an album inspired by life on the road. If you've found our blogs informative or inspirational, please give this a look. We need your help to complete the album.
LINK: https://www.kickstarter.com/projects/1231395569/drivin-and-vibin-songs-from-the-road-full-length-a?ref=er04tp
Thanks for reading our blog. Help support our mission – to live freely and deliberately – by checking out our Etsy store or shopping Amazon through our link.
And, don't forget to sign up for our newsletter 🙂