As we continued to travel up the Texas coast, we decided it was time to treat ourselves to full hookups. Galveston was calling our name, and the town has tons of RV parks. We were draw to The Stella Mare RV Resort for many reasons – it's close to the beach, it has amazing amenities, and it's brand new!
From the moment we pulled into the resort, all of our expectations were exceeded. A resort host greeted us in his golf cart and ushered us to our huge pull through site. Check out the video and all the details below!
Watch the video:
[youtube https://www.youtube.com/watch?v=7M11VLYtFKQ&w=560&h=315%5D
Here's the breakdown:
Location: Galveston, Texas
GPS: 29.2402, -94.8826
Resort Website & Rates: http://stellamarervresort.com/
Date/Temp: We pulled into Stella Mare in early March. The temps were in the mid 80s with cloudy skies. The evenings cooled off a little bit and held steady in the 60s.
Amenities: This RV resort is full of awesome amenities. To begin, the concrete pads are huge. They can spaciously accommodate the largest Class-As and their tow vehicles. The resort also offers a pool with a wrap around deck and chairs for tanning. Our favorite amenity was the pristine bathrooms, showers, and laundry facility. It was, hands down, the best quality we've seen since beginning full time RV living.
Wifi: Stella Mare offers free wifi that works very well. The free option was fast enough to stream Netflix & Hulu. We were also able to upload YouTube videos with it. The resort also offers a paid internet option with increased speeds for large internet needs (conference video calls, gaming, fast uploading).
Noise: This is a large resort with many sites. During our stay it was about 40% occupied. With that said, we were never disturbed with loud noises. If the resort was at capacity, it may be slightly noisier. However, every site has a grassy yard separating it from the next.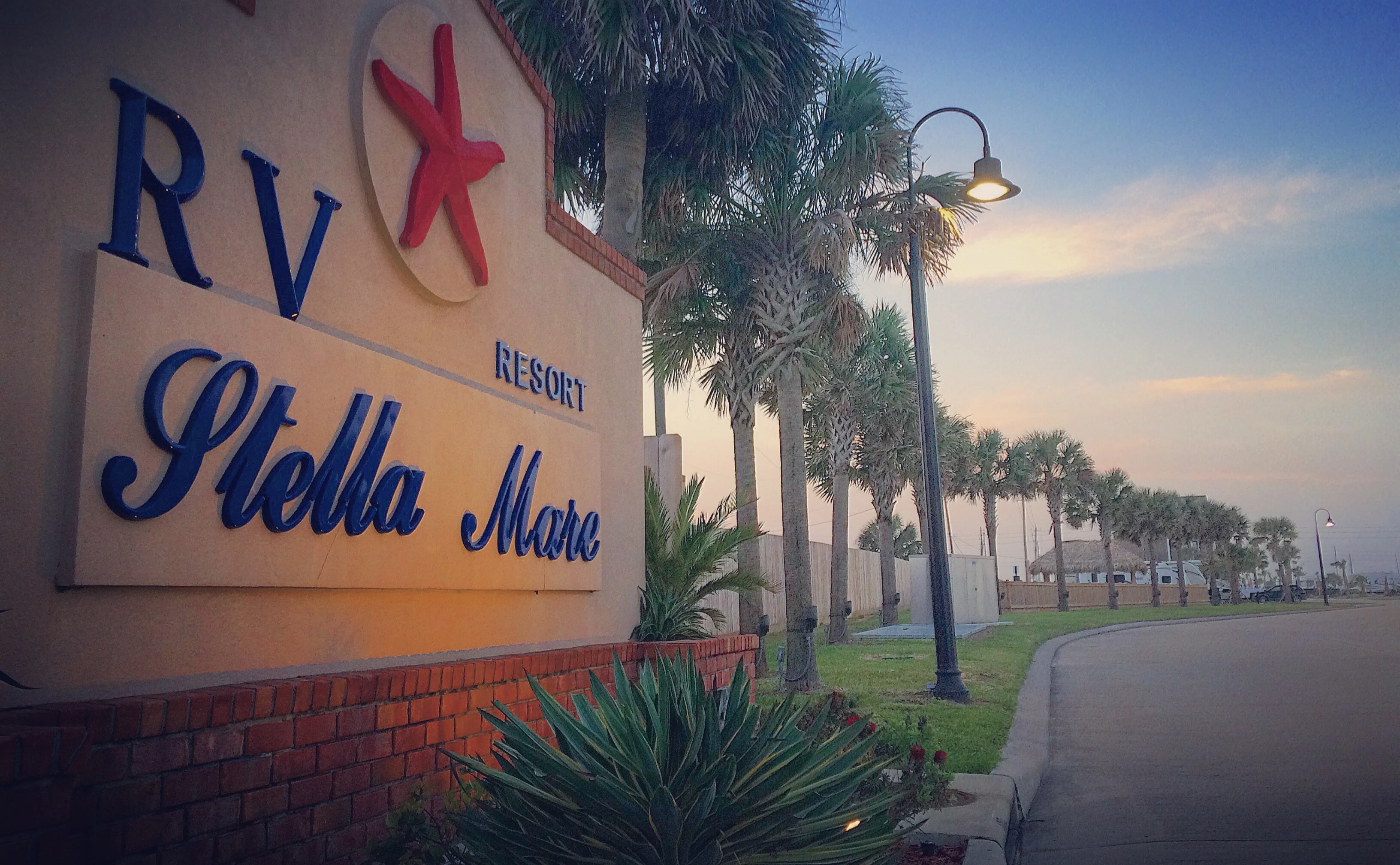 Grocery/Errands: Galveston has tons of shopping options. Stella Mare is only a few miles from the center of town; making it close enough to easily access downtown, but far enough away to be out of the hustle & bustle.
Dog Friendly: We love dog friendly parks, and Stella Mare is very welcoming of furry friends! They have numerous doggy-waste-stations located throughout the park and two fenced-in dog runs (one for big dogs and one for small pups).
Entertainment: Galveston is full of entertainment. If you want to work on your tan, the beach is right across the street. Old Town Galveston has fun shops and restaurants. There is even an amusement park that overlooks the Gulf!
[youtube https://www.youtube.com/watch?v=GoalDLtFy7w%5D
Thanks for reading our blog. Help support our mission – to live freely and deliberately – by checking out our Etsy store or shopping Amazon through our link.
UPDATE: We've begun work on a new music project! In April we'll enter the recording studio to capture an album inspired by life on the road. If you've found our blogs informative or inspirational, please give this a look. We need your help to complete the album.
LINK: https://www.kickstarter.com/projects/1231395569/drivin-and-vibin-songs-from-the-road-full-length-a?ref=er04tp
And, don't forget to sign up for our newsletter 🙂