According to Shyft, Americans will move 11-12 times during their lifetime. Almost 10% of Americans move annually, and there are about 7,000 moving companies in the United States. So if you haven't moved yet, it's highly likely that you will soon. When that day comes, it's best to be prepared.
Having the right moving supplies will help your move go smoothly and reduce the headaches and challenges during an already-stressful time.
We'll look at five places where you can easily find moving boxes. Let's get started!
Are Moving Boxes Necessary?
Some people will tell you they have never used moving boxes or spent any money on moving supplies. They've figured out how to get their stuff from Point A to Point B without a moving truck or hiring a moving company.
Others will swear by the necessity of hiring movers or using strong, new moving boxes to ensure their belongings get to where they need to go without damage. So are moving boxes necessary? No, they aren't. However, they make the moving process easier if everything is uniform, packed, neat, and labeled.
How Many Boxes Is Normal for Moving?
There is no "normal" number of moving boxes because everyone's living situation is different. A single man graduating from college and moving into an apartment won't have as many moving boxes as a family of five. When you rent a storage unit, there are unit sizes for the number of rooms you're packing. This can be helpful when determining how many moving boxes you'll need.
Moving Help by Uhaul recommends six small, ten medium, two large, and two extra-large boxes, plus three wardrobe boxes for packing up a studio apartment. For a 4-bedroom house or apartment, they recommend 18 small, 41 medium, nine large, and eight extra-large boxes plus 16 wardrobe boxes. So it's vastly different depending on your belongings and the number of people.
Uhaul has a moving calculator that can help estimate how many boxes and what size of boxes you'll need. You can input how many bedrooms, closets, bathrooms, etc., into the calculator and get an idea of what you'll need to pick up for moving boxes.
Pro Tip: Ready to pack up your home in exchange for RV life? Find out How We Downsized to RV Life.
5 Easy Places to Find Moving Boxes
Moving services will have boxes you can purchase, but other places might be easier to find. Some will provide free moving boxes, which can help cut down on your moving costs. If you're renting a Uhaul truck or traveling a long distance, you're already spending a lot of money, so finding free boxes is a huge plus.
1. Walmart
Call your local Walmart and ask about picking up their boxes after 10:00 pm. Because Walmart unloads new shipments late at night, empty containers are up for grabs for anyone willing to arrive late. You can also head in early when they empty produce and meat boxes.
Pro Tip: Whether you're looking for moving boxes or other home goods, make sure you know these 10 Unwritten Rules for Shopping at Walmart.
2. U-Haul Customer Connect
The U-haul Customer Connect program allows "customers to get together and share rides, or buy and sell boxes with each other." Why would U-Haul do this when the company loses money if customers don't buy new boxes?
First, it helps customers, especially customers who may not be able to afford moving boxes. Second, it "benefits the environment by keeping moving supplies out of the landfills." The U-Haul Box Exchange helps connect customers looking to sell or get rid of their boxes and customers who need to find moving supplies.
3. Amazon
Amazon seems to have it all, and boxes are no exception. You can find boxes, packaging tape, bubble wrap, and moving supplies. It's an easy checkout, and they deliver your packages to your doorstep within a few days. If you don't have time to search for boxes, Amazon is an easy one-stop shop. Plus, you'll find almost every size box imaginable, even for those strangely-shaped gadgets.
4. Nextdoor
If you're unfamiliar with the Nextdoor app or website, it's a free resource to connect with others in your community. Your neighbors may have boxes in their garage that they need to remove.
Once you create a profile for your neighborhood, you can ask if anyone has moving boxes available. It's super easy and an excellent way for neighbors to help each other.
5. Recycling Centers
It's time to familiarize yourself with your local recycling center. Most recycling centers have an area where people drop off lightly-used boxes.
Some boxes may already be broken down, so a quick trip to the recycling center may lead to a trunk full of boxes. Grab packaging tape from the local hardware store and put them together at home.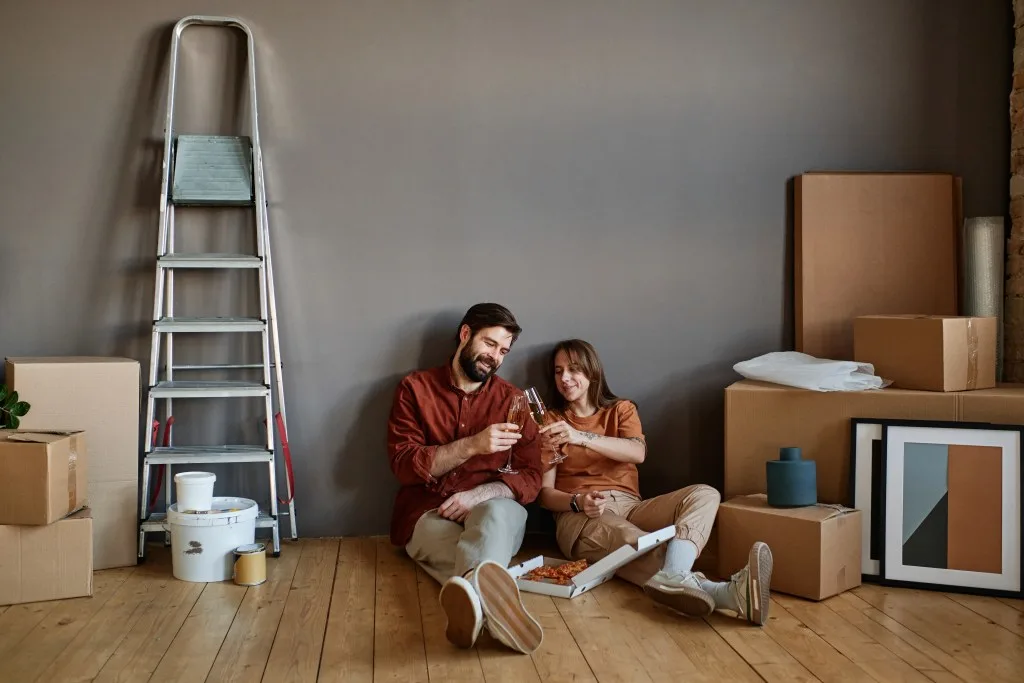 What to Use Instead of Boxes When Moving?
Moving boxes are easy to stack inside a truck or trailer, so generally, they're most people's preferred packing method. However, if you can't find enough boxes or don't want to spend any money on cardboard, there are some items around the house you can use instead.
Put clothes, pillows, sheets, and towels in trash bags. Label them, so you don't accidentally throw them out with the garbage. Put those suitcases to good use. Pack your smaller objects in baggies and dump them into suitcases. Kitchen gadgets, books, and other items will also fit in suitcases. Backpacks, handbags, and tote bags are all for carrying things. So round up all your bags and start filling them up.
Trash cans and laundry baskets are good places to pack oddly-shaped items like brooms and mops. Fill the bottom with smaller items to weigh down the can or basket. If you're looking for ways to avoid moving boxes, browse through the things you already have at home!
Are Moving Boxes Worth It?
Moving boxes can help you stay organized during a move. Especially if you have multiple rooms to pack up, boxes of different sizes and uniform designs can help you locate items later. You can easily write on the outside of boxes, and they're convenient to stack up on a dolly to transport.
These boxes also keep items from breaking. It's much easier to write FRAGILE in big, bold letters on a cardboard box than in a trash bag. You can insert some bubble wrap for added protection and know your items will travel safely.
If you can afford to use moving boxes, it will make your move easier and simpler. Remember, there are ways to grab free moving boxes, too, so exhaust all your options when it's time to pack.
Have you ever used moving boxes before? Tell us in the comments!
Discover the Best Free Camping Across the USA
To be honest with you, we hate paying for camping. There are so many free campsites in America (with complete privacy).
You should give it a try!
As a matter of fact, these free campsites are yours. Every time you pay federal taxes, you're contributing to these lands.
Become a FREE CAMPING INSIDER and join the 100,000 campers that love to score the best site!
We'll send you the 50 Best Free Campsites in the USA (one per state). Access the list by submitting your email below: