We Live In An Airstream, Here's How We Downsized to RV Life
Downsizing is a stressful journey – that's why we're sharing 10 tips for the downsizing process.
Whether you're moving from a house to an apartment, buying an RV & hitting the road, or simply beginning to declutter your life, these tips can shed light on the path forward and encourage you to take the first step toward material freedom.
We live & travel full-time in a vintage Airstream (1979 Argosy to be exact), these are the 10 tips we followed when the downsizing journey began. To share the list, we asked our RVing friends for a little help!
Develop a Strategy for Downsizing To Your RV
Developing a strategy is the best way to start any journey. In this step, you'll want to assess your goals, your timeline, and your actual stuff. Writing the plan down on paper helps – the strategy can then turn into monthly, weekly or daily goals
Keep in mind – the sooner you downsize, the sooner you can enjoy all the free camping in America!
Lisa & Kent of Living Light RV share their strategy:
For us it was get rid of the physical first and then take our time to go through the emotional and memorabilia heirloom items.
In the RV Masterclass course, Prepare to Full-Time RV, the instructors walk through each step of downsizing.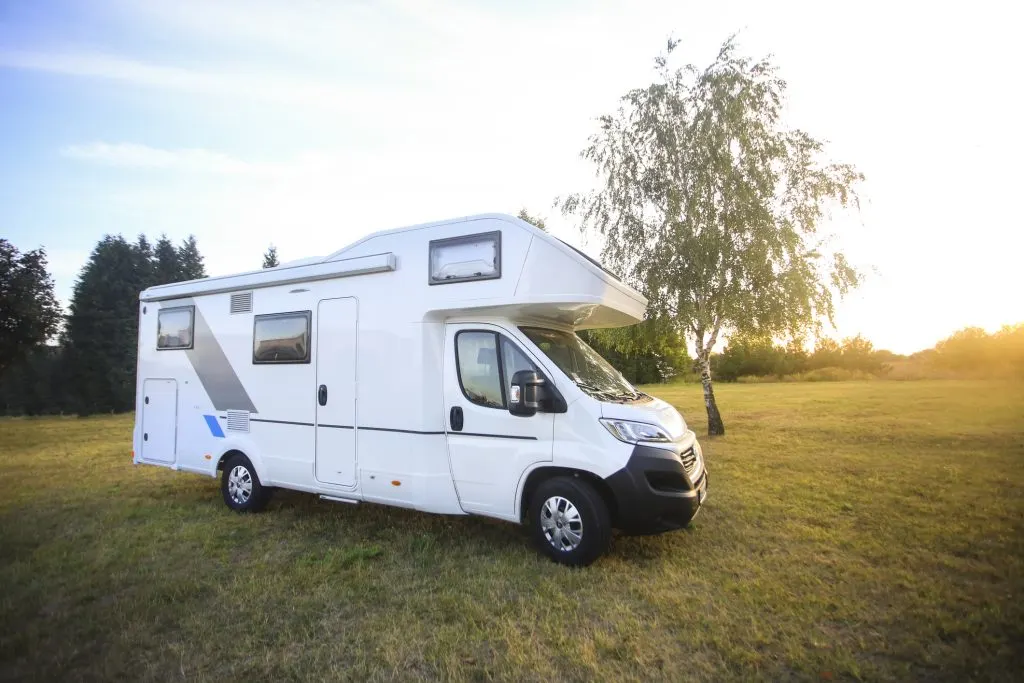 Use Facebook to Sell Your Items
Dan & Lisa from Always on Liberty recommend using Facebook to sell items locally. There are two ways to do this: the Facebook Marketplace or on local Facebook Yard Sale Groups.
Lisa offers up very sound advice in terms of personal security during this process:
When you reach an agreement you're going to want to meet in a safe place. Make sure its light outside…and never meet in your home.
We sold a few items on Facebook during our downsizing journey and realized that we could make more money per item sold via Facebook, but there was also a lot of effort involved in each sale. We'd recommend this for bigger ticket items, no knick-knacks.
If you're selling on Facebook, you might as well join the best RV Facebook groups. Here are our favorite Facebook Groups for RV Life.
Think Outside the Box When Selling Your 'Junk'
Get creative with your marketing when you decide to have your first big yard sale! Doug & Harmony of Fummins Family Roadtrip used Pokemon Go cards to drum up excitement with their estate sale. Encouraging potential shoppers to look deep, they hid cards throughout their sale items.
The options are infinite for a fun, grassroots marketing campaign. The only cost will be fliers to post around town. If you have way more dog snacks than you need, offer free dog treats to everyone who brings their furry friend. You can even pull out your corn hole game and offer 50% off to anyone who can toss the beanbag in the hole.
Start The Downsizing Process Early
This should probably be tip number one! I know for a fact, we began our downsizing months too late.
The process is long, emotional and physically exhausting – give yourself ample time to complete the job.
Dan from Always on Liberty says:
You've accumulated a lot of stuff in the period before you go on the road. Your cupboards, your pantry, your attic, your basement; it's just crammed full of things…you need to get an early start on it!
Re-live the Memories as You Downsize
During the process of decluttering, Ronnie of the Tribe found that re-living memories gave him unexpected joy. Rather than throwing an item in a box, honor them and re-live the fond moments they represent.
We loved this tip from Ronnie! It's important to remember that the process of downsizing can bring joy.
Honor Others
Lisa & Kent of Living Light RV bring us another powerful tip – honor others when downsizing. Have open communication with the loved ones in your life. Let them know that you no longer have the same goals and aspirations you once had…and, because of this, you have to let go of items that were given to you in kindness.
Lisa says:
We have a lot of items that people have given us over the years…wedding gifts, artwork our kids had painted for us, silverware & fine china. I think its important to look at an item and say "will this offend someone else if I just get rid of it?"

If the answer is "yes" its important to talk to that person…and say "hey, you know what, we're in a different stage of life now. We are downsizing, we're going to be living in an RV and we're turning over a new leaf.
Communicating with the person who gave you an item will create an open dialog and honor their thoughtfulness.
The Drawer Method for Downsizing
The drawer method is pretty simple. Take all your kitchen utensils, put them in the bottom drawer. When you use one, move it to the top drawer. After a month you'll have a good idea of the utensils you really use.
This method can be used in your clothes closet and your bathroom, too!
What about your turkey baster or Christmas platters? Well, we say, let it go.
Stay Inspired
Keep your eye on the prize and remember your WHY! If you're like Lisa & Kent, keep watching those RV travelers on YouTube and imagining the beautiful roads you'll travel.
It's also important to celebrate your successes. This can be as simple as going on a date night after you get rid of that 50″ plasma TV. You can even use those recent sale-funds to pay for the date!
We stayed inspired for our entire year of preparation by planning hundreds of potential routes and plotting must-see points on the map.
Let Go
As important as staying inspired, its also important to let go. If you can wrap your head around the idea of "letting go", you'll have a much smoother ride through this downsizing journey.
Lisa for Always on Liberty also reminds us not to be offended if people don't want your stuff.
You might not make as much money from yard sales as you'd like – thankfully thrift stores are always accepting STUFF!
Digitize Your Photos
Using a scanner called Doxie, you can easily (and wirelessly) turn all those physical photographs into digital files and have them on your computer in no time.
If you want to step up your digital photograph game, you can buy a portable hard drive to have a backup of the photos just in case something happens to your computer.
Don't be intimidated by this process. It'll be worth the effort!
Now It's Time To Go Camping…for Free!
To be honest with you, we hate paying for camping. There are so many free campsites in America (with complete privacy). You should give it a try! As a matter of fact, these free campsites are yours.
Every time you pay federal taxes, you're contributing to these lands.
Here's our list of the 20 Best Free Campsites in the USA.
Become a FREE CAMPING INSIDER and join the 100,000 campers that love to score the best site! Simply enter your email below.