After a year and a half, we completed our Airstream Argosy Renovation!

We did it!
We are so happy to share our 1979 Airstream Argosy Reveal! Our renovation is complete after a very long year and a half process. It was so much harder and rewarding than we could have ever even imagined.
There were times where we pushed our physical and emotional limits to the brink, questioned our sanity, and almost lost hope of ever reaching the finish line.
BUT… we never gave up and we kept pushing forward one day at a time and now we have a home that we can be proud of and that will take us on many adventures. It's going to facilitate so many wonderful experiences and journeys with our daughter and it makes every single minute of work worth while.
Airstream Argosy: Before
(Some of the links in this post are affiliate links and we make a small commission if you make a purchase through our link)
If you remember way back when we made this crazy decision, we bought the Airstream Argosy sight unseen from a friend back in our hometown. We knew it had been completely gutted and was going to be a complete rebuild.
It was an empty shell, not even a subfloor left. We looked at it and thought, perfect! We will make it completely custom to our needs. Oh to be naive and full of grand ideas and energy…
The project quickly became more extensive than we even imagined when we decided to go for "The Full Monty" a complete shell off renovation. We realized to properly access the frame to repair and re-weld and to more easily install the subfloor we would need to take the shell off. It allowed us to sand blast the frame, weld on added support, repair rusted areas, add a 4 inch lift and install our new axles from Inland RV.
We also coated the frame with some great rust preventative chassis paint from Eastwood Automotive.
If you want to know more about this process you can ready about it here – Vintage Airstream Renovation: Subfloor, Frame & Axels
The last part of the demolition process was removing the remaining underbelly and gray tank and removing the inner wall panels. We completely re-wired and re-insulated the rig. This allowed us to design a custom electrical system, and get rid of that nasty pink insulation that had seen better days.
Airstream Argosy: After
The final product is probably more accurately a 2019 travel trailer than a 1979. The only original pieces are the aluminum skins and the fresh water tank. It has a fresh bright white paint job using a single stage urethane from Eastwood Automotive with a shiny polished aluminum stripe to replace the orange and red vinyl.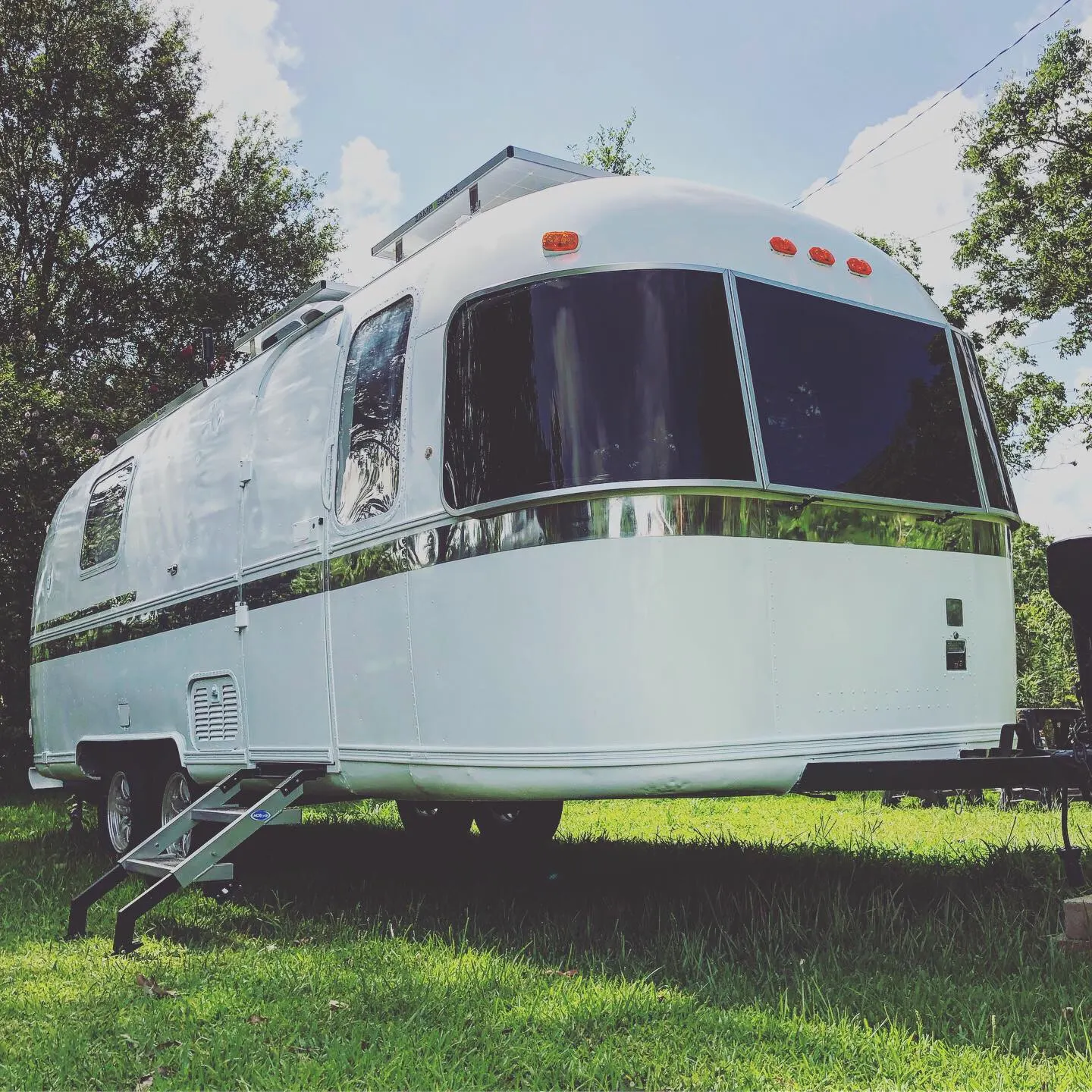 We liked keeping the vintage aesthetic of the classic Airstream Argosy while adding a little flash of silver as a nod to the traditional Airstream. We used a few different grits of the Nuvite NuShine aluminum polish from Vintage Trailer Supply and it worked great. Vintage Trailer Supply was a great resource for our lights, window hardware and other vintage airstream parts.
It's rocking some new sunglasses from Inland RV, these are the standard rock guards for airstreams with the panorama windows, but with a modification to the center panel to fit our narrower minuet model Airstream Argosy. We're super grateful to Inland RV for taking the time to make that modification for us and figuring it all out so we could focus on other projects. It was a huge help in meeting our deadline.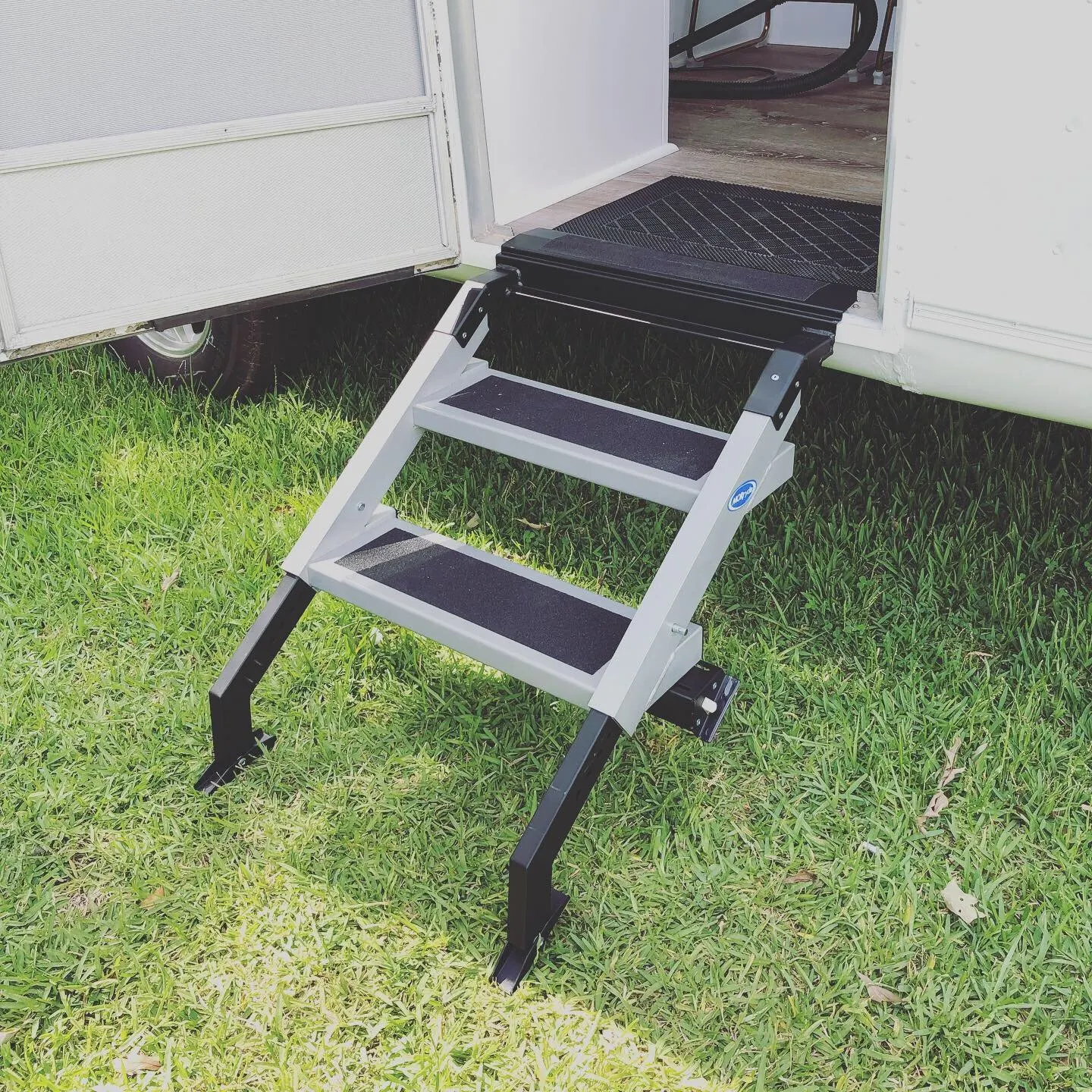 We also upgraded our factory issued Argosy step stool to some super sturdy MorRyde steps! We loved our friends when we visited their 5th wheel, but had never heard of anyone using them on an airstream or travel trailer. We decided we couldn't live without them and we should ask if theres any way to make them work with our rig and the answer was YES! Thankfully, they had experimented with some airstream steps already and were able to quickly send us the modified steps. If you want some of your very own, you can contact them directly. I don't think they are listed for sale on their website yet.
Appliances
We didn't keep any original appliances and decided to nix the furnace altogether. Instead we got the super low profile Penguin II AC from Dometic which has a heat pump built in. We also got their Atwood 6 gal propane/electric hot water heater and the Atwood 3 burner propane range/oven. We also replaced our old roof vents with two of the infamous fantastic vents.
We really wanted a 12V fridge, but couldn't find one in the dimensions we needed, so we went with an affordable mini fridge from Home Depot in the meantime. Our new lithium battery system is so much more robust now, that this little fridge draws practically nothing.
Battery System and Solar Array for our Airstream Argosy
We love boondocking, so making sure our rig was fully equipped with the best off-grid system was really important to us. We knew we wanted lithium batteries and had met the founders of Battle Born batteries way back in August last year and we fell in love with the company and their product. We installed 500ah of batteries and a sweet hybrid inverter from Victron! We're so cool that Battle Born now offers the "Drivin and Vibin bundle" with everything we used for our battery system!
So we have this awesome battery system, how are we charging these bad boys? We managed to fit 640watts of Zamp solar panels on our very tiny roof. The unique size of their long 90 watt panels were great for working around our AC unit and roof vents. We are so thrilled with this set up and it was a breeze to install. We did however add some homemade extenders to the brackets to accommodate the curve of our roof.
We have to give a huge shout out to Tom and Caitlin Morton of Mortons on the Move. They were a huge help in this build and Tom is the electrical genius we needed to get this system done right! We don't know what we did to deserve friends like them, but be sure to check out their video about our electrical system!
Front Bed Custom for Airstream Argosy
We decided to go with a front bed layout with the bath in the rear for our Airstream Argosy. This floor plan created the most functional space in our rig and the super comfy bed up front is so inviting. I may have taken quite a few work breaks to test out the comfort level and ease my swollen feet during the last months of this reno and my pregnancy.
*Side note – pregnancy, renovations and Alabama heat don't mix well, do not recommend.
I do however recommend the mattress! We went with a custom mattress from Mattress Insider (code VIBE for 5%off). After living with the most uncomfortable bed in the Fiber Stream for years, we knew we wanted a quality mattress but didn't know how to accommodate the front curves. Our first thought was buying a cheap memory foam mattress on Amazon and chop the corners off. Also, no standard mattress would be the right length to fit wall to wall, so we would have had a gap or had to cut off length too. It seemed like a lot of work to maybe end up with a poor fit and a mattress we hated…
Thankfully, our friends RV Geeks told us about Mattress Insider and that they are super comfy and do custom shapes and sizes! We made a template for them, got our mattress within a week and it was a perfect fit! It feels so amazing and they helped us pick the perfect mattress for our sleeping preferences. You can learn more about our bed here – Custom Airstream Mattress by Mattress Insider
Interior Design/Decor
We wanted to keep things bright and airy by keeping the walls and cabinets white, but have some contrast by adding dark hardware and a dark walnut stained butchers block counter top. It's 10 feet long and I love it dearly. It extends past the kitchen to serve as an eating area, desk or even more prep space.
I also have a very large farmhouse sink that I'm pretty sure is going to be life changing and looks perfect for baby bath time.
Speaking of babies, where is our little girl going to sleep? In her very own bed! Right across from the kitchen is a bench/ bed area that we will use as a couch during the day and a baby bed at night. It's large enough for me and Kyle to take a nap on, so it's roomy enough for her to grow into. I think River would argue it's her bed though..
We added some color and texture to the space with tons of fun pillows and plants. It's all the little things that make it feel like home.
We don't have a ton of flat wall space to work with so we had to make it count with some beautiful art. We stumbled upon this company called 1767 in Nashville and fell in love with the beautiful pieces they created from salvaged materials from old homes. It was right in line with our passion for giving old things new life, so now we have two gorgeous pieces made from materials of a home built in 1926. If you love them too and want a piece of your own, you can use code – drivinandvibin15 for 15% off!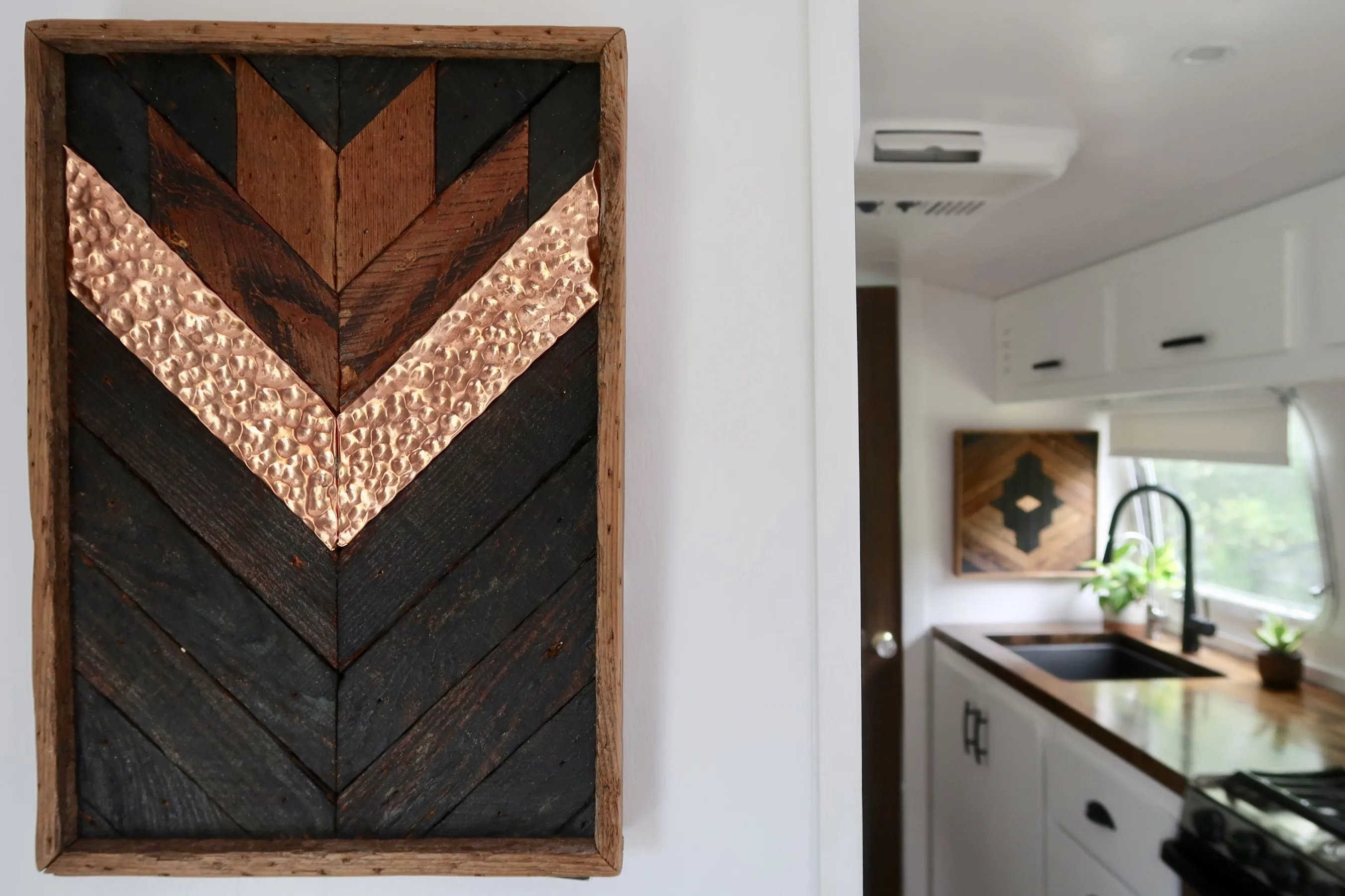 Another fun piece we found to represent our love of music is a cool limited print, signed and hand printed – Van Morrison concert poster. We found it on Etsy through a shop called Subject Matter Studio. It's pictured above behind River in the "nook" area as we call it.
Bathroom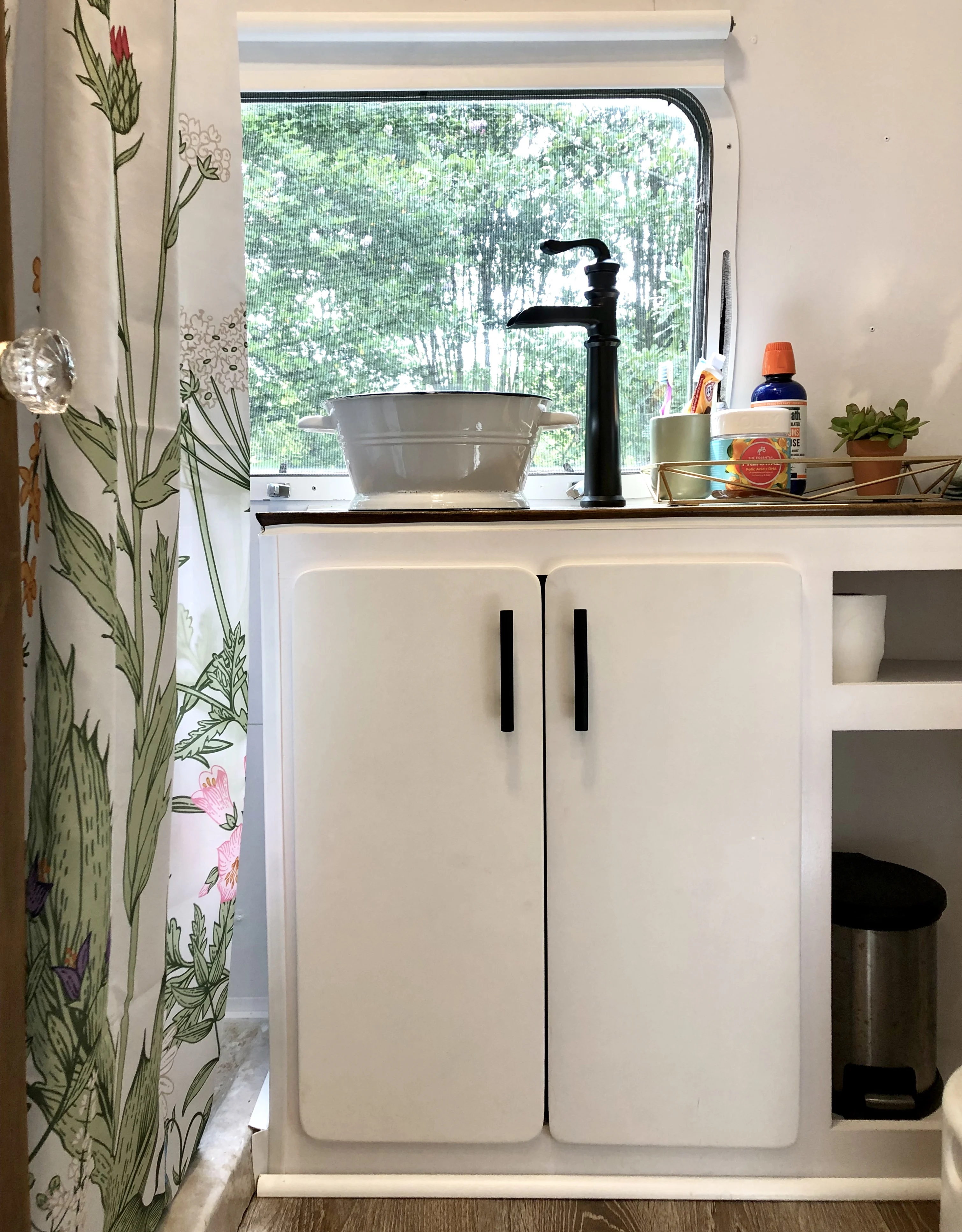 The bathroom area is separated by this cool old door we found. It's not as heavy as it looks and I think adds a very homey feel to the space. Once you enter the bathroom there are two large closets on either side for our clothes. Straight ahead is a small custom vanity that me and Caitlin made. We couldn't find a small enough sink to fit, so we came home with a cool rustic wash tub and told the boys to figure out how to make it work. I added a waterfall faucet and I think it turned out really well!
We put the shower in the corner not realizing how much of a pain it would be to fabricate a custom shower pan to fit the curve, but Kyle really pulled it off. He and Tom experimented with a few methods before deciding on a combination of foam board and fiberglass.
It's very sturdy and fits really well to the curve. The shower rod situation was also difficult in such a small space with a curved wall, but we used some leftover copper tubing and bent it to shape and it voila!
Last but not least, our new composting toilet! We went with an Air Head Composting Toilet and it fit this area perfectly. We were limited on space and the Nature's Head was definitely too bulky, plus we wanted to try out the competing brand and see what one we liked best. You can read more about this unit here – Air Head Composting Toilet – Why We Made the Switch
Become a FREE CAMPING INSIDER and join the 100,000 campers that love to score the best site! Simply enter your email below.