The Best Free Camping Spot in all 50 States
No matter where you're camping in America, these 50 free camping spots (well, actually 48) are great for reconnecting with nature!
The term "boondocking" also means free camping. Quite often the two terms – free camping and boondocking – are interchangeable. It usually happens on federal government lands, but can also be on state and county land.
Anytime you're camping off-grid extra preparation is needed. You'll have to supply your own power, water and waste management. Fortunately, most RVs are set up for this type of camping experience!
Let's dive in.
Alabama
Free Camping Site Name: Barbour WMA
Location: Comer, Alabama
Why You'll Love It: This is a huge area – Barbour WMA consists of 18,924 acres in Barbour and Bullock Counties
Alabama doesn't have many free campsites in nature, most are Walmarts and rest stops. This site, however, will situate you among the forest pines, abundant with wildlife.
What's The Word: A recent review on Free Campsites Dot Net says, "Only open October thru April. I was there during hunting season and most areas were crowded but I found a large secluded area that was quiet at night. Water and dumpster available near office. Staff was very nice and helpful."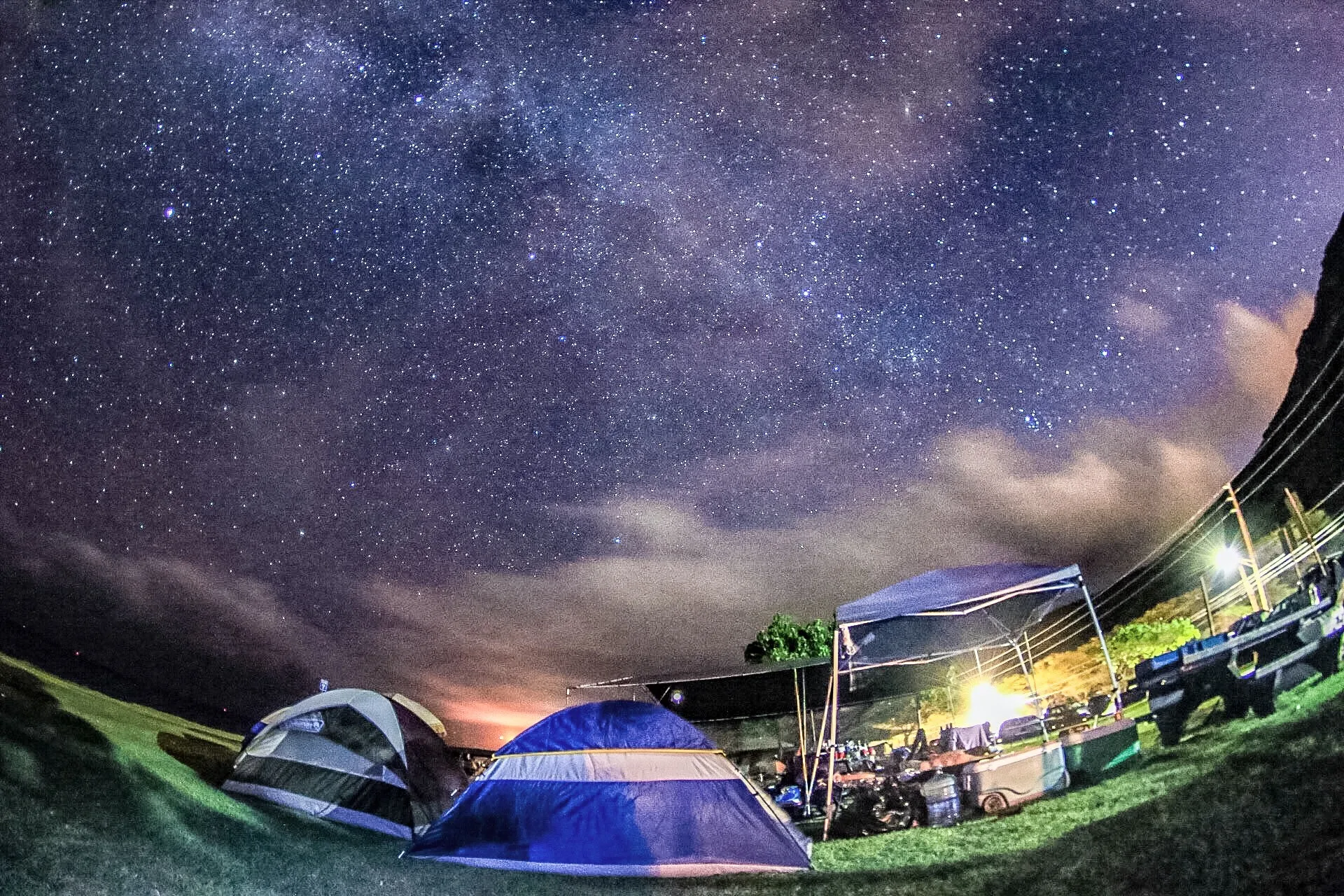 Arizona
Free Camping Site Name: Naval Observatory Road
Location: Flagstaff, Arizona
Why You'll Love It: Naval Observatory Road offers a forested, free camping site, sitting at high elevation, and providing milds temps. We specifically loved this site because it gave us room to spread out and enjoy nature, but also be within 7 miles of the vibrant college town.
We received a 4G LTE signal with both AT&T and T-Mobile (using our WeBoost Cell Booster). The speeds were amazing! We could easily stream music & movies and upload YouTube videos super quickly.
Hiking trails, easy and hard, are also nearby. We took a harder than expected trail one day and almost couldn't make it back!!!
What's The Word: A recent reviewer on Campendium says, "My husband + I stayed here for two weeks, we just couldn't leave. It's so close to flagstaff and the forest was just beautiful! TIP: if you're staying longer term and you want more privacy keep driving back. "
Arkansas
Free Camping Site Name: Richland Creek Recreation Area
Location: Witts Springs, AR
Why You'll Love It: This National Forest campsite is tucked within the beautiful Ozarks. River swimming is available a short walk from the camping area. Many hiking trails are within walking distance, too.
What's The Word: Scott on Campendium says, "Beautiful secluded campground on two creeks with multitudes of water falls in the area. Great swimming hole. sometimes fills up on weekends, but there are also several "dispersed" sites along the road. Awesome scenery and hiking. On the Ozark highlands trail."
California
Free Camping Site Name: American Girl Mine
Location: Winterhaven, California
Why You'll Love It: The site is easy to access for almost all types of RVs, making it a great intro to boondocking if you're a newbie. The campsite offers no amenities. It's true dry-camping, so make sure you bring water, food, and power!
Yuma, Arizona is about 15 miles away and has all the shopping you'll need. There are many grocery stores (we prefer Food City for the low prices). But, driving back to the campsite, you have to cross California's agriculture check point.
What's The Word: Hollora on Campendium says, "We picked a spot not too far in as we were unsure of how the road or area would be. It was awesome. The spot had a rock fire ring too. Short ride to refill water and dispose of trash. Lots to see and do in the desert! The are train tracks near by but they run mostly during the day."
Colorado
Free Camping Site Name: Jackson Mountain Road
Location: Pagosa Springs, Colorado
Why You'll Love It: When we can't camp on the water, we love camping in the mountains. And, Jackson Mountain Road is ideal Rocky Mountain camping!
The town as multiple hot springs and a river running through it – perfect for tubing.
This site offers no services and practices a "Pack In, Pack Out" policy. There are a few water spigots near the waterfront trail downtown (behind the courthouse). We found large trash cans downtown as well, but dumpsters (for public use) were hard to find.
What's The Word: Wander Green on Campendium says, "We loved our stay at Jackson Mountain Road. The San Juan National Forest is beautiful and quiet and the sites are located only a few miles from Pagosa Springs. We loved bathing in the San Juan River, and in the downtown area there are hot springs flowing into the river and you can soak in the natural hot mineral pools for free! "
Connecticut
Free Camping Site Name: Mohegan Sun Casino
Location: Montville, Connecticut
Why You'll Love It: Well, you won't be in nature…but at least there's a buffet? Connecticut, obviously, doesn't have great free camping. Many northeast states don't.
If you're in a pinch, you can camp there and take a shuttle to the casion.
What's The Word: James on Free Campsites says, "Stayed here 2 nights. Very nice time. Casino is a must see. Just flash your lights and casino security will come and give you a permit"
Delaware
Free Camping Site Name: Redden State Forest
Location: Georgetown, DE
Why You'll Love It: This is terrific forest camping in the Northeast! The state forest offers 5 sites, all with lots of shade. You can probably fit a 30 foot RV here, but anything larger will become hard to maneuver.
A permit is required to camp at Redden State Forest (however, multiple reviewers say they didn't need one).
What's The Word: Lisa on Campendium says, "There are 5 designated camping spaces, most are full or mostly shaded, all are dry camping. The spots are mostly flat and long enough to get a 35′ RV into with space for a toad. The entrance is a dead end at space #5 with no large turnaround so plan to disconnect any toad if you explore all the sites."
Florida
Free Camping Site Name: Deep Creek Preserve
Location: Arcadia, FL
Why You'll Love It: This is another amazing Florida campsite. Like most of them, you have to reserve your free camping spot in advance.
You can set up in the sun or shade – depending on the weather and if you want solar access (7 Reasons You Don't Need Solar). According to a Campendium reviewer, "It was within an hour of every beach from Bradenton to Fort Meyers. And it was within 10 minutes of a Walmart"
Best of all, the site is big rig friendly!
What's The Word: A recent Campendium review states, "Just off the main road, you can hear the noise but that's better than miles of potholes to me. It was within an hour of every beach from Bradenton to Fort Meyers. And it was within 10 minutes of a Walmart, that's luxury. Just a spigot of non-potable water and a portapotty that was serviced during our stay and stayed clean."
Georgia
Free Camping Site Name: Dicks Creek Falls Campsites
Location: Cleveland, GA
Why You'll Love It: If you want to camp near water falls, Dicks Creek will deliver! Here's the catch – this primitive, free campsite can only be accessed by 4×4 vehicles. Some folks have done it with sedans, but it's not recommended.
RVs, you're out of luck.
What's The Word: Caveman on Campendium says, "Can be busy during the summer months. locals like the area to swim in the falls. we did. Quiet and peaceful at night. campsites are spread out so you have privacy. No restrooms or showers. the woods and River is your only reprieve."
Idaho
Free Camping Site Name: Lake Creek Road
Location: Ketchum, ID
Why You'll Love It: Idaho is a hidden gem for free camping and Lake Creek Road is the best you can find! This site offers million dollar views and plenty of peace and quiet.
The land is easy to access with reports of large motorhome camping there!
What's The Word: Kamila on Campendium says, "Don't think about it, just stay here. This spot is easily accessible from a well maintained gravel road that starts near the edge of a neighborhood. Absolutely stunning views, backed up to a beautiful creek. 5 min drive into the cute town of Ketchum/SunValley with tons of shopping and restaurants."
Illinois
Free Camping Site Name: Turkey Bayou Campground
Location: Pomona, IL
Why You'll Love It: The Turkey Bayou Campground is located in the Shawnee National Forest. This is actually one of the few free camping spots in the entire state.
As the name indicated, water front views abound. You can camp on lush grass and have plenty of room to spread out.
What's The Word: A recent Campendium review says, " There was no one else there. Site right on the water (small lake?) and it was perfect! Close to town too – about 15 mins to groceries/gas. It had rained so it was a little muddy. Will be back!"
Indiana
Free Camping Site Name: Blackwell Horse Camp
Location: Near Bloomington, Indiana
Why You'll Love It: Indiana isn't really known for its free camping sites, but this one is a must-visit if you're in the area. Blackwell Horse Camp, like the name implies, is geared towards horse riding. However, anyone is welcome to camp there.
We really enjoyed the lush, grassy pastures and space to spread out.
This is a primitive campground, offering no hookups or water on site. There are three bathroom locations, offering a total of 5 vault toilets. A large pavilion is located at the entrance and would be perfect for a family cookout, or group pot-luck. There are fire pits scattered around the park – but the sites are mostly DIY parking in an open field.
What's The Word: Hone on Campendium says, "Nice spot! Clearly made for horses but there is plenty of space to choose from for all kinds of camping. There were a few pit toilets that were all decent and while there were quite a few other campers I don't think anyone was in anyone else's space. Beautiful stop."
Iowa
Free Camping Site Name: Hickory Hills Park
Location: New Virginia, IA
Why You'll Love It: This small free campsite have 7 spots, making it pretty small. On the up side, it doesn't get many visitors. We consider it a true hidden gem. It even received the 'Campers Choice' badge from Campendium.
You can hop on a hiking trail from the campsite or just enjoy the view. Fire rings and tables are provided at each site.
What's The Word: A recent review from Campendium says, "Not many sites, but all are big enough for any rig. Stayed here for 14 days and enjoyed the solitude. Teens will come on weekends and stay in the back end, so grab the first sites as you come in to avoid that. Weren't all that loud. Not really a lot to do in the area, but great if you just want to chill."
Kansas
Free Camping Site Name: Marysville City Park
Location: Marysville, KS
Why You'll Love It: We love free camping at city parks. At this spot, you get a level campsite and great proximity to town.
Additionally, the park offer free electric hookups!
What's The Word: Craig on Campendium says, "Great little park hidden in this town. Really nice playground area and swimming pool on the park grounds. Very spacious areas for RV(about 5 spots) or tents. Power to each spot, potable water and dump station. Within walking distance to downtown, restaurants, and museums."
Kentucky
Free Camping Site Name: Wilson Creek Recreation Area
Location: Elk Horn, KY
Why You'll Love It: This free campsite is operated by the Army Corps Of Engineers. While it is rustic and provided no amenities, each site does have a picnic table and fire ring. There's also a vault toilet onsite.
A stream is within walking distance.
What's The Word: Theresa on Campendium says, "I have camped here many times over the years. It's a nice little camp ground with picnic tables and a fire ring. Stream is nearby and the lake is right down the road. Nice peaceful free camping."
Louisiana
Free Camping Site Name: Whiskey Bay Highway
Location: Krotz Springs, LA
Why You'll Love It: This is a basic boondocking site in a state that doesn't offer much free camping. A grassy area for setting up is available near the levee.
The road in is well maintained and most size RVs could find a spot.
What's The Word: Van Tramp on Campendium says, "This campground is not much more than a large patch of grass on top of the levee, backed right up to a swampy forest. Great for dogs, or a big party as there is little chance of running into neighbors out here. Lots of cool places to explore in Wildlife Area."
Maine
Free Camping Site Name: Airline Rips
Location: Wesley, Maine
Why You'll Love It: This is an awesome, waterside campground in the boonies. Due to its remote location, it usually isn't crowded.
We recommend coming with supplies and bug spray!
What's The Word: A review on Free Campsites says, "Really nice free campground by a lovely river. It wasn't crowded, but sites are fairly close together. There is direct river access at some of the sites. I unfortunately went during the black fly season and was bitten really badly (it lasts for a couple of weeks). I'd still recommend this camping area though. The road is well maintained and RVs could pass through."
Maryland
Free Camping Site Name: Furnace Town Parking Lot
Location: Snow Hill, MD
Why You'll Love It: This isn't a traditional parking lot, but it isn't wilderness camping either.
Maryland doesn't offer much free camping, this is probably the best you'll find.
What's The Word: Celine on Campendium says, "We plan our itinerary to arrive at the end of the day to spend the night. A very large parking lot in sand and grass awaited us. After a quiet night we made a short hike whose departure is directly from the parking lot. We visited Furnace Town (7$ per person), a very interesting and informative tour. Just before we left, horse riders arrived. There is really no problem to stay on this parking lot even if you don't plan to visit the place."
Massachusetts
Free Camping Site Name: Cabela's
Location: Berlin, Massachusetts
Why You'll Love It: This overnight camping spot isn't true boondocking, but it's unfortunately the best free camping in the state.
What's The Word: Valarie on Free Campsites says, "The store has a dump station and there is no charge, you just need to ask for the code inside."
Michigan
Free Camping Site Name: French Farm Lake
Location: Mackinaw City, MI
Why You'll Love It: There are 6 sites available for camping. I wouldn't recommend that a Class-A attempt to camp here, as the sites are made of loose sand & dirt and the turn around is small. We easily parked our 17' TT, and imagine a 25' TT could make it in & out.
These sites are super quiet. The campground only has six camping areas and they're all very spread out. We heard vehicles drive by occasionally, but the road isn't heavily traveled.
The campsite is 3 miles from downtown Mackinaw City. There are many restaurants and novelty shops on the main strip. It's a tourist town, but fun to explore for a day or two. We had to drive 18 miles to Cheboygan to do full-on grocery shopping.
What's The Word: Sajoko on Campendium says, "This place is beautiful. During the third week of October, I was the only one out here. It was absolutely wonderful-and so close to Mackinaw City! Despite Google maps trying to send me down the wrong trail, I found the campsites. Do not follow where Google maps tells you to go! Follow the signs for the North Country Trail once you turn onto French Farm Lake road. That gets you to the campground!"
Minnesota
Free Camping Site Name: Ben Lynn Landing
Location: Big Falls, Minnesota
Why You'll Love It: The land of 1,000 lakes sure doesn't have many free camping spots. his is the best we could find 🤷‍♂️ Small landing on Bigfork River. Mowed grassy area with a fire ring, picnic table, and outhouse. Access is gravel
Mississippi
Free Camping Site Name: Visitor Center
Location: Natchez, Mississippi
Why You'll Love It: The Natchez Visitor Center is an awesome free camping site that sits atop a bluff overlooking the Mississippi River.
The site is a short walk to the heart of historic Downtown Natchez. Restaurants and art galleries line the streets. The visitor center also acts as the southern gateway to the Natchez Trace Trail.
Let us not forget to mention, this free camping site provides free water and free electricity!!! You can't beat the price.
What's The Word: Gasgirl on Campendium says, "We couldn't believe that a visitor's center would have electrical hookups and be free so we stopped by to check it out. The center is beautiful, informational and well worth the stop even if you don't stay over night. The lady at the front desk said we were more than welcome and she informed us that there was a free dump station, 24 hour bathrooms and a security guard on over night."
Missouri
Free Camping Site Name: Roberts Bluff Access
Location: Blackwater, MO
Why You'll Love It: If you love waterfront camping and fishing, this is the site for you. There's a parking lot and two designated campsites.
You should get lots of peace & quiet…and a fish dinner!
What's The Word: Drew on Campendium says, "very quiet and clean. 2 sites for tents and vehicles. We are self contained (24', pulling a 24' trailer), simple camping with pit toilets. We just camped in the parking lot. Very quiet, just a lone fisherman on the boat ramp."
Montana
Free Camping Site Name: Blankenship Bridge
Location: Near Glacier National Park, Montana
Why You'll Love It: This site is one of the most beautiful sites we've ever camped at…but the one issue it has is access. We tow a lifted, 16 foot travel trailer and barely made it to the site. If you're in a van or truck camper, you'll have the best chance to make it!
With all that said, this beautiful free camping site is perched on a river rock bed. Glacial water (yes, its super cold) rushes by day and night. We camped literally 20 feet from the shore. Tubers and fishermen recreate on the river during the day, and the star filled sky occupies the night.
If you can access it – you gotta make the trip. If not, just enjoy the video below and park at one of the other nearby free camping sites.
What's The Word: Happy Camper on Campendium says, "Amazing place! Very spacious, most people set up camp on the big rocky beach area, and even though there were multiple groups/individuals camping, it didn't feel crowded at all:) We set up our tent off the beach farther back, there are a few sites back there that are more secluded. "
Nebraska
Free Camping Site Name: Oliver Reservoir
Location: Bushnell, Nebraska
Why You'll Love It: Waterfront camping in Nebraska, who knew?! Oliver Reservoir is remote enough to have wonderful peace & quiet.
Downtown Kimball is about 10 miles east of the park. It has a few restaurants and bars, minor grocery shopping, and random mom & pop shops. If you need to do "big box store" shopping, the closest options are Scottsbluff or Cheyenne.
This park offers potable water and vault toilets. However, some of the water spigots are locked – and the ones that aren't locked are only accessible by foot. There are no trash receptacles on site. Please practice "pack in – pack out."
What's The Word: Vanappa on Campendium says, "Weathered a spectacular thunder storm here. By morning it was sunny and peaceful. One of the rangers did mow the lawn all morning and trains passed, so certainly not a pristine or alone feeling. There were composting toilets and some spigots with water (wasn't clear what was potable). "
Nevada
Free Camping Site Name: Overton Wildlife Management
Location: Overton, Nevada
Why You'll Love It: There are multiple boondocking locations in Overton. This campground allows visitors to stay for free for eight consecutive days. There are six, large pull through spaces, adequate for big rigs with multiple vehicles.
Each spot offers a covered picnic table area and fire pit. There are no bathrooms or showers. Your RV must be self-contained to camp here.
The "Lost City" museum is a mile from camp. It has rebuilt ruins on display. The Valley of Fire State Park is a few miles away. There are multiple bars, including a 24 hour establishment that offers slots, and a sports bar with satellite TV.
What's The Word: A recent Campendium reviewer says, "Just a couple miles outside of Overton, NV, which is a good spot to resupply before heading into Lake Mead and Valley of Fire. Free camping with an 8 night limit. 3 Bars VZ 4G LTE unboosted."
New Hampshire
Free Camping Site Name: Gale River Loop Road
Location: Bethlehem, NH
Why You'll Love It: Tucked in the White Mountains National Forest, Gale River Loop is among the best free camping in New Hampshire.
The spot has just over 10 campsites and they fill up quickly!
If you time your camping trip right, you can see the most beautiful autumn leaves. There's even a little cell reception available (but you may benefit from a cell booster).
What's The Word: Hone on Campendium says, "These sites are beautiful and there is totally reception here, but there aren't many spots, they don't allow camping in non-designated spots, and they fill up very quickly, so just have a backup in case it's full."
New Jersey
Free Camping Site Name: Walmart
Location: Multiple locations
Why You'll Love It: Go figure, the best free camping in New Jersey is Walmart.
New Mexico
Free Camping Site Name: Cebolla Mesa Campground
Location: Rio Grande del Norte National Monument, New Mexico
Why You'll Love It: Here's another gem! The beauty (and bummer) of this site is that it's really off the beaten path. That means it's going to be hard to access in a big rig.
The reward, however, is free camping on a cliff that overlooks the massive Rio Grande canyon.
Cebolla Mesa Campground offers very few amenities. They have toilet located at the center of the grounds, each site has a fire pit and some also have picnic tables. There are no trash receptacles on site – it is a "pack in, pack out" area
What's The Word: Robert on Campendium says, "After rave reviews by Drivin' & Vibin' on You Tube, their website and Campendium, Cebolla Mesa was on my hit list. I was not disappointed. I was able to get the best campsite at the far left of the trailhead, right at the edge of the cliff. Not only does that site have the best views, it's also the largest."
New York
Free Camping Site Name: Moose River Plains Camping Corridor
Location: Inlet, NY
Why You'll Love It: This free camping spot in New York has over 100 developed campsites! You're bound to find an open site.
Outdoor activities abound. You can hike the numerous trails or spend the day on the water.
A recent Campendium reviewer says, "Very quiet, and serene. Ranger came by and introduced himself, nice chap and quite young. We enjoyed our stay. Roads in are pretty bumpy and full of roots in some places. I can't see Class A RV's making it in here but Trailers and and small RV's should fair well."
What's The Word: Hone on Campendium says, "This area is huuuuge, with over 100 "primitive" sites. Each site has a picnic table, fire ring, and privy, and they are all well looked after. There are two entrances to the main camping area, one on Limekiln Lake Road in Inlet, and one on Cedar River Rd in Indian Lake. There are also quite a few spots outside of this main area, a few are right on the main road (route 28) near Raquette Lake."
North Carolina
Free Camping Site Name: Cape Lookout National Seashore
Location: Harkers Island, NC
Why You'll Love It: Free beach camping on the east coast is hard to find! Not only does Cape Lookout provide that, it's also largely unknown and untraveled. You won't have a problem finding a campsite.
Listening to the Atlantic ocean, camping for free and having ultimate privacy – what's not to love.
What's The Word: Jeff on Campendium says, "Very private beach, MUST have good 4×4 or you will get stuck. Bring everything you need with you. Including a strong canopy for shade and tent stakes that are designed for sand. Cell service with Verizon is good including internet. Be prepared for sand flys … bug spray is a must."
North Dakota
Free Camping Site Name: Nelson Lake Dispersed
Location: Center, ND
Why You'll Love It: This is wonderful lakeside camping in rural North Dakota. If you want to retreat to the boonies, but still have waterfront views, give Nelson Lake a try.
What's The Word: Rich on Campendium says, "There is dispersed camping on the east side of the lake at the south end and dispersed camping on the west side of the lake at the north end. The Minnkota Power Coop is on the lake. The roads are packed dirt and gravel."
Ohio
Free Camping Site Name: Hidden Hollow Campground
Location: Bloomingdale, OH
Why You'll Love It:This is a very well maintained free campsite in Ohio. It's located within the Fernwood State Forest.
Each site is well established with a picnic table and fire ring.
"Quiet and peaceful" is the way almost every review describes it. However, there is a nearby shooting range. It's far enough away not to be a nuisance, but it's still noticeable at times.
What's The Word: A recent Campendium review says, "I stayed here over the weekend and enjoyed my experience here. It's very quiet and peaceful to be at. The shooting range was closed making it an even better stay. I would stay here again."
Oklahoma
Free Camping Site Name: American Horse Lake
Location: Geary, OK
Why You'll Love It: You can't go wrong with waterfront free camping! Oklahoma doesn't offer many boondocking sites, so this is a gem in the state.
Roads in can be rough if its rained recently.
What's The Word: Pappy on Campendium say, "Dry camping only and level sites rare. More of a tent camping area but our 24 foot sprinter had no troubles navigating the area. Originally planned one night but stayed two!"
Oregon
Free Camping Site Name: Clearwater Forebay Number 2
Location: Clearwater, OR
Why You'll Love It: Located in the Umpqua National Forest, this free campsite offers remote camping with water access. In 2018 it received the Campendium Campers Choice award. Nearby waterfalls are an added benefit!
There's also lots of space between sites.
What's The Word: EatSeeRV says, "The views at the top are great, and there are plenty of trails/roads to explore. Our spot had a fire ring (although there was a fire ban at the time we were there and wild fires nearby), and a table.
Pennsylvania
Free Camping Site Name: Medix Grade Road
Location: Weedville, PA
Why You'll Love It: If you want to detach for a while, Medix Grade Road is a good place to do it. These forested campsites offer a lot of privacy. In fact, each site is about a half a mile apart.
Wildlife is plentiful here, too. However, don't leave your food out, you may attract unwanted guests!
The area also offers numerous trails for hiking and biking.
What's The Word: Barnbrat on Campendium says, "Very peaceful. There is the occasional passerby on the dirt road. These sites are maintained by the forest service. Call the office to reserve your spot. Spots are free and the folks at the local office are very helpful and willing to answer any questions you may have."
Rhode Island
Free Camping Site Name: Blackstone River Welcome Center
Location: Lincoln, Rhode Island
Why You'll Love It: This is a welcome center / trailhead. We can't fault Rhode Island for it's lack of free camping spots…but, this is the best you'll get.
What's The Word: Gary on Free Campsites says, "2 spacious car parking areas that will fit most campers and motor homes. If possible, leave truck area parking for 18-wheelers. This is also trailhead for paved bicycle path."
South Carolina
Free Camping Site Name: Santee Coastal Reserve
Location: McClellanville, SC
Why You'll Love It: This spot is full of mature oak trees – it looks magical! The sites are large and can fit multiple RVs.
Best of all, Santee Coastal Reserve has miles of trails for hiking or biking.
Even though there aren't many east coast free campsites, this spot never seems to fill all the way up.
What's The Word: Jozeh on Campendium says, "Couldn't ask for a nicer spot with majestic Live Oaks covered with Spanish Moss and a beautiful boardwalk out into the marsh. Fire ring and a picnic table. Good cell service but no pit toilets."
South Dakota
Free Camping Site Name: Nomad View
Location: Buffalo Gap National Grassland, South Dakota
Why You'll Love It: Nomad View, located just a mile from the Badlands National Park entrance, is absolutely stunning. This isn't just our opinion – its the general consensus of all RVers!
This campsite was quiet & peaceful. Many nights we were the only campers; but even when we had neighbors, they were at least 100 yards away and never disturbed our relaxation. The loudest noise was the constant wind blowing; most of the time it was a cool relief from the heat, but at other times it shook the whole camper.
What's The Word: Blake on Campendium says, "This is just about the peak of boondocking… insane views, great cell service, and right at the entrance to the national park. "
Tennessee
Free Camping Site Name: Jackson Island Campground
Location: Spring City, TN
Why You'll Love It: Last year this free campsite in Tennessee earned the Campendium Campers Choice Award! You'll get large sites (pretty level) and port-o-potties on the grounds.
What's The Word: The Roads We Roam on Campendium say, "We stayed for 2 nights and were pleasantly surprised to find large sites – each with its own spectacular view! Easy to maneuver for big rigs and very quiet atmosphere. Law enforcement drove through about twice a day."
Texas
Free Camping Site Name: Magnolia Beach City Park
Location: Magnolia Beach, Texas
Why You'll Love It: If you like the sound of camping on Padre Island, but are afraid of ending up in the Gulf of Mexico – try out Magnolia Beach free camping. This site is a few hours north of Padre, but much more chill!
You don't have to venture far off a paved road to get a sweet waterfront view.
While this site offers no hook-ups, they do have a great bathroom & shower facility. They are cleaned daily and well respected by fellow campers. We've yet to see a water spigot, but haven't looked too hard. If you need to dump or fill your tanks, there are a few RV parks in a one mile radius. The site also offers many trash cans for easy disposal.
The main source of entertainment here is the beach. Many of the campers enjoyed the days fishing. We also saw kayakers and bird-watchers. If you like to chill, this is a great stop.
What's The Word: A recent Campendium reviewer says, "Nothing better than waking up to ocean front views 10 feet away. Great ocean breezes. Spacious. Lots of campsites. All primitive. Picnic tables at some w bbq grills. Be cautious of soft sand after beach "renourishment". Totally worth the drive."
Utah
Free Camping Site Name: Wedge Overlook
Location: Little Grand Canyon, Utah
Why You'll Love It: We can't come close to explaining how awesome this free camping site is!
But, let me begin with – it's located down a 20 mile dirt road. This fact almost prevented us from giving it a try. However, it is the nicest and smoothest dirt road I've ever been on. It's an easier drive than many asphalt roads.
Once you arrive, you have at least 20 sites to choose from…all with privacy and great views. We camped a few feet from the canyon's edge, because why not?!
What's The Word: NapaTony on Campendium says, "Great view, hard to beat for the price! There are only a handful of "official" campsites here, but many others have been created and look like they're well-used. Dirt roads were all in good shape despite rain earlier in the week."
Vermont
Free Camping Site Name: Bears End
Location: Shaftsbury, VT
Why You'll Love It: This forest campsite in Vermont has a TON of spots. According to a recent Campendium review, "Some are large enough to get up to a 30ft Rv into but most are small tent sites. There is a large paved parking lot at Kelley Stand that can take the larger 40ft rigs. Our site was a large size…"
Bears roam freely here. Enjoy the wildlife, but be extremely diligent with your trash & food.
What's The Word: Fate Unbound on Campendium says, "There are tons of spots here off of NF-71, there's even a large old airstrip south of these GPS coordinates. Be very bear aware, we saw 2 while we were here, one broke into our neighbors camp and a different one broke into our truck. They are not afraid of humans!"
Virginia
Free Camping Site Name: Braley Pond Dispersed Campground
Location: West Augusta, VA
Why You'll Love It: If you want to disconnect, go fishing or just camp by the water – this site is for you. No cell phone access here! It'll force you to slow down and enjoy nature.
What's The Word: Goldielocks on Campendium says, "The pond is small, but the fish are practically jumping onto your hook. Hiking, fishing and biking are all allowed and the only thing you need is your fishing license. It's so quiet at night it's almost spooky."
Washington
Free Camping Site Name: Quincy Lake
Location: Quincy, Washington
Why You'll Love It: Nature is the entertainment here. Quincy Lake is peaceful and gave as the opportunity to slow down and connect with the environment. Let's not forget, we also got great cellular internet here, too! Many football games & tv shows were streamed.
The WeBoost cell booster worked wonders at Quincy Lake. Before a boost, our T-Mobile hotspot received two bars of 4G LTE – after the boost, we got five full bars of blazing fast connection. Our AT&T received a week signal that wavered between 3G & 4G.
What's The Word: Moxie on Campendium says, "Roads are great, Our 33ft Montana will fit in just about all of the sites. A couple pit towelettes through the area. Main road has a big turn around at the end making it nice for big rigs. Verizon works great, the wife was about to work remotely with Verizon hotspot. Will be back with our kayaks to explore the area by water."
West Virginia
Free Camping Site Name: Hawk Recreation Area
Location: Wardensville, WV
Why You'll Love It: This is a secluded campsite with well developed (and maintained) sites. It includes 15 total sites – about 6 for RVs and the rest for tents. The RV sites are very long and very level. A motorhome and tow vehicle could probably fit.
Vaulted toilet and water available on the grounds. A group camping area, grills and trails are also provided.
What's The Word: Pablo says, "Excellent campsite in the national forest. It was the perfect place to recover from days of driving."
Wisconsin
Free Camping Site Name: Pioneer Park & Campground
Location: Ogema, WI
Why You'll Love It: This county park offers two free camping spots with bathrooms and a playground. The big grassy field is great for spreading out and setting up a weekend camp.
You may need a little bug spray, though!
What's The Word: Roots on Campendium says, "You can easily walk from the campsite to a nearby bar. Although, we did not have any issue with noise from the bar. A few cars drive up and down the road but it did not bothered us.
Overall great, free, site with a bathroom and a good place if you have children because of the playground."
Wyoming
Free Camping Site Name: Lake Hattie
Location: Lake Hattie, WY
Why You'll Love It: More free camping with waterfront views? Yes, please! Lake Hattie is one of our absolute favorite boondocking sites. The reason it's not ranked higher is because it remote nature.
his site is very quiet at night. During the daytime, there is a lot of waterfront activities. The boat launch stays busy and many folks fish from the shore.
We really enjoyed the vibe of the campsite and didn't have the urge to get out and explore Laramie (the nearest town) too much. We did enjoy Sweet Melissa's – a vegetarian restaurant in historic downtown. The town has multiple museums and cool outdoor sports bars.
What's The Word: Joe on Campendium says, " Beautiful water, beautiful mountains. It's Wyoming so it will be windy, especially in early fall. Data service was a little sketchy with sprint, certain areas you would have LTE and other areas you wouldn't."
The Best FREE Camping in the USA
We love camping across this amazing country. And, we really love it when its free. Here's our list of the 20 Best Free Campsites in the USA.
If you haven't tried free camping before, also known as boondocking, take a look at our beginners guide to boondocking filled with everything you need to know to get started.
Become a FREE CAMPING INSIDER and join the 100,000 campers that love to score the best site! Simply enter your email below.