5 Best Acadia Campgrounds for RV Owners
If you're in search of the best Acadia campgrounds for your RV vacation, look no further! Today we're sharing the cream of the crop.
These 7 campgrounds have awesome amenities, friendly staff and ideal location.
Maine is a seasonal hot spot for RVers. If any of these campsites seem like a good fit for you, make your reservations quickly. They are bound to sell out!
PRO TIP: The east coast does offer limited free camping – here are the top 20 free campsites on the east coast.
Let's dive in.
1. Schoodic Woods Campground
Location: Inside Acadia National Park, Maine
Price: $30 and up
Why You'll Love It: Schoodic Woods Campground is perfectly located in Acadia National Park. Hiking & Biking trails are connected to the campground and offer great views of the peninsula.
The campground has RV sites with water and electricity (20, 30 & 50 amp available). Some of the sites are very large and can accommodate RVs 30+ feet.
Verizon & AT&T are reported to have internet access at Schoodic Woods Campground.
What's The Word: A recent Campendium reviewer says, "Yes, as everyone else has stated, this is the most beautiful, spacious, and private campsite. Check in was easy at the Ranger Station. Major score to have electric at a National Park site, and they have a dump station as you exit the campground. Bathrooms are immaculate and nicer than most."
Acadia Campground Vibes: 9.5/10 It doesn't get much better than this…unless you need full hook ups for your RV.
2. Blackwoods Campground
Location: Inside Acadia National Park, Maine
Price: $30
Why You'll Love It: This campground also has a prime location. Positioned inside the National Park, you can hike and bike directly from your site. The Atlantic Ocean is a short walk, as well.
The sites can accommodate RVs easily, but they don't provide any services at each campsite. This means you'll have to be self-contained and know your RV limits.
If you want to be in a great location (at the sacrifice of spacious sites) Blackwoods Campground is a solid choice.
What's The Word: A recent Campendium review says, "The campground is a short drive away from many of the main attractions/hikes within the park – including Bubble Rock, Jordan Pond, and Cadillac Mountain. Plus if you are a fan of ocean sunrises there is a short trail that leads to the rocky coastline if you can wake up early enough."
Acadia Campground Vibes: 8.1/10 Awesome location, no hook ups.
3. Smugglers Den Campground
Location: Southwest Harbor, Maine (borders Acadia Nation Park)
Price: $30 and up
Why You'll Love It: Smugglers Den Campground offers a rustic campground vibe with modern amenities. Each RV site has full hook ups, some are even pull through sites.
Tent camping, cabins and vacation rentals are available as well.
Additional amenities include a pool, advanced wifi and hot showers in the bath house. You can walk to Maine beaches from the campground.
What's The Word: Dave and Joyce on Campground Reviews says, "This campground was the last of our 3-month trip. We stayed at 56 different campgrounds, and this was one of the best. Very clean and well-managed, helpful staff and friendly vibe. They have a large tenting area, and that was full, even in late October. The RV area, where we stayed was also nearly full. That said, the campground didn't feel overrun or crowded."
Acadia Campground Vibes: 8.1/10 Nature vibes and full hook ups!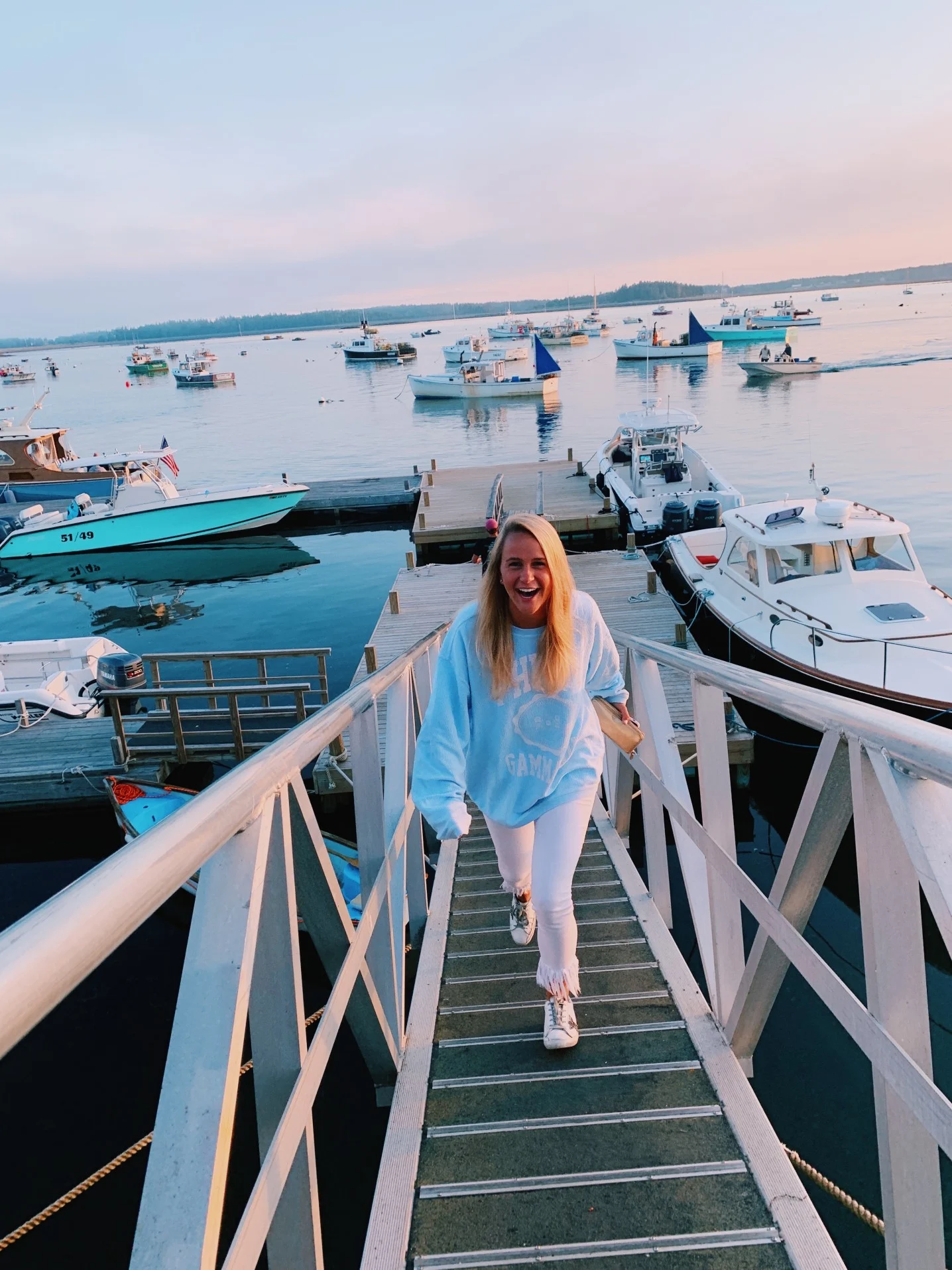 4. KOA Bar Harbor / Oceanside
Location: Bar Harbor, Maine
Price: $70 and up
Why You'll Love It: KOA is know for its family friendly camping with lots of amenities. The Bar Harbor Oceanside KOA delivers on that promise (and then some)!
They offer waterfront sites with beautiful ocean views. While they do offer some full hook up sites, the KOAs proximity to the coast makes sewage at waterfront sites limited.
The onsite amenities include a tour shuttle, snack bar, wifi and dog park.
What's The Word: A recent post on Campground Reviews says, "This was a family favorite. The ocean front sites allowed the kids to play in the tide pools at low tide. There was a clean, well maintained playground. We stayed during shoulder season so some of the amenities such as the on site lobster pound were not operating."
Acadia Campground Vibes: 7.4/10 Oceanfront location, tightly spaced.
5. Bar Harbor Campground
Location: Bar Harbor, Maine
Price: around $40+/night
Why You'll Love It: Bar Harbor Campground offers a range of RV sites. You can book a dry camping site, a water & electric site or a full hook up site. This means the prices here are much more reasonable that other nearby campgrounds.
The location will set you up near Acadia National Park and downtown Bar Harbor.
What's The Word: Vicki on Campground Reviews says, "Very friendly & helpful staff. Laundry facilities are excellent. $1. wash $1. dry This is a no reservation campground. You check in the office, then they will give you a map and some idea of what sites are available. You then drive around to see which ones best meet your needs. They always have something available!!"
Acadia Campground Vibes: 7.1/10 Economical prices & solid location.
Trip Routing to Acadia Campgrounds
If you're traveling with an RV, trip planning to Acadia National Park is essential. The northeast is known for its tight roads and sharp curves. With RV Trip Wizard you can get a much better understanding on what to expect for travel day. After spending a big amount of money on an RV, you don't want to run into a low hanging bridge!
We use RV Trip Wizard to route our cross country trips. With tools like budgeting, fuel planning, and avoiding bridges, we can easily travel safely through the USA.
You can also avoid steep passes, tolls and tunnels when you select the appropriate filters. Give RV Trip Wizard a try!
The Best FREE Camping in the USA
We love camping across this amazing country. And, we really love it when its free. Here's our list of the 20 Best Free Campsites in the USA.
If you haven't tried free camping before, also known as boondocking, take a look at our beginners guide to boondocking filled with everything you need to know to get started.
Become a FREE CAMPING INSIDER and join the 100,000 campers that love to score the best site! Simply enter your email below.