Yellowstone National Park is one of the most visited National Parks in the country. In fact, in 2021, over 4.8 million people visited America's first National Park.
It's also one of the most dangerous parks to visit if you aren't paying attention or choose not to follow posted rules and regulations.
From bears to bison to hot springs, there are wonderful yet fearsome natural wonders in this beautiful National Park. Let's take a closer look at how many people have fallen into the deadly hot springs in Yellowstone!
What Are the Hot Springs in Yellowstone National Park?
The entire park's hydrothermal system lies above the immense Yellowstone volcano. The molten magma body in this region of the United States is what produces the thermal activity and unique landscape. When it rains, the water seeps through the bedrock and becomes superheated far below the Earth's surface.
The hot water rises back to the surface. Sometimes this boiling water can explode, acting similar to a geyser.
The hot springs in Yellowstone are also famous for their vibrant colors. These colors come from thermophiles, which are microorganisms that thrive in hot temperatures. When trillions of these thermophiles are grouped together, they appear as masses of color.
How Many Hot Springs Are in Yellowstone National Park?
Throughout this vast National Park, there are 10,000 hot springs, geysers, mudpots, and fumaroles dispersed across 3,472 square miles. However, they're not all accessible and open to the public. A few of the most common thermal features in the park include the Norris Geyser Basin, which is the hottest geyser basin in the park, Mammoth Hot Springs, Fountain Paint Pot, and West Thumb Geyser Basin.
It's very important to stay on boardwalks and trails within Yellowstone National Park. They have been created for your protection and stepping off of them to search for hidden hot springs or other hydrothermal features is very dangerous.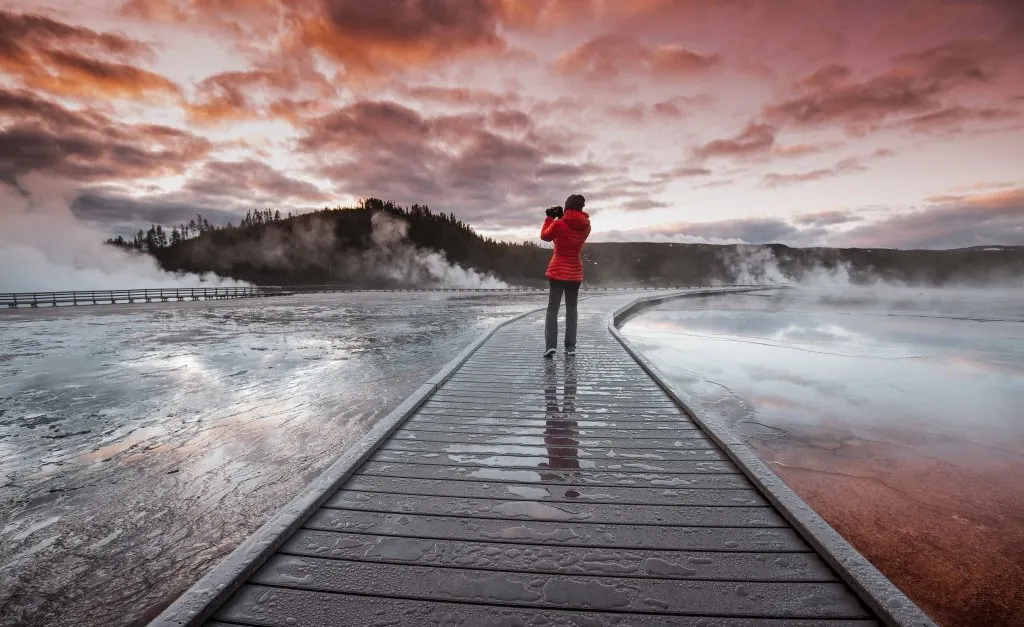 What Is the Most Famous Hot Spring in Yellowstone?
Mammoth Hot Springs, a collection of dozens and dozens of thermal geysers, is located in the northern park of Yellowstone near the Montana-Wyoming border.
But the Grand Prismatic Spring is the largest hot spring in the United States. It's located between Madison and Grant Village in the Midway Geyser Basin near the southwestern part of the park. The magical colors of red, orange, yellow, green, and blue make this one of the most photographed locations in Yellowstone National Park.
Are the Hot Springs in Yellowstone Dangerous?
The hot springs in Yellowstone National Park are dangerous because of their extreme temperatures. There are some hot springs that reach 198 degrees Fahrenheit. Steam vents could reach 275 degrees Fahrenheit. These temperatures are much different from the hot springs around the country that are considered healing waters and even sacred by Native American tribes.
For example, the hot springs in Arkansas, some of the most famous hot springs in the country, are about 148 degrees Fahrenheit. These waters have welcomed ailing athletes, wandering celebrities, and returning military soldiers for over 200 years. The hot springs in Yellowstone aren't safe for people to get in.
How Many People Have Fallen Into the Deadly Hot Springs in Yellowstone?
On August 16, 2022, a park employee found part of a human foot at the Abyss Pool, a hot spring in the southern part of Yellowstone National Park. Abyss Pool waters are around 140 degrees Fahrenheit, and at 53 feet, it's one of the deepest hot springs in Yellowstone.
According to Newsweek, over 20 people have died after falling into Yellowstone's hot springs. When Yellowstone National Park became America's first National Park, the number of scaldings and deaths increased. Although it's certainly possible that Native Americans fell into the hot springs, there is no record of this, and their actions were more reserved in this holy place.
They understood the danger and respected the natural wonder of Yellowstone's thermal geysers.
At least four people were scalded in the 1880s, and the first reported death was likely in 1890 when a child fell into a hot spring. In June 2016, one of the more recent deaths occurred when Colin Scott walked off the designated boardwalk in Yellowstone's Norris Geyser Basin and fell into a hot spring.
What Happens If You Fall in a Hot Spring at Yellowstone?
There is very little chance of survival if you fall into a hot spring at Yellowstone. Not only will you experience unimaginable pain from the scorching water, but your blood vessels would burst, your nervous system would shut down, and your skin would blacken.
Death could happen in a matter of minutes.
Why Do Yellowstone Hot Springs Smell?
The rotten egg smell that many people encounter at Yellowstone's hot springs is a result of the chemical makeup of the hydrothermal water. Hydrogen sulfide accounts for this smelly air.
Not all hot springs have the same smell, however. The hydrocarbons tinged with ammonia at Devil's Den emit a tar-like smell. So the smells are experience are results of the chemical makeup of different areas.
Are Hot Springs in Yellowstone Worth Visiting?
Although the hot springs in Yellowstone are dangerous, they're perfectly safe to visit if you obey the posted signs and pay attention. This is one reason dogs aren't permitted on some of the trails. It's just too dangerous should they take off running or somehow get off their leashes.
But don't let fear keep you from visiting one of the most unique locations in America. The colors, the varied landscape, the wildlife, and the stunning beauty that is Yellowstone National Park beckon you to visit soon. There's a reason Yellowstone became America's first National Park. So venture out to Wyoming yourself to see what this national treasure has in store.
Which hot spring will you visit first?
Discover the Best Free Camping Across the USA
To be honest with you, we hate paying for camping. There are so many free campsites in America (with complete privacy).
You should give it a try!
As a matter of fact, these free campsites are yours. Every time you pay federal taxes, you're contributing to these lands.
Become a FREE CAMPING INSIDER and join the 100,000 campers who love to score the best site!
We'll send you the 50 Best Free Campsites in the USA (one per state). Access the list by submitting your email below: