Kroger is one of the country's most popular retail grocery chains, but we weren't sure if you could park an RV there overnight.
Some retail grocery chains offer more than a place to stock up on road trip snacks and other supplies. With locations across the country, we hoped Kroger would be one of those.
So we dug in to see what we could uncover about Kroger's overnight parking rules.
Let's go!
What Is Kroger?
Kroger is a giant retail grocery chain started in 1883 by Barney Kroger. Mr. Kroger invested all $372 of his life savings into a single grocery store in Cincinnati, Ohio. His business motto was, "Be Particular. Never sell anything you would not want yourself." Kroger's simple motto did the trick because 140 years later, Kroger is still going strong.
Despite its founder passing away in July 1938, the company continued innovating and revolutionizing the grocery industry. In 1972, Kroger became the first grocery retailer to use an electronic scanner when checking out customers. They pride themselves in innovating for the benefit of their customers. Over a decade, they took their average wait time from four minutes to less than 30 seconds.
How Many Kroger Stores Are There?
There are nearly 2,800 Kroger stores in 35 different states in the country. Of these almost 3,000 stores, there are 2,255 pharmacies in these stores that fill upwards of 238 million prescriptions in a given year. Their sales top more than $132.5 billion, and they're consistently towards the top of any list of the world's largest retailers.
What Grocery Chains Are Owned by Kroger?
The Kroger brand owns more than two dozen brands called "banners." Some of their supermarkets include Kroger, Ralphs, Dillons, Smith's King Soopers, Fry's, QFC, City Market, Owen's, Jay C, Pay Less, Baker's Gerbes, Harris Teeter, Pick 'n Save, Metro Market, and Marianos.
However, Kroger owns and operates multi-department stores, price-impact warehouses, and marketplace stores. Aside from their Kroger supermarket locations, their most popular locations are their Fred Meyer multi-department stores. These massive 165,000+ square feet retail locations carry more than 225,000 products.
Can You Park Overnight at Kroger?
If you want to park overnight at a Kroger location, you'll need to check the local rules and regulations first. These regulations tend to vary from location to location and sometimes can change with or without much notice.
Kroger stores in communities that prohibit overnight parking cannot allow customers to park for the night in their lots. If that's the case, you must understand that it's beyond their control, and there's nothing they can do about it.
Even if a community allows overnight parking, you need to get permission from the store. Call ahead, speak with a manager, and check in with them when you arrive. Make sure you park out of the way to avoid any potential issues for the store or customers looking to shop during your stay.
Pro Tip: Before you spend the night at a Kroger, find out Is Camping in a Parking Lot Legit?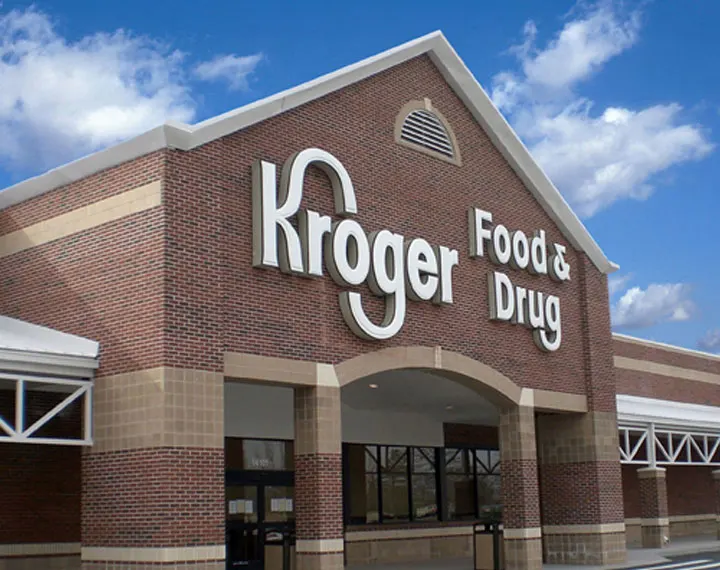 Tips for Successful Overnight Parking at Kroger
Follow these tips if you want a smooth and successful overnight parking experience. While overnight parking can be unpredictable, you can set yourself up for success if you do these things. Let's dive in!
Know the Rules and Regulations
While overnight parking in empty lots was practically the wild west several years ago, that's no longer the case. We live in a world of rules and regulations that we must follow to stay on the right side of the law. As a result, you can't just park anywhere and expect not to get a knock on your door or window in the middle of the night.
It is your responsibility to know the rules and regulations where you park. When in doubt, call the local authorities and ask if you can park in a specific spot. If not, they'll likely be able to lend a hand and share some resources or information about where you can legally park to get some sleep for the night.
Don't Overstay Your Welcome
If you can park overnight at a Kroger or any other business, don't take advantage of a location's hospitality by overstaying your welcome. You should limit overnight parking stops to precisely that, overnight. Unless you're experiencing some mechanical issue or emergency, you should never stay more than one night.
However, if something serious prevents you from leaving, you'll want to communicate with the store or the property owner where you're staying.
Be Considerate of Others
If you've found a sweet spot to park for the night, there's a chance others will too, and you won't be alone. Make sure you're considerate of others when selecting your spot to park for the night. If other guests are already at the location, keep your distance and give them some space.
In addition, make sure you keep the noise level down. Don't crank up your generator in the middle of the parking lot to annoy any customers or those parking around you. It's not the time or place to test your new sound system while watching your favorite action-packed movie.
Leave No Trace
You must clean up after yourself when parking overnight. When you leave the spot in the morning, it should look like you or anyone else was never there. Even if you're responsible and clean up after yourself, it's a good habit to pick up trash on the ground or in the area, whether it's yours on not.
Keeping a spot as clean as possible can help ensure the place remains available. You don't want to give local authorities any excuse to institute overnight parking bans for the area, especially if you plan to frequent the location in the future.
All it takes is for one bonehead to leave a mess behind, send authorities over the edge, and create legislation prohibiting overnight parking. Trust us. We've seen this time and time again!
Support the Establishment
It's customary to support any establishment that allows you to stay overnight in their parking lot. You don't have to spend much money at the location, but throwing a few bucks their way is a good gesture. If you're staying at Kroger, you'll have no trouble spending a few dollars in one of their stores.
Grab a bite to eat, resupply your stockpile of road trip snacks, or buy a greeting card to send to a loved one to let you know you're thinking about them. As we said, spending a few bucks in Kroger isn't difficult.
Pro Tip: We took a closer look at What Stores Allow Overnight Parking to help you decide where you can camp at legally.
Be Smart When Parking Overnight at Kroger
Overnight parking at Kroger or any other business can be hit or miss depending on the area. However, if you find a spot where you can park for the night, make sure you use common sense, especially if you're in an unfamiliar area. Be smart and keep yourself as safe as possible, whether parking at Kroger or any other overnight parking spot. Safety should always be a top priority and one critical piece that you should not take lightly.
Discover the Best Free Camping Across the USA
To be honest with you, we hate paying for camping. There are so many free campsites in America (with complete privacy).
You should give it a try!
As a matter of fact, these free campsites are yours. Every time you pay federal taxes, you're contributing to these lands.
Become a FREE CAMPING INSIDER and join the 100,000 campers who love to score the best site!
We'll send you the 50 Best Free Campsites in the USA (one per state). Access the list by submitting your email below: