French fries are a staple of American fast-food chains. Can you imagine a burger without them? It would be like a beach day without the sun or a ski day without snow. It just doesn't work.
The same goes for the popular fast-food chain, Five Guys. Scroll on down to learn more about Five Guys and the king of all things fast food, the fries.
What Is Five Guys?
Five Guys started as a small burger joint in Arlington, Va., in 1986, from the creative mind of Jerry Murrell. With four sons, he rightly named the joint, Five Guys. After being open for a year, he had another son. So, in all reality, there are six guys, but it all makes for a great story.
Growing from its roots as a small east coast burger joint, Five Guys began offering franchises in 2003. Now there are over 1700 Five Guy burger joints across the globe. The focus at the beginning was on serving up large portions of burgers and overflowing fries. That focus continues today. That, and there are no freezers on site. They only use peanut oil, and all their ground beef is fresh.
While the story is good, the food is even better.
What Is Five Guys Known For?
And that's what Five Guys is known for – their food. But not just any food. Alongside using only fresh beef and only peanut oil for their fries, they are known for large portions. All their burgers are double patties (unless you ask for a small), equaling a half pound of meat. All their fries are overflowing.
And while their prices may seem a bit higher than other fast food joints, there's a reason for that. You can get any topping they have included on your burger for no extra cost. Extra cheese? Sure, no extra cost. More bacon? Again, sure. No extra cost.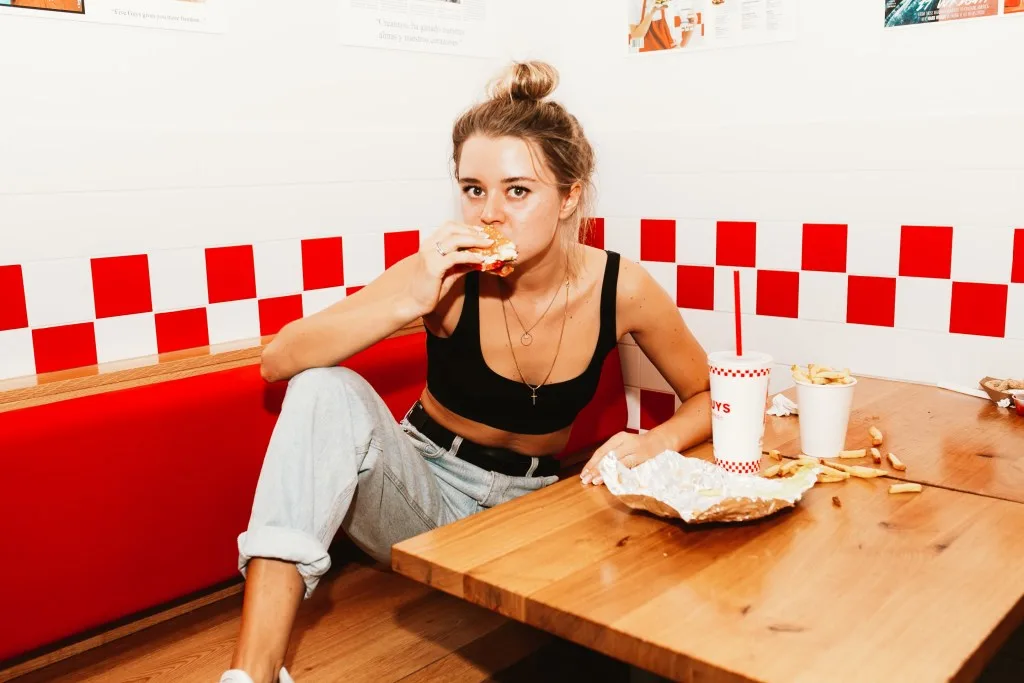 But that's not all they're known for. Every order is served to-go. Even if you're ordering for dine-in, you'll get your order in a paper bag. It's their signature mark. That, along with their peanuts. Yes, peanuts.
While waiting for your meal, feel free to munch on peanuts free of charge. Why not? Maybe the salt will keep your desire strong for the fries soon to grace your presence. Perhaps it's to keep you busy, so as not to stare down the cooks behind the counter.
Whatever the reason, the peanuts are there. It's like that big plate of chips and salsa the moment you sit down at a Mexican restaurant.
What Is the Best Food at Five Guys?
And while they may be known for their large portions, their free peanuts, and their famous burgers, some of the best foods at Five Guys aren't even those. There's almost a cult following for their glorious grilled cheese sandwich. How about a BLT or a famous hot dog? Burgers are popular here, too, especially their bacon cheeseburger and bacon burger.
But the best food at Five Guys might just be the fries. Cooked in 100% peanut oil and served in overflowing proportions no matter the size, these take the cake.
That's until the Cajun fries came into the picture.
Freshly cut, cooked twice, and fried in peanut oil, just like their original fry recipe calls for, the Cajun fries go one step more with the Cajun spice. Lip-smacking, finger-licking deliciousness.
How Many Fries Does Five Guys Give You?
Speaking of fries, there's no shortage of those lovely fried potatoes at Five Guys. Just like their oversized proportions when it comes to burgers, it's the same when it comes to fries. No, they don't individually count the fries, but they do have varying sizes. Regardless of the size of the fries you order, you will always get more than you expect.
This may be a marketing technique, but it works. Order a small fry, and you'll get a small one, but the container will be overflowing into the bag. And actually, a small fry will serve two people just fine. Order a medium, and you'll get a medium. It, too, will be overflowing into the bag, and it will also serve more than you think. Try around three to four people.
How many fries does Five Guys give you? A lot!
Is Five Guys Food Healthy?
You may get a lot of fries and huge burgers, but that doesn't mean it's all good for you. Healthy for your tastebuds, maybe. But it's not so much for your gut. While Five Guys will make your belly sing with happiness while eating it, it might be singing an entirely different tune later.
This is not the food to be consuming on a regular basis. With a typical Five Guys cheeseburger clocking in at 55 grams of fat and around 1,000 calories, you'll far exceed your daily allowance to remain healthy. Add fries to that at an average of another 1,000 calories, and you're way past healthy.
Regardless of how healthy or unhealthy Five Guys may be with its extra fries, half-pound burgers, and seemingly limitless peanuts, there can be a healthy way to eat their food – in moderation.
Are Five Guys Fries Worth It?
So, Five Guys fries may not be the healthiest thing on the planet you can eat, but they are worth every calorie. It's crispy on the outside with warm, soft potato goodness on the inside, salted to perfection, and served in an overflowing cup. You might just want to eat fries for dinner. You can have a salad tomorrow. Sounds like a plan to us.
Discover the Best Free Camping Across the USA
To be honest with you, we hate paying for camping. There are so many free campsites in America (with complete privacy).
You should give it a try!
As a matter of fact, these free campsites are yours. Every time you pay federal taxes, you're contributing to these lands.
Become a FREE CAMPING INSIDER and join the 100,000 campers that love to score the best site!
We'll send you the 50 Best Free Campsites in the USA (one per state). Access the list by submitting your email below: