It may come as a surprise, but some modern myths don't involve Bigfoot, UFOs, or the Loch Ness Monster. The RV community isn't exempt and has its fair share of myths. With so many new RVers on the road, many ignorantly accept these myths as truth. However, it doesn't take long before RVers discover the reality.
Today, we're examining several RV myths and why you shouldn't believe them. See how many of these claims you believed before hitting the road and discovering the truth. Let's dive in!
Why Is RVing So Popular?
RVing has become incredibly popular. A perfect storm caused the boom in RVing. According to data from the RV Industry Association, RV sales have been steadily increasing since 2009.
The rise of social media made it easy for influencers and RVers to share their adventures with a massive crowd. RV YouTube channels and social media accounts made the lifestyle seem possible and helped motivate many who were on the fence about taking the plunge into RVing.
RVing peaked when many travelers needed to stay in one place in 2020 and 2021. Travelers were looking for alternative travel options, and RVing was the perfect solution for many of them.
The lifestyle allowed them to travel to exciting locations and keep their distance from people as much as possible. They could stay safe and still make memories with their loved ones.
In addition, employers and families started accepting more remote work and learning. With parents able to work and educate their kids from practically anywhere in the country, it was easier to embrace the lifestyle.
What Are the Benefits of RVing?
While RVing is far from perfect, it has many benefits. The lifestyle allows travelers to experience new places they never imagined possible. Many RVers plan their travels to visit some of the most popular tourist destinations. When they do it right, RVers can visit these locations during the shoulder seasons, avoid crowds, and even save money by taking advantage of discounted rates.
Another benefit of RVing is that it allows you to take your home wherever you travel. You'll have your bathroom, kitchen, and bedroom with you and won't rely on hotels or Airbnb hosts. There's something special about knowing you can climb into a clean and comfortable bed after a day of adventuring.
While there are many more benefits, one of the most significant is the individual and relational growth many RVers experience. The lifestyle isn't easy, but it teaches you to be self-sufficient and to improve your skills. RVing means learning to work together as a team with your fellow travelers to ensure a smooth journey. You show us a couple who can back an RV into a campsite without fighting, and we'll show you a couple that's staying together for a long time.
What Are the Downsides of RVing?
While RVing has its benefits, it's far from perfect. RVing can be incredibly rewarding, but it can also be highly stressful, frustrating, and unpredictable. You never know what RV life will throw your way. You must be flexible if you plan to enjoy RVing for very long.
In addition, RV life can be incredibly lonely. Many RVers enjoy discovering new and exciting places, but they're typically new and exciting because they're far from everything they know as usual, including friends and family. Combining the distance with the additional complications of several time zones can throw you into a depression.
Another downside RVers experience is what many call "decision fatigue." With so much freedom to choose where you travel, the possibilities are nearly infinite. You must constantly plan places to stay, how you'll get there, and what to do when you arrive. While it may be fun initially, the process becomes exhausting.
Pro Tip: Considering buying an RV and joining the nomadic movement? We uncovered What You Wish You'd Known Before Buying an RV Camper?
Which One of These RV Myths Did You Believe Before Hitting the Road?
There's no shortage of myths RVers believe before hitting the road. However, it doesn't take long before even the newest RVers discover the truth. Let's look at some RV myths and see which ones you believed or maybe still believe.
RVing Is Only for Retired People
For decades, RVing was mostly for retired folks living out their golden years. However, with the increase in remote work and online learning, the average age for RVers is dropping like a rock. Approximately 25% of RVers are from young families, 40% are between 18 and 54 years old, and only 42% are retired.
RV parks and campgrounds recognize that their customers' demographics are changing. Some are beginning to evaluate the amenities they offer to their guests. Upgrading internet connections, installing playgrounds, and offering family-friendly activities is becoming more common. While RVing may have been for retirees in the past, that's no longer the case.
You Have to Stay in a Campground
While campgrounds are one of the most common places people park their RVs, they're not the only places to park. Some excellent options are boondocking on public lands and joining programs like Harvest Hosts and Boondockers Welcome. With the correct equipment, you can save money, maximize your privacy, and have more space to spread out than most campsites provide.
Some RVers use their RVs for tailgating and traveling with their favorite sports team. Having an RV in these situations means having a kitchen, bathroom, and bedroom readily available.
RVing Is Roughing It
If you buy into the myth that RVing is roughing it, you haven't seen the RVs on the market these days. Some RVs are practically mini-condos on wheels, offering tremendous space, comfort, and luxury features.
You can find many RVs with multiple TVs, bedrooms, and bathrooms. Some RVers live more luxuriously and comfortably than homeowners, with homes that cost multiple times more than an RV. While some people live in an RV like Cousin Eddie, that's not the case in many RV parks and campgrounds.
You Need a Commercial Driver's License
A commercial driver's license is for someone driving commercially. While some states require drivers to have a special endorsement if their vehicle and trailer are over a particular length or weight, it's only a select few. Luckily, these laws only apply if you're registering your vehicle in one of the 12 states with restrictions.
Many RVers quickly discover that all they need to do is sign on the dotted line, and they can hitch up and hit the road. There is no special training or test that you must pass to start towing or driving an RV. While this makes it highly convenient, it's also frightening to know that some people hauling massive RVs have little to no experience.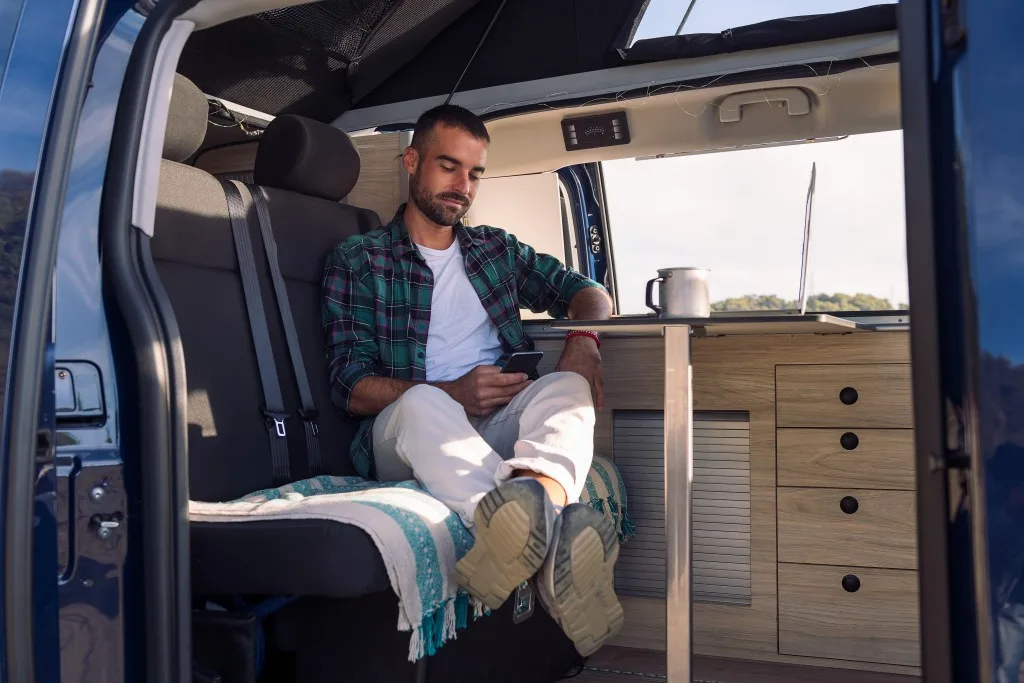 RVing Is Expensive
While RVing can be expensive, it doesn't have to be costly. When you do it correctly, RVing can allow you to save a high amount of money. However, if you're not careful, you can spend substantially more than living in a sticks-and-bricks house.
Boondocking, staying in state parks, and taking advantage of long-term stay discounts can be excellent ways to save money. If you plan to stay in luxurious RV parks and move constantly, you will likely pay thousands of dollars monthly in camping fees and fuel.
In addition to camping fees and fuel, you must consider how much you'll spend on food and activities. Unless you have ample money sitting in the bank, you likely won't eat out as often as you'd like or do every touristy activity. Thankfully, visiting national parks and hiking are inexpensive and provide a good bang for your buck.
Pro Tip: You can save money while RVing by spending the night at one of these Top 20 Free Camping Sites in America.
Buying a New RV Means Less Maintenance
Spending six figures on a brand-new RV doesn't mean things won't break or need maintenance. If you follow the manufacturer's maintenance schedule, you will be doing maintenance at least every month on your rig.
It doesn't matter whether you're full-timing in your RV or if it sits in storage most of the time; you must do some maintenance regularly. You should check the seals and look for any potential signs of failure every 30 to 60 days. If not, you could void your warranty.
In addition, the more you use your RV, the more likely something will break. Some roads are better than others, but bumps and potholes can do a number on your RV. Things will break no matter how much your RV costs, so you'd better be familiar with learning from YouTube. No matter what your RV dealer told you to get you to sign, RV service departments take longer and cost more than you expect.
Baking in an RV Oven Is Difficult
While baking in an RV is different and requires some adjusting, it's not overly challenging. You can fix almost anything in an RV that you could in a standard residential kitchen. Many manufacturers found that RVers want residential features in RVs, especially in the kitchen, and are including them.
Once you learn the ins and outs of your RV's kitchen, you can put your culinary skills to the test. It might surprise you that you can easily make some of your favorite dishes while RVing. You may even discover new dishes along the way and expand your skills.
Is RVing Worth It?
RVing can be a rewarding way to live. However, we'd be lying if we said that the RV lifestyle is for everyone. Some people discover that they love the lifestyle and decide to hit the road full-time and never look back. However, others quickly realize it's not for them.
RVs quickly depreciate, and those who sell all their possessions to travel full-time can find themselves in a financial nightmare if they're not careful. We strongly recommend that you take your time to research the lifestyle, run the numbers, and do a test run if possible. Rent an RV for a vacation before you make the financial commitment to buy one.
However, for us, RVing has been one of the best experiences of our lives. We've seen some of the most incredible sites, met fantastic people, and expanded our horizons by experiencing new cultures. We couldn't have asked for a better way to make memories and grow as individuals.
Did you believe any of these RV myths? Tell us in the comments!
Discover the Best Free Camping Across the USA
To be honest with you, we hate paying for camping. There are so many free campsites in America (with complete privacy).
You should give it a try!
As a matter of fact, these free campsites are yours. Every time you pay federal taxes, you're contributing to these lands.
Become a FREE CAMPING INSIDER and join the 100,000 campers that love to score the best site!
We'll send you the 50 Best Free Campsites in the USA (one per state). Access the list by submitting your email below: