From the impressive landscape of Yosemite National Park to the beaches of San Diego, the Golden State of California has some beautiful cities. However, Slab City, Calif., is far from the beauty you'll find throughout the rest of the state. It's one of the country's most unique and exciting cities, and travelers from all over the country are flocking to see it.
However, there are a handful of reasons you might want to avoid it.
Today, we're diving into this quirky and artistic city that will likely have you checking the locks on your vehicle when you pull into town. Let's get started!
What Is Slab City, Calif.?
Located in the southeast corner of the Sonoran Desert and 45 miles north of the Mexican border is one of the most interesting cities in the country, Slab City. The city receives its name from the large concrete slabs left behind from its days as a WWII military base. Despite not being an established city, you can find it on the map, and it most certainly has some residents.
Many describe it as the Last Free Place or the Last Lawless Place on Earth. If you've never seen or experienced Slab City, just imagine an area with a nearly non-existent law or code enforcement presence. You'll find piles of trash, some of which residents have shaped and transformed into artistic sculptures worthy of being in a museum.
Trying to understand Slab City is a nearly impossible task. Many residents are unique and determined not to fit into the mold society labels as "normal." They pride themselves on their uniqueness and creating a welcoming environment to enjoy massive amounts of freedom.
What Is Slab City Known For?
Slab City is a 640-acre off-grid city with few rules and one where, like Hotel California, many people check in, but very few check out. Some residents are down on their luck and find themselves in the city for their lack of options. Others embrace the lifestyle because of the isolated and remote location.
The city is best known for its poverty and the various art projects around the city. One of the most famous, Salvation Mountain, was created by Leonard Knight. The massive artwork was Knight's tribute to God and the rest of the world. The message of the mountain is that "God is love."
In addition, Slab City is also home to East Jesus, which is an art commune in the remote city. There's no shortage of unique artwork in the 30-acre commune. Guests typically visit the art museum, which is open year-round. It features a wall of broken TVs, cars adorned with doll heads, and other unique art exhibits.
How Lawless Is Slab City?
While many refer to Slab City as lawless, that's not necessarily the truth. Law enforcement does patrol the area, just not very frequently. There's a good chance that law enforcement will overlook certain activities as long as no one is in immediate danger.
In general, many of the locals have a hard time trusting law enforcement. As a result, they typically resolve legal disputes themselves without involving law enforcement. When it comes to the Wild West, this is about as wild as it gets.
How Do People Survive in Slab City?
Because Slab City is an off-grid community, residents must develop solutions for survival. This means finding options for water, sewage, and electricity. Those who can afford it install solar panels or generators for their power needs.
When it comes to potable water for drinking, local camps have brought in large tanks for residents to use. While you're not able to get hundreds of gallons at a time, these tanks can help the residents of Slab City to survive even the hottest months.
However, surviving it isn't easy. The intense heat the area experiences during the summer can be dangerous. The area frequently experiences triple-digit temperatures for the majority of the summer. With no air conditioning, any type of shade residents can find is greatly appreciated.
Pro Tip: If you want to brave Slab City, find out Is It Legal to Camp at Lawless Slab City?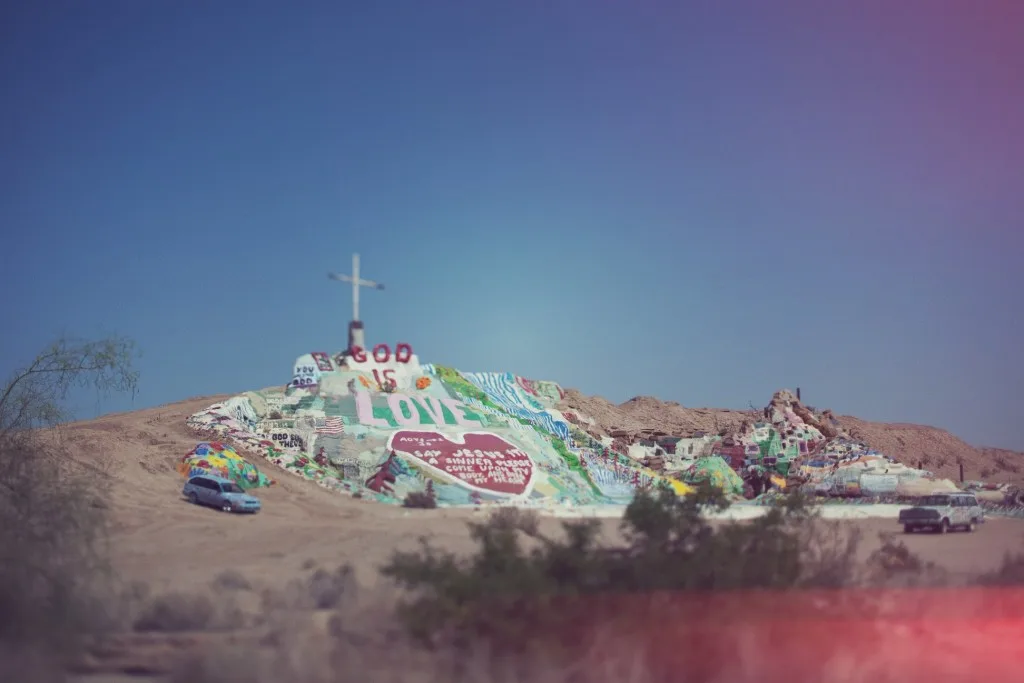 5 Reasons to Avoid Slab City, Calif.
If you're considering stopping in Slab City, there are a few things you need to know. Let's look at several reasons you should reconsider and avoid Slab City, Calif.
1. It Smells
It doesn't take a rocket scientist to calculate what happens when people don't dispose of their waste or trash properly. The smell of Slab City is one of the first things guests notice when they step out of their vehicle. However, the scent isn't only because of the trash and waste in the area.
The Salton Sea is only a few miles away and often experiences excessive amounts of hydrogen sulfide in the water. The gas that smells like rotten eggs blows the wind through the area. Trust us; you'll know and never forget the smell when you experience it.
2. The Drug Scene
There are some things that law enforcement often overlooks when it comes to Slab City, including the drug scene. They typically take a "live and let live" approach regarding drugs in the city.
As a result, there's a no-so-secretive drug scene at Slab City, which doesn't make it easy for anyone with an addiction that finds themselves living here. Anyone trying to overcome an addiction here could easily find themselves further down the addiction path than when they arrived.
3. Lots of Trash
Don't make the mistake of thinking you've accidentally pulled into a city dump instead of Slab City. You're in the right place. There's lots of trash everywhere throughout the city. Efforts to clean up the area have been discouraged by many of the "Slab Dwellers."
The community has rejected efforts to clean up the area and make it presentable. They feel it contributes to the gentrification of the area. Residents are happy with the way the place looks and shun the idea of organized trash or waste disposal.
4. No Amenities
When we say there are no amenities, we mean it. There's no water, electricity, or waste disposal in the area. You're completely on your own. As a result, many people stop and visit Salvation Mountain, snap a few pictures, and head out of town as quickly as possible. It's not the type of town you want to roll into with no supplies, including drinking water.
If you plan to experience Slab City, you better have some supplies. You don't want to break down or find your vehicle stranded. If so, you could be in for an eye-opening experience. So make sure you plan accordingly and use the restroom before you head to experience Slab City.
5. Next to a Military Gun Range
If Slab City didn't have enough going against it, Chocolate Mountain Military Gunnery Naval Base is just down the road. It's a bombing range operated by the United States Marine Corps since the 1940s.
It's not uncommon to hear aerial bombing and live firing of aerial gunnery practices. Nothing will wake you up in the middle of the night faster than a rumble from the military testing their latest and greatest weaponry.
Pro Tip: Use our Salvation Mountain Road Trip Guide to make your planning easy.
Should You Avoid Slab City?
When it comes to places we would encourage you to visit, Slab City isn't one of them. Is it a unique place to experience? Absolutely. Is it family-friendly? Absolutely not.
You never know what you'll see or experience when in this town and we don't think it's a good idea for just anyone to go there. So think again if you plan to experience this city.
Discover the Best Free Camping Across the USA
To be honest with you, we hate paying for camping. There are so many free campsites in America (with complete privacy).
You should give it a try!
As a matter of fact, these free campsites are yours. Every time you pay federal taxes, you're contributing to these lands.
Become a FREE CAMPING INSIDER and join the 100,000 campers that love to score the best site!
We'll send you the 50 Best Free Campsites in the USA (one per state). Access the list by submitting your email below: