If you enjoy staying in unique campgrounds, Wales West RV Park and Light Railway is one you don't want to miss. The campground offers a variety of activities and amenities that almost everyone leaves a happy camper.
If you're tired of staying in standard campgrounds that offer the same old experience, Wales West can change that.
Today, we'll dive in and see what campers love about this campground and why they're returning year after year.
Let's get started!
What Is Wales West?
Wales West is a campground and event center that offers a camping experience and special events throughout the year. It gets rave reviews and was rated 9.5 out of 10 by Trailer Life. According to the official website, the campground receives its name from "the narrow gauge railways that still serve remote areas of Wales in Great Britain."
The campground can accommodate RVs of various sizes and offers many amenities. Some of the favorites at the campground are the heated pool and lake access. You can also find nature trails and playgrounds. However, the campground's train station sets it apart from the rest.
Guests will find two train ride attractions at Wales West. One of the rails is a narrow gauge track (two feet between the tracks), and the other is a grand scale (7.5 feet between the tracks). Either train can accommodate adults, so kids of all ages can enjoy a ride.
The campground transforms the rails into a new experience based on the season. Guests can ride through the North Pole and the Pumpkin Patch or catch glimpses of the Easter Bunny and Halloween Monsters.
Where Is Wales West?
Wales West RV Park and Light Railway is in Silverhill, Alabama. This is in the extreme southwest corner of the state, approximately 25 miles from Mobile, Alabama, 170 miles from New Orleans, Louisiana, and 42 miles from Pensacola, Florida. It's a great place to stay if you want to experience or explore the Gulf Shores.
The town of Silverhill is incredibly small. It was established in 1896, and its rich farmlands became a popular spot for Swede and Czech settlers. During the 2010 census, the town had a population of just over 700 and is 1.2 square miles. While there may not be many people, there's still plenty to love about this community.
Silverhill has an incredible charm to it. You can feel this charm as you walk the sidewalks along the main street and around the town center. Exploring parks, seeing churches, and the many historic sites paints a picture-perfect small town.
Pro Tip: Take some time to explore these 7 Things to Do in Fairhope while in Alabama.
What Is the Wales West Light Railway?
The Wales West Light Railway has two sets of tracks at Wales West RV Park and Light Railway in Silverhill, Alabama. The railway has a two-foot and 7.5-foot gauge railway. Ken and Ann Zadnichek are the owners of this unique light railway and campground.
The one-mile set of two-foot gauge rails circles the campground's perimeter and travels along Lake Victoria's shores. However, the 7.5-foot gauge railway travels around the Shady Circles section of the park. This area contains the campground's pull-through RV sites and community building.
Wales West Light Railway offers a new experience each season. Guests of all ages will love the Cottontail Express (spring) and Summer Fun Express (late spring through summer). You'll find the Pumpkin Patch Express (fall) and Arctic Express (winter) in the cooler months. A trip on Arctic Express transports guests to a winter wonderland with millions of lights and an opportunity to visit with Santa.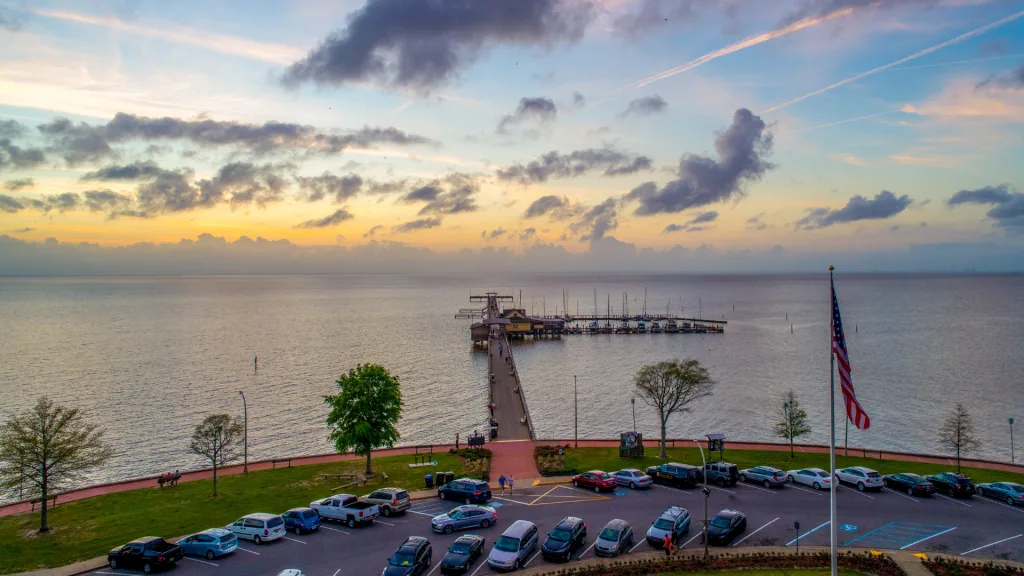 Fun Things To Do Near Wales West
While Wales West RV Park and Light Railway offers plenty of fun things for guests to fill their schedules, that's not all there is to do in the area. Let's look at some fun nearby things you can do during your stay.
Bike or Walk Around Honey Bee Park
Whether you enjoy biking, walking, or jogging, the Honey Bee Park and Bike Trail is a great place to do it. This three to four-mile out-and-back trail has a paved surface and minimal elevation gain. It's open year-round, and pets are welcome but must remain on a leash.
A trip along this trail lets you get your heart pounding and some fresh air in your lungs. Enjoy the sights and sounds of nature along the way. However, guests should exercise caution as there are several road crossings. Be sure to look both ways before crossing the street and ensure little ones don't get too far ahead on the trail.
Listen to Live Music at Blue Moon Farm
Community is one word that describes Blue Moon Farm. Everything about this place is about bringing people together in an intimate setting for a memorable experience. Blue Moon Farm's "The Frog Pond" is a private outdoor concert venue hosting some of the country's best singers and songwriters.
The property's owner, Cathe Steele, has created a front-porch stage under a 200-year-old Cedar tree. Unlike many other concert venues, Blue Moon Farm encourages attendees to bring a chair, a cooler, and a covered dish to share. Tickets typically range from $35 to $40 per show. You must be on the guest list to attend.
Explore Fairhope, Alabama
Less than 10 miles from Wales West RV Park and Light Railway is the city of Fairhope, Alabama. Southern Living often mentions the town for its unique appeal and charm. If you want an authentic taste of southern hospitality, you'll find it here.
A quick stroll around the historic downtown or interacting with the locals may convince you to pack your things and move. It's one of the fastest-growing places in the country!
The city has over 23,000 residents and several special events each year. The Fairhope Music Festival takes place each fall and features more than ten bands. In addition, the area sporadically experiences a seafood Jubilee. However, you can also visit the Fairhope Museum for a history lesson and to taste some delicious local brews at Fairhope Brewing Company. Plus, you can pick blueberries at Weeks Bay Plantation.
Pro Tip: Love live music? We think the Fairhope Music Festival is the Ideal Fall Road Trip to Alabama! Learn more about how you can go!
Is a Stay at Wales West Worth It?
Mobile Bay and the Gulf Coast offer plenty of great experiences. If you're looking for a place to stay while exploring the area, Wales West RV Park and Light Railway is worth it. Kids and adults love the campground and find it hard not to smile while riding around on one of the trains.
Give yourself and your loved ones a chance to relax for the weekend or a few days. You can soak in the sun or visit the local favorites. Plus, it's nice to enjoy the periodic sounds of a train whistle during your stay.
Discover the Best Free Camping Across the USA
To be honest with you, we hate paying for camping. There are so many free campsites in America (with complete privacy).
You should give it a try!
As a matter of fact, these free campsites are yours. Every time you pay federal taxes, you're contributing to these lands.
Become a FREE CAMPING INSIDER and join the 100,000 campers that love to score the best site!
We'll send you the 50 Best Free Campsites in the USA (one per state). Access the list by submitting your email below: