If you plan to RV, hitching up your trailer is a task you'll do countless times. Skipping a step or making a mistake could be costly during this process.
Unfortunately, we've witnessed our fair share of RVers who have made major blunders during the procedure. Not only did they put themselves and others in danger, but their precious camper.
Today we'll look at the seven worst mistakes people make when it's time to get connected.
Let's roll!
What Is Hitching up a Trailer?
Whether it's an RV or a cargo trailer, you'll need to pull it with a vehicle. But the way you set it up will vary depending on the type of trailer, but the overall idea remains the same. Many drivers refer to connecting the two as "hitching up."
A common type of camper is a bumper-pull. These devices use a ball on the rear of the tow vehicle and a coupler on the front of the rig's frame. The pieces lock together after you connect them. Drivers may utilize sway bars or weight distribution devices for heftier trailers to enjoy an improved towing experience.
Additionally, fifth-wheels are another common type. These utilize a king pin or gooseneck hitch. When connected to the tow vehicle, the weight from the camper sits over the vehicle's rear axle. The result is a smoother and more stable towing experience. Many drivers find fifth wheels easier to maneuver and tow, but it can be a matter of preference.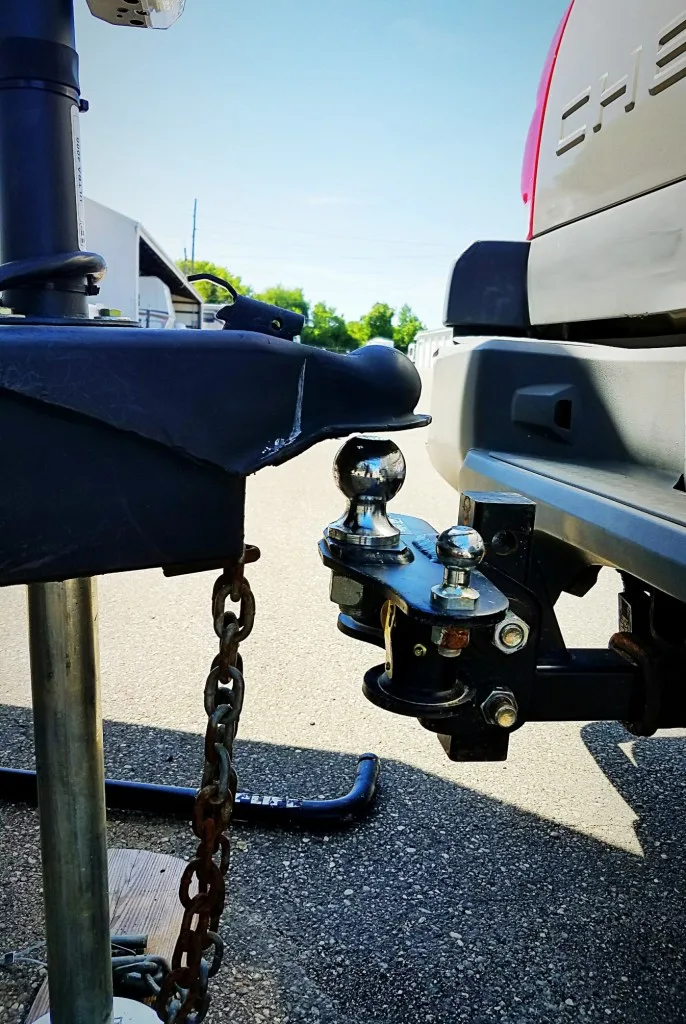 Is Hitching Up a Trailer Hard?
If you're new to trailering, hitching up and disconnecting can be challenging. Luckily, the more you can do it, the easier it typically becomes. You must follow a specific process and not skip any steps. You can easily create a dire situation for yourself and others.
Because the ground conditions and other circumstances will vary, some cases are more challenging than others. Unfortunately, there can be times when it can be tricky, no matter how much experience you have. But as long as you keep the common mistakes in mind, it can save you from headaches and frustrations during your adventures.
Keep in mind: Should you grease your ball receiver?
Can you Hitch a Trailer By Yourself?
If you're new, it might seem crazy to try to hitch up your trailer by yourself. Once you get comfortable with the process, there's a good chance you'll be able to do it yourself. Will it be easy? Not necessarily. However, it isn't impossible to do on your own.
In general, it's always a good idea to have an extra set of eyes to help. It could be a traveling companion or a backup camera on your vehicle. This allows you to get everything lined up and avoid costly mistakes that could cause any damage.
What Does "GOAL" Mean When Hitching Up a Trailer?
Many RVers use the acronym "GOAL" when hitching up or backing into a campsite. This helps them remember to Get Out And Look. It's always worth taking a few seconds to step out from behind the wheel and assess the situation.
Trust us, lining up the tow vehicle with the trailer can be frustrating. They need to be as even as possible, which is easier said than done. Taking the time to GOAL eliminates communication errors.
The 7 Deadly Sings for Hitching Up a Trailer
Some tasks have little to no room for errors, and this is one of them. Remember the seven deadly sins of hitching up a trailer if you want to avoid finding yourself in a sticky situation.
Being in a Hurry
You don't have to RV long before you realize that you should do nothing quickly. Being in a hurry dramatically increases the chances of skipping a step or making a mistake. Do whatever you can to slow down, remain calm, and focus when connecting a camper to your tow vehicle.
We've seen RVers in a hurry incorrectly connect their trailer. Unfortunately, seconds after pulling out of their campsite, their rig disconnected and smashed the back of their truck. Unless you want this to be you, take your time. It doesn't matter how quickly you need to leave or how soon the check-out time is at the campground.
Not Practicing
The only way to get better is to practice, and hitching up is no exception. While you can go over the process in your driveway, we recommend using it as an excuse to go camping. Book a spot at a nearby campground and head out for a short trip so you can get to know your set up. Take the time to rehearse every step, from set up to disconnect.
If you're new to RVing or trailering, it's likely to take some time to get it down. However, the more you can do it, the better you'll get. Your skills for maneuvering your rig will improve, and your communication skills with your spotter will become second nature. You'll be a pro before you know it!
Not Using an Extra Set of Eyes
We've seen many proud drivers who refuse to use an extra set of eyes. Yes, you may be able to do it independently, but getting a different perspective improves safety. It could be someone traveling with you or the backup camera on your vehicle.
We encourage drivers to use cell phones or two-way radios to eliminate communication errors. Vehicles can be noisy, and you don't want to have to yell loudly throughout a quiet campground. Getting lined up and positioned correctly is essential if you want the process to go smoothly.
Not Chocking Trailer Wheels
You'll likely need to use the tongue jack or leveling system to adjust the trailer's height to connect to it. If it is sitting on an incline or decline, this could alter the balance of weight and cause it to roll. This is one of the last things you want when connecting a rig.
Using wheel chocks under the wheels is the best way to eliminate movement. We recommend the beefy rubber chocks over the cheap plastic ones. While it may seem overkill, we suggest putting them in the front and back of your wheels every time you park.
Pro Tip: These are the best wheel chocks.
Forgetting to Do a Tug Test
Once you're finished hitching up your trailer, doing a tug test is essential. This helps ensure that you've correctly connected everything. You won't have to worry nearly as much about them disconnecting once you hit the road.
To do this, finish the process by raising the jacks under your trailer an inch or two off the ground. Leave the wheels chocked and squeeze your brake controller to activate the brakes on the rig. This should keep your camper in place as your vehicle attempts to move forward.
If all goes as planned, you'll tug on the rig and know you've connected everything correctly. If not, the hitch will disconnect without causing damage.
Failing to Maintain Your Hitch
If you're not maintaining your hitch, you're not doing yourself any favors. Keeping it lubricated and greased improves its lifespan and helps it to do its job. If you're struggling with getting your camper and tow vehicle to connect or disconnect, consider the last time you did the necessary routine maintenance.
Depending on your location and how you use your trailer, you may need to do maintenance more frequently. Check the owner's manual for your equipment to see what maintenance the manufacturer recommends and how often you need it.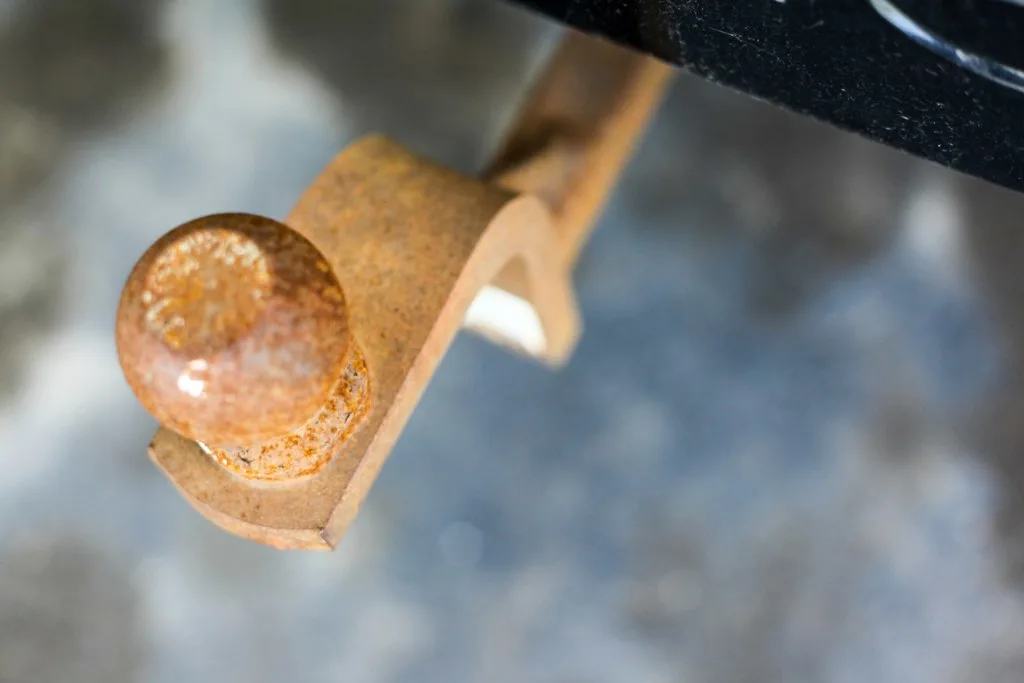 Not Using a Checklist
As we've said, hitching up your trailer requires you to do specific tasks in order. If not, you could be making a costly mistake. The best way to avoid mistakes is to create a checklist and follow it whenever you connect to a vehicle.
While many steps are similar, no one-size-fits-all checklist works for everyone. The gear you use and your preferences will vary from others. As a result, you need to take the time to create a checklist unique to your setup.
You can use an app or print your checklist for each trip. However, you must follow the necessary steps and avoid a dangerous situation, especially if you want to avoid damaging your rig.
Avoid Mistakes When Hitching Up Your Trailer
There's no such thing as a perfect driver or RVer. Unfortunately, mistakes are easy to make during when it's time to hit the road. Whether you're coming or going on an adventure, it can be an exciting and chaotic time.
However, if you want your experiences to be smooth and enjoyable, avoid committing any of the seven deadly sins of hitching up your trailer. It can spare you from a very expensive incident.
Discover the Best Free Camping Across the USA
To be honest with you, we hate paying for camping. There are so many free campsites in America (with complete privacy).
You should give it a try!
As a matter of fact, these free campsites are yours. Every time you pay federal taxes, you're contributing to these lands.
Become a FREE CAMPING INSIDER and join the 100,000 campers who love to score the best site!
We'll send you the 50 Best Free Campsites in the USA (one per state). Access the list by submitting your email below: