One of the best features of any type of RV is the access to the outdoor space underneath the awning. Even on a warm day, you can enjoy a beverage in the shade, overlooking a beautiful scene of canyons or wildflowers, or sandy beaches. But because they are so often used, RV awning maintenance is critical to properly maintain and repair them when necessary.
Let's take a look at the best ways to take care of your RV awning!
Are All RV Awnings the Same?
Just like there are various RVs, from travel trailers to Class A motorhomes, there's also a variety of RV awnings. Some are electric, operated by motors and switches. Others are manual, operated by a hand crank, or manually rolled out. The material is also different. RV awnings can be fabric, vinyl, and acrylic.
What Is the Life Expectancy of an RV Awning?
With proper RV awning maintenance, RV awnings can last anywhere from 5 to 15 years. Some owners may never have to replace an awning. But every owner will need to maintain and repair their RV awning to keep the material in good shape.
In addition, the type of material can affect the life expectancy of an RV awning. Some are more durable than others. How often you use the awning will also affect its longevity. If you go camping a few times a year and then store your RV in a covered area, your awning may last much longer than someone who travels full-time. They're constantly bringing the RV awning in and out in various weather conditions.
Pro Tip: You'll love investing in one of these 5 Best RV Awnings and Sunshades.
What Is the Best Way to Repair an RV Awning?
Sometimes RV awnings will crack, tear, or split at the seams. Other problems owners encounter include heavy mildew build-up and drooping or sagging material. As long as the RV awning hardware is in good shape, replacing the material is a pretty easy DIY project.
Fabric
You can use tape like Better Boat marine tape to repair small holes in a fabric RV awning. Tent patch kits also work well. If it's a large hole, you'll have to find matching fabric to cover the tear and then use heavy-duty glue to secure it.
However, with weathering and sunlight, over time, RV awnings deteriorate. So once you have a small or large hole, it will usually get worse and require a total replacement down the road.
Vinyl
Vinyl RV awnings are completely waterproof, so they're ideal to have when camping. But you have to make sure it's completely dry before rolling up, so you don't create an environment for mold and mildew.
You can address tears or holes in this type of material, just like fabric. Use awning repair tape, patch kits, or heavy-duty glue.
Acrylic
Acrylic fabric is less common because it's more expensive. This material is breathable, which is ideal for hot and humid conditions. It also easily dries, unlike vinyl RV awnings.
Like fabric and vinyl RV awnings, when you have a small or large hole, you can repair it yourself without replacing the entire awning material. Find an awning repair tape, patch kit, or heavy-duty glue to get the job done.
Can You Replace the Fabric Only on an RV Awning?
As mentioned earlier, replacing the fabric is the most common repair. Typically, the awning arms, mounting brackets, and roller tube remain in good condition. So it's more likely you'll only need to replace the material than the entire RV awning unless you were in a heavy storm or accident that caused severe damage.
How Do You Remove Mildew and Mold from an RV Awning?
It's very important for RV owners to clean their RV awnings regularly. Choose a nice warm day, grab a bucket of gentle soap, and get this item checked off on your maintenance list. How often you should wash it depends on the weather conditions and how often you use it. Regularly inspect the fabric, and once you see signs of mildew, make plans to give your RV awning a good scrub down soon.
You don't want to use anything with harsh chemicals. This is why just a bucket of gentle soap is recommended. There are other products available you can buy in RV supply stores. But if you use a product with harsh chemicals, you can damage the awning material, thus reducing its life expectancy.
Your RV's manual may also give instructions on properly cleaning your RV awning. Some will suggest a small amount of bleach mixed in with a small amount of dish soap.
Just dip an extendable brush in the soap bucket and thoroughly clean your RV awning underneath. Spray it with water and let it completely dry before bringing it in. Otherwise, you'll just be inviting mildew to settle in yet again.
Pro Tip: Make sure you know this One RV Rookie Mistake You'll Probably Make.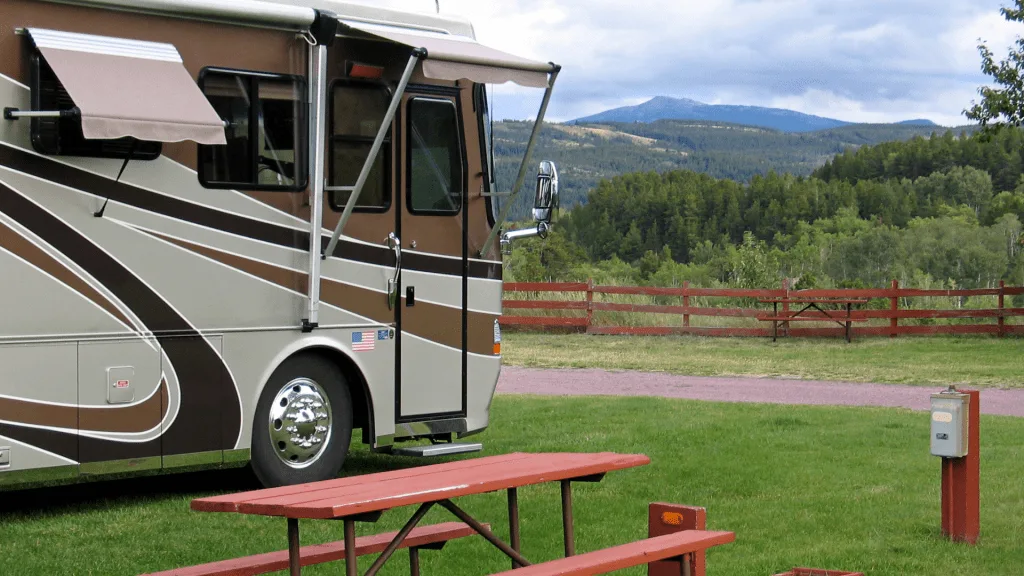 Do RV Awnings Need to Be Lubricated?
All moving parts of an RV need lubrication. This keeps them in good working condition. About once a year to every six months, spray a silicone lubricant on the awning arm joints and at the ends of the roller tube.
Bring the awning in and out a couple of times to make sure everything is lubricated well. Make sure to avoid getting the spray on the material itself, as it will stain.
What Preventative Maintenance Will Give Your RV Awning Longevity?
One of the biggest pros to having an RV awning is the shade. On a hot summer day, you can still enjoy your campsite with the shade an RV awning provides. But leaving your awning out all the time can also lead to premature deterioration. Being constantly exposed to the sun, rain, and wind will wear out the material. So when you're not using it, bring it in.
You also want to make sure to wash it regularly. This should be a task on your RV maintenance checklist. There's no set timetable, though. Keep an eye on mildew build-up to give your RV awning a good scrub down when needed.
What Type of RV Awning Is the Best?
There's no one-size-fits-all RV awning. Just like some travelers prefer a travel trailer to a fifth wheel or a Class C to a Class A, RV owners have personal preferences. But the type of RV awning best for you also depends on where you camp. If you're in the arid deserts of Southern California and Arizona, acrylic material is best. If you're in the humid environment of Georgia and Florida more often, vinyl material is best. Each type of material has its own pros and cons. So choose wisely based on your travel needs.
But regardless of the type of RV awning you have, regular maintenance is key to its longevity.
When was the last time you lubricated or cleaned your RV awning?
Discover the Best Free Camping Across the USA
To be honest with you, we hate paying for camping. There are so many free campsites in America (with complete privacy).
You should give it a try!
As a matter of fact, these free campsites are yours. Every time you pay federal taxes, you're contributing to these lands.
Become a FREE CAMPING INSIDER and join the 100,000 campers that love to score the best site!
We'll send you the 50 Best Free Campsites in the USA (one per state). Access the list by submitting your email below: