Old-school gearheads know that Valvoline oil has a storied history in the automotive industry. From the shelf at the gas station to inside F1 race cars, their product is king.
Just because a brand's well known, though, it doesn't mean they're the best. It could just be a strong marketing department.
Today we'll look into the history of Valvoline as one of the oldest oil companies and their present products.
Let's roll!
What Is Valvoline Oil?
Valvoline oil is one of the most well known brands in the market. That's by design. The company started in 1866 when founder Dr. John Ellis invented a lubricant for steam engines. Since then, they have remained singularly focused.
Almost as soon as cars running on gasoline rolled off the Ford Motor Company assembly line, Valvoline's been in them. By the 1890s, they joined forces with racing vehicles. Throughout the early 20th century, Ford recommended these lubricants in all their autos.
With the rise of NASCAR and Formula 1, the company sponsors several teams and events. They're best known for working with the Hendricks Motorsports team in recent years. Specially formulated lubricants designed for high speeds make their way into race cars across sports.
Valvoline-sponsored NASCAR driver Mark Martin became the second-winningest racer in the Xfinity Series in 2000. CART series star Al Unser, Jr. and several teams, RahMoc and Ginn Racing, waved the banner as well.
The company's presence in our lives is constant, from everyday vehicles to highly tuned Formula 1 cars.
What's the Difference Between Synthetic and Conventional Oil?
Unless you're a sponsored driver, you're likely wondering about synthetics versus conventional lubrication. Valvoline produces both, as do most oil companies, and it's hard to know if the price is the only difference.
Refineries produce conventional lubricants from crude oil. For a long time, it was the only option for motorists. As a naturally derived product, traditional products vary in quality. The molecules in a conventional product vary in size. High-performance engines require something more reliable.
Synthetic oil products are engineered in a lab to operate in specific applications. High-speed race cars require synthetics because of their heavy use. In more and more modern road vehicles, manufacturers recommend synthetics.
At nearly twice the price, synthetics are a tough sell to folks on a budget. But the benefit of a synthetic oil change in your truck is the mileage between changes.
With conventional, you should get service every 3,000 miles, and synthetic every 7,000 to 10,000 miles.
Benefits of Valvoline Oil
Using quality products in your engine makes all the difference. Frequent driving may even require an upgrade from your current lubricant. Let's take a look at some of the benefits of using Valvoline oil on your daily drive.
Great for Short Trips and Infrequent Vehicle Use
If you only take your vehicle out for short trips or don't drive it every day, pay attention. Modern engines actually do best when used regularly for longer distances. Driving less than five miles a day around town puts serious strain on your motor. Because it doesn't get a chance to really warm up, water can build up.
Synthetic oil handles this type of driving much better than conventional. Valvoline's products reduce engine sludge caused by this kind of driving.
Maintains Performance Under Heavy Loads
Heavy load doesn't just mean towing your RV behind you. Adding anything beyond passengers can put extra strain on your engine. That includes those backroads and boondocking spots for the dust and dirt factor.
Using high-quality synthetic oil in your adventure vehicle extends the life of your engine. High heat and regular use also break down the lubricant. Synthetics hold up where conventional products break down.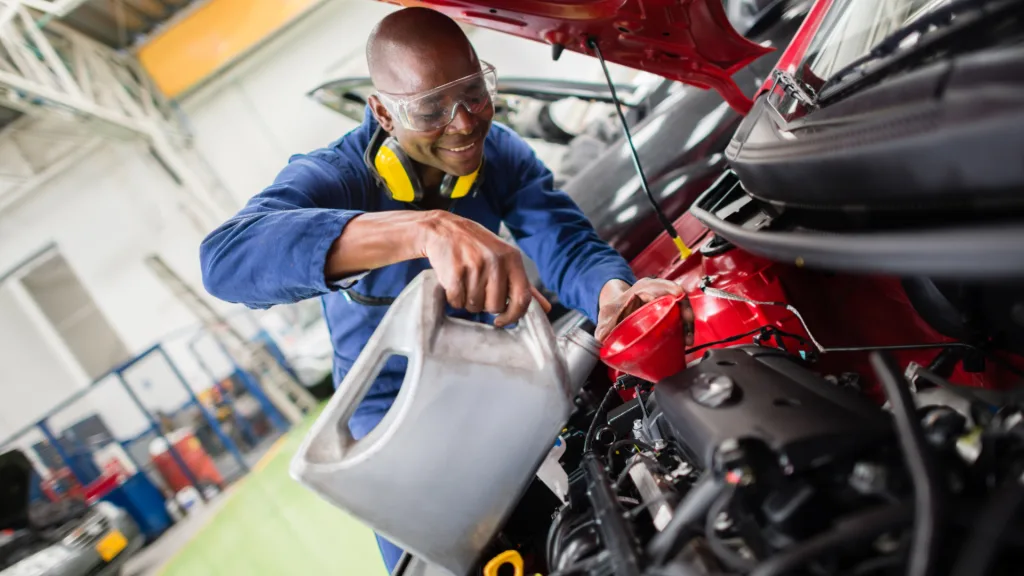 Compatible with Turbocharged Engines
Between 60% and 70% of new vehicles include a turbocharger. In classic engines, a turbocharger increases horsepower and minimizes fuel use. Standards for these engines require a higher quality synthetic oil to reduce sludge.
For these turbocharged engines, conventional oils aren't usually up to the challenge.
150+ Years of Experience
Valvoline oil entered the lubrication market before gas-powered engines changed the game. Consistently performing near the top against competitors, the company fine-tunes products for performance. Synthetic, conventional, and specialty racing products ensure you'll find what you need.
We'd never recommend something just because it's been around for 150 years. But Valvoline's history of innovation and industry-leading products win us over every time.
Readily Available
A great product you can't find anywhere is like having nothing. But Valvoline's products are available worldwide. Every gas station and service station carries what you need for maximum performance in your vehicle.
You can also get service at one of the Instant Oil Change service stations around the country.
Disadvantages of Valvoline Oil
It isn't all cheers for the oil company, though. Some issues consistently pop up in certain situations. Affordability over the years has also kept Valvoline from developing the same quality products as some competitors.
High-Temperature Capabilities
While their products perform decently well at high temperatures, Valvoline oil doesn't perform at the top. Their commitment to lower prices held back R&D along the way, and competitors pulled ahead.
You may only notice these issues if you consistently push the capacity of your engine. But in the high-end market, the little things matter.
Longer Lifespan Alternatives
Things that reduce the lifespan of an engine include by-products of oil burning in the engine. Even synthetics designed for extreme temperatures in modern engines eventually break down. Sludge, deposits, and oxidation all affect engine life and performance.
Valvoline oils have a lower lifespan than some of their top competitors. Quicker breakdown means more frequent changes are necessary to maintain your engine.
Is Valvoline Oil Good for Cars?
Valvoline oil may be the best choice for those of us driving standard vehicles. In recent tests against other industry-leading products, they scored higher in every area. Engine contaminants are the same across the board; moisture, unburned fuel, and ethanol.
Their additives ensure these contaminants stay mixed in with the oil. When it passes through the engine, it pulls the grime out with it. They didn't just win by a little in these tests. At the end of the day, they succeeded at twenty-four times the rate of others.
Should You Use Valvoline Oil?
Depending on the application, Valvoline oils are an intelligent choice for your vehicles. Their history as an industry leader should give you a sense of security in using their products. Costs also factor in, and they consistently undercut the prices of competitors.
Next time you get your oil changed, check out your options. You might see a big difference if you switch to Valvoline's synthetic option in your ride.
Discover the Best Free Camping Across the USA
To be honest with you, we hate paying for camping. There are so many free campsites in America (with complete privacy).
You should give it a try!
As a matter of fact, these free campsites are yours. Every time you pay federal taxes, you're contributing to these lands.
Become a FREE CAMPING INSIDER and join the 100,000 campers that love to score the best site!
We'll send you the 50 Best Free Campsites in the USA (one per state). Access the list by submitting your email below: