Everyone loves seeing spring flowers pop out of their flower beds after a long winter.
But garden centers have so many plants to choose from, and they all have different needs. How can you be sure you're planting them in the right conditions?
That's why we're here. We have a list of the most beautiful flowers and tips to help you keep them alive.
Let's get planting!
Planting Spring Flowers
Knowing exactly when spring starts can be the most challenging part of gardening. We've definitely planted seeds during a warm spell, only for it to freeze the next week. Ask a local garden center for the average frost-free date to plan your gardening.
Next, you need to know when to sow what kinds of seeds. Dormant or bare-root perennials should be planted as soon as the ground has thawed. This includes plants like peonies and daylilies.
You can plant annuals like snapdragons about two weeks before the frost date. This kind of flower grows for one season only, then dies in the fall, hence the name annual.
After the frost date, you can plant just about anything. It's not too late to put dormant perennials or annuals in the ground, but it's the perfect time to transfer potted plants to the garden.
Pro Tip: Don't know where to buy your flower seeds from? We uncovered What Big Box Store Has The Best (and Cheapest) Garden Center?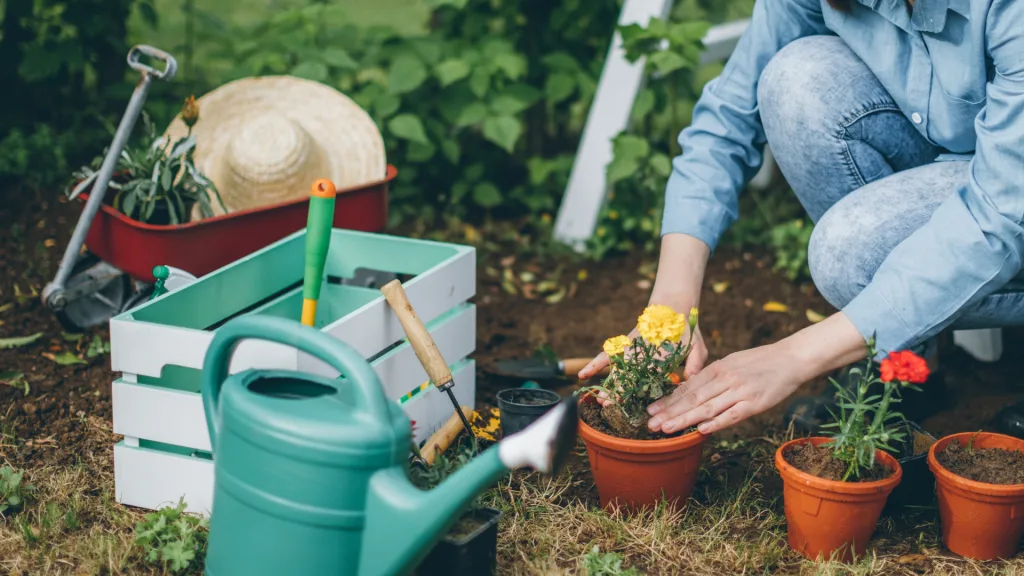 10 Beautiful Flowers to Plant for Spring
If you've ever killed a plant, you're not alone! We want to help your plants thrive this spring. Putting in the effort to sow seeds that never grow can be very disappointing. Don't get discouraged. And follow our tips to have your most beautiful garden yet.
In no particular order, we've listed our favorite spring flowers below. We've also included some tips for success with each plant because we want to see your garden grow! Whether you have a black thumb or a green thumb, you should try growing some of these flowers.
#1 Hyacinth
Hyacinth flowers can add a splash of pink and purple to your garden, but we love them for their sweet scent. These flowers can be toxic to pets, so make sure the bulbs have been planted out of reach of your animals.
To grow this flower in the spring, plant its bulb in the fall. Put the widest side down about five inches deep. Plant the bulbs three to five inches apart, cover them with soil, and water well.
Prevent rotting the bulb by allowing the soil to dry completely before you water it again. If it's a wet winter, you won't need to water at all. Hyacinths love the sun, so they'll need to see at least six hours of sunlight in the spring.
If you like to plan the colors of your garden, this bit's for you. Hollyhock and Pink Pearl varieties of hyacinth will sprout pink flowers. Woodstock and Blue Jacket varieties can add some purples, and as the name suggests, Top White will grow white blooms.
#2 Snapdragon
This annual comes in almost any color imaginable, and it grows dozens of flowers along a tall stock. Snapdragons can tolerate a little cold but wither in the heat, making them an ideal spring flower. They come in dwarf, medium, and tall varieties. You can also buy trailing snapdragons which grow more like a vine.
Most people buy snapdragons from the nursery and plant them outside in the early spring. If you want to try growing them from seed, plant them inside at least two months before the frost date. Transfer them to the garden when the temperature starts to hit 80 degrees. Make sure they get at least six hours of sun.
Prune any dead or diseased leaves to take care of this plant once sowed. Snapdragons will die during the summer heat, but if you cut them back, they'll bloom again in the fall.
#3 Iris
Planting this flower requires a lot of patience. Pick up an iris rhizome, similar to a bulb, from your local nursery in the late summer. Dig a hole in your garden and build a mound in the center. Place the rhizome on top and gently pat well-draining soil around its roots. Each plant should be one or two feet apart.
Once in the ground, water the irises whenever the topsoil dries out. Water infrequently for the best results, but give them a good soaking each time. This plant won't flower if it doesn't have enough sunlight, so make sure it gets at least eight hours of sun in the spring.
If you've planted irises in a well-draining area with plenty of sun, they'll continue blooming for several years. The flowers can commonly be found in purple in yellow. Nearly 300 species of irises exist, so you can find just about any color.
#4 Daffodil
Did you know that daffodils can deter squirrels and other rodents? If you have a problem with critters digging in your garden, consider adding this flower to your October planting list for early spring blooms.
You can order classic daffodils from the company DutchGrown. The bulbs need to sit out at room temperature before planting. When you do plant them, they should be about five inches apart and three times as deep as the bulb is tall. Water after planting, but you shouldn't have to water them again!
These bright yellow or white flowers usually bloom in March. You still don't need to water them unless you live in an arid climate. After the plants die, wait until they've completely withered and turned black before cutting them back. This will allow the bulb to absorb nutrients to grow again next season.
#5 Tulip
Critters love to eat tulip bulbs, so gardeners often plant them next to the natural rodent-deterring daffodil.
For spring blooms, plant tulips in the fall. Wait for the average temperature to be around 40 or 50 degrees before burying the bulbs about a foot deep and six inches apart. This flower doesn't do great in the heat. Save the sunny spots for your irises and plant your tulips where they'll get some afternoon shade.
You can have these cup-shaped blossoms sprout throughout the spring by growing different varieties of tulips. Though technically a perennial, most bulbs probably won't flower after their first year. Replant new bulbs if you want your garden brightened by tulips again.
#6 Lily of the Valley
This perennial, covered in bell-shaped white flowers, usually blooms in late spring. It needs a shady place to call its home. The lily of the valley spreads as ground cover quickly, so give it plenty of space.
You can plant a lily of the valley at any time of year. After purchasing rhizomes, put them in a shady part of the garden, about half an inch below the ground and six inches apart.
This flower needs to be watered frequently to keep the soil moist. Because of the moist environment, this plant requires, it may become infected with fungus. Remove any sick-looking leaves as soon as possible to prevent the spread.
Despite its name, the lily of the valley doesn't belong to the lily family. It's actually most closely related to asparagus. Superstitions gardeners say that the lily of the valley will protect your garden from evil spirits.
#7 Rhododendron (Azalea)
If you'd love a shrub that stays green all winter long and sprouts gorgeous flowers in the spring, look no further than the azalea. Thousands of varieties of rhododendron plants exist, making it possible to grow them in just about any climate.
If the temperature frequently reaches 90 degrees or higher in the spring, avoid white-flowering azaleas and plant other varieties in the shade. Alternatively, if you live somewhere colder, put your plant in the sun and give it a wind break to avoid freezing in winter.
When you plant these shrubs, keep their roots right at the surface. Space each plant two to six feet apart, depending on how large the selected variety grows. Rhododendrons need moist soil for their shallow roots.
#8 Pansy
This classic spring flower comes in a variety of purple and yellow colors. You can plant pansies in the fall or spring.
If planted in the spring, the flowers may tolerate the heat better and live longer into the summer. This plant won't live long in the south, where spring temperatures tend to soar early. To plant pansies in the fall, wait for the summer heat to dissipate, but plant long before the first freeze. The flowers need time to establish themselves before the cold sets in.
Pansies need to be watered frequently but will rot if their roots stay wet. Keep them in quick-draining soil or plant them on a hill to have healthy flowers. If you find evidence of insects, consider using an insecticide to take care of the problem.
#9 Sweet Alyssum
This beautiful white and yellow flower deters aphids, making it a great companion for bug-prone plants like pansies.
We consider this spring flower to be nearly impossible to kill. Plant sweet alyssum seeds in your garden about six inches apart. Pick a spot that gets at least six hours of sun per day. Water the seeds often, and they should sprout in a few days.
Sweet alyssum grows well in containers or between rows of your garden. It can thrive even in the smallest spaces. This annual dislikes the cold, so don't plant it until after the last freeze of the season. Water it often, especially if it's in a pot, but don't let the soil get soggy.
#10 Forget-Me-Nots
We can't forget this spring flower, the forget-me-not. These small blue flowers can brighten up any garden. You can also find pink and white varieties. The stalks usually grow only five inches tall but sprout several blooms, creating an eye-catching display. We love that this plant attracts butterflies to our garden.
Forget-me-nots need moist soil to grow. They should be planted in the sun in cooler climates, and in warmer zones, they'll need afternoon shade. Most gardeners plant seeds in the summer and expect them to bloom the following spring.
Please note that this flower reseeds itself. If you don't want it to spread, make sure to deadhead your flowers. They're considered invasive in several northern states, including Alaska and Michigan.
Pro Tip: Lacking a green thumb? Make sure to avoid these 5 Ways to Accidentally Kill Your Monstera Plant.
Beautiful Spring Flowers are in Reach!
We love planting our garden and watching the colorful flowers grow. If you've got the itch to plant some spring flowers, go for it!
Hopefully, you've found some helpful tips to have your most gorgeous garden yet. We bet you can grow some of these colorful blooms even if you have a black thumb.
Whatever you choose to plant will be a treat for the eyes and the soul.
Discover the Best Free Camping Across the USA
To be honest with you, we hate paying for camping. There are so many free campsites in America (with complete privacy).
You should give it a try!
As a matter of fact, these free campsites are yours. Every time you pay federal taxes, you're contributing to these lands.
Become a FREE CAMPING INSIDER and join the 100,000 campers who love to score the best site!
We'll send you the 50 Best Free Campsites in the USA (one per state). Access the list by submitting your email below: