So you've just ordered some lunch, which comes with fry sauce. You have just one problem… you don't know what that is!
We've been in this exact situation, and we're here to help.
Today, we're getting the scoop on this delicious condiment.
Let's dig in!
What is Fry Sauce?
Fry sauce often comes with french fries or on a sandwich. Depending on your location, it might be a condiment for fried plantains or lumpia. This mixture of mayonnaise and ketchup has been a favorite for over a century.
Around 1920, an Argentinian Nobel laureate named Luis Federico Leloir ordered shrimp at a golf club. Disappointed with the dipping condiment choices, he mixed a few together to create salsa golf. In the United States, we call it fry sauce.
The sauce became popular in Utah eighty years ago. In 1941, Don Carlos Barbecue, located in Salt Lake City, started serving the pink sauce. Shortly after, Stan's Drive-In started using this dip at their restaurant.
It has since taken the nation by storm. Popular fast food joints, including Raisin' Canes and Zaxbys, have their own versions of the sauce. You can even get it at the grocery store. Heinz has been distributing their version of the condiment, Mayochup, since 2018.
Why People Love Fry Sauce
Food can be categorized into four groups based on their taste. It can be sweet, sour, salty, or bitter. But recently, culinary enthusiasts have added a fifth taste to the list, umami (pronounced oo-ma-mee). Chefs say it's the savory flavor that makes you go, "mmmm." It can be described as adding body and complexity to a dish.
Foods with high levels of Monosodium Glutamate (MSG) usually contain the flavor. Other umami-rich foods include gravy, cheese, and soy sauce.
People love savory-sweet fry sauce. Chefs say that tomato products, like ketchup, contain an umami flavor. Both mayonnaise and ketchup have high levels of MSG, and mixing the two creates a superfood of sorts. The bottom line is that people love fry sauce for its delicious umami taste.
Pro Tip: Pulling through the drive-through to get your fry fix? We uncovered where to get The Best (and Worst) Fast Food Fries.
Do Other Countries Have Similar Sauces?
People enjoy a variety of fry sauces all around the world. In its birthplace, Argentina, salsa golf can be considered a local favorite. They use the dressing on fries, burgers, and even seafood. Salsa golf can also be ordered in Uraguay. In Colombia and Spain, the condiment has become known as salsa rosada.
Fry sauce has been called many names around the world. They call the condiment cocktail sauce in France, Turkey, and Iceland. In Puerto Rico, locals call the condiment mayokétchup, and in the UK, it's simply known as burger sauce. Though the name may vary, it serves the same function worldwide. You can put it on your burger or use it as a dip for fries.
Germans can purchase Rot Weiß, meaning "red white," at their local grocer. But their sauce comes unmixed in a tube, like toothpaste, and you squeeze out the red and white striped sauce.
In the Philippines, locals make the sauce by combining mayonnaise with banana ketchup. This local take on the condiment adds a bit of sweetness to it. People usually dip fries, cheese, or lumpia into the condiment.
Is Fry Sauce the Same as Thousand Island?
While Thousand Island dressing uses the same main ingredients as fry sauce, the two adjacent condiments have several differing aspects. You've probably had Thousand Island dressing if you've ordered a Big Mac at McDonald's or a burger from In-N-Out. Many restaurants also use it instead of Russian dressing on a Reuben.
Thousand Island dressing was developed in the late 1800s in the Thousand Island region, an area between the United States and Canada near lake Ontario. Many versions of the condiment's history exist. Some say a fisherman's wife created it. Others say George Boldt's chef made it up when he ran out of salad dressing one day and had to improvise.
Whatever the true origin, the recipe contains the same ingredients. To make Thousand Island dressing, start with mayonnaise and add tomato puree or ketchup. Many chefs like to add a dash of tabasco or Worcestershire sauce and a splash of lemon or orange juice. Finally, diced pickles, onions, or minced garlic often find their way into the condiment.
Though both fry sauce and Thousand Island dressing have mayonnaise and ketchup as a base, the latter has several other ingredients.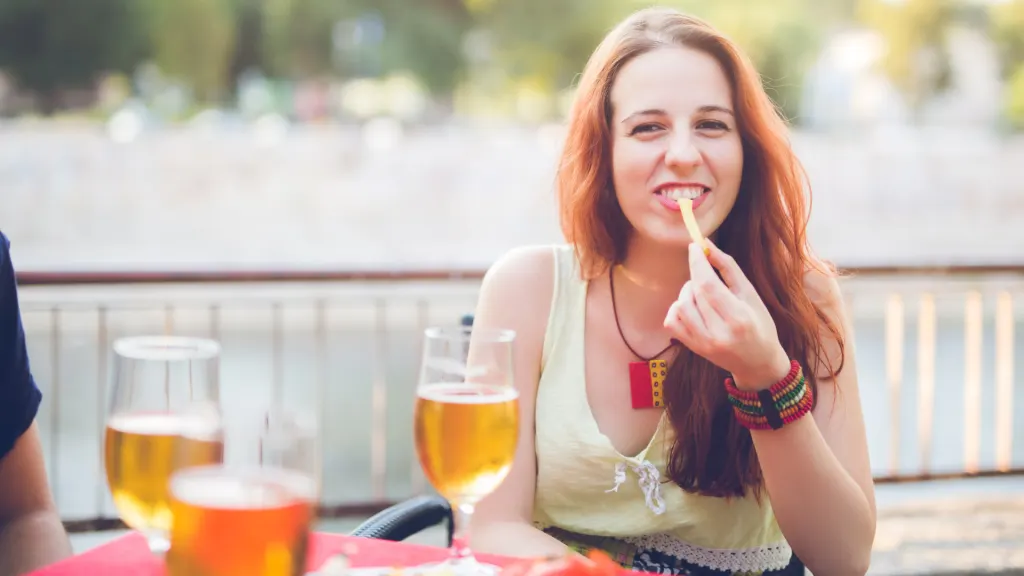 How Do You Make Fry Sauce?
We consider this sauce to be one of the easiest condiments to make. Swirl together some ketchup and mayonnaise, and viola! You've made a classic fry sauce. But to make it a bit sweeter, add a little extra ketchup. If you'd like to make it vegan-friendly, you can substitute Vegenaise for mayo.
Consider spicing up your condiment with paprika or cayenne. These spices add a bit of heat and color to your favorite dip. You can also add salt and pepper to get the perfect flavor.
Alternatively, you can make it a bit tangier with a splash of pickle juice. But if you don't like pickles, you can add apple cider vinegar or even a little horseradish. Remember to add these ingredients slowly. You can always add a little more, but once you've stirred it in, you can't take it back out.
Finally, Worcestershire sauce can really add to the umami taste of this condiment. If you think your sauce is missing something, but you just can't put your finger on it, try adding a splash of Worcestershire.
Pro Tip: Fry fanatics will want to know How Many Fries Does Five Guys Give You?
Is Fry Sauce Worth a Taste?
The next time you order a side of fries, consider dipping them in fry sauce. If the restaurant has mayonnaise and ketchup, you can even make your own dip! This umami-rich condiment may just become your new favorite.
There are so many foods to enjoy with fry sauce, we can't narrow it down to just one favorite. But we can tell you this tangy goodness rarely disappoints. Serve it alongside any fried food and you just might find your new go-to condiment.
Discover the Best Free Camping Across the USA
To be honest with you, we hate paying for camping. There are so many free campsites in America (with complete privacy).
You should give it a try!
As a matter of fact, these free campsites are yours. Every time you pay federal taxes, you're contributing to these lands.
Become a FREE CAMPING INSIDER and join the 100,000 campers that love to score the best site!
We'll send you the 50 Best Free Campsites in the USA (one per state). Access the list by submitting your email below: