The food in Alabama is unlike anywhere else. Here, global influences collide with southern hospitality and a love of tradition to make some of the most flavorful dishes you can imagine.
If you think Alabama is just ballpark burgers and pickled pigs' feet, think again.
Today, we're exploring seven of the most beloved local dishes to share the best of the South.
Let's dig in!
Alabama Eats
Southern food is all about flavor. Spanish, African, Vietnamese, Caribbean, and Latin-American influences contributed to Alabama's complex culinary history. But today's southern cuisine was also brought about by necessity. Poverty forced early Alabamians to get creative with the grub they had available.
But now, we have the luxury of quality ingredients combined with traditional recipes and cooking methods. The result is some of the most flavorful meals in the world.
The state has made a name among barbecue fans, seafood lovers, and fried chicken fiends. But the range of culinary diversity is far-reaching.
You Must Try These 7 Alabama Classic Foods
Alabama has a lot to offer the culinary world. If you're unfamiliar with southern cuisine, prepare for some mouthwatering goodness. We hope you're hungry!
#1 Moon Pie
Anyone from Mobile, Alabama, will tell you moon pie is the quintessential Mardi Gras food. These are traditionally graham cracker cookies stuffed with marshmallow filling and dipped in chocolate. This sweet treat is a favorite throw at parades.
However, they now come in a range of flavors like vanilla, strawberry, and pumpkin spice. You can even get a seasonal moon pie burger at LoDa Bier Garden during Mardi Gras.
Although moon pies originated in Kentucky, Mardi Gras was born in Mobile, and the city has become their unofficial home. Mobile drops a massive 600-pound Moonpie instead of a ball to ring in the New Year.
#2 Fried Green Tomatoes
Fried green tomatoes are a signature food in Alabama. They're crunchy and savory and can be enjoyed on their own or dipped in remoulade sauce. Slices of tart green tomatoes are immersed in a cornmeal batter and deep-fried to perfection.
You'll find fried green tomatoes on BLTs, burgers, and topped with a heap of lump crabmeat. There's really no wrong way to enjoy this southern delicacy.
The 1991 movie Fried Green Tomatoes, starring Kathy Bates, made the dish a national sensation. If you want to taste the real deal, then visit the Irondale Cafe that inspired the film.
Pro Tip: Get some recipe inspiration by discovering What Exactly Are Fried Green Tomatoes?
#3 Shrimp and Grits
Shrimp and grits have their roots deep in America's past. The Muskogee people of the southeast served this cooked cornmeal to colonists.
On their own, they don't have much flavor. But when you cook them with butter and salt, they become a tasty, savory base for sauteed shrimp. This dish often comes with garlicky tomato gravy. Fried fish and grits are also common, though not as popular.
Even better, nobody will look at you sideways if you order shrimp and grits for brunch. They're a popular food any time of day in Alabama.
#4 Pecan Pie
If you drive through the backroads of Alabama, you may notice abundant pecan trees. These behemoths love the loamy soil found throughout the state. These nuts are essential to the economy as the state produces over six million pounds yearly.
You can do a lot with this nut, but many people agree that pecan pie is the best way to use them.
Pecans, butter, sugar, eggs, and corn syrup combine to make the perfect dessert for any meal. You can also catch a southerner enjoying a piece for breakfast with a hot cup of black coffee.
#5 Boiled Peanuts
Boiled peanuts are an unexpected snack that you just might get addicted to. Once late summer and early fall come, locals boil freshly harvested, unshelled peanuts in a salty brine for up to seven hours.
You can find them at gas stations and football games, but the best are often at roadside stands in the middle of nowhere. In fact, we've heard of people driving hours to get boiled peanuts from "their guy" a few counties over. And that's not a euphemism for drugs!
Salted boiled peanuts are the norm, but some places step it up with cajun spices or other creative recipes. You can enjoy them hot and fresh or straight out of the refrigerator later.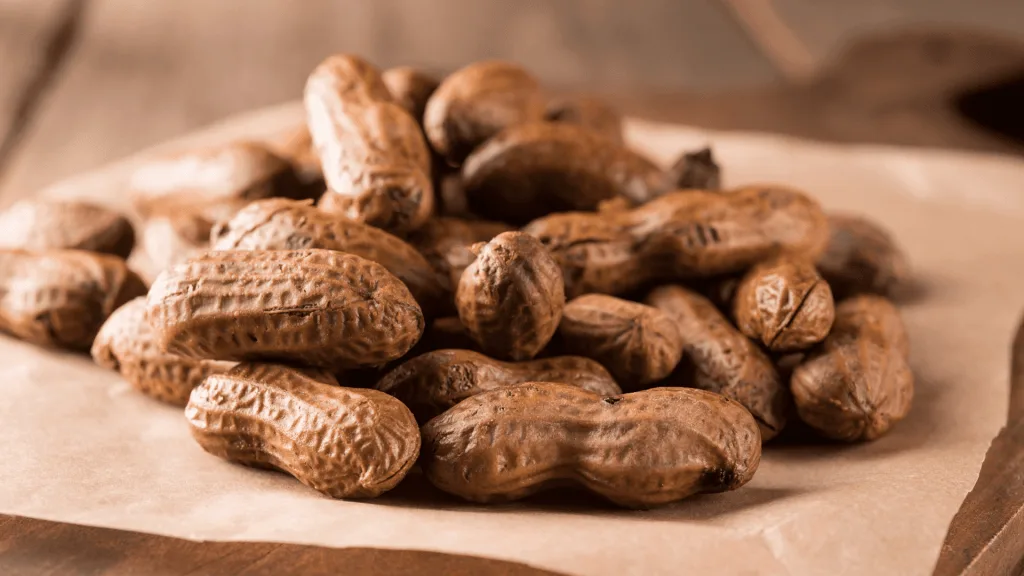 #6 Conecuh Sausage
Evergreen, Alabama, is home to the South's favorite sausage. The Conecuh Sausage Company has been churning out this spicy, smoked delicacy since 1947.
You'll find this sausage, often called "Conecuh," in gumbo and swamp soup, sprinkled on your shrimp and grits, or stuffed between a bun at a baseball game. It's perfect in Jambalaya or charred to perfection and served on its own.
Alabama natives eat it any time of day. And now the company has more options than ever. You can find extra hot sausage and even Conecuh bacon. If you're driving through the state, stop at their gift shop on I-65 and stock your freezer.
#7 Peach Everything
If you eat one dessert in Alabama, it should probably be peach ice cream.
Chilton County is the peach capital of the state, and they take the fruit seriously. The county has 3,500 acres of orchards, and one might have 35 different varieties. Although theirs aren't necessarily different from others grown in the state, they're a staple of the area's economy.
Peach Park has a farmer's market specializing in all things peaches. Cobblers, pies, jams, juices, and ciders are all made locally. But the holy grail is the homemade ice cream made with a fresh crop. The park is only open from March to November, so plan accordingly.
Pro Tip: Grab some southern food by uncovering Where Do Locals Eat in Mobile, Alabama?
Don't Skip These Classic Alabama Foods
Folks who haven't been to Alabama tend to underestimate the state. Verdant, rolling hills, glistening, white-sand beaches, and southern hospitality make it an unexpected treasure.
But food may be Alabama's most significant contribution to society.
Signature eats of the state pay tribute to the region's complex culinary traditions. But you don't have to go to a Michelin-acclaimed restaurant to eat some of the most flavorful meals in the country.
Discover the Best Free Camping Across the USA
To be honest with you, we hate paying for camping. There are so many free campsites in America (with complete privacy).
You should give it a try!
As a matter of fact, these free campsites are yours. Every time you pay federal taxes, you're contributing to these lands.
Become a FREE CAMPING INSIDER and join the 100,000 campers who love to score the best site!
We'll send you the 50 Best Free Campsites in the USA (one per state). Access the list by submitting your email below: