Tiny Scamp campers have a cult following throughout the USA.
But what is it that makes these teeny travel trailers so popular? You may have encountered one of the many online forums where users gush over these units and wondered why they're so highly revered.
Today, we're diving into the world of minimalist campers to see what all the fuss is about.
Let's dig in!
About the Tiny Scamp Trailer
The travel trailers Scamp makes are wildly popular among RVers. They're made from molded fiberglass and have a single axle, so they're lightweight and easy to tow. Even better than their convenience is the fact that they're nearly indestructible.
Scamp is a family-owned business that makes these tiny campers in Minnesota. They've been around since 1972 and have a reputation for high-quality products. All new models are built-to-order, so you can get all your favorite features.
Their original travel trailer was the 13-foot model. They added the 16-foot version to their lineup in 1978 and the 19-foot fifth wheel in 1981. Each option has its own unique qualities and caters to different types of nomads.
Aside from their adorable aesthetic and robust durability, they come with something virtually no other camper has, and that's a community of RVers who live for these tiny units. You can meet up with seasoned Scampers to troubleshoot any issues. Or just to show off your rig!
These RVs are so popular there's even an annual Scamp Rally. During this three-day event, enthusiasts camp, enjoy live music, and flaunt their prized tiny vacation homes.
The Benefits of Tiny Scamp Trailers
Size is one of the main reasons people love Scamps. They're easy to maneuver and fit almost anywhere, including a standard parking space. And there's enough room to stand up in them, unlike a typical teardrop camper.
Despite their size, these trailers come with all the essentials. Even the 13-foot model can house a kitchen, bathroom, and water hookups. With these made-to-order campers, you can keep any features you want and eliminate what you won't use.
Another central selling point is that you can tow one behind almost any vehicle with a hitch. Dry weights range from 1,200 pounds for the 13-foot Standard model to 2,900 pounds for the 19-foot Deluxe trailer.
Even better, they're highly aerodynamic, so towing one of these campers won't tank your fuel efficiency.
Scamps are known for their longevity. Some people still use their original rigs from the 1970s. If you buy one, you rest assured it'll hold its value very well. If you decide to get rid of yours, you won't have a problem selling it.
Pro Tip: Don't know if a travel trailer is right for you? Find out Why You Should Choose a Travel Trailer RV?
Are There Any Disadvantages to Scamp Trailers?
The minimalist nature of tiny Scamp trailers isn't for everyone. If you're claustrophobic, you may not enjoy the tight living quarters. And there's no outside storage, so you'll have to pack carefully for your adventures.
Another drawback is the lack of updated features like bright lighting and USB ports. These come standard in most modern RVs, and their absence might turn buyers off.
Finally, depending on where you want to camp, you may be limited to seasonal travel. Scamps don't hold up well to freezing temperatures. Because the tanks aren't enclosed, you'll need to drain any water before it gets too cold.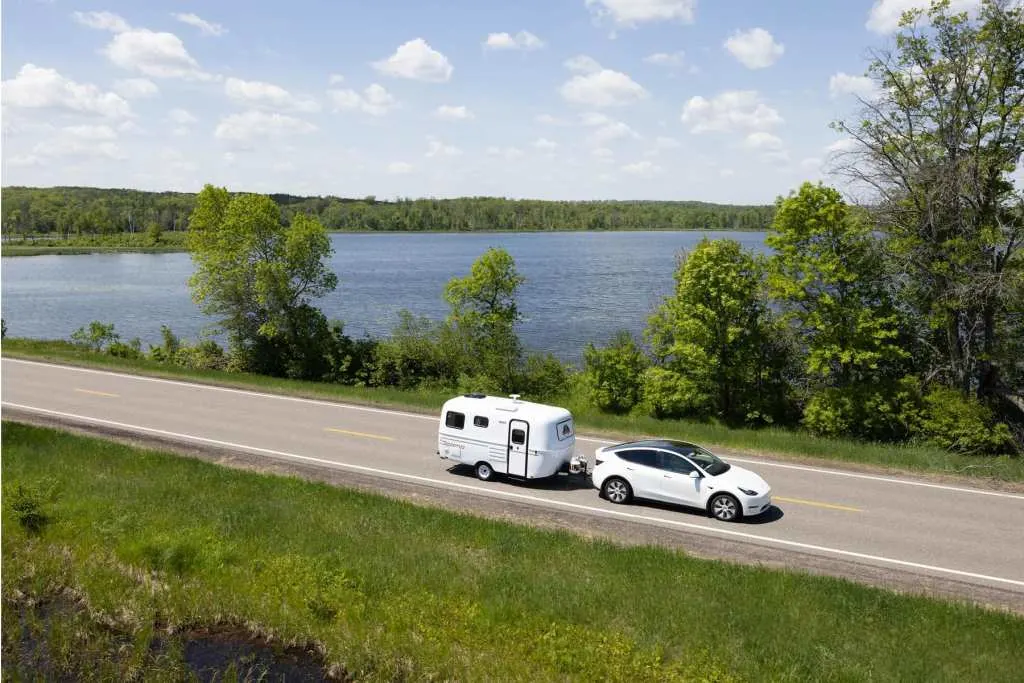 How Long Do Scamp Trailers Last?
A well-maintained Scamp trailer just might outlive its owner. In fact, plenty of original '70s models are on the road today.
Their fiberglass exteriors encase a steel frame that gives them lots of support. They can withstand intense wind and rain. But if you do get a leak in the roof, be sure to patch it immediately. Floor rot is one of the only threats to these RVs besides getting in an accident on the road.
Fortunately, if you need extra parts, the manufacturer is there to help. They keep a hefty stock of all replacement parts available for purchase. And you can trust you're getting the right piece since you aren't dealing with a middle-man.
Pro Tip: Hit the road in one of these Best Travel Trailers for Holding Value.
Can a Car Tow a Tiny Scamp Trailer?
Depending on your car's make, model, and features, it just might be able to tow a tiny Scamp. In general, sedans with four-wheel drive and a souped-up engine do the best job of towing.
The standard 13-foot option weighs between 1,200 and 1,500 pounds. Something like a Subaru Legacy would have no problem towing it.
A 16-foot version weighs just over 2,000 pounds. The manufacturers recommend that you haul it using a vehicle with a towing capacity of 3,000 pounds to be safe. A four-wheel-drive Volvo S60 or S80 could tow this bad boy with ease.
Of course, the 19-foot Scamp features a fifth-wheel design, so you'd need a truck to tow it. But you don't need a massive dually with a diesel engine. A small pickup will do the job.
Size Isn't Everything When You're On the Road
Scamp trailers aren't for everybody. They might not meet the needs of full-timers or people looking to camp in freezing climates. But the family of campers has a cult following for a good reason. These retro fifth wheels are lightweight and simple to tow. Plus, they're easy on the eyes.
If you fall in love with these campers, you'll be in good company. A great community of Scampers is out there, just waiting to welcome a new enthusiast!
Discover the Best Free Camping Across the USA
To be honest with you, we hate paying for camping. There are so many free campsites in America (with complete privacy).
You should give it a try!
As a matter of fact, these free campsites are yours. Every time you pay federal taxes, you're contributing to these lands.
Become a FREE CAMPING INSIDER and join the 100,000 campers who love to score the best site!
We'll send you the 50 Best Free Campsites in the USA (one per state). Access the list by submitting your email below: