Sun damage to an RV is a serious concern for many owners. Like most vehicles, campers spend most of their lives outside.
Extended exposure to powerful UV rays can wreak havoc on a motorhome. If you want to keep your rig looking and working like new, this isn't something you can ignore.
Luckily, there are several things owners can do to protect their camper. Today we'll cover everything you need to ensure many years of adventures in your home on wheels.
Let's check it out!
How Does the Sun Damage Your RV?
Despite being 93 million miles away, ultraviolet rays from the sun can cause significant damage to an RV. Just about every surface on a camper is at risk if left exposed to the elements for extended periods.
One of the most common issues owners experience is fading and discoloration. You'll typically notice it on paint or decals. They can also experience cracking or peeling. However, interior walls, fabrics, and upholstery can also lose vibrancy. The colors won't look as intense or lively as they were when they were new.
The sun can also do a number on rubber components over time. The harsh UV rays can break down the seals, gaskets, and tires. It's common for these to become brittle, develop cracks, and eventually fail. You'll likely experience water leaks, air leaks, or tire blowouts.
Owners should touch up the caulking and sealants around their rig under normal conditions. However, increased exposure to daylight will require more frequent maintenance. Neglecting this can cause many other issues that result in extensive damage.
An owner can also experience warping and delamination in wood, laminates, and other surfaces. In addition, plastic and fiberglass can become brittle and develop cracks. Unfortunately, once these occur, they require total replacement.
What Are the Consequences of RV Sun Damage?
Sadly, RV sun damage can leave owners with some serious negative consequences. You can expect frequent maintenance and repairs when is exposed. Give your camper the extra attention it needs when there's nowhere shady to park it.
The cost of some repairs can be very expensive. This is especially true for any issues requiring you to replace components. Depending on the part, you may even need to hire a professional. Many qualified individuals will easily charge over $100 per hour.
While you may love your camper now, you'll likely eventually want to upgrade. If your RV has serious sun damage, it'll drastically lower its resale value. Whether trading it in or selling it privately, you want to get as much as possible. Even if yours is in excellent mechanical condition, buyers might be cautious if the exterior isn't in good shape.
Pro Tip: Keep your RV in its best condition by using these tips on How to Remove Oxidation from Your RV.
Use a Cover to Protect Your RV From Sun Damage
If you want to protect your RV from sun damage, keep the harmful UV rays off it. Unfortunately, indoor and covered storage isn't cheap. A more budget-friendly option is to use a cover as a barrier for the exterior surfaces. They can prevent fading, discoloration, and many other issues caused by exposure.
When selecting a cover, make sure it uses UV-resistant materials. Additionally, it should also have breathable fabrics to help reduce moisture build-up, which can cause mold and mildew to grow. The cover should be snug to avoid damage from flapping in the wind while in storage.
While RV covers can be expensive, paying for long-term protection for your camper is a small price. They can pay for themselves if they help retain its value.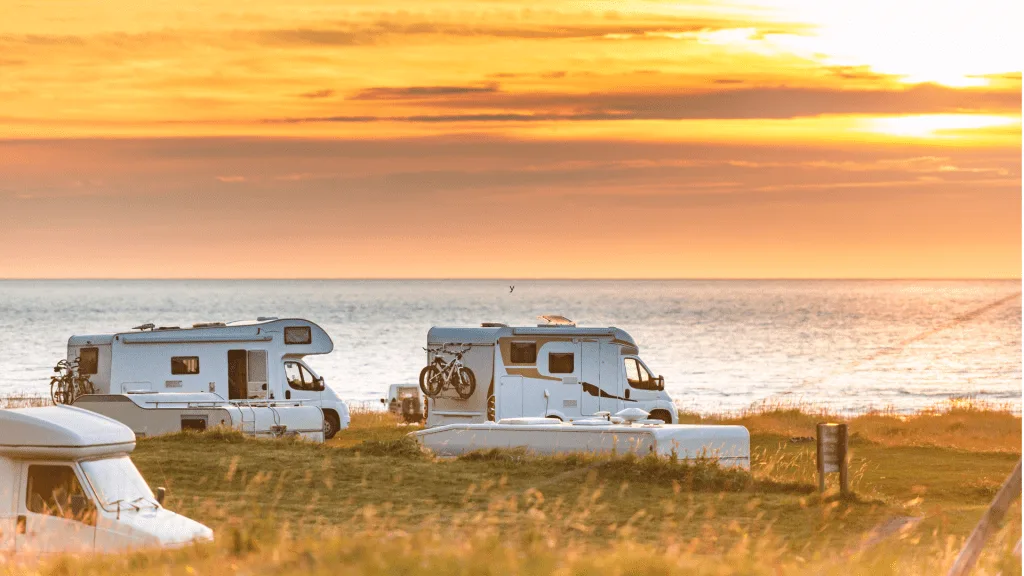 Do Washing and Waxing Help?
If you want to protect your RV from sun damage, washing and waxing it is important. It's a simple way to remove the dirt, grime, and other contaminants that can build up on it. Bug guts can be very acidic, eating away at coatings. Make sure you thoroughly clean all of the surfaces.
For optimal defense, you'll need more than just washing. Regularly applying a high-quality wax or paint sealant creates an additional barrier. This can reflect and shield the harmful UV rays and prevent the surfaces from oxidizing and fading.
Sadly, this can require a tremendous amount of work. Hiring a professional is a good idea if you can't do it yourself. It may be expensive, but it can keep your rig looking like new for years.
Pro Tip: Time for a wax? Find out Can You Use Vehicle Wax on Your RV or Trailer?
How to Protect Your RV Interior From Sun Damage
The best way to protect your RV's interior from sun damage is to use window shades and covers. They'll prevent harmful rays from getting into your rig, especially in storage. In addition, it's a good idea to keep your curtains closed and window blinds pulled. If these items fade or warp, they're easier and less expensive to replace.
If you have some flexibility, the way you park can be helpful. Pulling away from direct daylight is a simple way to save your interior surfaces. In addition, using vent covers and skylight shades keep those rays out.
Protect Your Investment
If you want your camper to last as long as possible, protecting it from UV rays is essential. Doing so can help not only preserve its appearance and retain its value. Taking pride in your rig and keeping it looking good can take time and effort, but it's worth it.
Proper knowledge, techniques, and equipment can help safeguard your investment. Don't let sun damage prevent you from creating unforgettable memories with family and friends.
Discover the Best Free Camping Across the USA
To be honest with you, we hate paying for camping. There are so many free campsites in America (with complete privacy).
You should give it a try!
As a matter of fact, these free campsites are yours. Every time you pay federal taxes, you're contributing to these lands.
Become a FREE CAMPING INSIDER and join the 100,000 campers that love to score the best site!
We'll send you the 50 Best Free Campsites in the USA (one per state). Access the list by submitting your email below: