If you have a membership with a big chain gym, they may let you use any of their locations nationwide.
Some fitness centers also have large, well-lit parking lots, and are open 24/7, so blending in is easy. But can you use your membership to sleep in your RV overnight at the gym and shower in the morning?
Join us as we discover the answer to that question. We'll also share details about some of the more popular gym options available.
Let's hit it!
What Are Gym Memberships?
A gym membership gives you access to workout facilities and, in some cases, classes or personal training. Some may require a monthly fee, others are pay-as-you-go, or you may purchase six or twelve months at once.
Gyms can have a wide variety of equipment and features, like climbing walls, swimming pools, or full basketball courts. Others are more focused on weight-training machines and free weights. You may also be able to hit the sauna after a workout to help you recover.
Deciding to sign up is all about figuring out what you're looking for in your fitness center. Some nomads are just looking for an affordable place to shower and park for a night. But getting a good workout can help you stay in shape so you can enjoy your travels more comfortably.
Pro Tip: Gym memberships aren't the only types of memberships RVers use. Take a closer look at The Don'ts of RV Membership Clubs.
How Much Are Gym Memberships
The cost will depend on the location, various perks, and the level of membership you select. Some gym memberships cost as little as $12 a month, while others can be as much as $200 or more. The average, however, is between $20 and $60 per 30-day period.
But when you're shopping around, beware of hidden fees. Some places may charge one or two annual fees that are much costlier than the standard monthly payments. Meanwhile, certain gym memberships can also be difficult to cancel.
On the other hand, you can get pretty good deals sometimes. Watch for promotions, compare the prices, and know what you'll do before you sign up.
Can You Shower at Fitness Centers with a Membership?
Most gyms have showers in the locker room. However, they usually don't have towels or soap. Make sure you come prepared. And you may not have all the privacy you're used to. In fact, it may be nothing more than a curtain separating you from other guests.
Many locations offer day passes if you don't want to sign up for a longer commitment. The first one might even be free. YMCA generally has the cheapest day passes. But it's not as cost-effective as a gym membership.
While there, you can usually hop on the WiFi to check out the local sights and places to eat. Of course, not all locations will have a comfortable lobby area to sit in.
Can You Park Overnight at Fitness Centers with a Membership?
This'll all depend on the company and local regulations. Many cities have laws against sleeping in a vehicle.
However, Planet Fitness and 24/7 Fitness are popular in the RV and nomad communities. But neither has a policy explicitly allowing it. You should check in with the manager for permission to make sure you don't have a problem.
While we don't recommend it, many nomads have had success blending in for the evening in these parking lots. Stealth camping might work, but it might be better to find out for sure, so you don't get the dreaded knock in the middle of the night.
Pro Tip: Apart from showering at the gym, this is How to Take a Public Shower Anywhere in the USA.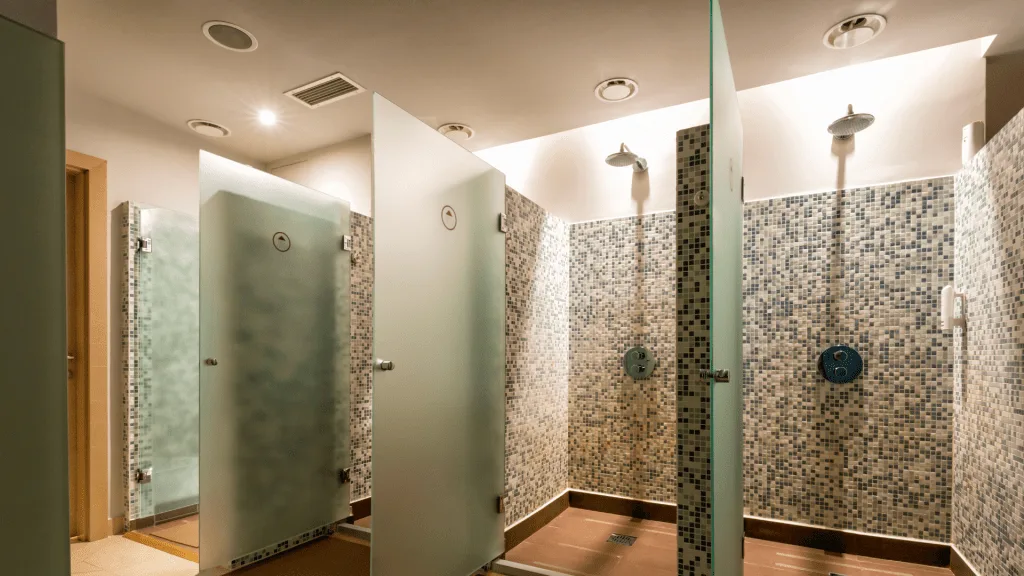 Best Gym Memberships for Nomads
If you're on the road a lot, you'll want a gym membership with plenty of locations to choose from. However, it's good to know that many don't allow younger kids, so you may need an alternative plan if you have littles with you.
Planet Fitness Black Card
Planet Fitness has one of the best deals around. The Black Card costs under $30 a month and lets you bring a free guest with you anytime you go. They have an annual fee due about eight weeks after signing up. Many of their locations are 24/7, but some close overnight on the weekends.
Membership gives you access to showers and various amenities like massage tables. And you can use any of their nearly 2,400 locations around the country. However, with the Black Card, you can only get ten check-ins per month outside your home gym for free. After that, a small franchise fee applies.
24-Hour Fitness
This club has many more amenities than Planet Fitness, but you'll definitely pay for it. With a focus on high-quality equipment and Olympic training rigs, as well as saunas, steam rooms, and lap pools, there's no shortage of ways to get in shape here.
They have 300 locations in 11 states. But if you want access to them, you'll have to get a higher-tier gym membership that costs about $40 monthly. But they have good facilities, so it may be worth it depending on where you like to travel.
Anytime Fitness
Anytime Fitness offers a slightly higher price point than Planet Fitness, with an average cost of about $41 a month. They provide a welcoming environment for all fitness levels and offer personal coaching.
Once you've been a member for 30 days, you have around 2,400 locations across all 50 states to visit. So if you want to make sure you have access to a shower when traveling, they're a safe bet.
LA Fitness
LA Fitness isn't the cheapest option, but it has its perks. However, because they offer a lot of equipment for all types of training, it may be slightly intimidating if you plan to exercise.
At roughly $35 a month with an additional annual fee, you can access 544 clubs in 22 states and territories. Their locations are generally more spacious and have better facilities than cheaper options. In general, the showers also offer more privacy. Plus, you can enjoy a nice relaxing steam after a long drive.
Snap Fitness
With 559 locations in 46 states and territories, Snap Fitness is one of the more convenient options. They also offer family rates, so you can save on gym memberships for the whole group. However, kids under 12 aren't allowed in their facilities.
It can be one of the better deals at about $40 for individuals and around $65 for two adults and two kids. They're open 24/7, so you can generally get away with parking for the night. However, many of their locations don't have showers, so this may not be the best choice.
Are Gym Memberships Worth It While Traveling?
Road tripping is hard on your body. If you have a membership with a gym that has cross-country locations, it can be a real lifesaver. Plus, the mood boost you get from a good workout can make for a much nicer drive.
That said, some of them can be expensive. If you're just looking for the occasional place to sleep and shower, it might be cheaper to book a hotel once in a while.
Discover the Best Free Camping Across the USA
To be honest with you, we hate paying for camping. There are so many free campsites in America (with complete privacy).
You should give it a try!
As a matter of fact, these free campsites are yours. Every time you pay federal taxes, you're contributing to these lands.
Become a FREE CAMPING INSIDER and join the 100,000 campers that love to score the best site!
We'll send you the 50 Best Free Campsites in the USA (one per state). Access the list by submitting your email below: