If you want to spend time on the road, we have some helpful tips for anyone wishing to be an RVer.
Camping every night and having the freedom to hit the open road can seem like a dream. But you'll want to consider a few things first.
Luckily, we've been through the paces and can offer suggestions on how to turn this dream into a reality.
Let's hit the road!
Helpful Tips Make Travel Easier for RVers
People who spend a lot of time in an RV will tell you that the lack of space can be annoying. Cooking can be challenging in a small kitchen, with limited room to store ingredients. Not to mention, using the stove really heats a small living area quickly. Many RVers will make meals outside, utilizing campground amenities like barbeques and picnic tables.
Slowing things down and staying at campgrounds lets you spread out and gives you a break from the open road. Driving every day can be exhausting, so don't forget to stop and enjoy your surroundings. Being an RVer can be challenging, but we have some tips to make it easier.
RVer Tips For a Successful Adventure
Maybe you've heard of the five P's: prior planning prevents poor performance. Following this guideline can help you enjoy a successful trip in your camper.
Making advanced reservations for where you'd like to stay and planning a route can help reduce stress on the road. It may seem fun to drive around like a leaf in the wind, but finding a place to park your rig can be challenging at times.
You also want to be sure your setup can handle the roads to your destination. For example, some large RVs may not fare well on a bumpy dirt road.
Pro Tip: New to RVing? Use these 11 Excellent RV Towing Tips for Beginners.
7 Essential Tips Every RVer Must Know
Before your next trip in your rig, check out our favorite RVer tips. They can help your vacation go smoothly.
#1 Less Is More
Avoid the temptation to overpack for your adventure. The extra stuff will just take up valuable storage space. You don't want to end up lugging around unnecessary items for the entirety of your trip.
If heading out on your first RV experience, consider swinging by a store like Camping World and asking an associate for help on what to purchase. Or check out RVing forums online to see what other travelers suggest.
If you forget something or decide you'd like a new piece of gear, you can always pick it up from somewhere along the way. As long as you didn't overpack at the start of your journey, you'll have plenty of room to stash new equipment in your rig.
#2 Have the Right Tools
While you don't want to overpack, you also don't want to under pack. Don't be caught out in the wilderness without some essential tools. For example, having what you need to change a flat tire, including a solid lug nut wrench, is important.
Travelers might also consider carrying an assortment of other useful tools. Usually, hardware stores sell small toolkits with all the basics that are perfect for your rig. You never know when you'll need a screwdriver or a hammer. We also suggest carrying zip ties, bungee cords, and perhaps some duct tape.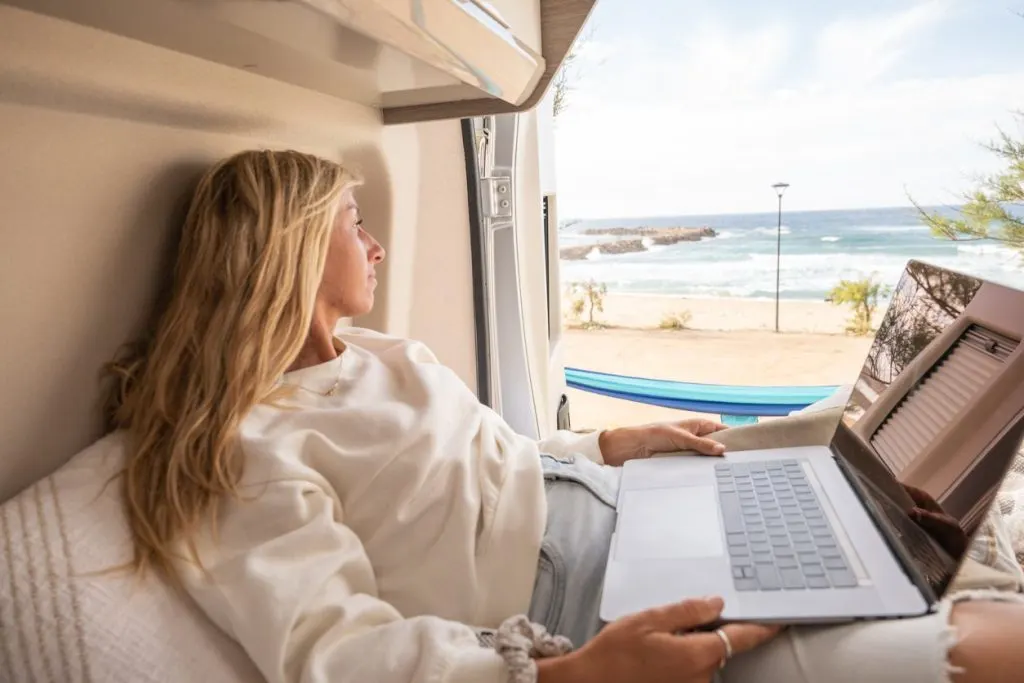 #3 Check Your Tires
Getting a flat can potentially derail your entire road trip, but you can help prevent a disaster by checking your air pressure daily. A properly inflated tire won't be as likely to go flat. You can get a pressure gauge for less than ten dollars, and it could save you hundreds of dollars by preventing a blowout.
Flat tires aren't only expensive; they can be a major safety concern. A blowout often leads to loss of control of the vehicle. So do yourself a favor and check your tires to save money and avoid a dangerous wreck.
#4 Measure Your Rig
We've probably all seen the horror stories of a big rig getting stuck under overpasses or an SUV wedged in a parking garage. Don't let this happen to you. Before your trip, figure out how tall your RV is. Knowing the vehicle's clearance height before setting out is a good tip for every RVer.
Drivers should also know the length of their camper. This'll ensure you've selected sites that can accommodate your rig during your trip. We suggest writing these measurements down and stashing them in the glove box in case you forget.
#5 Plan Your Route Wisely
RV rookies commonly choose routes without careful consideration. If you plan to boondock at a site along a dirt road, check reviews on Campendium or iOverlander to see if it'll be doable in your rig. Inexperienced drivers may want to stick with more accessible locations until they feel more comfortable.
An RV-specific GPS or certain travel apps can help in planning a safe route. You can plug in your rig's dimensions to help you avoid roads with low tunnels and bridges with weight limits.
You might also want to plan where to get gas, especially if driving in desolate areas. Before you pull into any parking lot, ensure you have an exit strategy to avoid getting stuck.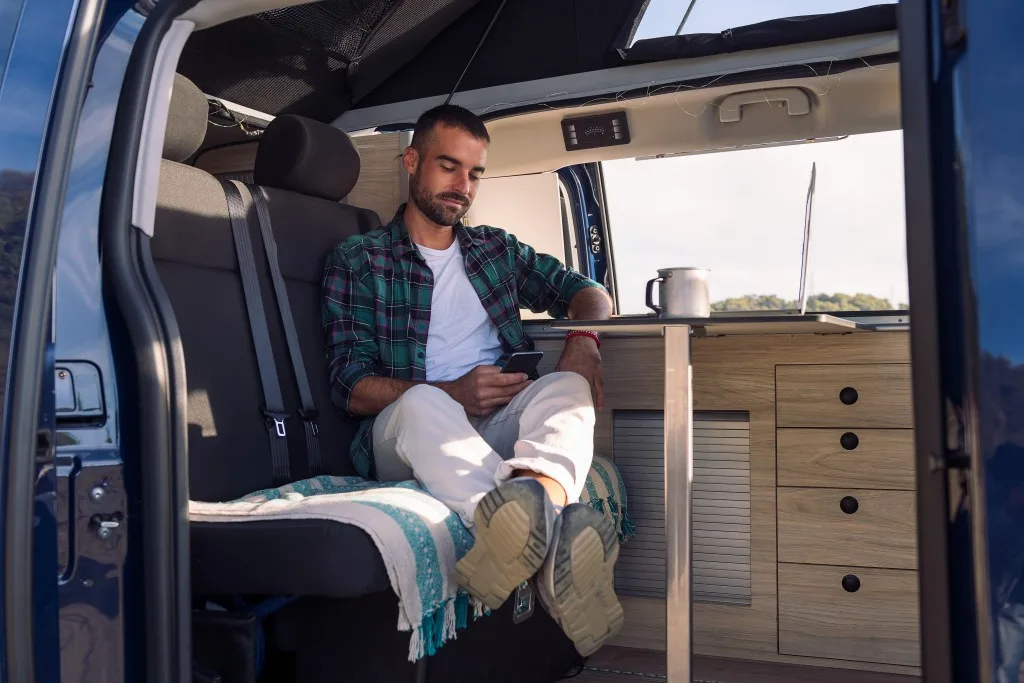 #6 Slow Is Good
If you've ever been stuck behind a slow RV, the rig was likely driven by someone who knows what they're doing. Large vehicles take extra time to slow to a stop. So plan on going a little slower than you'd drive a small car.
Most experienced RV drivers suggest traveling at no more than 65 mph. Consider going even slower if the wind starts to whip up. Driving at reduced speeds will also help improve your gas mileage, keeping travel costs down.
#7 Use Checklists
Finally, we'd like to suggest staying organized with a checklist. This is a tip many RVers follow, no matter how long they've been traveling in their rig. You can make a list of items to bring and make sure you have all the right stuff on board. Then, if you discover something you didn't use during the trip, scratch it off the list for next time.
It's important to also have a list to prepare to hit the road during your trip. This checklist should include rolling up the awning, securing cupboards, and disconnecting the hookups. And don't forget to add checking your tire pressure too.
Pro Tip: Before you hit the road, use our RV Trailer Towing Checklist to make the process quick and easy.
Improve Safety and Experience with Our RVer Tips
Whether you're a seasoned RVer or a newbie, these tips will help you have a great trip. Proper planning can avoid certain mishaps and ultimately save you money. Most importantly, these suggestions can make your travels safer. Wherever your next adventure takes you, we hope we've helped you feel more prepared than ever!
Discover the Best Free Camping Across the USA
To be honest with you, we hate paying for camping. There are so many free campsites in America (with complete privacy).
You should give it a try!
As a matter of fact, these free campsites are yours. Every time you pay federal taxes, you're contributing to these lands.
Become a FREE CAMPING INSIDER and join the 100,000 campers who love to score the best site!
We'll send you the 50 Best Free Campsites in the USA (one per state). Access the list by submitting your email below: