You may not think about it much, but your house's gutters do an essential job.
When it rains, gutters help move the water away from your foundation, and quality installation is crucial. Otherwise, you could be facing costly repairs to your home.
Today we'll cover the best and worst options so you make an informed decision.
Let's dive in!
What Is the Purpose of House Gutters?
Those pipes along the edges of our roof are there to direct rainwater to appropriate drainage areas. Without gutters, storms can cause all kinds of trouble. It can flood basements or lead to mold in your siding.
Soggy soil can also strain your house's foundation, leading to costly repairs. A drainage system for your roof can even protect your garden from flooding or developing trenches.
House gutters can prevent these problems by collecting rainfall and draining it properly. These trenches catch water off your roof and divert it to a vertical section called a downspout and release it away from your foundation.
This prevents moisture buildup and protects your foundation. They're especially important if you live on a hill or clay-rich soil.
Do House Gutters Come in Different Styles?
You can divert rainwater from your house using various gutter styles. You might pick one of the following types depending on your aesthetic, needs, and budget.
K-Style
If you want to DIY your gutters, K-style will likely be your best choice. They have flat backs, making them easy to attach to the eves of your roof without any special brackets. This affordable option is available at almost any hardware store.
Their shape helps them catch a lot of debris, so cleaning them might be difficult. If you're uncomfortable on a ladder, consider another alternative.
Half Round
This style of drainage saw immense popularity before the year 1960. Half Rounds have proved to be a very durable option. Their semicircular design and curved lip make them more attractive to the eye than other choices. If you own an older house, you probably have this style of gutters.
Their curved profile also makes them more challenging to install. You'll need brackets to hold these rounded trenches under your eves.
Fascia
Fascia-style gutters need professional installation and often cost twice as much as other options. These seamless trenches are a single piece of aluminum in the exact dimensions of your roof. Their wide profile makes them capable of dealing with heavy rainstorms.
Box
One of the most durable varieties is the box gutter. They're most common on commercial properties or apartment buildings, but a professional can install them on your house. This style requires installation during the construction of your home because it's part of your roof. While durable, most don't find them very aesthetically appealing.
Pro Tip: If you plan on DIYing your gutters, make sure you know these 7 Rules for Shopping at Lowe's before you buy your supplies.
What Are the Best Gutters To Put on Your House?
Once you've narrowed down the style of drainage you'd like to use for your home, you'll need to decide on the material. We've listed some of the best options for you.
Seamless Aluminum
One of the best choices to catch your rain runoff is aluminum. This naturally rust-resistant metal won't cause any problems. We also think its lightweight nature makes it easy to install yourself. It also proves to be very cost-effective. You'll find these gutters in any hardware store and can choose from a variety of colors.
Copper
Copper gutters, on the other hand, tend to be pretty expensive. You also can't usually install these yourself, so you'll need to hire professional help. This metal looks attractive on the house and doesn't dent or warp easily. Though it may be expensive to install, we think it's worth the price.
Steel
You can also consider purchasing drainage made of steel. Gutters constructed with this metal will have an aluminum or zinc coating to prevent rust. While they can be pricey, the durability is worth it. We think it's the best option if you want the best protection for your money.
Which House Gutters Are the Worst?
Aluminum, copper, and steel will be the best options for your gutters. Now we'll cover some of the worst choices so you know what to avoid.
Sectional
No matter which style you pick, you'll have to choose seamless or sectional. Most DIY gutter solutions are available in ten-foot sections that snap together.
Unfortunately, the joints in sectionals are weak and often lead to trouble down the line. They have a reputation for leaking, breaking, and catching extra debris at the connection points. Whenever possible, choose seamless over sectional style.
Vinyl
The cheapest option for gutters will probably be vinyl, but we'd encourage you to steer clear of this material. It doesn't stand the test of time and will grow brittle in the sun.
These drains also can't support large amounts of rainwater. Unlike aluminum, they only come in brown and white, making them harder to match to your home.
Wood
Wood gutters may look gorgeous, but they'll rot off your house quickly. Even vinyl will outlast wood! They need frequent refinishing, sanding, and painting to help them last. A professional will also have to custom-build your channels.
This makes them a costly investment, especially for something that will only last a few years. Avoid the temptation to have unique drainage and go with a metal option instead.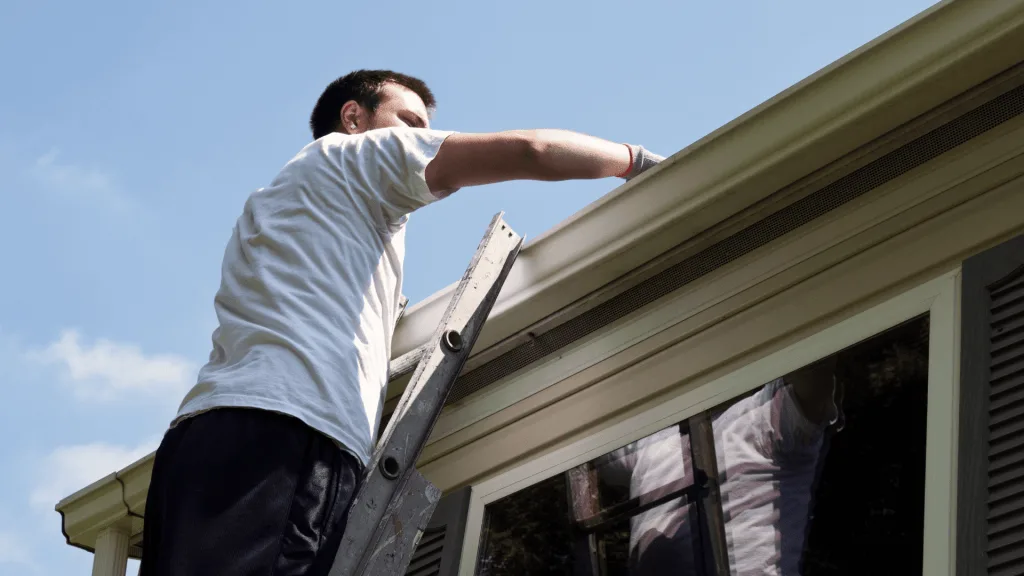 How Do You Maintain House Gutters?
All house gutters, regardless of which you choose, will need regular maintenance. You should clear debris from them at least twice each year. Consider adding a cover to reduce the number of leaves and sticks that pile up.
Occasionally check to make sure water flows appropriately throughout your system. If your drains don't have an adequate slope, you may need to readjust them to avoid standing water.
You should probably replace them every ten to 15 years. If you see any sagging or cracks, they may be due for an upgrade.
Pro Tip: Those looking to buy home reno supplies may be curious to know Is Home Depot Customer Service Any Good? We took a closer look to find out!
Don't Ignore Your House's Gutters
Your gutters are essential for keeping water away from your house. They help prevent moldy siding and foundation problems.
The best way to protect your home could be to upgrade your roof's drainage. We suggest using metal for its durability and consider consulting a professional if you've never installed gutters before.
Discover the Best Free Camping Across the USA
To be honest with you, we hate paying for camping. There are so many free campsites in America (with complete privacy).
You should give it a try!
As a matter of fact, these free campsites are yours. Every time you pay federal taxes, you're contributing to these lands.
Become a FREE CAMPING INSIDER and join the 100,000 campers who love to score the best site!
We'll send you the 50 Best Free Campsites in the USA (one per state). Access the list by submitting your email below: