If you're in the market for a new trailer hitch, you might want to check out Reese's Goose Box.
As we've discussed in past articles, choosing the right way to haul your fifth wheel can be tricky. The best choice depends on what you're towing and which truck you have, not to mention your tolerance for bumpy driving conditions.
Today we'll look at this unique option and whether it's the right product for you.
Let's hit the road!
What Is a Goose Box Hitch?
The Reese goose box hitch is an adapter and trailer tongue for RVs, animal trailers, and equipment haulers. It is one of the lightest used with this kind of system. It uses a goose ball instead of connecting with a kingpin. The replacement tongue attaches to your load and links to the bed of your truck.
The unique design uses an internal airbag to cushion road stress. Its 5th Airborne technology absorbs shocks and smooths bumps as you drive. And the adjustable airbag is easy to refill.
Product details say it fits the Lipper #1672 and the #1716 wing set.
But according to Reese Towpoer products, the goose box hitch fits nearly every trailer bolt-hole pattern. And your warranty should stay intact. So be sure to contact a Reese customer service agent with details about what vehicles you'll be using to tow.
What Type of Connection Does a Goose Box Hitch Use?
A goose box uses a gooseneck hitch. Picture a goose and what its neck looks like. It's longer than most birds and can sway and curve beautifully. Likewise, these connectors fit elegantly onto a large ball in your truck bed instead of your bumper.
The ball it uses is larger than the one you typically find on the back bumper of a pickup. If your vehicle didn't come factory ready with a goose ball hitch, you must cut holes in your truck bed to install it. You should position the ball directly over the axle.
The trailer tongue socket lowers onto the ball and locks into place. From there, the auto-latch strap is activated. Once all parts are secured, it moves fluidly as you drive.
Pro Tip: Try out one of these 7 Best 5th Wheel Hitches for your next RV adventure.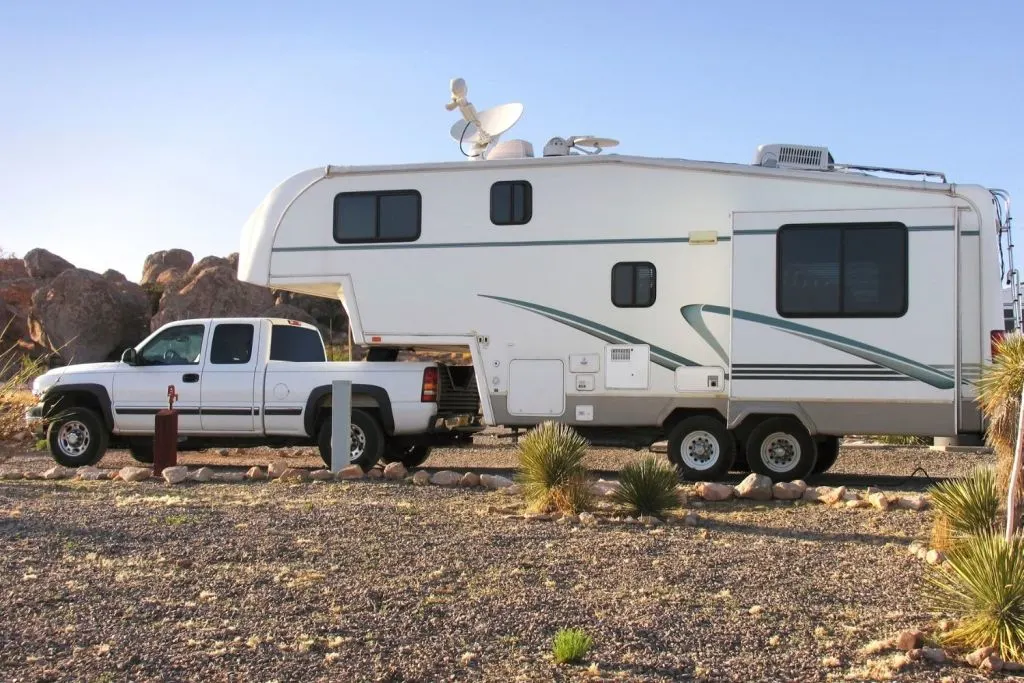 What Is the Difference Between a Goose Box and Fifth Wheel Hitch?
Unlike a goose box hitch, a fifth wheel connection sits on your truck bed. Although it's also centered above the automobile axle, you do not need to cut into anything. Instead, they use a trailer tongue to connect to a head plate and locking bar on your pickup's bed.
Another difference is that they have a kingpin jutting out at the end, which sits in the head plate socket. Because the connection base is more prominent, a fifth wheel hitch is more stable and quieter. However, its head plate takes up much more space in the back of your truck.
Although these hitches are usually more expensive, many RVers find them more reliable for hauling something tall. When cross winds hit your large motorhome, the bigger base offers more control over movement. You can also slide the plate to a better position if need be.
The Benefits of a Goose Box Hitch
Reviewers of the Reese boose box hitch love how easy it is to use. Its airbag dual shock system offers better suspension than traditional torsion bands. It decreased both vertical bounce and longitudinal shock, also known as chugging. Theoretically, this makes for a safer drive.
Another advantage is the room it frees up in your truck. While the same goes for any gooseneck, the Reese Box seems exceptionally well-designed. The long tongue length means your fifth wheel sits a bit further back than with other options in this style.
Pro Tip: Need some help hitching up? Try out these 7 Tips for Hitching up an RV Camper that Actually Work.
What Are the Alternatives to a Goose Box Hitch?
If you're unsure whether the goose box hitch is right for you, comparing this model to others is a good idea. But shopping for trailer connections can be overwhelming. We think these three alternatives are a good starting point. Each model works slightly differently.
Lippert Gooseneck Connect
This alternative functions as both a trailer tongue and gooseneck adaptor. It goes with the Lippert Space-Saver Chassis. It has a 21,000 lb capacity and is about two feet tall.
Although it costs about 40% less than the Reese goose box hitch, it's not necessarily a better deal. The shock absorption isn't the best.
Gen Y Hitch 5th Wheel to Gooseneck
The Gen Y hitch works similarly to the goose box. It attaches to a large ball in the middle of your truck bed. Although the trailer tongue is shorter, the extra safety measures are more robust. It comes with all the standard features. But the Gen Y brand goes the extra mile in two ways.
First, the company works specifically with fifth wheels. You will need to give them your GVWR number or weight rating. Once they have your freight model and pin weight, you choose which connection is right for you.
Second, Gen Y's customer service is excellent. And it has to be! You need to work with a representative to know which model suits your RV. Take some time looking at their robust website for your call. But beyond that, customers rave about how generally helpful the company is.
Convert-A-Ball
The Convert-A-Ball adaptor comes in at the lowest cost hitch on our list. It's cheap because it merely adapts your fifth wheel kingpin to a gooseneck ball. So it does not replace your trailer tongue.
According to their website, Convert-A-Ball helps reduce road bumps and jolts. But it doesn't do much else. In addition, you might void your camper's warranty.
Reviewers say this hitch adaptor is best for short-bed pickups.
Is a Goose Box hitch Worth It?
The Reese goose box hitch is a great addition to the choices on the market. Its unique design makes use of an airbag and dual shock system combined. But as with all your options, it's only compatible with a certain range of trailers and fifth wheels. Be sure to consult with a service representative before making any purchases.
Discover the Best Free Camping Across the USA
To be honest with you, we hate paying for camping. There are so many free campsites in America (with complete privacy).
You should give it a try!
As a matter of fact, these free campsites are yours. Every time you pay federal taxes, you're contributing to these lands.
Become a FREE CAMPING INSIDER and join the 100,000 campers who love to score the best site!
We'll send you the 50 Best Free Campsites in the USA (one per state). Access the list by submitting your email below: