Look around your RV campground, and you'll likely see plenty of New Balance brand shoes. So much more than "dad shoes," models tailored to different widths make them the perfect, nearly bespoke sneakers.
Without fancy names, the company has carved out a niche in high fashion circles, but what about around the campfire?
Today, we're looking at their most popular footwear among outdoor enthusiasts to see what the fuss is all about.
Let's get moving!
The History of New Balance
When Irish immigrant William J. Riley looked at the chickens scratching around his yard in 1906, he saw something unique. Yardbirds were perfectly poised on their feet, foraging outside the front steps. But Riley saw the possibility of a new piece of footwear to make long days more manageable.
New Balance Arch Support Company debuted its first insoles that same year. At the time, running and camping gear weren't even on the horizon as future markets. Instead, they focused on insoles for working people who spent all day on their feet. Over the next fifty years, the inserts were a mainstay in factory life.
Then, in 1961 things took off. Riley's daughter and her husband started getting orders for custom sneakers as athletes clamored for supportive and sporty shoes.
The Trackster, launched in 1961, became the first running shoe with a rippled outsole for traction. Subsequently, the couple manufactured different widths for different feet.
All of a sudden, the brand reached new heights. By the 1972 Boston Marathon, the brand's new CEO Jim Davis saw a path forward. Accordingly, everyone from supermodels to super dads slipped their feet into New Balance's products as the brand diversified. Now, with over one hundred models, they aren't slowing down. Made in America, the shoes are a powerful example of ingenuity.
Riley's chickens would be proud.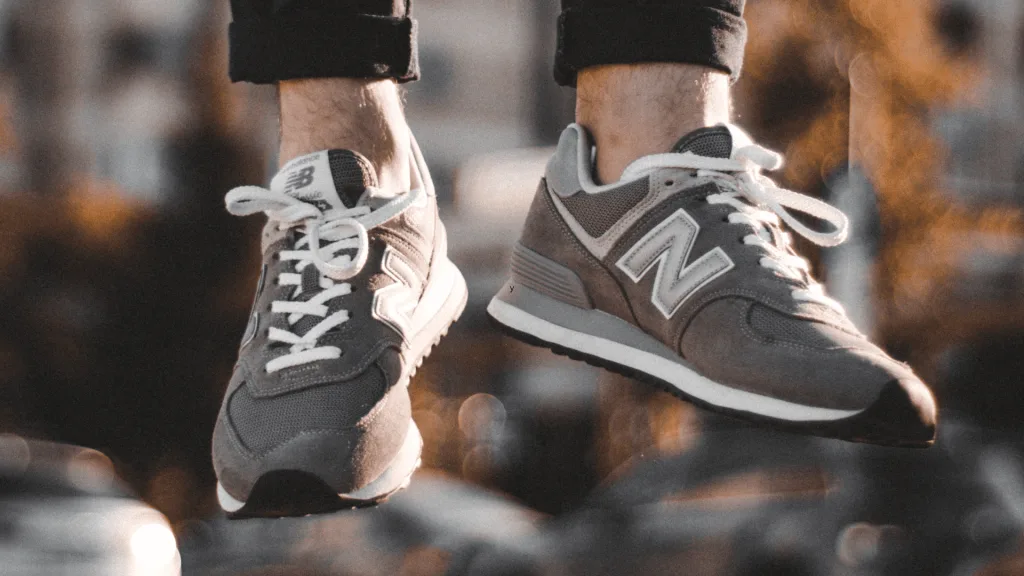 Is New Balance a Good Brand?
For a brand to thrive after over 115 years, it must be doing something right. Instead of going after high-profile sports such as basketball or soccer, New Balance focused on lifestyle.
Don't be fooled, though. Their running shoes are some of the best. Trail runners, road runners, hiking enthusiasts, and track stars love them. Varying widths and stack heights mean there's something in their inventory for just about anyone.
And even better, high-fashion fathers can always claim haute couture if their kids give them crap about "dad shoes."
Pro Tip: If you're more into Nike than New Balance, check out The Best Nike Hiking Gear of 2023.
Does this Brand Make Good Shoes for Camping?
When you've been on the road all day and want to settle into something comfortable, New Balance has you covered.
Beyond comfort, the brand's hiking shoes will give you confidence in the great outdoors. Specifically, aggressive outsoles and comfy foam make New Balance one of our favorites for camping.
Several models have proven sturdy and durable as adventure shoes. Made for miles on the trail, hiking shoes strike the perfect balance. Not as heavy-duty as hiking boots, you can slip them on right out of the box.
Trail running shoes are too light and technical for around the camp. So, we love the new hiking shoes the brand offers.
5 Best New Balance Hiking Shoes
For bumming around the campsite, New Balance hiking shoes are an excellent choice. A perfect combination of sturdiness and comfort, you'll want these on your feet.
#1 New Balance Fresh Foam Crag Trail V2 Sneaker
A grippy outsole and breathable upper make the Crag Trail V2 a good companion around the rig. Fresh Foam, one of the brand's trademarks, means comfort, and these supportive and stylish kicks will cushion your feet and provide traction when you need it.
The heel collar on this model is high and not great for running. But the structure and support you'll feel with these isn't a joke. With plenty of mesh in the upper, your feet won't get too hot, either.
These lightweight trainers are a steal on Amazon for around $75.
#2 New Balance 669 V2 Walking Shoe
If you're heading to dinner after unloading the camper, the 669 V2 is an excellent choice. With fashionable suede the main feature in the upper, they may even pass at the country club.
Don't think you're giving up function, though. The outsole on these walking shoes is grippy and provides stability in muddy conditions. More sturdy than runners, the midsole gives a firm but supple ride.
Some Medicare plans will even reimburse some of the price, and at around $70, you'll love them.
#3 New Balance 1400 V1 Walking Shoe
Looking for something a little more sturdy? The 1400 V1 is a high-top walking shoe akin to a traditional hiker. In fact, its waterproof membrane, aggressive outsole, and stability features make it great for rugged terrain.
The leather upper cradles your feet, protecting them from the elements and debris. Designed for serious outdoor adventures, this boot carries you far and beyond. Heavier than traditional walking shoes, this product gives you peace of mind on the trail.
Expect to pay a little more for this hiking boot. Prices are in the $125 range.
Pro Tip: Avoid committing any of these 7 Deadly Sins of Hiking next time you hit the trails.
#4 New Balance Men's Dynasoft Nitrel V4's Trail Running Shoe
Light and fast, the Dynasoft Nitrel V4 features several fashionable colors. Traction and comfort are the main features of these runners, and no-sew overlays create a seamless upper that breathes and drains well.
All the options on this trainer could be overwhelming. With three different widths and over ten colorways, fashionistas can match outfits if they want. There's not a lot of protection built into this model, so make sure to take care on the trail.
Once you've dialed in your options, expect to pay around $80 for a pair of these kicks.
#5 New Balance Women's Fresh Foam X Hierro V7 Trail Running Shoe
This gorgeous trail runner is one of our favorites. New Balance's commitment to fashion and function shines through. The Vibram outsole gives the shoe a powerful grip that breeds confidence. If you rock the Hierro V7, expect comments.
A mid-rise toe cap gives protection up front, and the upper breathes like a dream. Surely, the modern colorways give you many choices to make a statement around the campsite. For a shoe that works just about anywhere, this is our favorite.
Fun and versatile, the Hierro V7 will set you back around $130.
Are These Camping Shoes Worth It?
With all the time we spend on our feet, shoes shouldn't be a gamble. New Balance's commitment to comfort, function, and quality makes their kicks a good purchase anytime.
For around the campsite, they've got enough variety to fit the needs of us all. Many of their shoes hit our price point, and they do it with style. New Balance is a safe bet for around the camp, on the road, and out on a hike.
Discover the Best Free Camping Across the USA
To be honest with you, we hate paying for camping. There are so many free campsites in America (with complete privacy).
You should give it a try!
As a matter of fact, these free campsites are yours. Every time you pay federal taxes, you're contributing to these lands.
Become a FREE CAMPING INSIDER and join the 100,000 campers who love to score the best site!
We'll send you the 50 Best Free Campsites in the USA (one per state). Access the list by submitting your email below: