Rewarding a server with a generous tip is common practice when they enhance your dining experience. However, is it any different to tip your campground host when they enhance your camping experience?
Today we'll look at tipping campground hosts and whether it's acceptable (or, worse, expected).
Let's get started!
What Does an RV Park Campground Host Do?
The duties of a campground host will differ from campground to campground. However, there are a few things you can generally expect from a camp host. Enforcing the campground rules and regulations is often one major part of a campground host's job.
This could mean asking guests to quiet down during quiet hours or getting them to put out their fires during a burn ban. Nobody likes to be the bad guy, but a campground host enforcing the rules helps ensure everyone is a happy camper.
Campground hosts are also responsible for ensuring sites are clean and ready for the next guest. If someone leaves a mess behind, they must ensure it's cleaned up before the next guest arrives. This may even include scooping out ashes from fire pits.
Some campground hosts take care of other odds and ends around the campground. This could include electrical work, plumbing, or administration.
It may surprise you, but campground hosts often wear many hats when it comes to their jobs at a campground.
Pro Tip: Being a campground host is just one way people make money in the RV community. We talked to four couples and this is how they Get Paid To Travel in Their RV Camper.
Should You Tip Your Campground Host?
While a host may help increase your camping experience, tipping them isn't necessary. Campgrounds often pay hosts in some fashion. This may be in the form of a free campsite and amenities or cash.
You don't have to tip your campground host, but who doesn't love a handsome reward for their hard work?
How Else Can You Show Your Appreciation to Your Hosts?
While you could tip your campground host with cash, there are some better ways to show your appreciation. Let's take a look at what might be a better option than cash.
Write to the Campground Management
It doesn't matter the industry; management always loves to hear when their employees exceed customer expectations. Campground management is no different. Spend a few minutes and write a thoughtful note to the campground management giving specific examples of how the campground host did a great job.
This may increase the chance of the campground inviting the host back for future opportunities far beyond a tip.
Bring Them a Meal
A campground host is often incredibly busy during peak camping season. One of the best ways to say thank you is by making them a meal or a special homemade treat.
You may want to give them a heads up to adjust for any allergies or food restrictions, but it's a great sentiment.
Say Thank You
Many camp hosts are doing their jobs because they genuinely love hosting. They're not expecting a big salary or much praise. You'd be surprised how much a simple "thank you" can mean.
Some of the best campground hosts do their jobs so well that you aren't aware of what they're doing. Telling them thanks can keep them motivated during the tough times when they have to deal with difficult or unruly campers.
Give a Good Review
Many people turn to campground reviews when booking their sites. If a campground host has gone above and beyond to make you feel welcome, be sure to mention it in the review.
Knowing that a campground has excellent camp hosts can incentivize other campers to stay at the campground. There's also a good chance campground management will see your review and reward the camp host for their excellent work.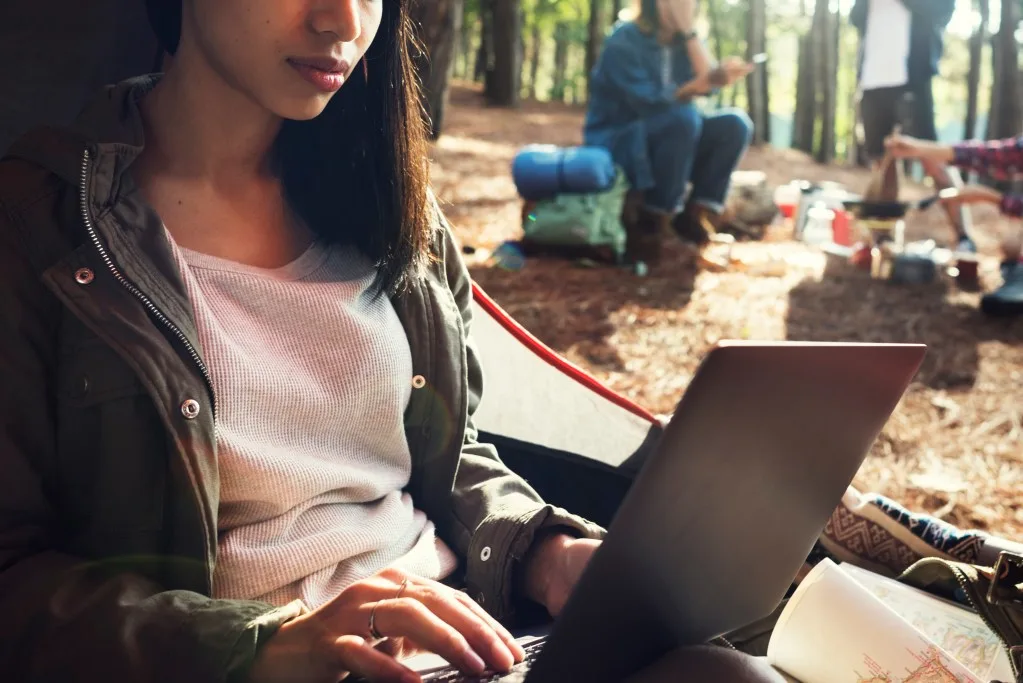 If You Do Decide to Tip, How Much Is Appropriate?
Maybe you're still set on giving a monetary tip to your campground host but need help deciding how much. Because there's no expectation of a monetary tip, this is completely up to you.
The campground host will likely reject any form of monetary payment, but they'll appreciate the gesture. You can never be too generous when it comes to tipping, so go for whatever you feel is appropriate.
Keep in Mind: Budgeting, monetary tip included or not, is a necessity to full time RVing success. Make budgeting easy by reading more about What's the Average Cost of RV Camping this Summer?
Is Tipping Your Campground Host a Good Move?
Campground hosts likely won't expect a tip from a camper. However, it can be a great way to show the host you appreciate them. While tipping the valet can help ensure good treatment for your vehicle, tipping your campground host likely won't get you that dream pull-thru site that gets booked up right away.
There are times in life where people go above and beyond what you expect from them, and you want to reward them. The more you camp, the more you'll recognize the campground hosts who go above and beyond their duties.
Do you have any stories of a campground host going above and beyond to make your camping experience even better?
Discover the Best Free Camping Across the USA
To be honest with you, we hate paying for camping. There are so many free campsites in America (with complete privacy).
You should give it a try!
As a matter of fact, these free campsites are yours. Every time you pay federal taxes, you're contributing to these lands.
Become a FREE CAMPING INSIDER and join the 100,000 campers who love to score the best site!
We'll send you the 50 Best Free Campsites in the USA (one per state). Access the list by submitting your email below: