Choosing to camp overnight at an airport isn't always desirable. However, desperate times often call for desperate measures.
Unfortunately, you can't just park yourself anywhere. In the interest of public safety, strict rules and regulations are put in place regarding where you can stay in your RV overnight. Someone will quickly inform you if you violate a posted ordinance.
Today, we're looking into whether you can camp for the night at an airport. Or will it get you the dreaded knock on the door?
Let's check it out!
Why Would You Camp Overnight at an Airport?
For various reasons, you might find yourself in a situation where you choose to camp overnight at an airport. One of which is to save money. Hotel accommodations can be costly. Suffering through a rough night's sleep can be a great way to save a few bucks.
The weather can also throw a wrench in your travel plans. Airlines typically cover hotel expenses when flight delays or cancellations result from mechanical issues.
However, passengers must foot the bill when weather conditions are to blame. If you're unprepared for such an expense, camping overnight in your vehicle in the airport's long-term parking lot might be your best bet.
Additionally, some travelers with an early flight time may have few options. Needing to arrive two or three hours before departure first thing in the morning can be challenging. Using the parking lot to stay in your car or RV allows plenty of time to get your bags checked and make your way through security.
The Benefits of Overnighting at an Airport
While it may not be ideal, overnighting at an airport isn't the end of the world. These locations typically offer a tremendous amount of safety and security. Guards often patrol parking lots and garages at all times of the day to keep an eye on things.
Also, with people constantly coming and going, punks are less likely to try shenanigans.
Another benefit of camping overnight at an airport is convenience. Instead of waking up in the middle of the night for an early morning flight, you can stay overnight at the airport in your vehicle to get more rest. You won't have to fight traffic before finishing your morning coffee. Instead, you can wake up at the facility and avoid stress.
Long-term airport lots also allow travelers to worry less about finding a parking spot. Most of these public transportation centers can accommodate a large number of vehicles.
Unless you're flying during a busy holiday, there's likely to be plenty of spaces available.
The Disadvantages of Overnighting at an Airport
While we pointed out some potential benefits to camping overnight at an airport, there are also a few notable disadvantages. If you're traveling in a large RV, you may struggle to find adequate parking. Spots for oversized vehicles can be challenging to find. Not all airport lots offer on-site options for larger vehicles.
Since some airports may frown upon the idea of someone sleeping in their vehicle overnight, you may need to stealth camp. However, you can make it work if you cover your windows and avoid attracting attention. It may not be the most comfortable, but it'll be convenient.
Another disadvantage that's easy to overlook is the amount of moving traffic throughout the parking lot. Other travelers will be coming and going throughout the night. Slamming doors can make it hard to get a solid night's sleep.
Additionally, cargo planes run non-stop at many airports. So you could have low-flying aircraft buzzing overhead while trying to rest.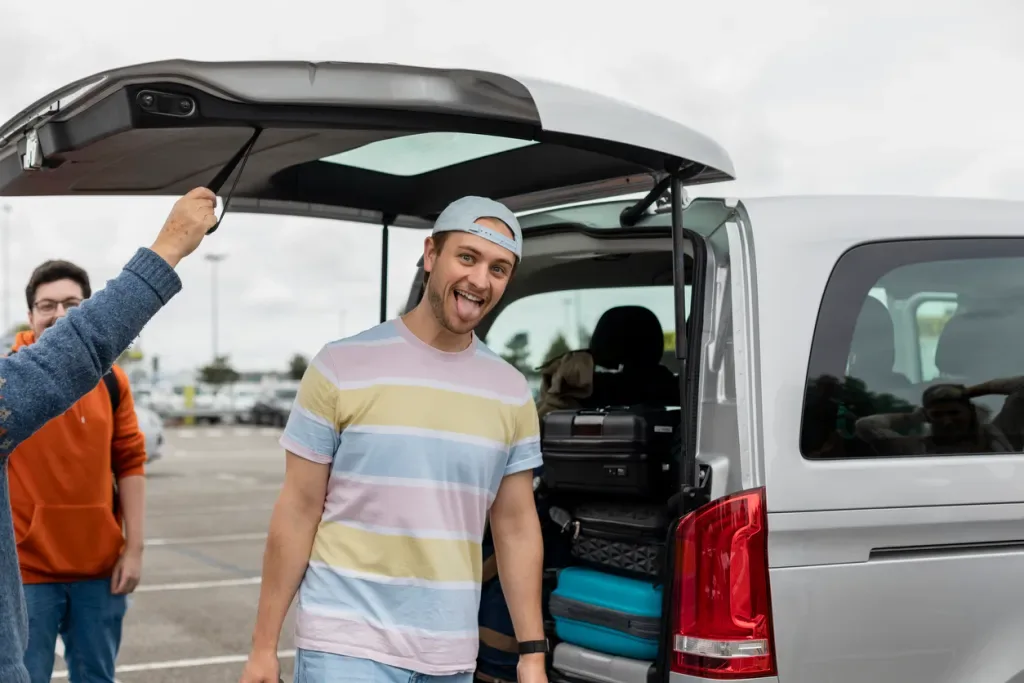 Where Can You Leave Your RV if You're Flying?
There may come a time when you need to fly somewhere quickly and leave your camper behind. It can be challenging to locate a suitable parking spot, but it's not impossible. Luckily, we know a few places to leave your RV without worrying about it while you're away.
One of the best options to consider is an RV service center. If you need work done on your rig, schedule it while you'll be traveling. Your motorhome will be safely parked in their facility until they're ready to do the repair. Depending on the job, it could be weeks before they can start. However, many of these shops have long waitlists, so this might require advanced planning.
Another excellent option is a local RV park. It may be worth reserving a campsite to store your camper when flying. If needed, you can plug your rig in to keep electricity flowing to appliances. Some may even have designated lots for short- and long-term storage.
The final place you can try is an RV storage facility. These typically come with a month-to-month fee and can be expensive in some areas.
However, they provide a tremendous amount of security while you're away. Many have monitored gates and other essential security features to keep your mind at ease while away from your home on wheels.
How to Catch Shut-Eye at an Airport
Catching some shut-eye before a flight can be challenging. Luckily, there are some things you can do to make it more comfortable. The first is finding the perfect spot. Some locations have pods in designated quiet areas that you can rent by the hour to get a quick nap. But in most cases, you'll have to sleep in the busy terminal.
Most terminals remain open at night. Unfortunately, smaller facilities often shut down sections. Make sure to familiarize yourself with these areas before getting too comfortable. You don't want to wake up to the airport staff asking you to leave.
When selecting your space, look for a well-protected area. You want to know that you and your luggage will be safe while napping. Look in sections as close as possible to your departure gate. This'll make it easier when you wake from your slumber to be ready for your flight.
You've hit the jackpot if you can find seating that doesn't have armrests. Unfortunately, they're often hard to find. Regular airport chairs can make it nearly impossible to stretch out easily. But using extra clothing or a backpack as a makeshift pillow can help get you as comfortable as possible.
Before dozing off, make sure you set an alarm. The last thing you want to do is oversleep and miss your flight. You can find phone apps that require you to complete math problems or specific tasks to shut the alarm off.
Is Camping Overnight at an Airport Worth It?
For travelers on a tight budget, camping overnight at an airport can be an attractive option. But as with other public spaces, some airports may not allow sleeping overnight in vehicles. So be sure to check with staff before staying in your car or RV during the night.
Choosing to camp overnight in an airport parking lot depends on personal preferences, budget, and specific circumstances. It may not be ideal, but it could be necessary in some situations.
Discover the Best Free Camping Across the USA
To be honest with you, we hate paying for camping. There are so many free campsites in America (with complete privacy).
You should give it a try!
As a matter of fact, these free campsites are yours. Every time you pay federal taxes, you're contributing to these lands.
Become a FREE CAMPING INSIDER and join the 100,000 campers who love to score the best site!
We'll send you the 50 Best Free Campsites in the USA (one per state). Access the list by submitting your email below: