Another national forest has been trashed, and this time it was by a group of self-proclaimed "environmentalists" called the Rainbow Family.
Also referred to as bohemianism, hipster and hippie culture by Wikipedia, this group has a history of leaving their mark.
But yet again, cleanup and forest restoration continues on taxpayers' dime! Here's what we know:
Carson National Forest Restoring Site Trashed By Rainbow Gathering
Carson National Forest in northern New Mexico is urging visitors to "tread lightly" as restoration work concludes on a large swath of land off of Forest Road 76. The agency has been working on restoring a site damaged by a large gathering of "Rainbow Family" in early July 2021.
As many as 5,000 people at a time were camping and partying on the land during the event.
Although restoration work is coming to a conclusion, Forest Road 76 is still in bad shape. Travelers should use caution as the road heals from rain and overuse.
The main question for us…will they continue these destructive behaviors during this year's gathering?
Related: Regional BLM Shuts Down Free Camping Indefinitely Due to Land Abuse
What is a Rainbow Gathering?
A Rainbow Gathering is a gathering of free-spirits from across the globe. These individuals identify with the "Rainbow Family of Living Light", as self-proclaimed on their website.
The Rainbow Family claim to be into intentional community building, non-violence, and alternative lifestyles on their website. In addition, they claim many of their traditions are based on Native American traditions. And, they have a "strong orientation to take care of the earth".
So it seems ironic that they would gather en masse and damage local ecosystems, doesn't it?
On their website, they say:
"We gather in the National Forests yearly to pray for peace on this planet."
They forgot to add the part where they trample native vegetation, dispose of waste in the natural environment, displace animals, and cause long-lasting damage to local ecosystems.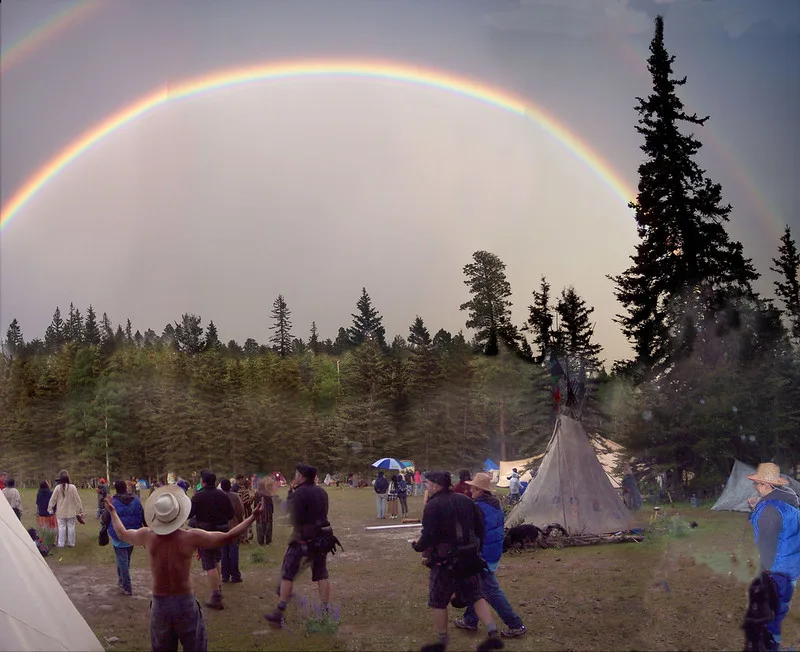 Local Officials Couldn't Stop the Damage, So They Tried To Minimize the Impacts
According to this news brief in the Albuquerque Journal, forest service officials were only warned of the event a few days prior.
Over 5,000 people were in attendance during the busiest days of the Rainbow Gathering. Any event or gathering in a national forest with over 75 attendees must obtain a permit. But, the Rainbow Family refused. A Carson National Forest Spokesperson said the group refused to obtain a permit.
So, what's a strained National Forest agency to do but clench their teeth and brace for impact?
Hillary Markin, a Carson National Forest spokesperson, said:
"In lieu of a permit, we worked with them to minimize environmental damage."
According to the news brief, the forest agency responded to the massive event by treating it like a natural disaster. The agency came up with a resource protection plan, management team, and rehabilitation plan.
Related: Campers Trash National Forest Campground, Now It's Closed Indefinitely
Restoration Work Continues on Abused Public Land
The forest team worked with individuals from the Rainbow Family during and after the event to attempt to protect soil health, water quality, archaeological sites, and sensitive species of wildlife.
According to the Albuquerque Journal, around 20 Rainbow Gathering participants stayed behind to help clean up behind the massive group.
Although most of the physical restoration work has concluded, the earth still needs time to heal and regrow. Part of the restoration included replanting native vegetation that had been trampled by Rainbow Gathering revelers. The agency also worked to cover man-made foot paths.
Man-Made Ovens, Swing Sets, Latrines, and More
During the Rainbow Gathering, man-made structures were erected including ovens, swing sets, fire rings, latrines, and more. The national forest agency had to remove trash, man-made structures, and find a way to cover and mound the latrines of human waste to help minimize the impacts on the local environment.
Forest Spokesperson Hillary Markin said the area is already seeing plant growth from the native seed mix spread on the worn ground. This is an encouraging sign that the earth is healing.
National Forest Management = Your Tax Dollars At Work
Our national forests receive federal funding allocated from tax dollars. National forest cleanup efforts take time, manpower, and resources away from the agency. In essence, the funding for cleanups like the one made necessary by the Rainbow Gathering comes directly from tax payers.
National Forests and public lands are ours to use because we pay for their upkeep and management. It makes you think a bit differently about how we treat and use these lands. And, if you're anything like us, hearing about land abuse is pretty upsetting!
It's up to us to recreate responsibly and help take care of our public lands. If national forests and public lands continue being trashed, we run the risk of losing the opportunity to use them altogether.
Discover the Best Free Camping Across the USA
To be honest with you, we hate paying for camping. There are so many free campsites in America (with complete privacy).
You should give it a try!
As a matter of fact, these free campsites are yours. Every time you pay federal taxes, you're contributing to these lands.
Become a FREE CAMPING INSIDER and join the 100,000 campers who love to score the best site!
We'll send you the 50 Best Free Campsites in the USA (one per state). Access the list by submitting your email below: